The Stooges. TOTAL CHAOS: The Story of The Stooges As Told by Iggy Pop
An interview with Author Jeff Gold
By Harvey Kubernik
Third Man Books has just published a gorgeous coffee table volume on one of the most influential bands of all time… The Stooges. TOTAL CHAOS: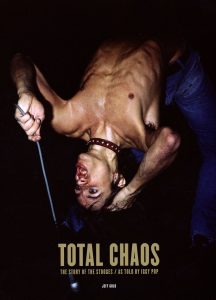 The Story of The Stooges As Told by Iggy Pop is the first time the story of this seminal band has been told entirely in Pop's own words.
Author Jeff Gold and contributor Johan Kugelberg, noted music historians and collectors, jointly interviewed Iggy Pop for two days at his Miami home, sharing with him their extensive Stooges collection and interviewing Iggy.
Editor/contributor Jon Savage collaborated with Gold and Kugelberg on the title. Additional contributors include Ben Blackwell, Dave Grohl, Josh Homme, Joan Jett, Johnny Marr and Jack White.
This is one revealing and candid, bare-all almost unbelievable tale of the band Iggy founded-the alternately tragic and triumphant story of a group who rose from youth, fell prey to drugs, alcohol, and music biz realities, collapsed and nearly 30 years later reformed, recording and touring to great acclaim.
TOTAL CHAOS houses an absolute treasure-trove of unseen photographs and visual ephemera.
"It was a rare privilege to sit with Iggy as he downloaded the story of the Stooges. He's an incredible storyteller with a fantastic memory and a great sense of humor, and he held nothing back. The Stooges were pioneers in sound, look, and live presentation, and along the way invented a genre-punk rock-and influenced countless others that followed.
"There was no precedent in rock music for what they did. They're definitely the only group in the Rock and Roll Hall of Fame who started out playing an amplified Waring blender, a vacuum cleaner, spring water bottles and a 200 gallon oil drum."  – Jeff Gold, Author of 101 Essential Rock Records
"Iggy Pop has turned the interview into an art form.
"In this book he tells the history of The Stooges with a mixture of wit, candor and spontaneity: from their early beginnings to their full flaming flare over three groundbreaking albums before the crash and the triumphant return that no-one could have predicted. Profusely illustrated with dozens of unseen images, this is the story of the Stooges like you've never read it before." – Jon Savage, Author of England's Dreaming.
Harvey Kubernik Interviews Jeff Gold:
Q: What was the genesis of this project?
A: My friend Johan Kugelberg and I are both big Stooges collectors.  Johan's written a lot of music books, and thought we should do a book of our merged Stooges collections.  I had done a previous book, 101 Essential Rock Records, and knew how much work that entailed and was reticent at first. But one morning I woke up with what I though was an ideal way to do it. Choose 100 things from our collections that visually told the story of the Stooges—things people hadn't seen before—and go show them to Iggy, and record what he had to say about each thing.
"In the 80's while at A&M Records, I'd worked with Iggy on two of his albums and we liked each other.  So when I did the Essential Rock Records book, I interviewed him about his favorite LP's and it reminded me of what a great storyteller he is.   When I pitched the idea to him, he was all in.
Q: Besides being a fan of Iggy & the Stooges, were you a hardcore collector of their catalog?
A: Of course I have and love first pressings of the original Stooges albums, but my Stooges collecting focused more on the memorabilia—photographs, clippings, documents, promo items, that kind of thing.  I'd bought much of the archives of Danny Fields, who discovered The Stooges, and got a lot of one of a kind items from him, and in my travels I'd found many more really interesting things.  Johan had independently put together a world class Stooges collection—so we had a lot to choose from.
Q: You spent two full days interviewing him. How did you prepare for the task?
A: Iggy doesn't really have an archive, but we more than made up for it.  I read every book and article I could on the band which took me about a month.  Then I put together a 21 page of questions that corresponded to the 100 images we'd chosen.  I felt like I was back in college doing a massive term paper, but I wanted to get it right.  We spent two afternoons with Iggy, sitting in his beautiful back yard which backs up to a creek.
"Early on it was apparent he was having fun and remembered a LOT more than I expected and so I changed my approach, thinking this could be a bigger book—an oral history of the band.  We expanded the concept and Iggy graciously submitted to two additional phone interviews so I could flesh out some areas that I hadn't completely covered.
Q: Why do you think Iggy embraced this endeavor and chose the time to reflect on his Stooges world?
A: A few weeks before the interview, I'd sent him printouts of the things we chose, and they blew him away—there was much he'd never seen.  This and the fact that Scott Asheton, the last of the original Stooges had passed away a few months before had him in a really reflective mode.  And he knew me and liked me, and liked my previous book and that I'd included two Stooges albums among the 101.  And he appreciated the books Johan had done.
"So I think it was a combination of timing—he was thinking about The Stooges with Scott's passing, the fact that I was a known quantity, and that he liked what we'd done.  He clearly enjoyed talking about the band and asking him about specific things—handbills, photos, even contracts and royalty statements was a great way to get him going.
Q: We also get a view of what it was like to record and to have been on a record label in the late sixties and early seventies?
A: Absolutely  Some of my favorite things are the contracts, press releases, and documents, and Iggy's reaction to them.  At one point in the book, I'm explaining an Elektra royalty statement to him.  The first  Stooges album had sold 36,000 copies in the first few months, which surprised him and he told me before it came out he was thinking "how many people might possibly like our band" and came up with 50,000.  So he was happy with it.
Q: As an author of 10 books myself, editing is very important. Tell me about Jon Savage regarding text and layout. What did you learn from this process and the big book forum?
A: Well, Jon is a close friend of mine and an exceptional writer. When we transcribed the interview it was about 350 pages. Great as it was, it was just too much for people to digest. Because I was so close to the material, I wanted someone who was a fan, who I trusted, to help me edit it down, work with the structure, help decide which photos to use, and where to put them.  Jon was my first thought and happily he was willing to make time to do it, and I feel very lucky he did.
Q:  Talk to me about the Iggy and Bowie studio and brief tour relationship.
A: For me it was fascinating to hear his version of how he and Bowie met, and that it almost didn't happen, at least that night.  It was in 1971. Journalist Lisa Robinson was with Bowie at Max's Kansas City in New York, and Bowie wanted to meet Iggy, who he was a fan of.  But Iggy didn't know anything about Bowie, other than his having mentioned Iggy as his favorite vocalist in Melody Maker.  So when Lisa called Iggy at Danny Fields' house where he was staying, Iggy didn't want to go.  He was watching It's a Wonderful Life on TV and didn't want to turn it off.  As he remembers it, Danny went first, the phone calls persisted, and he finally went.
"Obviously Bowie was a great supporter of Iggy's, and got his management to manage Iggy, get him a record deal, and eventually mixes what became Raw Power.  And when The Stooges broke up in 1974, Bowie kept in touch and eventually produced his first solo albums and toured with Iggy as his piano player on The Idiot tour.  Bowie's 'sponsorship' of Iggy and The Stooges clearly was the thing that introduced many people to The Stooges including me.  I knew little about them, but the fact that Bowie was involved with Raw Power got me to go see them at The Whisky A Go Go in 1973.
Q: Do you have an ideas or concepts why Iggy has survived the music business, and just as important, why this last decade, owing to performance skills and timing and he and the band's influence, especially guitarist and co-writer James Williamson, festival culture and global bookings hailed the landmark band and there was some sort of happy ending in terms of a payday and audience bond?  Why? It's way beyond validation from the Rock and Roll Hall of Fame.
A: I think great music finds its audience.  Sometimes, like with The Stooges, it takes a long time, but the cream rises to the top.
"Johan and I went to see the first Stooges reunion at Coachella in 2003.  We were absolutely amazed at how great they were.  And so ironic.  Here was a band that broke up in 1974, disillusioned, drug addicted, without a record label or manager.  Almost nobody cared.  And here they were, playing their first show in 29 years, to 30,000 screaming fans.  I think—and so does Iggy—that the records, some of the really crazy photos, and the fact that countless punk bands cited them as an influence and played their songs—are a big part of why the Stooges myth just grew and grew.  Kurt Cobain cited Raw Power as his favorite album of all time often.