The Rolling Stones On- Air 1963-1965 Album Now Out
By Harvey Kubernik c 2017
On December 1st the Polydor Records/UMe label released The Rolling Stones-On Air, a collection of rarely heard radio recordings from their formative years.
The songs, including eight the band have never recorded or released commercially, were originally broadcast on bygone U.K. BBC shows such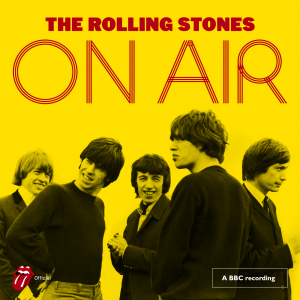 as Saturday Club, Top Gear, Rhythm and Blues and The Joe Loss Pop Show between 1963 and 1965.
The CD, double CD deluxe edition, heavy-weight vinyl and special limited-edition colored vinyl offer an insight into the band during 1963-1965. Mick Jagger, Keith Richards, Charlie Watts, Brian Jones, and Bill Wyman are a vital and constantly surprising live unit.
Such was the frequency with which they visited BBC studios in the 60's, the group constantly set out to offer listeners something different. As well as songs that never appeared on singles or albums, there are seven tracks that were debuted over the airwaves before featuring on albums or EPs.
There's some Bo Diddley covers, "Cops and Robbers," and "Crackin' Up," plus the Diddley-inspired Mona as well as two band renditions from the Muddy Waters' repertoire: "I Can't Be Satisfied" and "I Just Want to Make Love To You."
The group's take on familiar R&B staples like "Roll Over Beethoven," "Memphis, Tennessee" and "Beautiful Delilah" (all originated by Chess recording artist Chuck Berry) illustrate the verve and energy the Stones regularly brought to their live shows. The BBC would urge them to perform their current singles, and while happy to do so they also relished the opportunity to showcase a fuller picture of their prowess as Britain's foremost blues outfit, packing clubs and ballrooms night after night.
Implemented among the well-chosen cover versions, are raw and vibrant renditions of Stones Jagger/Richards originals, such as "(I Can't Get No) Satisfaction," "The Last Time" and "The Spider And The Fly" in a form closer to the immediacy of the band's live shows than on vinyl and subsequent configurations.
The Rolling Stones On-Air is a wonderful curated and restored treasure trove that puts the listener front and center of the original sonic storm.
There is, however, an interesting run up to when the Rolling Stones were first vetted by the BBC and before the lads were invited to the hallowed premises to display their talents over those coveted airwaves.
Andrew Loog Oldham provides the back story before the glory.
"I made a point to have never actually attending those sessions because the disdain which the way the Rolling Stones were treated by these BBC engineers was so awful but I am full of admiration for what the Rolling Stones managed to pull out of it. It was like, you know, recording in a cemetery.
"Because you have to remember that the BBC at that time was 50 percent had to be live music," explained Andrew. "They really didn't want us or the Beatles, but after the Beatles of course they wanted everybody but they really didn't want the likes of us or the Who. Because they were waiting for all of us to disappear for it to go back to 'descent folks.' Like Mantovani, Joe Loss, Teddy Heath and Bert Ambrose and his Orchestra and things that kept the nation afloat from 1945-1954.
"The Rolling Stones had actually failed their BBC audition," Oldham revealed. "Because the reason given by the BBC to my partner at the time, the Rolling Stones' agent, Eric Easton, was that 'the lead singer couldn't sing.'
"I do recall at the time Keith telling me that Brian then offered to step into his place, that didn't go down so well, which was another kind of, you know, crucifix in the wall on Brian."
So in the spirit of 2017, the now receptive BBC, the Rolling Stones and strategic partners have assembled the 1964 and '65 master tapes for consumer and retail outlets.
They've gone through a process called "audio source separation," which involved de-mixing the transcripts and allowing engineers at Abbey Road access to the original instrumentation and voices within each track, so that they could be rebuilt, rebalanced and remixed to achieve a fuller, more substantial sound.
This album follows the recent release of The Rolling Stones – On Air coffee table book, by author and music historian Richard Havers and published by Virgin Books.
"I just listened to a 5CD deck of On Air, England's Newest Hitmakers, 12 x 5, and The Rolling Stones Now!," enthused Dr. James Cushing a deejay on KEBF-FM. "My conclusion: we now have almost two hours of previously unavailable music that would fit just fine on any of those early albums, so the amount of time we get to spend listening to The Real Rolling Stones — that super-tough British R&B group with Brian Jones on guitar and Andrew Loog Oldham producing, not the avuncular profit-machine we can't afford to see live — is now substantially increased.
"The live-in-studio arrangements are not dramatically different from the Decca singles, but the recording is vivid and the spirit of the performances is surly, coiled, and fierce. In a few cases — 'I Wanna Be Your Man,' 'I Can't Be Satisfied,' '2120 South Michigan Avenue' — these takes are more focused and bluesy than the studio versions. Not always, though; 'Memphis, Tennessee' is politely derivative of Chuck Berry's original, and 'Cops and Robbers' and 'Crackin' Up' show a close reading of Bo Diddley's originals, but not much more. But what do you expect from a bunch of 22-year-old punks?
"The On Air set restores the Rolling Stones as 22-year-old punks, and is the best album of its kind since Blue & Lonesome last year.
Harvey Kubernik is the author of 12 books. His debut literary music anthology Inside Cave Hollywood: The Harvey Kubernik Music InnerViews and InterViews Collection, Vol. 1 was published in late December 2017 by Cave Hollywood.
Over his 44 year music and pop culture endeavors, Kubernik has been published domestically and internationally in The Hollywood Press, The Los Angeles Free Press, Melody Maker, Crawdaddy!, Variety, The Hollywood Reporter, MOJO, Shindig!, HITS, The Los Angeles Times, Ugly Things, and Record Collector News.   
During July, 2017, Harvey Kubernik was a guest speaker at The Rock & Roll Hall of Fame's Library & Archives Author Series in Cleveland, Ohio discussing his 2017 book 1967 A Complete Rock Music History of the Summer of Love.