THE LAST WALTZ 40th Anniversary Edition Out on CD, Blu-ray and Vinyl Formats
Collector's Edition Scheduled Issued December 9th
By Harvey Kubernik c 2017
On November 11, Rhino Entertainment released four new 40th Anniversary Editions of The Band's The Last Waltz in various CD, Blu-ray, and vinyl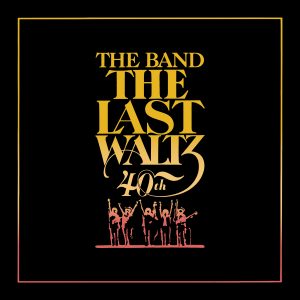 formats. A special Collector's Edition issued on December 9 features a leather-bound, 300-page book with a replication of Martin Scorsese's original shooting script from the film.
On Thanksgiving Day 1976, the Band took the stage for the very last time at the Winterland Theater in San Francisco, California. For the landmark show, Rick Danko, Levon Helm, Garth Hudson, Richard Manuel, and Robbie Robertson were joined by an all-star group of music pioneers and recording artist friends, including Paul Butterfield, Eric Clapton, Neil Diamond, Bob Dylan, Ronnie Hawkins, Dr. John, Joni Mitchell, Van Morrison, Muddy Waters, and Neil Young, among others.
I attended the event.
The evening was caught on film by director Martin Scorsese. Released theatrically in April 1978 to critical acclaim, The Last Waltz is still considered by many to be the greatest concert film ever made.
During pre-production, Scorsese was working on New York, New York.  At the same time I was on his M-G-M movie set in Culver City. I interviewed Robbie Robertson for a Crawdaddy! cover story in Malibu at Shangri-La Studios in 1976 and attended The Last Waltz with 5,000 other people and shown on screen, too.
The 4 CD/Blu-ray set and-for the first time-on vinyl as a 6 LP set, the 40th ANNIVERSARY DELUXE EDITION of the original soundtrack has 54 tracks, including the entire concert, as well as rehearsals and outtakes.
The CD version incorporates newly-penned liner notes by David Fricke and Ben Fong-Torres along with an essay from 1977 written by Emmett Grogan.
A Rhino Entertainment press release touts rarities and performances "not featured in the film, such as "Furry Sings The Blues" with Joni Mitchell and "All Our Past Times" with Eric Clapton, plus rehearsals for "Caravan" with Van Morrison, "Such A Night" with Dr. John, and "King Harvest (Has Surely Come)" a song that was not performed in concert.
"The 40TH ANNIVERSARY COLLECTOR'S EDITION, limited to 2,500 copies worldwide, includes a replication of Scorsese's original shooting script. Once the film was complete, Scorsese had two copies of the script bound in a red leather book; one copy for himself and the other a gift to Robbie Robertson, which now resides at the Rock and Roll Hall of Fame. THE COLLECTOR'S EDITION also includes a foreword by Scorsese and an essay from screenwriter Mardik Martin."
Scorsese, with director of photography Michael Chapman and a team of seven cameramen, including Laszlo Kovacs and Vilmos Zsigmond, recorded the event that was produced by rock promoter Bill Graham. It was the same venue where they first debuted as the Band in April, 1969.
Howard Johnson led the horn section that incorporated arrangements written by Allen Toussaint, Henry Glover, Tom Malone and himself.
The first half concert portion opened with "Up On Cripple Creek" and covered catalogue from their debut LP Big Pink through Northern Lights-Southern Cross. There was an intermission where a number of San Francisco poets, including Michael McClure and Lawrence Ferlinghetti, owner of City Lights Book store, read.
The Band came on stage for the second half joined in order by Hawkins, Dr. John, Bobby Charles, Paul Butterfield, and Muddy Waters. They continued the evening playing their own tunes, including "Chest Fever" and "The Weight," until the final guest, Bob Dylan, joined then for five songs. All the performers then returned to the stage in a group sing-a-long of Dylan's copyright "I Shall Be Released."
Dylan agreed to be filmed for The Last Waltz just before taking the stage after prolonged negotiations at the event that carried over to his eventually signing a clearance for a multi-format retail product release.
In addition there were encores of two instrumental jams with Ringo Starr, Steve Stills, Ron Wood and Carl Radle. The Band also returned for "Don't Do It."
In April, 1977 at the MGM soundstage in Culver City, Emmylou Harris and The Staple Singers recorded "Evangeline" with The Band and "The Weight" for the film.
In fact, The Band actually played "The Last Waltz" theme at the Winterland show but were unhappy with the version at the famed gig.
The roots of  The Last Waltz began when Jonathan Taplin, executive producer of the film, who had been the Band's road manager for four years, and had produced Scorsese's breakout film Mean Streets, introduced Robertson to Scorsese, who had helped edit Woodstock and Elvis On Tour. "I couldn't let the opportunity pass," Scorsese explained. "It was this crazy desire to get it on film, to be a part of it."
"The idea was to get the most complete coverage possible, so our 35mm cameras were scanning and zooming for the action," continued Scorsese. "When Bob Dylan shifts from 'Forever Young' to 'Baby Let Me Follow You Down, the film truly documents Robertson, Helm, Hudson and  Danko adjust and play on."
"I remember Marty saying," Robertson mentioned, 'This is something you never see. You're never in on this.'"
The Last Waltz became the first concert documentary to be shot in 35mm, and influenced future music documentaries. "We live so emotionally and powerfully through those moments," Scorsese felt. "The picture, for us, was so powerful. And it was bringing these emotions to us, creating the psychological atmosphere that I couldn't verbalize then. But it was pretty scary. As exciting and as fulfilling creatively as it was, it was extremely frightening."
The Band had a vision to create a concert and a film that would mark not only the end of their run together, but would magnify an end to a roots and blues rock era that would be followed by punk rock.
"There was something about this period from the '60s through the '70s, everybody had a pretty good run," Robertson offered "When you watch these things over and over again, and how stirring these performances were, you're almost seeing inside the whole era."
In 1977 I interviewed Rick Danko, the bassist of the Band for Melody Maker in the Century City office of Arista Records when he had just issued his debut solo album, Rick Danko.
During our chat, I asked Danko about The Last Waltz.
"The cameras didn't inhibit anyone. We wanted to feed five thousand people a gourmet dinner, and I think we also gave 'em a good show," he winked. "You were there. You saw the concert. Wasn't it terrific?  We had people stashed behind the curtains giving us hand signals. The movie is a labor of love. At the start, The Band had to raise a few hundred thousand bucks so this event could become a reality. We were taking a chance-we almost hocked our houses.
"We were the perfect house band. Even the rehearsals were incredible. It cost $125,000 to renovate Winterland. I hate to keep relating to money, but I want to show you how important it was for us to have the theme and décor amplify the mood of the celebration. It was a special night.
"Preparing for the gig was a trip in itself. For four days we did nothing but play music. We finished Islands our last album for Capitol, and then nonstop rehearsal for The Last Waltz.
"The Band really came alive that night. We were cruising the last year and it was obvious. We were on stage for six hours and the Band worked until 5 a.m. that morning. We rehearsed with Bob (Dylan) at the hotel. We played for 16 hours before the gig.  The Band has always been into precision, like a fine car. We didn't take it easy during preparation. I think that will show in the movie. No split screen stuff and very little backstage footage. No way was I gonna walk out on stage and wing it next to Joni Mitchell. And Muddy Waters… Wait 'till you see Muddy in the film. We also did a version of 'Mannish Boy' at the hotel and nobody had a tape recorder. I was playing next to him and got chills. I think for Muddy and for Ronnie Hawkins, they arrived at the high point in their lives that night."
"Everyone was so incredible about wanting to be involved with The Last Waltz, come hell or high water," Robertson exclaims. "No one had to think about it; they just said they'd do it."
Robbie talked to me again in 2002 on the telephone from his hotel room in Austin, Texas, where he keynoted the SXSW music conference and screened The Last Waltz.
Portions of our interview were published in Goldmine magazine in 2002.
Harvey Kubernik Interview with Robbie Robertson
Q. Did you have any doubts or fears embarking on The Last Waltz event?
A. Entering the event, big time, was 'Can we pull this off?' There's a thousand things that can go wrong, and a couple of things that can go right here. 'Are we going to nail this?' 'Are we gonna pull it off?' "Is the film going to capture it?' 'Are they going to say after that the recordings we have are a disaster?' There's all those kind of technical concerns and just your ability to rise to the occasion and that moment. It wasn't like we were stopping and doing the songs over and over, or that 'I think we can do it better.' There was none of that."
Q. Did you ever have any concerns while re-visiting The Last Waltz that you might turn out a soundtrack using the new technology without hiss and noise, which is part of rock 'n' roll, and that you might have a too sterile and too clean soundtrack in this new model?
A. Yeah. But with something like this, there are certain things that are part of the characteristic of it and I think you have to be careful when you go in. This is not doing surgery and trying to fix something that isn't broken. I think that some of that can actually be complimentary and musical, just the same way that vinyl can be. It's just getting it so it's under control and it's not overwhelming what the heart of the whole thing is.
Q. Does your own life flash in front of you when you saw the new print?
A. No, it doesn't do that to me. I go into an automatic mode of doing the work. I go to a place of 'here's what needs to be done,' 'here's what we have to address now,' 'I want to remember to get this right.'
"I don't go down memory lane at all in these things. I really look at it like the work that needs to be done, or the work that was done, and how was it in this setting? Things like that. I automatically go there. And I don't know if I'm cheating myself by not affording myself the pleasure of doing that, but it's just not of my nature to sit back and ya know, light up a pipe and just enjoy the experience for what it is.
Q. I know there was a short rehearsal time before the actual gig and subsequent film and original soundtrack album.  I've always felt that the couple of days, instead of an extended "pre-production and lengthy rehearsal" added to the existing vibe and execution of the show. Instead of a lot of politics and factors didn't get a chance to enter the equation because you kept the original impulse on the music and short-term preparation. Like the rehearsals included on the new CD set.
A.   That's great.  The rehearsals were a wonderful surprise for me. Because I didn't know that any of these rehearsals were even taped. What they were doing was testing the equipment and just taped some of these things to make sure everything was working and that they were judging whether they were using the right microphones for certain things.  That kind of stuff. So, that was just a lovely surprise to hear and also to hear the difference in what somebody might do when they're working the thing out, and what they would do when the audience is there and the lights go on. The different whatever they put on it.
Q. When did The Last Waltz concept go into planning stages? I know when we talked in 1976, you admitted then you were tired of a routine of "album, tour, album, tour." Did this begin to bubble in summer of 1976? Did the seeds of the trip go back earlier?
A.   No it didn't. The idea came around and in probably September. Then I needed to talk to everybody about it and it had to germinate the whole thing. I needed to feel…What happened with the idea was that it almost once, and this is that I have found in my experience, this is the way things often happen. When you come up with something so right that it takes on a life of its own. And when I started thinking about originally that we were going to do this and who were going to invite, and we'd only talked about Bob Dylan and Ronnie Hawkins. And then there were other people who had been so supportive and that we respected so much musically, that we said, 'If we're gonna invite them, we shouldn't forget Eric (Clapton ). Over the years I saw him a lot.  The same thing with Van (Morrison). And then there's our country men from Canada; Joni and Neil and the whole thing just snowballed in a way and it was almost like your job, a good portion of time was to get out of the way.
"Like rock 'n' roll, it's definitely call and response. And that's what happened. Then after I had an idea of the people we felt should be a part of this and when I went to the place of thinking about the musical people of that generation, and who had been so influential to that generation, ya know, talking about Muddy Waters and the Staple Singers, and all the parts and all of these flavors of music played into the whole picture, and that the horizon had such depth and such different flavors to it was really important to me and hoping that we could display all of that. That's one of the reasons we went back later with Marty shooting on the MGM soundstages for three songs: 'The Weight' with The Staples; 'Evangeline' with Emmylou Harris; and 'The Theme From The Last Waltz.'
That's one of the reasons we went back later to do this thing with The Staples Singers, and this thing with Emmylou Harris. We had done 'The Last Waltz' and never paid that same kind of respect to the music that came down from the mountains, or whether it would be gospel or country or even 'The Last Waltz' theme which was so traditional and me just being a movie buff, ya know. I wanted to have something that was thematic to it and was absolutely as lovely as what Scorsese and (production designer) Boris Leven, the cinematographers and everyone were trying to do. People kept using the words 'beautiful,' and 'that's so warm,' that you wanted to just go with that whole thing and everybody feeding of all that those different energies.
So, the preparation for it, and the time I got to Marty it was probably six weeks away when I talked to him about it. That's what I'm remembering. The timing wasn't great for him but it was something that he was so passionately wanting to do, he made it work.
Q. You've seen it all from your own group's gigs and to dates with Sonny Boy Williamson in the early '60s in a club where a single white spotlight was on the singer.
Then, cut to The Last Waltz, where you have lots of cameras, additional lights, the possible intrusion of chandeliers hanging above and around the stage at Winterland. The stuff had to be there to help document everything. At the time at the event, were you aware of the camera and sound relationship?  Did it inhibit your performance? You know you are being filmed.
A. Yeah, but I thought that it was important to know when to get out of the way, too. And when Marty invited Boris Leven the production designer to help us out with this, Boris Leven, with such respect to the guy who had done West Side Story, The Sound Of Music, and Giant.
Q. You were still going to film school then.
A. Yes. That was part of my passion that I had great admiration for. This work, and what he had been involved with. So, when he sat down and talked with Marty about this, he had all kinds of ideas that were way to ambitious for us, 'cause we didn't have any financing for this, so just reeling him in on that. Never was there an idea though that we thought was just silly and out of context. When he said 'I'm getting these chandeliers from Gone with The Wind, and this set from La Traviata, 'cause we can get it for no money at all because we're in San Francisco from The San Francisco Opera Company.
"Just him operating on whatever those skills were under those circumstances. And we said 'chandeliers?' And he said, 'this is The Last Waltz.' And Marty and I said, 'Excuse us Boris, we forgot ourselves there for a minute.' He said this has to be so elegant.
"I asked Martin Scorsese to do this because I have great respect for him, and he has great respect for the music, and I'm just gonna let him do everything that his instincts tell him and he's gonna let me do everything that my instincts tell me on my end.
"Everybody (the Band) was overwhelmed by how this thing caught fire. How exciting this was seeing this thing come together. And just being surrounded by such brilliance. So everybody was having a great time with that. It was, like all movies, and like any project this big that has so many people involved, this is a committee art, ya know. This is not one person doing anything. It's many, many people participating.
Q. Did you have discussions about subject specific things like not having a whole film of just close-ups or the camera fixed on the guitarist's fingers?
A. We had conversations about just the approach of what we didn't like about things that had happened in the past that we just didn't want to do that.  We wanted to do this in a much tastier fashion, in a classic fashion. And Marty was so in tune with that, and he said, 'I worked on Woodstock, and that movie was about the audience.
"This movie is about the music.' And this is getting people together who will never be together in our lifetime. And an event that will never happen again. And he said 'I want to do this in a way that shows how much I care about what's happening here. And how grateful I am to be part of this.' And that's where those choices were made. And we talked about things and how they would be shot, where the cameras would be. He went over that 'cause he's a very generous artistic person, plus he wanted everybody to be on the same page so we were all in a position to do what we possibly can.
Q: There's extra footage of Bob Dylan and his songs on the soundtrack discs.
When we talked in 1976 about the Band playing with Dylan on the 1974 tour, you remarked "at least this past time we weren't booed." I still have a hard time comprehending Dylan and your group being booed sometimes on the world tour of 1966, when what I remember about the 1974 shows I saw, everyone was totally loving the stage blend.
A. Well, one of the things I'm excited about on the (new) Last Waltz is that we got to use this other Dylan song 'Hazel.' We had to make sacrifices originally, obviously, in the movie, because it's a movie, and you have to edit a movie so it plays. But on the record we had a limited amount of space, too. And I was always taken by Bob's performance on 'Hazel.' I thought he did an amazing performance on it and poured such passion into this song.
Q. You know, I didn't fully understand it on Planet Waves, the album the Band did with Bob that coincided with that 1974 tour, but seeing him deliver in 1976 on it at The Last Waltz was awesome.
A. Yeah.  It became a whole other thing live. Exactly. And the difference in the passion level is just extraordinary.
Q. And you played on the original studio version of "Hazel" on Planet Waves.
A. Yeah!  And I remember when I was putting this whole (new) thing together 'Hazel' was really good, too. I'm glad to hear I wasn't alone in that.
"Getting back to your question about the Band and Bob on stage. There was a thing that happened between Bob and the Band that when we played together that we would just go into a certain gear automatically. It was like instinctual, like you smelled something in the air, you know, and it made you hungry. (laughs). It was that instinctual. And the way we played music together was very much that way. And whether, we were playing in 1966, or 1976, or when we did the tour together in 1974, we would go to a certain place where we just pulled the trigger. It was like 'just burn down the doors 'cause we're coming through.' And it was a whole other place that we played when we weren't playing with him. It was a whole place that he played when he wasn't playing with us, so it was like putting a flame and oil together, or something. I don't know.
"When we did the Dylan and Band tour in '74, where we went and did a lot of the same things we did back in '66, and the peoples' response was 'this is the shit and I knew it all along.' It was like you weren't really there all along. It's interesting and it's one of the things I talked about in my keynote speech that I had to make at this SXSW conference.
"It's really a very interesting experiment to see, or go from something that people were so adamantly against this music, and that we didn't change nothing, and the world revolved, and everybody came around and said 'this is brilliant.' That was very interesting to see everything else change around you.
Q. Did you have some interaction with repertoire with Dylan before the show? Song selection?
A. Oh for sure. "Forever Young."  We all tossed our thoughts into the hat and then we would try stuff, and if it felt right, then we just did it. It was one of those things like letting some higher power make the decision, because the proof was in the pudding. And "let's play that song and see how it feels." We would that and say, 'that was fun. Let's do that.' But Bob wanted to do stuff that was connected with our origins together, which is why we did "Baby Let Me Follow You Down," which we played back then, and "I Don't Believe You (She Acts Like We Never Had Met)," and obviously "Hazel" and "Forever Young," because us working together on the Planet Waves thing. So, it was trying to find a connection, and not just do something that nothing to do with anything. We wanted it to have some thought.
Q: Muddy Waters in The Last Waltz was just incredible. He leaps out of the screen. When you were taking a look at this new print, and putting the soundtrack together, with two of his tracks, does he blow your mind, too, maybe because you captured something that people will never be able to physically see and experience?
A. More so. Because now when I'm watching it I'm also hearing it that way. And the power of it.  And what this man, and you look at him and say, 'This guy…I don't know what The Rolling Stones would have done, or a lot of music would have existed if it hadn't been for this guy.' And look at him, and can't you see why? It is one of the high pints for me in this. And just talking about pedal to the metal, and pulling the trigger, and he must have been about 65 or so, he came out and he was the daddy of the whole Delta Blues scene for sure, but such a gentleman. He came out there with people who are so large and their own music, and held his own at 64, or 65, and didn't take a step backwards. There's a true master.
Q. You know, previously, I had seen Muddy in clubs like The Ash Grove on Melrose Avenue, thankfully, down the street from my Fairfax High School in West Hollywood, which didn't have an age limit. At The Last Waltz Muddy had the best sound, the best lights, a huge stage, and lots of people behind him. Muddy brought something to the party. I left Winterland afterwards feeling I could rock 'n' roll to age 80, like many other people in the room.
A. Yep. Well you know there was something to the idea of when all these people are in this place, and you're coming out and doing one song, or two songs, or whatever you're doing, and then there's all these people who had been out before you, and then all these people coming after you, all of that, it made everybody just rise to an occasion musically, spiritually that sometimes you don't know you even have in yourself. That's one of the things I think, 'Thank God this was captured in such a beautiful way, too.' And that you can really see this and really go inside it, and really feel a part of the whole thing. Because it's a movie. It isn't just a video of something, where you looking at it and saying, 'Is this fake?' 'Is this real?' 'Is this being fluffed up like a television commercial?'
"This is the real thing in a setting of such respectful elegance and everything that when I was working on it I did think, 'My God, I've known Van Morrison for all these years, I've seen him perform many, many times and I never saw him do what he did.' Muddy Waters coming out there between all of these people and rock the very foundation of music in that whole place that night. This was like an outstanding experience. Sometimes I had to just catch myself not to be standing there with my mouth open.
"Well that's why I spent five and a half months doing this and even the DVD audio of this is astounding, because it's not goofy, and things are over here and over there for no reason. It's done in a way that draws you. You're no longer sitting in the audience in this thing. You are sitting right up in the stage in front of the music. And it just wraps around you. It's really quite beautifully done.
Q. When you hear the Band's music on the speakers, what do you think when it's coming back at you? Is it a joyous experience?  Is it sad experience?
A.  I just feel extremely proud in the choice that we made to work together. I absolutely feel there are moments when I think…Whew…He's the business. What talent.  What an amazing emotional musical choice was made right there.  I do feel those things.
In late November I was interviewed by Ireland-based radio host Tom Dunne and we discussed the night I attended The Last Waltz.
Harvey Kubernik On The Last Waltz And Leonard Cohen – Highlights …
https://player.fm/…tom-dunne/harvey-kubernik-on-the-last-waltz-and-leonard-cohen
Nov 28, 2016 – Tom Dunne is joined by music historian and author Harvey Kubernik to discuss The Last Waltz – 40 years on – & his Leonard Cohen Biography, …
Podcasts – The Tom Dunne Show – Highlights from Tom … – Newstalk
http://www.newstalk.com/…Tom_Dunne…Tom_Dunne/…/Harvey_Kubernik_on_The_Last…
Writer Harvey Kubernik discusses his new biography of Neil Young, as the legendary musician celebrates his 70th birthday…
Highlights from Tom Dunne by Newstalk 106-108 fm on iTunes
https://itunes.apple.com/us/podcast/highlights-from-tom-dunne/id649424942?mt=2
Only the best bits from Tom Dunne's show make it in here. …. Tom Dunne is joined by music historian and author Harvey Kubernik to discuss The Last Waltz – 40 …
(Harvey Kubernik has been a music journalist for over 44 years and is the author of 8 books. During 2014, Harvey's Kubernik's Turn Up the Radio! Rock, Pop, and Roll in Los Angeles 1956–1972 was published by Santa Monica Press. 
In September 2014, Palazzo Editions packaged Leonard Cohen: Everybody Knows, a coffee—table—size volume written by Kubernik, currently published in six foreign languages. BackBeat/Hal Leonard Books in the United States.
Harvey and Kenneth Kubernik wrote the text for photographer Guy Webster's award-winning first book for Insight Editions published in November 2014. Big Shots: Rock Legends & Hollywood Icons: Through the Lens of Guy Webster. Introduction by Brian Wilson.
In March, 2014, Kubernik's It Was 50 Years Ago Today The Beatles Invade America and Hollywood was published by Otherworld Cottage Industries.  
In November of 2015, Back/Beat/Hal Leonard published Harvey's book on Neil Young, Heart of Gold).
In April 2017, Sterling will publish Harvey Kubernik's 1967 Complete Rock Music History on the Summer of Love).