The HBO documentary ELVIS PRESLEY: THE SEARCHER debuts SATURDAY, APRIL 14 (8:00-11:00 p.m. ET/PT) on HBO
RCA/Legacy Recordings Set to Release Elvis Presley: The Searcher (The Original Soundtrack) on Friday, April 6 Musical Companion to Upcoming Two-Part Documentary Available in Multiple Configurations including 3 CD Deluxe Box Set Deluxe Edition includes Selections from Pearl Jam's Mike McCready's Original Score Plus the Songs that Influenced Elvis Elvis Presley: The Searcher (The Original Soundtrack)
By Harvey Kubernik c 2018
This remarkable three-hour, two-film presentation focuses on Elvis Presley the musical artist, taking the audience on a comprehensive creative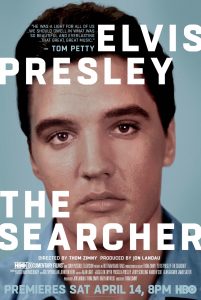 journey from his childhood through the final 1976 Jungle Room recording sessions.
The documentary includes stunning atmospheric shots taken inside Graceland, Elvis' iconic home, and feature more than 20 new, primary source interviews with session players, producers, engineers, directors and other artists who knew him or who were profoundly influenced by him. Scotty Moore, Red West, Priscilla Presley, Bruce Springsteen, Tom Petty, Emmylou Harris, and Robbie Robertson are among the voices who comment about the artistic and personal struggles that preceded Presley's death in 1977.
The two-part documentary movie, which will premiere in the United States on HBO on April 14, 2018, uses rare footage lensed throughout Elvis' life and career as a means of exploring Elvis' singular musical vision in all its complexity. It also features never-before-seen photos and footage from private collections worldwide, and includes an original musical score composed by Pearl Jam lead guitarist Mike McCready.
Elvis Presley: The Searcher is an HBO Documentary Films Presentation in association with Sony Pictures Television; executive producers, Glen Zipper, Priscilla Presley, Jerry Schilling, Andrew Solt, Alan Gasmer and Jamie Salter (chairman and CEO, Authentic Brands Group); producers, Jon Landau and Kary Antholis; directed and produced by Thom Zimny.
The musical companion to the two-part documentary directed by Emmy® and Grammy® award winner Thom Zimny, Elvis Presley: The Searcher (The Original Soundtrack)  will be available in digital and physical configurations including an 18-track definitive soundtrack, a 2LP gatefold 12″ vinyl edition and a 3CD collectible deluxe box set.
Elvis Presley: The Searcher(The Original Soundtrack) includes the 18 essential Elvis Presley hits, powerful performances, and rare alternative versions of songs at the musical core of the groundbreaking three-hour two-part film which focuses on the development of Elvis' spellbinding artistry, from his early blues and country roots and recordings with Sam Phillips at Sun studio, through his heralded contributions to popular culture to his 1976 recording sessions at the Jungle Room in Graceland.
The 3CD deluxe box set features 37 additional Elvis cuts plus a special disc featuring selections from Mike McCready's original score for Elvis Presley: The Searcher; Tom Petty and the Heartbreakers performing "Wooden Heart"; along with music selections that inspired Elvis including R&B and country classics from Howlin' Wolf, Bill Monroe, Lloyd Price, the Staple Singers, Arthur "Big Boy" Crudup, Johnnie Ray, Odetta, the Blackwood Brothers and "Home Sweet Home" sung by his mother, Gladys Presley. Soundtrack Producers are Ernst Mikael Jørgensen, Thom Zimny and Jon Landau.
Elvis Presley: The Searcher (The Original Soundtrack) deluxe 3CD set includes a 40-page hardcover book featuring rare photography, liner notes by Warren Zanes, and a director's note by Thom Zimny.
As Bruce Springsteen observes in the documentary, Elvis Presley belonged to a singular category of musicians in the pantheon. "You hear performers in the thrall of the beauty of invention, not knowing quite where they're going to go, not knowing exactly what they're doing," Springsteen said. "Just discovering and doing it literally as the music is being played….You're out on the frontier and it's a very pristine and exciting place to be."
"You know, God bless him," said Tom Petty. "He was a light for all of us. We all owe him for going first into battle. He had no road map and he forged a path of what to do and what not to do. And we shouldn't make the mistake of writing off a great artist because of all the clatter that came later. We should dwell in what he did that was so beautiful and everlasting, which was that great, great music."
On March 14th at the 2018 SXSW Festival, Priscilla Presley, David Porter (legendary Memphis music writer and producer), Thom Zimny (director), Jon Landau (producer) and moderator John Jackson (SVP A&R, Sony Music) previewed the HBO film and participated in a panel discussion about the cultural impact of Elvis' music.
Andrew Solt is one of the executive producers of Elvis Presley: The Searcher. His SOFA Entertainment purchased all 1,050 hours of The Ed Sullivan Show in 1990. Footage from that library, including Presley's September 9, 1956 appearance, is implemented in the documentary.
Additional credits of Solt range from the 1979 TV special Heroes Of Rock And Roll and 1988 feature documentary Imagine: John Lennon to the 1991 Warner Brothers theatrical feature film This is Elvis to the 1995 TV documentary series The History Of Rock 'N' Roll and 2006 home video Elvis: The Ed Sullivan Shows.
"Sullivan knew how to give a show that was for every generation that might be watching," remarked Solt in a 2008 interview we did. "It was for the kid's to the grandparents. And he knew how to bottle lightning. And he also knew, because he had great instincts, not only how to produce a show bit who to put on and what order.  And he really was the arbiter of taste for a period of time which was that post war era, the birth of television, until the birth of the Seventies. It is a remarkable reflection of American history."
Solt also commented about the world of black and white film that captured the seminal televised musical performances of Presley in America excerpted in Elvis Presley: The Searcher.   "I think because the footage is black and white it takes you back even more into an era which to today's generation nobody understands why anything was ever in black and white."
I saw Elvis Presley in concert 6 times during 1970-1977, some ducats courtesy of RCA Records and other tickets purchased as a member of the paying public.
Over the years I interviewed a handful of the musicians and producers/engineers who were on Presley recording sessions from Scotty Moore to Glen D. Hardin. Former RCA publicist Grelun Landon who headed Public Affairs for the label once arranged for me to have a quick hello with Presley's manager Colonel Tom Parker and tour the RCA studios in Hollywood between Presley recording sessions.
In 2008 I penned the 5,000 word booklet liner notes to the Elvis The '68 Comeback Special 5 CD box set issued by Sony/Legacy. Portions of that seismic televised event are seen and heard in Elvis Presley: The Searcher which opens and closes with footage from Elvis The '68 Comeback Special. I was also interviewed in 2007 for the DVD deluxe edition of Viva Las Vegas.
In 1999 I spoke with the legendary songwriting/producing duo of Jerry Leiber and Mike Stoller about Elvis Presley. Their tunes populate the movie and soundtrack to his star role in Jailhouse Rock.
"Jerry and I actually produced, without credit, the records, our songs in particular, that were in the film Jailhouse Rock, explained Stoller. "And, he asked for us to be there. We had never met him before. He was a very good-looking young man, very energetic. I mean, he just kept going and going in the studio. He'd say, 'Let's do another one.' And it would go on and on until he felt he had it. The studio was booked for the day, and we were used to three-hour sessions."
"He loved doing it. He wasn't someone who was doing it and wanted to go home, like a lot of people," Leiber added. "He had more fun in the studio than he did at home. He was very cooperative and a workhorse."
"He had 'The Memphis Mafia' around him," elaborated Stoller. "They were his boys. He would be nice to other people but did not interact that much. We met him in the studio. He had seven or eight guys hanging around. He had his entourage, Lamar, Red, his cousins. He traveled with his environment. And Colonel Parker was smart, he let him travel with his entourage and it kept him insulated. And nobody could get to him, by the way, if you tried to lay an idea on him just because he was there."
"I thought he was the greatest ballad singer since Bing Crosby," Leiber mused. "I loved to hear him really do a ballad, 'cause there weren't too many people who could do our ballads to our satisfaction. We didn't have people like Tony Bennett or Frank Sinatra because we were writing rhythm and blues, torch ballads, and they didn't so those things, you see. They did Sammy Kahn songs, Sammy Fain, they did those other kinds of structures that we, by the way, admired very much and love, still do. The thing is, that was what we were writing, and that's what he sang better than anybody. As far as I'm concerned, nobody cuts Little Richard on rhythm tunes. You have to go far and wide. But Presley was the ultimate in the ballad. It was just his singing. It was singing. Pure talent."
Dayton "Bones" Howe, came to Los Angeles from Georgia in 1956, prompted by drummer Shelly Manne's admonition  that there was gold (or, at the least, a possible career) in them there Hollywood Hills. Howe settled in behind the mixing console at Radio Recorders, as tape recordist under principal engineer Thorne Nogar on some the young Presley's breakthrough hits.
Over the next decade, Bones Howe became one of the most celebrated engineers and then in the music industry, generating a parade on Number Ones from Jane & Dean, Johnny Rivers, the Mamas & Papas, the Association, and the Turtles. The West Coast sound was as much a product of this soft-spoken, Jazz-loving gentleman as it was the worship of cars, girls and warm summer breezes.
"The first time I saw Elvis was at the Florida Theater in Sarasota, Florida when I was in high school. He was a young country singer. He performed between movies," Howe told me in a 2012 interview. "I first did some work with Elvis in late 1956 and early '57 in Hollywood at Radio Recorders.
"Elvis drove out from Tennessee in a stretch Cadillac with DJ and Scotty with the gear in the back seat. They came out to record with Steve Sholes, the A&R guy who was responsible for signing them on to RCA Records. He brought them to Hollywood to record them. RCA was doing all their recording in those days at Radio Recorders. Elvis and the guys stayed in Hollywood at the Roosevelt Hotel or the Plaza and later the Knickerbocker.  I did some sessions with Thorne Nogar. He was very good to me and took me under his arm. I was a recordist and he asked me to do some sessions with Elvis. Elvis could never get his name right so he called him Stoney.
"In Hollywood I saw Elvis with his buddies. It was the first time anyone ever heard of block booking a studio for a month. We never had to tear it down. We could leave the studio at night. I worked on 'Love Me' and 'Old Shep.' I was around the session for 'Return to Sender.'  Elvis never stopped moving in the studio. He recorded everything live. In those days you didn't separate people so everyone was in the same room. Direct to mono when we started. The two-track that we did on Elvis had his voice on one track and everybody else on the other track. When we started with Elvis there was no stereo. He could sing a ballad. He could imitate anybody. Mention a singer and he would imitate them. Like Fats Domino. You would turn your back and you thought Fats was in the room," noted Howe.
"Elvis would come in with Hill & Range music publishers and Elvis would record only their songs. They would show up with a box of acetate dubs and my job on those sessions, aside of running the tape machines was that I had a turntable there which was hooked up to the playback system. I would take these dubs out one at a time and put them on a turntable and play it outside to him. He would signal to me like running his finger across his throat if he didn't like the song and I would toss it to another box. Or he would pat the top of his head. Meaning from the top again. 'Play it again.' And the guys would learn the song off the demo. There it all was for me. All in a nutshell. Demo. Artist. Song. Record. The Colonel never showed up or came to the studio. Maybe once to get some paper signed. Elvis ran the session and Steve Sholes ran the clock. 'OK Elvis. That's 2:14.' 'Sounded good in here. Want to listen?' Radio Recorders had the wonderful echo chamber in Studio B. A live chamber in those days. Not tape reverb. I watched Elvis become a huge star."
"I saw the Beatles in Atlantic City on their first tour here," revealed deejay/entrepreneur and TV producer Dick Clark in a 1998 interview I did. "It was interesting because it was like the first time I saw Elvis Presley.  There was this shriek, this sound, which I think is part of the reason they gave up performing in person. It was very hard to hear the music. The audience reaction was phenomenally interesting. That's what I found about Presley.  I saw Presley in the '50's at The Arena in Philadelphia, a 4,000 seater. It was the first time my ears rang after a concert. The same thing happened in Atlantic City when I saw the Beatles. So you knew something was going on."
In 2004 I asked Andrew Loog Oldham about Elvis Presley for my book Hollywood Shack Job: Rock Music In Film and On Your Screen.
"Man of hope, dreams and glory," replied the author, deejay and 1963-`967 manager/record producer of the Rolling Stones, "You must remember that Elvis only toured the U.K. on screen and vinyl, therefore he had the first and last word and the best audio and lighting. This was also the era when TV was a black and white affair afforded by the few that ran from 5PM to 10 PM and did not feature the likes of Elvis.
"I think King Creole, Jailhouse Rock and Flaming Star were best; loved the interplay with Katy Jurado; loved him with Carolyn Jones in King Creole …
"Elvis seemed to have these great confrontations with older ladies in his flicks, Lizabeth Scott in Loving You. The images that I remember best are Elvis singing 'Crawfish' on a balcony in New Orleans is just classic, singing 'Baby, I Don't Care' poolside in Jailhouse Rock in those great Zoot suit pants, cable knit sweater with the pure Armani neck and those black and white loafers to die for. Elvis gave us hope and attitude. The Beatles opened our minds and hearts but Elvis opened our legs, of course the pill helped."
Elvis Presley: The Seeker chronicles the last public performance of Elvis on March 26, 1961 before Presley resumed live touring in 1969. Actor/poet Harry E. Northup was in attendance for that monumental booking.
"When I was a teenager living in a small town in Western Nebraska, I fell in love with Elvis Presley's songs and listened to them over and over.  'Don't Be Cruel' was and is my favorite. When I was 17, I joined the U.S. Navy. After Radio School, I was sent to Oahu where I was stationed at Pearl Harbor.  On March 25th, 1961, I saw Elvis in a concert at the Bloch Arena, in Pearl Harbor. It was a benefit [$62,000 was raised] on behalf of the Memorial Fund of the battleship, U.S.S Arizona.
"The audience was mostly service men.  I sat in the balcony, stage right. He sang 'Love Me Tender,' 'Hound Dog,' 'Don't Be Cruel,' among many others.  He was electric; each time he made a move, even if it was with his little finger, the audience went wild. He was the King.  Men and women loved Elvis. I remember seeing a man dressed in a suit. He was carrying an attache case. A sailor buddy told me it was Colonel Parker.  That was Elvis' last public appearance for many years because he started making movies.
"G.I. Blues is one of my favorite films of his because of the Army setting, the love theme and the lyrical songs that he sang.  I feel grateful to have seen Elvis in such a perfect setting when he was young, clean cut and handsome."
By the mid-sixties, the singer/actor was looking for a new spiritual and melodic road map.  At this time Presley was now preparing for a life and a potential career renaissance.  Elvis, often with pals in town, or driving himself in Hollywood and Beverly Hills could on occasion be seen buying copies of the weekly underground newspaper The Los Angeles Free Press at the lip of the entrance to Laurel Canyon on Sunset Blvd. or with his entourage ordering food to go from Greenblatt's Delicatessen.
During this period, Elvis Presley had visited Self-Realization Fellowship center on Sunset Blvd. near the Pacific Coast Highway in Southern California and devoured Autobiography of a Yogi from the movement's founder, Paramahansa Yogananda. The Capricorn seeker also had a friendship with Daya Mata of the SRF retreat in the Mt. Washington area in East Hollywood. Presley had read Aldous Huxley's The Doors of Perception.
Jerry Schilling is the author (with Chuck Crisafulli) of Me and a Guy Named Elvis. Jerry was a longtime insider/adviser and trusted Presley employee.  Last decade I interviewed Schilling, who is one of the executive producers on Elvis Presley: The Searcher. He currently manages the Mike Love-led Beach Boys.
"Elvis was a seeker," described Schilling. "He did go to the Bodhi Tree (spiritual book store in West Hollywood that opened in July, 1970). There was a part of our group that did not like that. I was in the minority with Larry Geller. Elvis was open to show a spiritual and vulnerable side. He was into that. What I loved about it was that through his spiritual quest I got to know the man even deeper. We would go to SRF in Pacific Palisades and Mt. Washington in East Hollywood many times."
In recent years, it was "all happening" in Hollywood at Ciro's nightclub, where the Byrds were chiming blissfully away, when Love in 1966 were blazing at Bido Lito's or at the Whisky A Go Go, as the Doors' lead singer Jim Morrison was threatening to implode. Elvis and his posse, meanwhile, were holding court at The Trip, grooving hard to the old school soul stylings of Jackie Wilson.  He was intoxicated by Wilson's polished stage presence, a litany of body twists and finger snaps that punctuated each beat. "We went to see Jackie Wilson twice at The Trip on Sunset Strip in 1966. Elvis invited Jackie to the MGM lot to watch the filming of Double Trouble," confirmed Jerry.
"There were years when Elvis didn't get a hit record. It was hard for Elvis because he knew that it wasn't that he couldn't do it. It wasn't that there wasn't material out there. It was that he wasn't having access to it. So he went from being the most contemporary guy in the world. I think it was hurtful for him. And he never really expressed it. He started listening to country music. Not the Bob Dylan era, Hair or Sgt. Pepper."
I saw Elvis once in Dr. Morris Feldman's Picwood dental office in West Los Angeles near the MGM studio in Culver City on a Saturday afternoon during the summer of 1967. Presley arrived in a Rolls Royce, flanked by two guys, walked into the waiting room and gave a smile to me and my mother. When it was my turn for the chair, Dr. Feldman told me Elvis broke a tooth during the filming of a movie called Speedway.
"In December 1967, Nancy Sinatra called and encouraged us to see her TV special, Movin' With Nancy," Schilling remembered. "We had a fine time watching her special. Elvis and Nancy did the movie Speedway and I was his stand-in, and Nancy's cousin was her stand-in, Elvis started getting some calls from Frank Sinatra," underlined Jerry.
"Frank Sinatra really got who Elvis was at that point. I mean, he got it in 1960, and did the TV special when Elvis came back from the army. He got it musically. There became a real Presley and Sinatra bonding. I remember one time we were on tour and Frank got in touch with Elvis, 'Is there any way I can help out here?' Elvis appreciated the call.
"On April 4th a couple of months before Elvis The '68 Comeback Special was taped, I was with Elvis at MGM when he started working on the film Live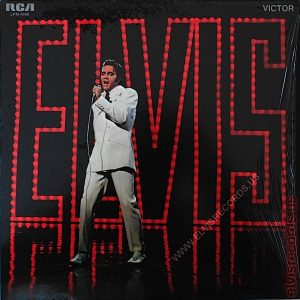 a Little, Love a Little.  I was his stand-in and photo double. Between scenes in his trailer Elvis had a small TV that usually played in the background and we were then grabbed by a newscast from Memphis that broke in that Martin Luther King, Jr. had been shot and killed.  There were tears in his eyes. Elvis was greatly inspired by Dr. King's 'I Have a Dream' speech and he used to recite the speech. And he did it. He loved Martin Luther King's voice and could emulate it. He could also do General MacArthur's speech. This guy was interested in history and really understood the real things. He understood humanity in general. And what was right and wrong."
Elvis Presley had entered 1968, that heartbreaking year, as barely a blip on the radar screen of a generation wallowing in a purple haze.   Luxuriating high above Sunset Blvd, he gave little thought to the hordes marching up and down the neon Strip, content to placate his remaining fans with star turns in such disposable drive-in fare as Charro and Live A Little, Love A Little.
Presley was still issuing product of movie soundtrack albums but garnering nowhere near the sales figures of a smash hit like Blue Hawaii.  It had been nearly six years since "Good Luck Charm" had topped the Billboard 100, an eternity for an increasingly impatient, impetuous and impertinent audience.
The arrival of Bob Dylan, the Beatles, the Rolling Stones, the Doors and all that followed in their wake, further diminished the relevance of an artist who burned brightest when girls wore poodle skirts and boys donned coonskin caps.  His most recent single, a carousing treatment of Jerry Reed's hook-laden "Guitar Man" failed to enter the Top 40.
Elvis hadn't been on the small screen since The Frank Sinatra Timex Show for ABC television, welcoming him back from the service in May, 1960. Parker shrewdly maneuvered a sweet deal from NBC-TV's Tom Sarnoff.  Ostensibly a boiler-plate Christmas special – Elvis bedecked in seasonal tinsel, singing treacle owned by Elvis and the Colonel's publishing company, natch – Parker parlayed the network's commitment to include financing for a feature film, which was becoming increasingly harder to secure.  The show, sponsored by Singer Sewing Machines, was to be called, ELVIS.
What Colonel Parker hadn't anticipated, though, was appearance of a joker in the deck, in the form of television director, Steve Binder, who, with his partner, engineer/music producer Bones Howe, set Elvis off on a personal journey that bordered on a career resurrection.
Bob Finkel of NBC had recruited Binder to direct their weekly pop music series, Hullabaloo.  TV specials featuring Leslie Uggams and Petula Clark solidified his credentials for bringing projects in on time, on budget and with the glint of danger.  Elvis Presley was now in the capable hands of a talent to match his own. Finkel, Colonel Parker and Binder all agreed that it would be a one-man show, no guest stars, and RCA Records would have a soundtrack album for retail outlets.
Steve Binder was the right man at the right moment.  Precocious to a fault, the Los Angeles native left USC just before graduating to apprentice under Steve Allen, who's pioneering variety show broadcast was a hothouse of innovation and imagination.  Binder, barely in his twenties, then took the helm of Jazz Scene USA and later Hullabaloo, bringing live performances by musical masters to a network audience.  Viewed today, it is clear that Binder understood the unique requirements of lighting and blocking that showcased musicians in an optimal setting.
In October, 1964, Binder directed The TAMI Show, a groundbreaking rock 'n' roll circus, that triumphed under his whip and chair direction.  Hosted by Jan & Dean and starring James Brown, the Rolling Stones, the Beach Boys, Chuck Berry, Lesley Gore, the Miracles, and Marvin Gaye, amongst many others, this ninety minute feature culled from two days of production insanity, has rightfully  earned legendary status, a template for every rock concert film.
"Elvis and I hit it off," highlighted Binder in an interview we conducted in 2008. "I didn't feel like the awe-struck audience to a super star- just another guy my age. And we hit it off as friends when we were working. He'd come to the office I shared with Bones on Sunset Blvd. every day.  Everyone on the team was treated equally, and Elvis joined us in that spirit. He did not play star one day on the entire shoot. We all got to pick the music. My TV special before with Petula Clark and Harry Belafonte was done at the same location at NBC.
"I used John Freschi and Bill Cole who were on staff there as lighting director and audio head, set designer Gene MacAvoy, musical director and composer Billy Goldenberg and worked with Bones Howe. By the time we got to Elvis we had a family.
"I told Elvis in no uncertain I was not going to do 20 Christmas songs. Elvis told me he was scared to death of television. He told me he was only comfortable makin' records. He had been away from the public and was concerned they didn't want him back. I told him 'then why don't you make a record album and I'll put pictures to it.'"
Writers Chris Bearde and Allan Blye were recruited into developing the show's script.  Veterans of such whimsical assaults on middle-class mores as Rowan & Martin's Laugh-In and The Smothers Brothers Comedy Hour, they recognized a unique opportunity to walk the razor's edge with a network's witting compliance.  If the final draft swerved just shy of Dada, it was through no lack of collaborative ambition with a fully-engaged star.
"Guitar Man' and 'Trouble' were the hooks for the whole show," Bearde detailed to me in a 2008 interview. "We met with Elvis and the outline was trying to describe his entire life. We then figured we had to have something that had a guitar. Because Elvis was not just Elvis. He was Elvis and a guitar. So we decided to weave the whole thing around 'Guitar Man.' It was the first 'Un-Plugged' show ever, and it was a very dangerous thing; to put this guy in front of everyone without a bass.  Elvis didn't need anything more than that. He was wired. He was an electric man. When you saw Elvis in person everything became slow motion. He looked like this caged animal ready to eat up the scenery and eat up the music and do his thing. We had arena, road and Gospel medley segments."
Goldenberg, a confederate from Binder's job on Hullabaloo, viewed his assignment as a decidedly mixed blessing.  A graduate of Columbia University and a protégé of the Broadway Legend, composer Frank Loesser (Guys and Dolls), he brought a rich harmonic sensibility to his work that ill-suited the caterwauling punch of fifties rock 'n' roll.  It was only after Binder's fervent pleading that Goldenberg agreed to meet with Elvis, let alone compose a raft of charts under a mind-bending deadline.
"From the very first meeting I liked him," reinforced Goldenberg in a 2008 phone conversation. "We had a great rapport. He always looked after me and was supportive. The most interesting thing to me once we started was the concept that developed. There was a movie soundtrack by Quincy Jones, In Cold Blood, probably the most interesting score I had ever heard at that point. It was a fusion of that kind of country redneck sound but at the same time something very classical underneath it all.  Evil, sexual, and spooky. Elvis personified all of those things. And the music had to as well."
Goldenberg was given free reign to assemble an all-star orchestra, drawing from both the NBC Stable as well as distinguished free-lancers.  But his real coup was reeling in the fabled "Wrecking Crew," a pick-up team's worth of studio hotshots who routinely delivered the goods on countless hit recordings. Although back in 1968 they were session players from the Hollywood Local 47 Musicians Union. Like their Detroit counterparts, the Funk Brothers, these were seasoned jazz cats that could blend a savvy professional's hauteur with the laid-back charm of sunbaked Southern California.
"This was like a film that had to be scored," reiterated Goldenberg. "The first thing I did was build a big medley around 'Guitar Man.' That was the test, actually. I went with that whole concept sequence- trying to make it as dirty and black and provocative and still being Elvis.  We had the presence of those guitars that were very dark. His voice invited you into the arrangements. I wanted it all to be seductive. Because Elvis was the ultimate seducer. A starting point was definitely the work of the bass guitar. Once I had that kind of bass thing going on and there was a certain kind of mambo riff with it. It also touched on some of the Beatles' darker stuff."
In 1967 and '68 keyboardist Don Randi was doing recording sessions with Neil Young and Jack Nitzsche during Buffalo Springfield, on dates with Love on Forever Changes, and on the Monkees' Head soundtrack.
"Around the same period this Presley call comes in from Billy Goldenberg," reminisced Randi to me in 2008 inside his Baked Potato club venue in Studio City. "I had done some soundtrack things earlier in the sixties with him.  I worked on another Presley film, Live a Little, Love a Little. We cut 'A Little Less Conversation' with Al Casey, Hal Blaine, Larry Knectel the bass player and me on piano. In 1962 Jack Nitzsche was the pianist in the lounge band in an Elvis' film Girls! Girls! Girls! Barney Kessel was on that soundtrack and others, and he played guitar earlier on 'Return to Sender' and 'Can't Help Falling in Love With You.'
"I never felt Elvis was a man out of time. What you have to understand is that his music never died. You know, at the time, a lot of people were saying 'he didn't have a hit record for a couple of years. His career is over.' I never thought that at all. It never would enter my mind. Because I know, from the first time I saw him on Ed Sullivan to the days I got to work with him, that this guy could go on forever. The only guy who will stop this guy from going on is himself," posed Randi.
"That night I got the Elvis call. I remember one thing, it was on a Saturday and we all were making a fortune. Double scale. Golden time. Big time. I know this was a little different for Elvis working with us. Sometimes he sang live with us and sometimes he overdubbed. As a matter of fact he sat down at the piano with me a few times for me to straighten out the part he had to sing on 'Jailhouse Rock.' We were on the incidental and interstitial music that was all over the soundtrack. He worked with us on the stuff. What's more important than hearing Elvis in head phones is that I got to hear him as a human being, having chats, going back and forth. He had a musicality to him.
"Look, Elvis has innate musical skills. He did not remind me of Brian Wilson or Frank Sinatra. They are all so different. Which is a very interesting point. The individuality between those three people are from completely different places. They are all fantastic on their own and rightly so, because they worked that hard creating what they do and everybody is an individual there.
"I guess we were all taking Elvis into a different world. It was a completely different thing for him from the A band, or the Memphis band. Just having the Blossoms on the sessions. Elvis loved the Blossoms. He knew Darlene from her work with Ray Charles. Elvis was now playing with the Wrecking Crew. Hal Blaine, Tommy Tedesco, Mike Deasy, Tommy Morgan, Chuck Berghoffer, Frank De Vito, and vocal contractor B. J. Baker."
Drummer Hal Blaine had already enjoyed hit record success with Presley on "Can't Help Falling in Love With You," "Return To Sender" and "Bossa Nova Baby."
"The '68 Special was a great time. Elvis was terrific and loved us all because a lot of us had worked with him before," divulged Blaine. "I was on the soundtrack of Blue Hawaii and Girls! Girls!  Girls! 'Hello. How are you doing?' He was relaxed but sweated a lot. I had to hand him a Kleenex when he was wearing that leather suit. Elvis was Elvis and he was a phenomena. And that's all there is to it," announced Blaine.
"There was a song that we did and he wanted to show that he had an operatic type voice. Just a big voice. To me he was Elvis. That's all there is to it. He was a one of. People who generally become famous are one of. He was also very handsome and all the ladies were crazy about him. He was a decent guy. The Wrecking Crew could lock in with anybody. But with Elvis you're gonna sit up a little straighter, maybe. I loved DJ Fontana. I hung with him a lot on the set."
"Elvis decided to move into NBC physically for the period we were in production. We cleaned out the Dean Martin dressing room off of stage 4," said Binder. "When we finished rehearsals Elvis would start jamming with his friends around the baby grand piano and anybody who happened to be there or invited in started jamming with him. So they would just play acoustically, banging on chairs, piano tops, and Lance LeGault brought his tambourines in. It went on for hours and hours.
"I thought, 'this is like looking into a keyhole of something that only very few people get to see behind the scenes. I've got to get this on tape. I mean, this is better than what we are doing out there with all the dancers and singers, the production numbers. This is incredible; I am seeing the real Elvis now.'
"I was barred from coming into the dressing room with any kind of equipment.  I started taking notes and brought my little tape recorder in and started recording what was going on. I kept it in my pocket so nobody knew what was going on. And then I started transferring the information I got onto paper. So I would remember what songs he sang and what he was talking about. Finally, I pestered the Colonel so much and he finally said, 'You can go on stage and re-create what you are seeing in here.'
"When I told Elvis what we were gonna do, he was jazzed," marveled Binder. "But he said, 'If I'm gonna do it I wanna bring in (guitarist) Scotty (Moore) and (drummer) D.J. (Fontana).' 'Cause Scotty and DJ were never a part of the Special. Elvis wanted the audience closest to him and Colonel Parker picked what he thought were the most attractive women to be seated nearest.
"Then when it came time I handed Elvis the paper with my notes which he physically brought out to the stage and referred to in one of his takes. Right before he went out I got called into the dressing room. 'I changed my mind. I don't want to do this.' 'What do you mean you don't want to do this?' 'My mind is blank. Steve, I don't know what to sing and don't know what to say.' 'Elvis, just go out. This is not optional. I haven't asked you to do anything up to the point that you didn't want to do. Now I am asking you to go out there. I don't care if you just say hello or goodbye and come right back in five seconds. Just go out there.' On the first take his voice is totally dry and he needs to get some water before he begins. He even stops the first eight bars in. His voice is cracking. And then you see and hear him building his confidence.  You can see it on his face. You can see it on his body posture. He gets to the point where he doesn't want to leave."
"Something happens when Elvis got to be in front of a live audience," indicated Jerry Schilling. "When Elvis plugs in with Scotty and DJ I think it's fun. It's what got him into music. It's magical and not thought out. Steve put in Alan Fortas and Charlie Hodge. That just rounded out the whole thing. And Elvis added Lance (LeGault) to the show. He was a friend of ours."
Lance LeGault was a singer and performer in his own right, a veteran of The Louisiana Hayride, who Presley saw perform in Van Nuys, California at the Crossbow music club. LeGault stunt doubled for Elvis in Girls! Girls! Girls!, Kissin' Cousins, Viva Las Vegas, and Roustabout. When Elvis directed Lance to grab a tambourine and join the "Sit-down" band for their set, it was a tribute to a friendship nurtured over long-haul bike rides and countless backstage jams.  Lance was like family.
"Elvis and I played a lot of music over the years," LeGault reminded me after we met at Dr. Stanley Baker's Chiropractic office in Studio City. "He sang all the time. We didn't go to lunch breaks; we went to dressing rooms and jammed. Now, Elvis was very insecure when we started and I think that's why he called me up. Because Elvis had a charming insecurity. But then he warmed up and relaxed, which didn't take long.   Look at the opening of that sit down part – he had an acoustic guitar. And then he traded with Scotty and took the electric. And then it all became electric."
It is a delicious irony that the most packaged, pre-meditated image in pop culture could reclaim his most authentic self in such a spontaneous fashion.  Clearly scared to death, Elvis retreated to his strengths, surrounded by musicians who understood and relished the same impulse to simply sing and play. Elemental in its ferocity, the "Sit-down" section is a time-capsule that students of music, let alone Elvis fans, cherish.
In a 2008 interview, Griel Marcus discussed this sequence of Elvis The '68 Comeback Special and the expanded multi-disc CD 2008 edition with bonus cuts.
"What I hadn't heard was 'Trying to Get to You' and the third version of 'Baby, What You Want me To Do.' Where Elvis is essentially pounding out a rhythm. He's barely singing at all. He's just sort of grunting. This is when he's playing electric guitar and nobody has ever seen him do that before. He goes back to that song again and again as if there is something there he hadn't been able to get it but knows what it is when he finally gets it.
"This is a side of him as a musician that nobody had ever imagined. And it's those two things. The 'Trying to Get to You'…God, the passion in that. The drama. The stuff is so strong and so powerful and there is such a broad feeling of discovery, invention, playfulness and vehemence.  But very quickly this sense of playfulness turns into vehemence. Turns into this life or death struggle."
During the TV production, Elvis walked into Western Recorders and was alarmed by the amount of musicians and singers booked for the recording sessions," proffered Binder.
"Elvis was stunned by looking at all these musicians and singers. He came in his dark sunglasses and all of a sudden I was in the control room with Bones. Someone came in, probably Joe Esposito and said, 'Elvis wants to see you.' I went out, he had a very serious look on his face…Something is not right. He said, 'Come on outside with me.' We went on to Sunset Blvd. 'Steve, I've never sung with anything bigger than a rhythm section in my life. I never sang with an orchestra in a recording studio. You gotta promise me if I don't like what's playing here you're gonna send everybody home and just keep the rhythm section or I'm not going in there to sing.'
"And I had to promise him which I did. There was great trust to begin with. First of all, he had never heard anything Billy Goldenberg had done. So I promised him if he didn't like it I would send everybody home, the brass section and everybody and keep the rhythm section. We walked inside and Billy has a conductor's little stand, and he invited Elvis to come up and Billy gave the downbeat to the opening song 'Guitar Man' and it was total love at that point. Elvis couldn't get enough," summarized Binder.
"We were all there late one night in our production office in Hollywood and watched the Robert Kennedy assassination on the TV set- that was cathartic to all of us," acknowledged Chris Bearde. "We all sat around until 5:00 AM and Elvis told us his entire life story while playing the guitar and picked, not strummed, talkin' about 'Tiger Man,' and how guys would throw punches at him so they could say they hit Elvis. He just rambled on and we listened for all those hours. Part of the conversation went to his background in Gospel singing and how he really was one of those white guys from the south who really understood not just his own rockabilly background but the music of the church."
"We were in our office on Sunset Blvd. rehearsing one evening and the television was on in Bones' office and Bobby Kennedy was assassinated," added Binder. "And we stopped rehearsal and spent the entire night about both the JFK and Robert Kennedy assassination, and Martin Luther King before in April. Those are the kind of things that bond people…
"Earle Brown was a choral director on The Carole Burnette Show and in a music group, the Skylarks on RCA. I met Earle with Leslie Uggams. And I think 'If I Can Dream' was the song like a lot of people who write great one time first novels. I don't think Earle realized what he wrote, and having Elvis Presley perform it was the miracle of all miracles.
"I was convinced we had to close the show with something powerful. Here we are with a black choreographer, Claude Thompson, a Puerto Rican choreographer, Jaime Rogers, the Blossoms, they are right behind Elvis on his side, and no one is saying anything. No one cares that we are mixing races," beamed Binder.
"I went to Billy Goldenberg and Earle and said 'Guys you've got to write an original song that says the inner dialogue that we are hearing and feeling about Elvis Presley in these past few months. We've got to make a statement that he makes. Color doesn't matter. Race doesn't matter. He accepts everybody. I need that song. Go home and write the greatest song you ever wrote.'
"The next morning Earle called and said 'Can Billy and I meet you at NBC an hour before Elvis comes in.' I drove out to Elvis' dressing room where he would dress and shower, and we had a little spinet piano in there and a baby grand in the main dressing room. So Billy sits down at the piano, and the Earle and Billy now play 'If I Can Dream' for me. I got goose bumps the first time I heard it. 'You guys have done it. Congratulations. Fantastic. I'm gonna convince Elvis Presley to sing this song.'
"Realizing I had a shot with Elvis in really saying something, I felt strongly by Elvis singing 'peace and love' after all these 1968 assassinations it just seemed like the perfect song to say these words, And I think Elvis was a great deliverer of that message.  Billy did the arrangement overnight and Elvis did five takes on the vocal. Colonel Parker did subsequently publish 'If I Can Dream' from the program."
"When it was time to do the Presley pre-records this was the place because he was gonna sing live, stressed Bones Howe. "With his hand taped to the microphone and complete with knee drops in front of the string section! He got all these violinists with their mouths hanging open. With some artists you can kind of plug in what the record is gonna sound like. But with Elvis you sort of were relaying on him to perform this piece. And he did. The soundtrack album version, not the DVD version, is the version that is the single. That's him singing live in the studio. I gave him a hand mike on a long cable. Because I knew he was not gonna stand in one place. He's gonna walk. 'I'm the engineer. Don't worry about it.' He loved being in the middle of a bunch of guys around him. They were like his audience. Not many takes. Not more than four or five.
"He heard it for the first time with the orchestra right then and there. He didn't wear headphones standing in the middle of the orchestra. It's like being on a stage in Las Vegas. He nailed 'If I Can Dream' when we did it on the show. He was a great performer.
"Elvis sang 'Memories' live but then I did a track and he sang it afterwards. He wanted to sing it really, really softly. And we turned the lights out in the studio after the orchestra went home. With TV you have to have a track on everything. And I turned the lights off in the studio and he just stood out in the studio and sang it all by himself in the dark and we made two takes. And the second one is the one that is in the show."
"When I played Elvis the edited 60 minute version of the show in a projection room at NBC and at the first screening of the show we had a lot of the staff that did the show, the entourage in the room, it was packed," recalled Binder. "When it was over Elvis told everybody to get out of the room and he wanted to see it again with just me in the room with him. Elvis said to me in that room, 'Steve, it's the greatest thing I've ever done in my life. I give you my word I will never sing a song I don't believe in.'"
"I didn't go to any of the NBC-TV '68' special tapings," disclosed Jerry Schilling. "My (then) wife Sandy went one afternoon with Priscilla, Pat Parry and Joe Esposito's wife Joanie. I saw the special the first time Elvis saw it before the world did. It was in a small conference room at NBC, a rough cut, Steve Binder put together for Elvis, myself, Joe, and Charlie Hodge. And I think Bones.
"I was at Elvis house, the Monovale Drive house, in Holmby Hills, and Elvis said, 'I want you to go with me to see this special.' I think we went in his Rolls Royce. I think Elvis drove. I had been filled in by Joe Esposito how the special was going. I knew what was going on. So we go to the studio. I met Binder. I had no clue what we were going to see. I knew Sandy was excited about it but I had no clue. I was overwhelmed at the time learning film editing.
"So here I am in this conference room and after I saw the 60- minute cut I realized he still had it. I didn't miss it. I don't think Elvis realized yet how good the show was. He was a little pensive. I think he was a little bit nervous what the public's reaction would be. Imagine what is going on in his mind. It's one thing for his friends to say, 'hey man, this is great.' It's one thing kind of rebelling against the Colonel. He's looking at himself. It was tense.
"Let's give Steve Binder a lot of credit. The show was a spiritual and career re-birth and the money thing was incidental. It was always incidental to him. I don't think he had a sense of relief until it showed nationally and phone calls started coming in.
"The '68 Comeback Special inspired him but he was doing what he had not been able to do for years," underscored Schilling. "Elvis was doing his thing and he was doing it being able to choose the people he was able to do it with. Being able to choose what songs and not being told what has to be in the soundtrack. What he had to wear. He was out of prison, man."
The Elvis '68 Comeback Special was shown on December 3rd at 9:00 PM. On December 4th, when the ratings were released, NBC reported that Elvis captured 42 per cent of the total viewing audience. It was the network's biggest rating victory for the entire year and the season's number one rated show.
Reporter Hal Humphrey in a December 4th story for The Los Angeles Times proclaimed "Elvis still generates considerable heat with his singing."
Robert Shelton in The New York Times wrote "Rock Star's Explosive Blues Have Vintage Quality."
Writer and cultural critic, Greil Marcus, in his 1975 book Mystery Train hailed Presley's '68 moment. "It was the finest music of his life. If ever there was music that bleeds, this was it."
In early November "If I Can Dream" was released. By the end of the month it was Top 40 and eventually earned a number 12 slot on the singles chart in January of 1968. The soundtrack landed at the 8th position on the album listings.
"'I Can Dream' should have been the theme song of 1968," declared author and keyboardist Kenneth Kubernik. "It's right up there with 'A Change Is Gonna Come." Sam Cooke and Presley in 1964 both RCA artists and both songs recorded on Sunset Blvd.
"'If I Can Dream' reflects the nature of the Pentecostal church Elvis' mother belonged too. And Elvis grew up in this sense, and the whole idea of having these world shaking individual transforming experiences was part and parcel of Elvis' own upbringing in the world that he lived in. There was always this possibility of resurrection and re-invention. It was always a part of his religious upbringing.
"Whether he was conscious or not, that when he starts to sing a song like 'If I Can Dream' it doesn't sound like it was just selected by the producer of the show. It sounds like Elvis is dialing it in like Sam Cooke convinced us with 'A Change Is Gonna Come.' This is the revelation for me. And the fact that Billy Goldenberg made the arrangement bass instrument oriented makes it come out of the bass note, actually an organ note, which is again a church note. It was a freakish recording. I think they caught lighting in a bottle on this."
"After The '68 Comeback Special, Elvis was a happy person like he should have been," admitted Schilling. "He decided to put a band together and do a month at the International Hotel in Las Vegas. I became involved in what was happening around him, even though I wasn't working for him. RCA studio in Hollywood. Colonel Parker is never there for rehearsals or recordings. I watched a guy put a rock 'n' roll band together. That's what he does. He started by picking James Burton. That's where Elvis was a genius. That's where he was the most underrated producer in musical history. Whether it be in the studio or putting the band together. Whether it was 'I hear voices here,' 'play this line here.' The guy was a great producer.
"I remember being at Elvis' house with a list that Joe, maybe Charlie Hodge a little bit 'here's some of the musicians that people are suggesting. What
do you think of this, this and this?' Elvis pretty much picked and chose.  He knew who James Burton was. He knew who Ronnie (Tutt) was. Ronnie was the guy who did what DJ had come in and done. And Elvis said, 'watch this guy' (Ronnie). I need one guy on stage that has my temperament. And that's why Ronnie Tutt has the job.'"
My folks went to see one of his August 1969 shows at the International Hotel in Las Vegas and gave an enthusiastic review.
On November 14, 1970 I took three buses from West Hollywood to Inglewood to see Elvis Presley's debut at the Forum, his first concert in Southern California in 13 years.  In 1968 I saw the Doors at the Forum, the Rolling Stones twice in 1969 at the same venue and now Elvis. It was a devoted crowd from another era. Hundreds of cameras clicked and flashed when Elvis emerged on stage. Elvis' voice sounded terrific as I sat in the colonnade section.
Upon my return that late evening, I discussed the one-hour Presley show with Rodney Bingenheimer at the Hollywood Ranch Market over a slew of hot tater tots.
Bingenheiner, then working as a radio promo man for Mercury Records, had introduced David Bowie to west coast radio stations and press people. Bowie and Elvis share the same January 8th birthday.
"I worshiped the Elvis The '68 Comeback Special and he was back on the pop charts again," enthused Rodney. "And, unlike a lot of people at the time, deejays, music reviewers, I never left the Elvis fan club. Around 1969 I went to the Presley band rehearsal with a local guy we called President Randy. It was at a rehearsal on Vine and Fountain.  It was amazing watching Elvis rehearse. There were only a few people in the room. Elvis autographed an Elvis and Colonel Parker calendar for me.
"During 1969 when I was writing a column for GO! I went to the Elvis press conference in Las Vegas when he was making his debut at the International. I know he played Las Vegas in the fifties on a bill with Liberace, but this was Elvis' return to performing after eight years. Grelun Landon, who was the head PR guy at RCA in Hollywood, totally took care of me. Nick Naff the PR guy from the Las Vegas International wanted me to cover the opening night as well.
"As a fan and writer, I had a weekly music column in a national paper distributed in record stores, as FM radio was only a year or two old at the time. Over the years I was at many Elvis' openings and closings. After the first show and around a couple of parties, Colonel  Parker told me that Elvis saw G0! and said, 'Get me a subscription to GO!'
"Elvis introduced me to Frank Sinatra. It was at Nancy Sinatra's party. Elvis was closing his engagement in Las Vegas and Nancy was opening the next night. Frank walks in the room while I'm talking to Elvis. 'Frank. This is Rodney.'I took a photo with Elvis and it ran in GO! Magazine," he boasted.
"I was at the September 1969 Toronto Rock and Roll Revival festival in Canada at Varsity Stadium that John Brower promoted where the Plastic Ono Band made their debut. We went to pick up John and Yoko at the airport and in the limo I played them a cassette tape of Elvis Presley singing the Beatles' 'Yesterday' and 'Hey Jude' from one of his 1969 shows at the International Hotel. I saw it weeks before and got a cassette of the night. John was amazed. I always supported Elvis. In 1970 I drove out to the Swing Auditorium in San Bernardino to see his concert," volunteered Rodney.
"When I opened my Rodney's English Disco club, and this is probably in 1974, I knew Elvis was recording up the street on Sunset Blvd. at RCA. I had been in that studio dozens of times since 1966 at recording sessions for the Rolling Stones, the Monkees, and Jefferson Airplane. Elvis' step brother, Rick Stanley was a regular at my club. I said to Rick, 'Let's send Elvis and the band members some pitchers of Watney's beer.' I knew the security guard from all my sessions at RCA. Not that night, but later on, I heard Elvis wants to come by the club.
"It was very late, we sort of closed the club down, but some of the glitter critters were around and expected David Bowie to come by. Then here comes Elvis. We had to ask everybody for ID. There was a sign in front of the club that required it. Elvis took out his driver's license. It was a permit. I was in the DJ booth and he said, 'Here. You can have it.'
"Elvis walked in with Linda Thompson. Record producer Tom Ayres was there. He went back with Elvis to the Louisiana Hey Ride show. Elvis was wearing all black. He told me he liked English beer because 'it reminded him of when he was in the army in Germany.' I was already spinning 'All Shook Up' by Suzi Quatro.  And Linda Thompson said, 'Elvis, you do it better.' [Laughs]. Elvis stood around the front inside of the club and not in the VIP booth. Elvis knew me from every Las Vegas opening and closing night show he did from 1969-1973."
In summer 1970 Elvis Presley returned to Las Vegas for his headline engagement at the Hilton Hotel. "Memories" was included in the opening night set list. He was backed by his core band and the Sweet Inspirations under the direction of musical director Joe Guercio and his Orchestra. During October, Presley was back at the No. 1 position on the hit parade with the Mark James-penned cautionary tale "Suspicious Minds."
Elvis: The Searcher implements Aloha From Hawaii footage, a 1973 landmark global satellite broadcast. It was the first of its kind to be transmitted in color and the first to be recorded for release in Quadraphonic Sound.
Presley archivist and scholar Ernst Mikael Jørgensen wrote in his research guide, Elvis Presley: A Life In Music:  "The immense pressure of being beamed live to one billion people didn't seem to faze Elvis a great deal; showing little evidence of nerves, he was highly focused, and he executed a flawless set that sparkled with all the flash of his image.  The unparalleled media attention and size of the audience, not to mention the worldwide number one album that followed, were perhaps the most effective statement ever engineered of one artist's worldwide power."
A few years ago I interviewed Jørgensen about Aloha From Hawaii.
"I think the most important issue here was to be able to show the world – not just the U.S. – what an Elvis Presley show was like. Ultimately to sell a lot of records. It was always of the utmost importance for Elvis' manager, Colonel Parker, to do something for Elvis that maintained that his artist was on another level than any other performer. The Colonel also knew that Elvis delivered his best if he was challenged.
"I think all journalists and many fans basically wanted to still see Elvis as a rock 'n' roll artist, where Elvis himself strived for a bigger musical stance including all the music he loved – in many ways I think in his own mind, he may have felt that the summer of 1970 – the making of That's The Way It Is, was his own crowning achievement: The repertoire, band, the freedom to perform exactly what he wanted to.
"Elvis' life story is fascinating – it's in some ways a tragedy, and yet it's full of glorious moments of achievement. At the bottom of it all is however that he was a brilliant singer."
In 1976 and 77 I reviewed two Elvis Presley concerts for Melody Maker. The 1977 one was bannered "The King Has Lost His Crown." Presley was now forgetting lyrics and dropping the microphone in performance. This was a man who was sick and should have been off the road.
I was subsequently taken out to lunch by RCA's Grelun Landon after my piece was published. Grelun had introduced me in 1974 to Vernon Presley at an Elvis concert in Anaheim. Vernon and guitarist James Burton could walk around the venue during intermission and not be recognized. People came to see Elvis but I came to check out his band, too.
In 1976 I interviewed Emmylou Harris in Studio City for Melody Maker before she did her first concert in London. Glen D. Hardin and James Burton were at her rehearsal. At the time I was driving a 1959 Cadillac with big fins. Burton's ride was a new Cadillac El Dorado. We chatted about Elvis and the Shindig! television series.
In 1977 on the hollowed grounds of RCA on Sunset Blvd. a staff engineer who recorded Presley live shows in Las Vegas played Grelun and I some of the front of house sound mixes from his recent Las Vegas engagement. I was astounded by the naked voice of Elvis Presley over the big speakers in the same studio where Andrew Loog Oldham and the Rolling Stones cut "Satisfaction," and where I visited a few 1967 Monkees' recording sessions.
I didn't think Grelun Landon and Colonel Parker in 1977 had any idea how ill and troubled Elvis was in the mid-seventies, although the well-kept secret in summer of 1977 was finally let out of the bag when Presley confident and bodyguard Red West published Elvis What Happened? His book based on personal accounts of Elvis' former bodyguards detailed the singer's medical condition and alleged drug-use.
And, it slowly dawned on me, as 1977 unfolded, and the first wave of punk rock offerings and a plethora of original acts and unique singer/songwriters were emerging, that Elvis was basically a guy stuck doing cover versions, formulaic movies, and Las Vegas residencies, and wishing and hoping he could improve his live act, tour the world or really stretch out as an actor.
In viewing Elvis Presley: The Searcher it was very apparent that a visionary A&R person, anyone in artist development at his record company, movie industry mogul or box office star in the sixties and first half of the seventies didn't have access to initiate suggestions to Colonel Parker in shaping Presley's studio output, concerts or acquiring transforming movie roles.
In my 1998 dialogue with Leiber and Stoller, I asked them if they had seen an Elvis Presley show in the seventies.
"I did. He was big," contemplated Stoller. "He was parodying himself and he was poking fun at himself, and he would do this thing with the scarf, tossing it back to the audience. He would do 20 of those. That was the show. Sure, he could still sing, but it wasn't like it was before and it was clouded by all this show biz. I mean, there is nothing wrong with relating to an audience, but it was mannered."
"He'd become somewhat of an imitation of what he was, coupled with some show biz schtick that he thought, and some of his managers thought, and the club owners thought, would go down," Leiber concluded.
"Whenever I hear anything I did with Elvis I get very sad," Billy Goldenberg disclosed in our 2008 interview. "I will allude to one more story. The music works for me. Elvis was a recording artist to begin with anyway. He worked for years. I loved listening to all the new things that he was doing. Because of problems I just felt he was dragged down. You know, he entered the drug world and all of it. I don't think that would have been his decision. Because when I was with him he wanted to be Marlon Brando. He wanted to do Westside Story which he was offered and the Colonel turned down. I think Walk On The Wild Side and A Star Is Born with Barbra Streisand.
"I then did the musical score for Elvis' next film, A Change of Habit. I noticed when we started on the songs that Elvis was horse and crackly. Then I started to put two and two together. I said, 'Elvis, I need something from you.' 'Anything.' 'Listen, you arrived here at all of our sessions hung over and I know you've been out all over the Sunset Strip and your guys are taking you away in a limousine and we got to do a recording session and it ain't working. So what I want you to do is give me one week of your time and promise not to do that. Get a night's sleep. You do not get hung over. You don't go out with those guys as much as you want to. I am telling you what to do. This is it.' 'Anything you say.'
"And Elvis by the way was very docile. You have no idea. Unfortunately he just wanted to do nice things for everybody. I was very stern with him about this. He restrained himself for a week. And I know that. We got results. We did it all. We rehearsed and he was fine. At the end of the week I said 'Go do whatever you want.'
"Later I went on the recording stage and Elvis was there at every single one of those sessions. There were times when I was really lagging and not making the schedule. My father had just died, and Elvis would say, 'get on with it. Come on my boy. You can do it.' He was like being a football coach for me. And that was my very first movie. So it meant a lot but I was somewhere else. I did it.
"Afterwards he asked me to become his musical director on the road because I had to turn down. 'I'm not good for that.' That was the last time I saw him because the guys wouldn't let me in when I went to (Las) Vegas."
"I went to Las Vegas to see him and we went backstage to say hello," affirmed Bones Howe. "We kibitzed a little about the '68 Special and stuff. We hung out a little. He said to me, just before he made 'In the Ghetto,' 'I got to tell you something. You've got the best feel for music of anybody I've ever worked with.' I said to him, 'Maybe we can make a record together sometime.' 'That would probably be a lot of fun.' 'Why don't you talk to the Colonel about it?' It never came about. But he went to Memphis and made all those great records."
In 1989 Public Enemy's "Fight The Power" appeared on the group's Fear of a Black Planet and on the soundtrack to director Spike Lee's Do the Right Thing, and has been broadcast on the HBO television series Def Comedy Jam.
Lyricist and vocalist Chuck D sang the words,
"Elvis was a hero to most
But he never meant shit to me you see
Straight up racist that sucker was
Simple and plain
Mother fuck him and John Wayne."
We're all entitled to our opinion, but Chuck D should have spoken with the Sweet Inspirations who did a seven year stint with Presley, Darlene Love, bandleader/producer Willie Mitchell, who told me in an interview his group provided the musical entertainment at several New Year's Eve parties for Elvis at his Graceland home in Tennessee or David Porter, the Stax icon featured in Elvis Presley: The Searcher.
In my very brief encounters with James Brown, B.B. King and Bobby "Blue" Bland they praised Elvis. My neighbor and friend, Bobby Womack, who played guitar on "Suspicious Minds," either on the recording by Elvis or a cover version in Memphis, never dug him and wasn't a member of the Elvis Presley fan club.
I believe Chuck D back-tracked or apologized for his false accusation, but the damage was done, and his apology has pretty much been lost in translation and circulation. "Fight the Power" still informs the mindset of some writers and historians and influences music fans that will choose to never investigate the enduring and endearing Presley catalog.
So now I encourage everyone reading to really do the right thing: Watch Elvis Presley: The Searcher documentary debuting on HBO in mid-April and hear the multi-disc soundtrack.
Harvey Kubernik is the author of 12 books. His literary and music anthology Inside Cave Hollywood: The Harvey Kubernik Music InnerViews and InterViews Collection, Vol. 1 was published in late December 2017, by Cave Hollywood. Kubernik is also writing and assembling a multi-voice narrative book The Doors Summer's Gone scheduled for mid-March 2018 publication.