The City's Now That Everything Been Said Album Reissued by Light In The Attic; Seminal 1968 Group With Carole King
By Harvey Kubernik C 2015
The Light In The Attic record label in late 2015 reissued the Lou Adler-produced 1968 album Now That Everything's Been Said by The City, a music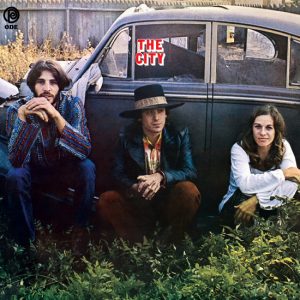 unit formed by songwriter/pianist/singer Carole King, bass player Charles Larkey, along with former Flying Machine and Fugs' member, guitarist/vocalist Danny Kortchmar.. Jim Gordon is the drummer on Now That Everything's Been Said.
In the mid-'60s King, husband Gerry Goffin, and entertainment music columnist and writer Al Aronowitz founded their own short-lived New Jersey-based record label, Tomorrow Records, briefly distributed by Atco Records.
Charles Larkey, the bassist for Tomorrow Records' the Myddle Class, eventually became King's second husband after her marriage to Goffin dissolved. Joel O'Brien, the Myddle Class drummer, later would contribute greatly on King's landmark Tapestry.
It was in 1967 when Carole King decided to pursue a solo recording career again. King and Larkey then relocated to Southern California and
Hollywood's rustic Laurel Canyon area. Kortchmar moved to Los Angeles after appearing on the Fugs' Tenderness Junction album.
This is the first official vinyl reissue of The City's lone audio document that was re-mastered from the original tapes that Adler produced for his Ode imprint which was distributed in '68 by Columbia Records.

The 2015 retail LP is an expanded gatefold edition housed in deluxe Stoughton "Tip-On" gatefold jacket. The music is a really terrific folk rock blend that pre-sages the emergence of the singer/songwriters of 1969 and 1970.
A slew of King compositions, she wrote or co-wrote all but one of the selections, reveal some pop gems we've heard by other recording artists: "A Man Without A Dream" was covered by the Monkees, "Now That Everything's Been Said" was a turntable radio hit for the Brian Wilson-produced American Spring, Blood, Sweat & Tears charted with "Hi-De-Ho (That Old Sweet Roll), and "Wasn't Born To Follow" was made popular by the Byrds and placed on the Easy Rider soundtrack.
In the September 26, 2015 edition of The Los Angeles Times, music critic Randall Roberts reviewed the title. "A dozen songs that connect Brill Building song craft with California canyon rock, Now That Everything's Been Said features King's trademark voice, piano and song craft. Supported by post-Byrds folk rock textures and the ridiculously inventive percussion of guest drummer Jimmy Gordon, songs such as 'Victim of Circumstance,' 'Lady' and 'Man Without a Dream' blanket the ears with 'Tapestry'-esque comfort."
In the liner notes to this sparkling re-release, incorporating quotes culled from her autobiography, A Natural Woman, King, says, "[We] expected it to zoom to the top of the charts within, at most, a few weeks. Individually and together, we optimistically imagined the alum's success as if it had already happened. Danny and Charlie kept telling each other, 'It's a great album. The City is gonna be Number 1 with a bullet!'"
The City didn't tour. King confessed stage fright as one of the reasons the outfit didn't hit the road.
"We did rehearse in somebody's office," remembers Danny Korthmar in an email correspondence to me. "Maybe a Screen Gems office with Eddie Ho playing drums…Nothing ever came of it. I played on Carole's demos and we did them all over town. So that's what we doing at Original Sound in Hollywood."
Born Carole Joan Klein, on February 9, 1942, in Brooklyn, New York, King started learning piano at the age of four, and formed her first band, the vocal quartet the Co-sines, while in high school at Madison High School and graduated in 1958.
A fan of the composing and production team team of Jerry Lieber and Mike Stoller (the duo behind remarkable records with the Robins, the Coasters, Elvis Presley, the Drifters, Ben E. King), King became a fixture at exciting DJ Alan Freed's Rock 'n' Roll shows featuring immortals Chuck Berry, Larry Williams, and the Everly Brothers.
To date, more than 400 of her compositions have been recorded by more than 1,000 artists, resulting in 100 hit singles. The dozens of chart hits King wrote together with former husband Gerry Goffin have become part of music legend, including "Will You Love Me Tomorrow" (Shirelles, 1960), "Take Good Care of My Baby" (Bobby Vee, 1961), "The Loco-Motion" (Little Eva, 1962), "One Fine Day" (The Chiffons, 1963), "Hey Girl" (Freddie Scott, 1963), "I'm Into Something Good" (Herman's Hermits, 1964), and "Just Once In My Life" (with Phil Spector for The Righteous Brothers, 1965). "Every Breath I Take" (Gene Pitney), "Point Of No Return" (Gene McDaniels), "Up On the Roof" (Drifters), "Go Away Little Girl" (Steve Lawrence), and "Don't Say Nothin' (Bad About My Baby)" (Cookies).
King had a hit single herself with "It Might As Well Rain Until September" on the Aldon Music-birthed Dimension label which reached number 3 in the U.K. charts in 1962 and Top 30 in the U.S.
Goffin and King penned additional tunes for the Byrds, "Goin' Back," Dusty Springfield, "So Much Love," and a plethora of songs for the Monkees, including "Take a Giant Step," "Pleasant Valley Sunday" and "The Porpoise Song," the latter heard on the soundtrack to the group's groundbreaking film debut, Head. Lyricist Toni Stern and King also contributed a song to Head and would co-write "It's Too Late" on King's Tapestry.
In 1967, Goffin and King's "Natural Woman" was immortalized by Aretha Franklin. King's 1971 solo album, Tapestry, took her to the pinnacle. In 1987, King was inducted into the Songwriters Hall of Fame, and, a year later, Goffin and King were awarded the National Academy of Songwriters' Lifetime Achievement Award.
In 1990, the pair was inducted into the Rock and Roll Hall of Fame, and in 2002, King was honored with the prestigious Johnny Mercer Award from the Songwriters Hall of Fame.
In January 2014, Beautiful: The Carole King Musical opened on Broadway, becoming the award-winning hit of the season.
In addition to her continuously evolving musical career, King, who has lived on an Idaho ranch since the early '80s, is actively involved with environmental organizations in support of wilderness preservation.
Lou Adler first met Carole King in 1961, when he helmed the Sunset Blvd. West Coast office for Aldon Music. (later known as Screen Gems Music). King and Gerry Goffin were staff writers at the New York-based Aldon publishing company.
King also collaborated with Howie Greenfield on "Crying In The Rain," a mind blow 45 RPM that Lou Adler produced for the Everly Brothers while the siblings were on a 1963 tour in Omaha, Nebraska.
"But you see, they were like gold dust, these demos," explains record producer and author Andrew Loog Oldham, who guided and produced the Rolling Stones' recordings 1964-1967. Andrew reflects about the Goffin and King "demonstration records he acquired."
"Those demos, I remember — To start with, the weight of the acetate and the weight of the playing, the suggestion of the playing. It was just the space that — The amazing ability, still, to leave space that suggested what someone should — I mean, Dusty Springfield should know.
"Lou and I were part of the new breed of producers who participated in a different way with the artists we record. But what Carole, the songs of Carole and Gerry Goffin and with whomever she was writing served was that old — in England, the Mitch Miller — Well, not Mitch Miller, because he was an accomplished musician.
"But the model of where the producer, be it Johnny Franz with Dusty Springfield, they would give it to the arranger and see what he came up with. And so from the demo, the arranger did the parts, and the parts were there. I mean, when you heard — It's like the ability — It's actually the ability to sell. And we go back to like Tin Pan Alley and the people on the back of trucks, of flatbed trucks, playing — selling the sheet music," instructs Oldham.
"This is the gift that then permeated its way through people like Jerry Herman and Alan Jay Lerner and the writers of those times. And because it was the same streets as 'The Sweet Smell of Success,' there it was, on Broadway, in 1650 in Aldon –And that great gift, and the — I mean, Mitch Murray with 'How Do You Do It?' didn't quite have it. Yeah. I mean, John Lennon at a piano, that's a different story," admits Andrew.
"The work that Carole did with Gerry in that Brill Building-Aldon Music pressure cooker made an artist out of her. You can't beat the discipline of working on demand and always looking over your shoulder to see if Barry Mann and Cynthia Weil or Jeff Barry and Ellie Greenwich are outdistancing you," offers wordsmith Kirk Silsbee who writes about jazz and the arts from Los Angeles and has been published all over the world.
"Then, there was the artistic standard set for all of them by the writing and production of Jerry Leiber and Mike Stoller. They were always three jumps ahead of the younger songwriting teams and they showed them the way. So Goffin-King got it from all sides. That was healthy competition and that kind of boot camp is something you can't put a price on. If you're a real songwriter, you'll only thrive in that kind of environment. That's true of any artistic field where you're forced to produce. You either rise to the occasion or you don't. If you don't, they get rid of you. When Don Kirshner sold the Aldon Music catalog to Screen Gems and Goffin-King started writing for the Monkees, the world changed," Silsbee contends.
"At their best, the Goffin and King songs have a classic quality that outlive the time in which they were introduced. I always thought that she made up for any lack of studied vocal quality with feeling. And, of course, her phrasing was good because she knew how her songs should be sung.
"When she recorded 'Natural Woman,' I don't recall anyone moaning that she wasn't the singer that Aretha Franklin was. It was simply another shade of soul. Something about that plaintive, emotional voice on 'Natural Woman' is right-from-the-heart. No slick string charts sweetening the tune–just a solitary singer delivering an emotional statement. Carole took the intent of the song back to the root. Her piano playing, timing and phrasing were very important to her vocals. There's something that happens when pianists accompany themselves on a vocal. If they do it long enough, the hands, the voice and the keyboard all become one instrument and Carole had that.
"It's funny–a few of the Goffin-King hits, like the Shirelles doing 'Will You Love Me Tomorrow' and the Drifters on 'Up on the Roof,' were very pop-oriented, though they were cut by black groups. They were quite vanilla in contrast to what you might hear from some of the black artists of the day, like Don Gardner and Dee Dee Ford. Yet when Carole sang them ten years later, she added a degree of soul that hadn't been there before to what we knew of those songs. The Shirelles sang 'Will You Love Me Tomorrow' like girls. Carole sang it as a woman," reinforces Silsbee.
"The City album was supposed to be a group, even though it sounds a little like Tapestry, not so much in the subtleties, but in the way that group plays off of each other," producer Lou Adler told me in a series of interviews we conducted for the 2008 deluxe edition of his Tapestry release on Epic/Ode/Legacy that I penned the liner notes for.
"At the time Carole did not want to be a solo artist. She wanted to be in a group and she was more comfortable in a group. She didn't want to tour that much or do any interviews. And we started to get those kinds of songs that would then lead us to Tapestry. After The City's Now That Everything's Been Said and [her solo debut] Writer, Carole began writing for herself.
"Danny Kootch and Charlie Larkey were on the City album, they are the core certainly of Tapestry. Larkey on both electric and acoustic stand up bass and his relationship with Carole at the time, husband and babies to be. His bass was very important to the sound and feel of Tapestry."
Kortchmar has always been a fan of Adler's studio acumen. "I thought Lou was the coolest cat there was…Great laid-back attitude in the studio, always got across what he wanted to hear with minimal speech… Had already made history… Had the foxiest chicks and the best taste….I was in awe.
"On Tapestry I don't remember doubling too many parts, but if I did it was probably Lou's idea. He was using all kinds of studio stunts I had no clue about at the time. Joel O'Brien and Russ Kunkel were very different drummers. Joel was jazz trained and had a lighter touch, but Russ was more solid of a rock musician. After I started doing more and more sessions for different producers it was re-affirmed for me how great Lou was."
Carole King's Tapestry long player arrived in March 1971 with little fanfare and modest expectations. Forty five years later it holds an exalted place in the pantheon of pop music; a triumph of master craftsmanship married to a feminine sensibility that transformed both its audience and the marketplace. If Jane Austen came back as a gutsy, guileful, Brooklyn girl, with a knack for a lyrical and musical hook, she'd be Carole King.
The legendary disc was reissued in 2008 on CD has sold over 24 million copies and changed the retail and global radio world forever.
Carole King in a 2008 Epic/Ode/Legacy Records communication commented about Tapestry. "I feel honored that Tapestry has made a difference in small ways and large ways in people's lives around the world. It's been a major part of my life, too. As a songwriter, I'm so happy that the songs have held up for all of these years."
On Sunday, December 29th, the 38th Kennedy Center Honors will be broadcast on CBS-TV at 9:00 p.m. Carole King, George Lucas, Rita Moreno, Seiji Ozawa and Cicely Tyson will be saluted for their Lifetime Artistic Achievements.
The event was held at the John F. Kennedy Center For The Performing Arts on December 6th in Washington, D.C. and taped for broadcast. The annual Honors Gala has become the highlight of the Washington cultural and society calendar, and its slot on CBS is a high point of the television season.
The Kennedy Center Honors medallions were presented on Saturday, December 5, the night before the gala, at a State Department dinner hosted by Secretary of State John Kerry.
King was introduced by Kerry — who proclaimed, "We fought to the music of the Doors, the Stones and the Dead, but we healed with the music of Carole King" — the night's final tribute featured the cast of King's Broadway musical Beautiful.
The highlight of the evening, clearly a surprise to Carole King, was when the show taping closed with Aretha Franklin, who stepped out and brought down the house with "(You Make Me Feel Like a) Natural Woman."
"The Kennedy Center Honors recognizes the extraordinary and unparalleled talents of individuals whose impact and genius have left an indelible mark on civilization," stated Kennedy Center Chairman David M. Rubenstein. "Quite simply, our Honorees represent the voices, soundtracks, and stories of our personal lives and memories. Carole King's heartfelt lyrics and tunes are woven throughout the tapestry of American music."
Harvey Kubernik has been a music journalist for over 44 years and is the author of 8 books.
In 2014, Kubernik's It Was Fifty Years Ago Today: The Beatles Invade America and Hollywood was published by Otherworld Cottage Industries.
During 2014, Harvey's Kubernik's Turn Up the Radio! Rock, Pop, and Roll in Los Angeles 1956–1972 was published by Santa Monica Press.
In September 2014, Palazzo Editions packaged Leonard Cohen: Everybody Knows, a coffee—table—size volume written by Kubernik, currently published in six foreign languages. BackBeat/Hal Leonard Books in the United State and Omnibus in the U.K.
Harvey and Kenneth Kubernik wrote the text for photographer Guy Webster's first book for Insight Editions published in November 2014. Big Shots: Rock Legends & Hollywood Icons: Through the Lens of Guy Webster. Introduction by Brian Wilson).
In November 2015, Back/Beat/Hal Leonard published Harvey's book on Neil Young, Heart of Gold, also available in various foreign languages.