THE BAND'S MUSIC FROM BIG PINK
CELEBRATED WITH REMIXED AND EXPANDED 50TH ANNIVERSARY EDITION RELEASES ON AUGUST 31st
BY HARVEY KUBERNIK C 2018
On July 1, 1968, The Band's landmark debut album, Music from Big Pink, seemed to spring from nowhere and everywhere. Drawing from the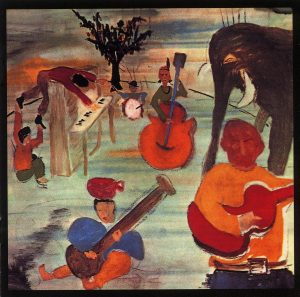 American roots music panoply of country, blues, R&B, gospel, soul, rockabilly, the honking tenor sax tradition, hymns, funeral dirges, brass band music, folk, and rock 'n' roll, The Band forged a timeless new style that forever changed the course of popular music.
Fifty years later, the mythology surrounding Music from Big Pink lives on through the evocative storytelling of its songs including "The Weight," "This Wheel's On Fire," "Tears of Rage," and "To Kingdom Come," its enigmatic cover art painted by Bob Dylan, the salmon-colored upstate New York house – 'Big Pink' – where The Band wrote the songs, and in myriad descendant legends carried forth since the album's stunning arrival.
On August 31, Capitol/UMe will issue Music From Big Pink in newly remixed and expanded 50th Anniversary Edition packages, including a Super Deluxe CD/Blu-ray/2LP/7-inch vinyl box set with a hardbound book; 1CD, digital, 180-gram 2LP black vinyl, and limited edition 180-gram 2LP pink vinyl packages.
All the Anniversary Edition configurations feature a new stereo mix for the album, produced by Bob Clearmountain from the original four-track analog masters, achieving a striking clarity and incorporating some previously unreleased chatter from the studio sessions. The 50th Anniversary Edition's CD, digital, and box set configurations also include five outtakes and alternate recordings from the 'Big Pink' sessions and a previously unrelesed a cappella version of "I Shall Be Released."
Exclusively for the box set, Clearmountain has also produced a new 5.1 surround mix for the album and the bonus tracks, presented on Blu-ray with the new stereo mix in high resolution audio (96kHz/24bit). All the new audio mixes have been mastered by Bob Ludwig at Gateway Mastering. The box set also includes an exclusive reproduction of The Band's 1968 7-inch vinyl single for "The Weight" / "I Shall Be Released" in their new stereo mixes and a hardbound book with a new essay by noted music journalist David Fricke and classic photos by Elliott Landy.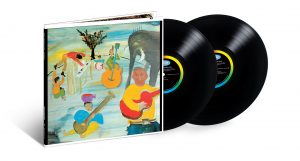 For the album's new vinyl editions, Chris Bellman cut the vinyl lacquers for the album's new stereo mix at 45rpm at Bernie Grundman Mastering, expanding the album's vinyl footprint from one LP to two. The black and pink vinyl LPs were pressed at GZ Vinyl / Precision.
THE BAND: Music from Big Pink (50th Anniversary Edition)
CD; Digital
2018 stereo mix (included in the box set and available individually)
1. Tears Of Rage
2. To Kingdom Come
3. In A Station
4. Caledonia Mission
5. The Weight
6. We Can Talk
7. Long Black Veil
8. Chest Fever
9. Lonesome Suzie
10. This Wheel's On Fire
11. I Shall Be Released
Bonus Tracks:
12. Yazoo Street Scandal (Outtake)
13. Tears Of Rage (Alternate Take)
14. Long Distance Operator (Outtake)
15. Lonesome Suzie (Alternate Take)
16. Key To The Highway (Outtake)
17. I Shall Be Released (A Cappella)
BLU-RAY
Tracklist above in new 5.1 surround mix + 96kHz/24bit high resolution stereo (exclusive to the box set)
2LP VINYL
180g black vinyl (included in the box set and available individually); ltd. edition 180g pink vinyl (available individually)
SIDE ONE
1. Tears Of Rage
2. To Kingdom Come
SIDE TWO
1. In A Station
2. Caledonia Mission
3. The Weight
SIDE THREE
1. We Can Talk
2. Long Black Veil
3. Chest Fever
SIDE FOUR
1. Lonesome Suzie
2. This Wheel's On Fire
3. I Shall Be Released
"The Weight"
Reproduced 1968 7-inch single (exclusive to the box set)
A. The Weight
B. I Shall Be Released
Watch/embed a brief trailer video for Music from Big Pink (50th Anniversary Edition):

The Band's group members shared an extensive collaborative history. Between 1960 and 1962, then-teenaged multi-instrumentalists Levon Helm (drums, vocals, mandolin), Robbie Robertson (guitar, piano, vocals), Rick Danko (bass, vocals, fiddle), Richard Manuel (keyboards, vocals, drums), and Garth Hudson (keyboards, horns) first performed and recorded together as members of Ronnie Hawkins' backing band, the Hawks. In late 1963, the Hawks struck out on their own and became Levon & the Hawks, playing and recording under this name in 1964 and 1965.
In 1965, Robertson met with Bob Dylan in New York, just as Dylan was seeking an electric guitarist for his touring band. All the former Hawks backed Dylan on the road from October 1965 through 1966 as he incensed audiences in the U.S., Australia and Europe, performing electric sets. Disheartened by the vocally disdainful 'folkie purist' audience response to their first plugged-in performances with Dylan, Helm left the group in November 1965.
After the 1966 tour concluded, Robertson, Danko, Manuel, and Hudson woodshedded for the next year at the 'Big Pink' house in West Saugerties,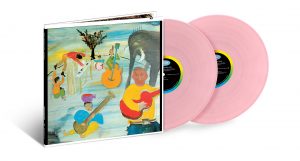 New York, often in the company of Dylan, who lived in nearby Woodstock. Helm re-joined them in October 1967 and The Band was born, as the group wrote new music and prepared to record their first full-length album. Robbie Robertson recalls, "The harmonies started to blossom. The thing just kept growing." 'Big Pink' was a refuge, a creative lair for The Band and for Dylan, who recorded sessions there that were soon bootlegged as The Basement Tapes.
In 1967 Albert Grossman negotiated a recording agreement with Capitol Records for The Crackers, but label concerns had their moniker changed to The Band before their debut product was shipped to retailers.
In his 1993 memoir, titled This Wheel's On Fire, Levon Helm wrote, "We wanted Music from Big Pink to sound like nothing anyone else was doing. This was our music, honed in isolation from the radio and contemporary trends."
John Simon was asked to produce their first outing. He had produced a demo with the group at Columbia's Studio A, which had recently become A&R Studios owned by Phil Ramone.
In the early 1960s, Simon had apprenticed under Columbia president Goddard Lieberson. He engineered classical recordings and then Broadway shows with leading songwriters such as Richard Rogers, Stephen Sondheim, and Noel Coward. In 1965 Simon co-produced with George Avakian Of Course, Of Course by the Charles Lloyd Quartet, where he first encountered Robbie Robertson, who played guitar on the track "Sun Dance."
"I mixed my first hit in 1966 with engineer Fred Catero, the Cyrkle's 'Red Rubber Ball,' written by Paul Simon. Fred was at Columbia 1962-1972 as a studio staff engineer," Simon told me in a 2014 email interview.
Catero engineered the 1962 Bob Dylan demonstration tape session at Columbia Records for producer John Hammond.
"Columbia studios [now A&R Studios in 1968] had Altec Lansing A7 speakers. The 'Voice of the Theater,'" Catero informed me in 2014. "The Columbia studios had great echo. And you wanted that. In fact, it added to the drama."
The former Columbia, now A&R studios, also proved an ideal venue for chamber music recording. You can hear these specific sonic aspects in Music From Big Pink.
Simon had co-produced Songs of Leonard Cohen in 1967 for Columbia Records and worked with Peter Yarrow on the music documentary soundtrack to You Are What you Eat, edited by filmmaker Howard Alk, a friend of Grossman, who had introduced Simon to The Crackers, aka The Band. Alk documented the tumultuous 1966 tour with Dylan.
During 1968, visionary producer Simon helmed Big Brother & the Holding Company's Cheap Thrills, Simon & Garfunkel's Bookends and the Al Kooper-led Blood, Sweat & Tears' Child is Father to the Man in Columbia Studio A before producing the epochal Music From Big Pink.
Additional recordings were subsequently done in Hollywood at Capitol Studios, who had an eight-track tape machine, with some further sessions at the landmark Gold Star Studios.
In 2004 for Goldmine magazine I asked Robbie Robertson about the Gold Star sessions. Several are housed in this 50th anniversary edition.
"We were doing some recording at the studio at Capitol Records in Hollywood and it was one thing, but there was such talk about just 'the vibe' and 'the sound' at this other place, Gold Star.  We were kind of off the clock, and we were going to record some things that weren't necessary going to be on the record, so we thought, 'let's just go and check it out.' I think we were only there one day or two days."
This century I've interviewed the legendary songwriter and record producer Al Kooper a few different times. We've discussed Music From Big Pink.
"I knew what was happening in 1968 with John Simon producing the debut Blood, Sweat & Tears album and the first Band album and should have had an early glimpse of what was going on," Kooper admitted. "But at the time I was staying home and not going out.
"John used to call me up, right after the first BS&T album. 'What are you doing?' 'I'm at home with the little woman.' 'You gotta come down to the studio and hear what he called, 'Robbie's album.'
"I think John zeroed in on like the leader of The Band in this case.   And John would call me over and over again and say, 'You gotta come hear Robbie's record.' That's what he called it. And I didn't know what it was.
"John had an understanding of the singer songwriter. He was an erudite musician. And that was the important thing. That was the thing I learned from him. How to use that in the production of the record.
"And then I heard it when it was finished at Albert Grossman's office. I went, 'Holy shit! This is ridiculous.' I didn't think it was gonna be like that. I
had no idea what that was gonna be like. Up at Albert's office they just played it. Side one and side two. And I kicked myself for not going to the sessions since I was invited.
"I later reviewed Music From Big Pink for Rolling Stone. 'Music from Big Pink is an event and should be treated as one… There are people who will work their lives away in vain and not touch it.'"
Released during a long, turbulent season of war and socio-political unrest, and sandwiched between other culture-shifting 1967-'68 albums by The Beatles (Sgt. Pepper's Lonely Hearts Club Band and 'The White Album'), Jimi Hendrix (Axis: Bold As Love), and The Rolling Stones (Beggars Banquet), Music from Big Pink astonished critics.
Writing for Rolling Stone, journalist Alfred G. Aronowitz proclaimed that 'Big Pink' was "the kind of album that will have to open its own door to a new category."
In his San Francisco Chronicle review, Ralph J. Gleason wrote, "The voices are unique and make a sound not available anywhere else in popular music that I know of. It is a rural sound, not on the country & western stations, yet not rural in the sense of lack of sophistication; I think it is hymnal… The songs are going to be American classics and it will not matter if there is no second album nor if The Band ever appears in person again."
Playboy magazine in November 1968 published their distinct review of Music From Big Pink.
"While nobody in this untitled group really sings well, it doesn't matter; their instrumental conceptions and their togetherness are a gas on the likes of Robbie Robertson's "To Kingdom Come" and Richard Manuel's "We Can Talk." All in all, it's one of the best folk-rock sets we've heard."
I recently viewed The Band: The Authorized Video Biography, a 2001 DVD video, courtesy of TH Entertainment LLC, http://thentertainment.com. I was struck once again by the impact Music from Big Pink had on Ringo Starr, George Harrison and Eric Clapton.
Ringo Starr: I was at the Plaza Hotel, George Harrison was staying there and just by chance, Jimi Hendrix was staying at the hotel. And Eric Clapton came by and said you've got to hear this tape."
George Harrison: I can remember this exactly because at the time I was playing sitar, filming with Ravi Shankar. I hadn't been playing guitar and Eric came by. He'd been with Robbie and some of the Band and he had a cassette or maybe an acetate. We played it over and over again."
Eric Clapton: It stimulated me, it moved me, it upset me and it made me very discontent all at the same time. And I think it had a similar effect on a lot of people. This is where music is supposed to have gone for a long time and it hadn't really got there. Finally, someone has gone and done it. It was a very clear and defined sense of direction. They knew exactly what they were about. There was no bullshit. It was songwriting without any kind of frills."
While Music from Big Pink achieved moderate success upon release, peaking at No. 30 on the Billboard 200 chart, it is recognized as one of the most important albums in popular music history.
In his 1975 book Mystery Train, Images of America in Rock 'n' Roll Music, Greil Marcus explained, "The richness of 'Big Pink' is in The Band's ability to contain endless combinations of American popular music without imitating any of them. The Band don't refer to their sources any more than we refer to George Washington when we vote, but the connection is there."
In the summer of 1968, after an encounter and stern directive with singer/songwriter Jackie DeShannon in Laurel Canyon, I immediately went to Wallichs Music City in Hollywood and purchased my first LP copy of Music from Big Pink.
The album was displayed all over Southern California independent record shops, including The Frigate, Aron's Records, The Music Revolution, The Ash Grove, Arcade Music, Folk Arts Rare Records, Phil Harris Records, Rancho Music, Canterbury Records, Lewin Record Paradise and Hollywood head shops The Infinite Mind, The Third Eye and The Psychedelic Supermarket.
For the March 1976 issue of Crawdaddy magazine, I did a cover story profile on Robbie Robertson.  Around my interview text, Music From Big Pink was examined.
"Music From Big Pink surprised a lot of people expecting more disparagement set to music; the album was full of unabashed moralizing, culminating in the assertion that if we natives didn't want America with all its dramas of goodness and pain, they would be only too happy to take up the burden.
"The Band's debut arrived here in the mid-'60s, a time when many native Americans were choosing self-imposed exile from their roots and realities. The Band, however, were five spiritually hungry young men who had left Canada, 'The Land of Snow,' committed to a respectful wandering. Their first album, Music From Big Pink, was simultaneously a celebration of and a rededication to the traditional values which many Americans were in various stages of discarding."
In August 2018 as the 50th anniversary of Music From Big Pink is acknowledged and unfolding I asked several Band veterans from 1968 about Music From Big Pink.
"It was a sound from a hundred years ago . . .  like from farmers or mining people," volunteered Gene Aguilera, East L.A. music historian and Boxing Book Author:   Latino Boxing in Southern California.
"I scrimped and saved to buy the 45 and album at the same time at Unimart on Whittier Blvd.  Opening up the album sleeve, I saw these 5 guys standing together like they just dropped in from another planet.  Then their voices . . . like scary wails in the night . . . singing songs about loneliness, murder, redemption, and brotherhood.   The Band had turned me on to people like Lefty Frizzell ('Long Black Veil') in the same manner the Doors had turned me on to people like Willie Dixon and Howlin' Wolf ('Back Door Man').  Music From Big Pink (from upstate New York) is absolutely essential and one of my best friends."
"It took me a long time to wrap my head around Big Pink" stressed author Kenneth Kubernik. "You might as well have asked me to write a thoughtful analysis of Light In August (which my 8th Grade teacher did back when the album came out).  The Band were too mature, too adult, for my pimply adolescent taste.  Besides all the cultural craziness going on in '68, it was also a time which celebrated Star Trek's 'warp speed,' of entering 2001 A Space Odyssey's Star Gate.
"In other words, I was subsumed by the promise of a wondrous tomorrow.  The groups I was listening to were 'progressive;' toward's exactly what I still don't know.  Big Pink was a celebration of community, of 'down-home' values and the truth found in the dirt of cotton fields and the lethal charge of late nights in juke joints; not exactly the celestial revelations found in a saucer full of secrets.
"It took me a while to finally come to grips with their plain spoken, hard-earned music.  It's subtleties were lost in all the over-amped grandstanding which defined so much of rock music at that time.  Where did a voice as painfully nuanced as Richard's fit in a world of faux blues posturing, where did Robbie's needle-point guitar fit in the prevailing fabric of guitarists gone wild.  Garth, Levon, Rick, all masters of misdirection, consummate professionals in an industry committed to celebrating a teen-aged wasteland.  All these decades later I'm still discovering, still learning from Big Pink.  William Faulkner would have gotten it the first time around."
"Fifty years since Music from Big Pink! In 1968, the summer I turned 15, I was in Casco, Maine, pretending to work as a counselor at a summer camp," revealed deejay James Cushing.
"One of the cooler counselors I had known from previous years, someone I liked and admired in the way one admires someone at 15, came to visit one August weekend. He'd become a Boston hippie, and I was excited to talk to him about his life. He told me he was most excited about two new LPs that I had to look out for and grab as soon as I could. One was Super Session, and the other was Music From Big Pink — which he explained as by the group that had backed up Bob Dylan in 1966 in England, with the title, charmingly, referring to the house where the group members lived in West Saugerties NY. So I was already prepared to welcome these records ever before I heard them.
"Super Session, as we know, is Stealth Jazz at its finest — and it worked on every level. Al K, Mike B, and Steve S put long instrumental jams on the Billboard top 20! But Music from Big Pink was something new: an honorary Bob Dylan album, with three 'new' Dylan songs and an overall vibe of cryptic Americana that we first sampled in John Wesley Harding. The group harmony vocals on 'The Weight' had all the balance and depth of the Beach Boys, but there was no California sun in the vision."
Music From Big Pink seemed to come out of nowhere – four Canadians and a former Rockabilly drummer from the Deep South crafted an album that sounded so far removed from what was considered the norm in 1968," observed writer Michael Macdonald. "There were no string-bending guitar solos, aimless instrumental passages or desultory songwriting, instead The Band played with precision and economy and were near impossible to categorize.
"Bob Dylan may have donated the album cover and three songs ('Tears Of Rage,' 'Wheel's On Fire' and 'I Shall Be Released') but from thereon The Band were on their own. The two keyboard attack from organist Garth Hudson and pianist Richard Manuel was something of an anomaly in the 'Guitar Is God' era and three remarkable vocalists (Richard Manuel, Rick Danko and Levon Helm) in the one unit was unique in itself. Guitarist and songwriter, Robbie Robertson, played with a lean grace and was well supported by bassist Danko and drummer Helm, who functioned like Motown veterans.
"Songwriting may have The Band's secret weapon and on Big Pink, Robertson was still a couple of albums away from being their exclusive writer and had stiff competition from Manuel with fine songs like 'Lonesome Suzie,' 'We Can Talk' and the elegant 'In A Station.' There were definite traces of Dylanesque in the songwriting but Robertson and Manuel seem to share the same discipline of Southern writers like Eddie Hinton, Dan Penn and Eddie Floyd. Robertson's 'The Weight' has become a one of the more recognizable songs in American post war music.
Instrumentally, The Band grooved like no other as demonstrated by Hudson's gothic organ workout 'Chest Fever.' All across Music From Big Pink, The Band dipped into R&B, New Orleans rhythms, Folk and Country. The LP's sole cover, Lefty Frizell's  murder ballad The 'Long Black Veil,' was sung by Danko in a voice that was equal parts George Jones and Sam Cooke and perfectly illustrated The Band's deep and tangled root system.
"Over in Great Britain, both George Harrison and Eric Clapton fell in love with Music From Big Pink at first listen and Clapton later confessed he wanted to move into Woodstock and become The Band's sixth member.
"Fifty years on, Music From Big Pink has not diminished in any shape or form and Manuel's tortured wail of 'We carried you in our arms on Independence Day,' that opens Big Pink can still stop Band devotees dead in their tracks. By either design or accident, it's Manuel's ghostly falsetto on I Shall Be Released that closes the album and in between is the superb execution of Americana music – often copied but never bettered."
"I was at a party in 1968 in Melbourne, Australia and a guy there asked me if I had heard the single from Dylan's band," recalled journalist, musician and pop culture historian, David N. Pepperell. 'The band he brought here in 1966?' I asked, and he nodded his head and handed me this 45.
"The song was called 'The Weight' and was by Jaime Robbie Robertson, Rick Danko, Richard Manuel, Garth Hudson and Levon Helm which I confirmed was the band Bob brought to Australia except with a different drummer. He put the record on the turntable and I heard this amazing song full of Dylan's carney style characters with mystical inflections that seemed to create far more questions than answers.
"Still I loved it, perhaps mainly because I thought it must have been written by Dylan and not the J.R. Robertson listed as the author on the record. It
was just so Dylanesque reminiscent of songs like 'Visions Of Johanna' and 'Desolation Row' that he had astounded us with during  his 1966 Oz tour.
"Later on of course I found out that Robbie Robertson had written the song and a number of other great tunes too. I just about wore the single out – both sides – I adored 'I Shall Be Released' which was of course a Bobsong but 'The Weight' really was something else and I loved its rawness and mock country feel.
"But if the single was a surprise the album – Music From Big Pink by the now re-christened The Band – was a revelation. Songs that seemed to tell the whole story of the Old Weird America from Wagon Train days to the present, again replete with strange characters, portents of doom, Dylansongs, mournful ballads and solid rockers – a cornucopia of Americana and surely a signpost to a new direction for pop music.
"Richard Manuel's high floating tenor, Rick Danko's good old boy vulnerability and Levon Helms take-no-prisoners raunch gave The Band such a diversity of musical styles and sounds that it seemed to encompass all that was good, and would forever be good, in American Country and Rock & Roll.
"Impossible to pick out individual favourite tracks as the album segued from one wonder to the next and I cannot remember ever playing it except right through both sides.
"I suppose I particularly liked 'In A Station' and 'Lonesome Suzie' the best but they only shade the others by a hair. Now it is 50 years since Music From Big Pink came out – where did those years and the Good Times go? – and yet the songs and playing on it are as fresh and as dynamic as they were in that magic year of 1968. That's what real music is like – it never fades and it adapts immediately to the ear that listens to it and the time it finds itself in. Just play it and you'll understand what I mean."
"Whenever I think of Music From Big Pink I think of the late great Richard Manuel in The Last Waltz, talking about how they got their name," described author Daniel Weizmann. "It was right in the middle of that whole psychedelia…Chocolate Subway, Marshmallow Overcoat. Those kind of names, you know?'
"Manuel's dry, sardonic giggle on the tame musical environment reveals part of what made this record so special–it was the first really big blow against the tropes of psychedelia which had so quickly been neutered into advertiser's cliches. 'Chest Fever' could be a funeral dirge for the so-called Summer of Love. Then there's the family photo–totally unlike the far-out rock idol poses that had become standard and stale by '68. The Band were back to nature, back to family, back to human, down to earth and back to reality."
"A good half-century later, good Canadians especially are still marveling at how completely Ronnie Hawkins' former Hawks transformed from bar band into THE Band," reports still-marveling Torontonian Gary Pig Gold. "Not to mention how those who weren't lucky enough to have already chanced upon Great White Basement acetates following the Summer of Love were understandably taken totally by surprise by the piquant pastoralness which was this Big Pink music.
"As reverential as the Hawks were raw, beating 'round the world behind their old pal Bob during 1966; as nuanced as they once were nutty as Crackers from West Saugerties, NY, Danko, Helm, Hudson, Manuel and Robertson's 1968 sounds rewrote rock from the very tip-top down. In fact, it's nothing short of historical record how, and why for example Eric Clapton, upon first hearing MFBP, realized his way forever straight out of Cream. Then Quiet Beatle George as well fell under the spell: within a mere year of encountering The Band over '68 Thanksgiving dinner chez Dylan he was laying down tracks for no less than his mega-liberating boxed All Things Must Pass.
"But Music From Big Pink's big sonic boom resonates to this very minute as well. The best 'alt. country' from No Depression days forward can be root-rocked directly into The Band's early work, and there's hardly a musicologist worth his Wiki who doesn't cite Capitol SKAO-2955 as one supremely seminal indeed 42:22.
"Me? Well, I prefer to simply set down every so often over a mug of hot cocoa, pull those sacred twelve inches from their perfectly cartoon-like sleeve, and let the wheel fire over me again. Then again. Yes, here's an album polite, sometimes even polished, but always slyly passive-aggressive. Because, after all, four-fifths of its makers are actual Canadians, never forget…"
Multi-instrumentalist and record producer Don Was in Detroit during the summer of 1968 was first exposed to Music From Big Pink on headphones by his high school pal Doug Fieger, later founder of The Knack.
"I never heard anything like it in my life," enthused Don in a 2017 phone call. "Even though all the elements were familiar but no one put it together like those guys. They tapped into something. We call it Americana now. Like it evokes something from Stephen Foster. But I always felt The Band tapped into something really primordial. I can't quite explain it but something that was one thousand years old. The music addresses the DNA.
"Certain modes and hymns resonate. Garth has these certain musical intervals that send a code to our DNA and the notes and modes resonate as communicative and as an emotional response. He's a fascinating guy. Way more musically astute than people realize."
Was touted Robbie Robertson's songwriting and guitar work and cited Rick Danko.
"Big influence on my bass playing. I mean, listen to his bass playing, like even when they cover the Four Top's 'Lovin' You Is Sweeter Than Ever' and hearing it forensically, and listen to it. And I think the common link is that, like James Jamerson, he helped the groove out, like an R&B player," Was suggested.
"At the core, Danko and Levon Helm are an R&B rhythm section. Like Jamerson, Danko has a strong melodicism to his playing. McCartney, too. Like on the Beatles' 'Something.' It's melodic to the point and really serves the same way function that an orchestra does in the arrangement. There's a summit where John Coltrane, Jimi Hendrix, Cream, The Band and all these guys came out of.
"Rick Danko and Levon Helm are joined together. To me they are kind of inextricable. Even though Richard Manuel could step over there and play drums. The groove. They found a way of taking an R&B groove and puttin' something else on top of it. And the whole group. I think that at the core they instilled R&B grooves but you never heard mandolin, accordion, and harmoniums, you know, on top of a Stax record.
"But that's essentially what's going on. And they brought in textures that were very organic that mirrored the human voice kind of bending even that don't normally do it. The way the saxophones emulated human speech. It was very emotional music and unlikely textures on top"
In a 2016 interview with Robbie Robertson for Record Collector News magazine, I asked him what it was like for him when he heard the recordings of The Band.  Was it a joyous or sad experience?
"I just feel extremely proud in the choice that we made to work together," reinforced Robbie. "I absolutely feel there are moments when I think…Whew…He's the business. What talent.  What an amazing emotional musical choice was made right there. I do feel those things."
Scheduled for November 6, 2018 is The Story of The Band From Big Pink to The Last Waltz to be published by Sterling, a wholly owned division of Barnes & Noble. A hardcover coffee table-size book I've written with my brother Kenneth Kubernik.
The volume contains a slew of interviews I've conducted over the last 42 years, some with Robbie Robertson and Rick Danko of The Band, as well as reflections on The Band's legacy by many musicians, authors, filmmakers, deejays, journalists, writers, poets, engineers and Band road crew.
It's a new and unique Band journey with tour guides Jim Keltner, Al Kooper, Jerry Garcia, Jack Nitzsche, Jerry Leiber, Mike Stoller, Andrew Loog Oldham, Don Was, Steven Van Zandt, Paul Kantner, Grace Slick, John Ware, Chris Darrow, Roger Steffens, Stan Ross, Roger McGuinn, Chris Hillman, Graham Nash, Henry Diltz, Elvis Costello, Harry E. Northup, Robert Marchese, Anthony Scaduto, Jack DeJohnette,  Brian Auger, Michael Hacker, Andrew Solt and D.A, Pennebaker-with unearthed memorabilia and rare never-before-seen black and white and color photographs from some of the finest rock photographers of the 1966-1976 era.
(Harvey Kubernik is the author of 14 books, including heralded titles on Leonard Cohen and Neil Young. His 2017 volume, the acclaimed 1967 A Complete Rock History of the Summer of Love was published by Sterling/Barnes and Noble.  His Inside Cave Hollywood: The Harvey Kubernik Music InnerViews and InterViews Collection, Vol. 1 was published in December 2017, by Cave Hollywood.  Kubernik's The Doors Summer's Gone was published by Other Cottage  Industries in March 2018.
In November 2018, Sterling/Barnes and Noble will publish Harvey's book, The Story of The Band From Pig Pink to The Last Waltz, written with brother Kenneth Kubernik.
Over his 45 year music and pop culture journalism endeavors, Harvey has been published domestically and internationally in The Hollywood Press, The Los Angeles Free Press, Melody Maker, Crawdaddy, Variety, The Hollywood Reporter, MOJO, Shindig!, HITS, The Los Angeles Times, Ugly Things, Record Collector News and www.cavehollywood.com).