wrecking crew
I (David Kessel) had the pleasure of growing up in the recording studio along with my brother Dan. We worked with Hal Blaine on many,
many Phil Spector sessions, as 2nd generation Wrecking Crew musicians.  My Dad, Barney Kessel and Stepmother, B.J. Baker (one of the top background vocalists and vocal contractors in LA) were friends of Hal. Hal once said to me at a session  "The trick is, that if you make a mistake at the beginning of a take, you have to remember the mistake through the whole song." I asked our Cave Hollywood wordsmith Harvey Kubernik to remember Hal Blaine.
By Harvey Kubernik
Kubernik
© 2019   
I knew Hal Blaine for 50 years. I did a term paper on him during high school. He invited me to a 5th Dimension session, too.
Hal steered me to Pro Drum Shop on Vine Street. My life changed seeing the sparkle sets and equipment on the wall. I never knew there was a place for drummers and percussionists besides Wallichs Music City and Drum City.
For decades I called him Belsky, his real last name, and he would call me Harvala.  
In the seventies I interviewed him numerous times for domestic and international publications. He once gave me a lift on his motorcycle between a 3 session day and also picked me up hitch-hiking once on Sunset Blvd. when he saw me at a bus stop on Fairfax Avenue when my car was in the shop.  "Take me to Gold Star! I need to see this session." After it wrapped, Hal's parting comical advice was: "Harvala. Please don't get married in California!" Then every Wrecking Crew session veteran started laughing their heads off. I didn't quite comprehend the reality on display. Just about every cat started running down words I never heard like alimony and visitation… Continue reading →
By Harvey Kubernik c 2015
The movie tells the story of the unsung musicians that provided the backbeat, the bottom and the swinging melody that drove many of the number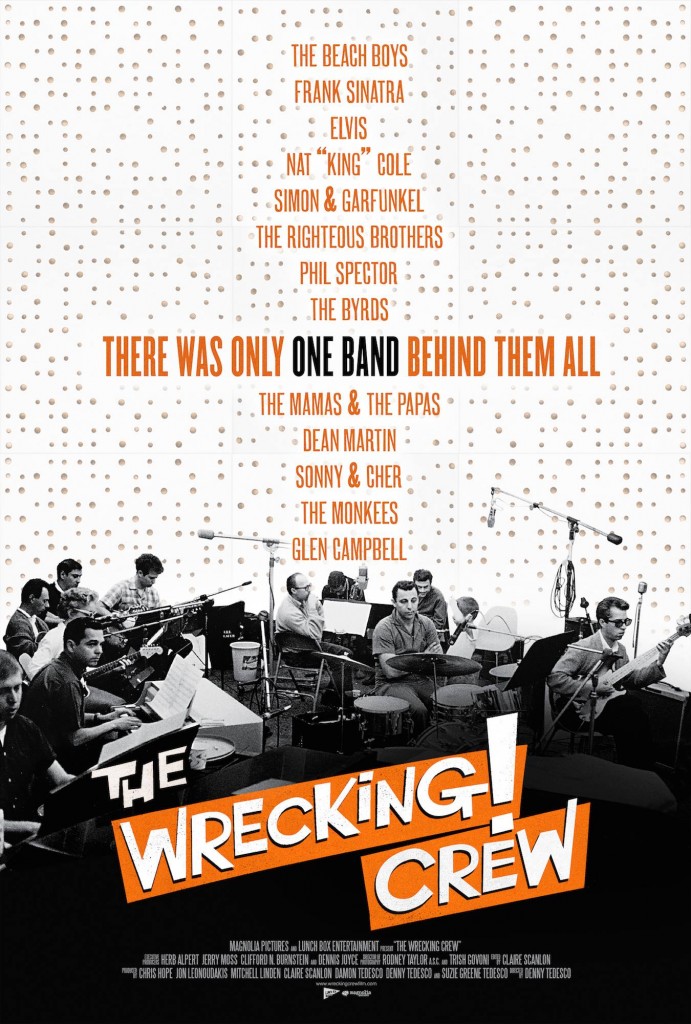 one hits of the 1960s.
This film also chronicles the1950-1983 world of Gold Star studio and the session players. The film is a fun and moving tribute from Denny to his father and to the music, the times and to the secret star-making machine known only as "The Wrecking Crew".
Tedesco and his dedicated crew interviewed: Al Casey, Al Jardine, Bill Pitman, Bones Howe, Brian Wilson, Carmie Tedesco, Carol Kaye, Cher, Chuck Berghofer, Dave Gold, Dick Clark, Don Randi, Earl Palmer, Gary Lewis, Glen Campbell, Hal Blaine, Herb Alpert, Jimmy Webb, Joe Osborn, Julius Wechter, Larry Levine, Leon Russell, Lou Adler, Lew McCreary, Mickey Dolenz, Nancy Sinatra, Peter Tork, Plas Johnson, Roger McGuinn, Snuff Garrett, Stan Ross, and Tommy Tedesco.
Filmmaker Denny started the film in 1995 when his father Tommy was diagnosed with terminal cancer.
I've been continually writing about the Wrecking Crew and the Gold Star principals for over 40 years in articles long before it was fashionable. To be specific, when they first were booked in the studios around Southern California they really weren't collectively known by that name at the time, either. It was always Musicians Local 47 member.
"After being a member of both Kaleidoscope and the Nitty Gritty Dirt Band, I began working as a sideman for Linda Ronstadt, John Stewart and Hoyt Axton," recollected   instrumentalist/songwriter Chris Darrow.
"During this period I ended up doing a lot studio work in Hollywood and Los Angeles with Stewart and Axton as well as James Taylor, John Fahey and many others.  As a member of the American Federation of Musicians, Local 47, I would have to call and see if the money from the sessions had come in.  If so, I would drive to the office on Vine Street with copies of my W-2 forms and pick up the checks.  Since I lived an hour away in Claremont, rush hour became an issue for me. Continue reading →