ventures
At the Grammy Museum in Los Angeles, Ca.  December 7, 2019-August 3, 2020
  By Harvey Kubernik © 2019 
Sixty years after the release of their first hit, "Walk, Don't Run," the Ventures are considered the most influential, best-selling instrumental
band in rock and roll history. To showcase the group's impact on pop culture, guitar players, and their worldwide fan base, the Grammy Museum® in Los Angeles, California has just announced Walk, Don't Run: 60 Years Of The Ventures, a new exhibit showcasing original items from the group's six-decade career including instruments, tour programs, never-before-seen photos, vinyl, and more. 
The exhibit will open on Dec. 7, and will run until Aug. 3, 2020.
On Jan. 9, musician Jeff "Skunk" Baxter (who has been associated with the Ventures since the 1980's and has done recordings with them over the years), Fiona Taylor (Mel Taylor's widow and band manager), and other special guests to be announced soon will be at the museum to discuss stories behind the exhibit with Scott Goldman in the Clive Davis Theater.
"It's such an honor to have an exhibit dedicated to the Ventures at the Grammy Museum and be recognized for our impact on music history," said Don Wilson, founding member of the band. "I like to think that, because we 'Venturized' the music we recorded and played, we made it instantly recognizable as being the Ventures.  We continue to do that, even today." Continue reading →
Long overlooked, musician, songwriter and now, podcaster, Travis Pike has taken a unique career journey that's worth checking out.
BY HARVEY KUBERNIK ©  2018
I have worked with Travis Pike on my books chronicling The Beatles and The Doors, and he oversaw the layout and design of Inside Cave Hollywood. The Harvey Kubernik Music InnerViews and InterViews Collection VOL 1, published by Cave Hollywood.
Now he's published 1964 – 1974:  A Decade of Odd Tales and Wonders, a revised and much expanded memoir of the first ten years of his 
prodigious and prolific career in music.  Having pulled together the Afterword to this new book, I can tell you it's a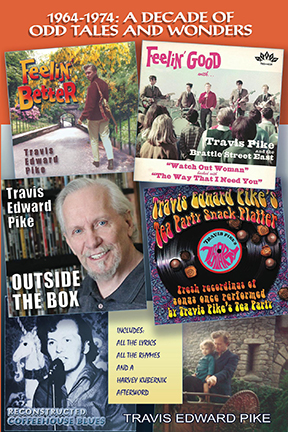 deeper exploration of that era, with many more visuals and artifacts — and I should know.  I pulled together the Introduction to his 2013 Odd Tales and Wonders:  A Decade of Performance.
And in America, he's doing podcasts for Goldmine magazine, Open Mynd Collectibles internet radio, and being featured in articles and reviews on Forgotten Hits and Cave Hollywood, and in Goldmine, Ugly Things and now in Record Collector News.
Travis, in complete control of his legacy and catalog, recording and releasing albums of audience favorites from 50 years ago, now has record labels contacting him to license and lease his master recordings!  
Travis' first movie title song was "Demo Derby," arranged and produced by Arthur Korb at Ace Recording Studios in Boston, and recorded by The Rondels.  That 28-minute action featurette opened in 1964 with Robin and the Seven Hoods and Viva Las Vegas, before being booked as the "second feature" that played on thousands of screens across the U.S.A. with The Beatles Hard Day's Night. Continue reading →