Long overlooked, musician, songwriter and now, podcaster, Travis Pike has taken a unique career journey that's worth checking out.
BY HARVEY KUBERNIK ©  2018
I have worked with Travis Pike on my books chronicling The Beatles and The Doors, and he oversaw the layout and design of Inside Cave Hollywood. The Harvey Kubernik Music InnerViews and InterViews Collection VOL 1, published by Cave Hollywood.
Now he's published 1964 – 1974:  A Decade of Odd Tales and Wonders, a revised and much expanded memoir of the first ten years of his 
prodigious and prolific career in music.  Having pulled together the Afterword to this new book, I can tell you it's a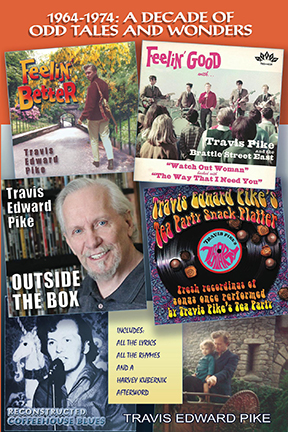 deeper exploration of that era, with many more visuals and artifacts — and I should know.  I pulled together the Introduction to his 2013 Odd Tales and Wonders:  A Decade of Performance.
And in America, he's doing podcasts for Goldmine magazine, Open Mynd Collectibles internet radio, and being featured in articles and reviews on Forgotten Hits and Cave Hollywood, and in Goldmine, Ugly Things and now in Record Collector News.
Travis, in complete control of his legacy and catalog, recording and releasing albums of audience favorites from 50 years ago, now has record labels contacting him to license and lease his master recordings!  
Travis' first movie title song was "Demo Derby," arranged and produced by Arthur Korb at Ace Recording Studios in Boston, and recorded by The Rondels.  That 28-minute action featurette opened in 1964 with Robin and the Seven Hoods and Viva Las Vegas, before being booked as the "second feature" that played on thousands of screens across the U.S.A. with The Beatles Hard Day's Night. Continue reading →