travis pike
ABOUT THE CURRENT RELEASE OF HIS 20TH ANNIVERSARY PLATINUM EDITION OF GRUMPUSS ON DVD.
HK:  You recorded your live performance of Grumpuss on PAL Digibeta.  Was that a benefit or impediment to preparing the 20th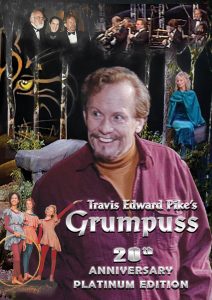 Anniversary Platinum Edition DVD?
TP:  Given my restricted budget, a film shoot, with equipment rentals, raw stock, and processing was prohibitively expensive, and did not allow the instant feedback available in the digital media, especially important when you must capture the entire show in a single afternoon, before a live audience, with no possibility of reshooting any elements not captured that day.  Furthermore, the show was created for a television and home video release, and digital equipment requires less physical space and is less cumbersome where space is limited, as ours was.  By then, many major motion pictures were being edited on AVID workstations, so had it been shot and processed on film, it would still have had to be digitized for editing. So, for this Grumpuss 20th Anniversary Platinum Edition, it was enormously beneficial to have had it recorded and mastered on Digibeta, especially when it came to having it reformatted by Deluxe Entertainment Services. They were able to convert it to NTSC at the same time they formatted it for DVD. The conversion from PAL to NTSC was necessary because NTSC DVD's play on PAL, but not the other way around.  The finished file looked great, but then it had to be authored for the DVD release. Continue reading →
HK: Do you think the big, Winter 2016/17 UGLY THINGS MAGAZINE publication of the career and retrospective multi-page spread on you and your music, and the clips from the 1966 movie, Feelin' Good, now viewed as a cult classic, were game-changers?   Here we are, doing another interview for Cave Hollywood, and the February 10, 2017 Forgotten Hits Newsletter contained our lengthy, in-depth interview on your perspective on the 1967 Summer of Love, which I understand is now posted on all your websites in your Online Interviews and Pictorials.
TP: Yes, especially with regard to my music. Between our Ugly Things interview, and the positive Mike Stax review of my book Odd Tales and Wonders 1964-1974 A Decade of Performance, and my CD catalog, I've been rediscovered by some of my old fans, and I'm attracting new ones here, in Canada, Australia, Europe and the U.K.  I never imagined that the Feelin' Good music sequences I posted on YouTube would become so popular.  In the UK, State Records is releasing "Watch Out Woman" and "The Way That I Need You," the two songs I sang on the esplanade on a vinyl 45 in early July, and UK DeeJay Rob Bailey has included "If I Didn't Love You Girl" in his latest compilation album, and will be releasing a vinyl 45 of it and "The Likes of You" later this summer. Continue reading →