the turtles
The Complete Original Albums Collection  is a six-CD box set;
two-CD  All the Singles  collects the A and B sides
of every original 1965-1970.
Compilations overseen by Howard Kaylan and Mark Volman.
By Harvey Kubernik c2016
During their original 1965-1970 run, the Turtles led a musical double life, scoring a lengthy run of unforgettable pop hits —  such as "It Ain't Me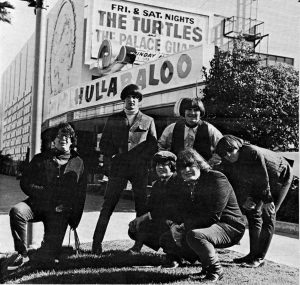 Babe," "Let Me Be," "Happy Together," "Elenore," "You Baby" and "She'd Rather Be With Me" — while making albums that were among the era's most distinctive, inventive and gently subversive.
From 1965-1970 the band was booked on television programs like the nationally syndicated The Lloyd Thaxton Show, as well as a career-defining appearance on the legendary The Ed Sullivan Show.
Today, the West Los Angeles and Westchester High School-birthed musical vision of Kaylan and Volman continues to carry the Turtles' legacy forward, leading the band's present-day incarnation on their successful annual Happy Together tours.
This year's Happy Together Tour 2016 with the Turtles featuring Flo & Eddie, Chuck Negron of Three Dog Night, the Spencer Davis Group, the Cowsills, Gary Puckett & the Union Gap, and Mark Lindsay, formerly the lead singer of Paul Revere & the Raiders launched June 3 in Biloxi, Mississippi and continues starting July 13th in Santa Barbara through September.  http://theturtles.com/tour/ Continue reading →