the band
By Harvey Kubernik c 2017
Robbie Robertson's contributions to popular music have made him one of the most renowned songwriters and guitarists of his time. In
Canada he was made an Officer of the Order of Canada.
In the 1960s, Robertson achieved worldwide fame and acclaim as a co-founder of the Band, laying a strong foundation for his broad range of five solo albums since the Band's disbandment in 1976. In 2017 Robbie is working on a new album for projected 2018 retail release.
In his captivating memoir, Testimony, published by Crown Archetype in November, 2016, written over five years of reflection, Robbie Robertson employs his unique storyteller's voice to explore the trajectory that led him to some of the most pivotal moments in music history.
Robertson was born in Toronto, Ontario, in 1943. His book recounts the adventures of his half-Jewish, half-Mohawk upbringing on the Six Nations Indian Reserve and on the gritty streets of Toronto; his odyssey at 16 to the Mississippi Delta, the fountainhead of American music; the wild early years on the road with rockabilly legend Ronnie Hawkins and The Hawks; his unexpected ties to the Cosa Nostra underworld; the gripping trial-by-fire "going electric" with Bob Dylan on his 1966 world tour, and their ensuing celebrated collaborations; the formation of the Band and the forging of their unique sound, culminating with history's most famous farewell concert, brought to life for all time in director Martin Scorsese's acclaimed documentary and the Band's timeless concert album, The Last Waltz, filmed and recorded in 1976.  Continue reading →
Collector's Edition Scheduled Issued December 9th
By Harvey Kubernik c 2017
On November 11, Rhino Entertainment released four new 40th Anniversary Editions of The Band's The Last Waltz in various CD, Blu-ray, and vinyl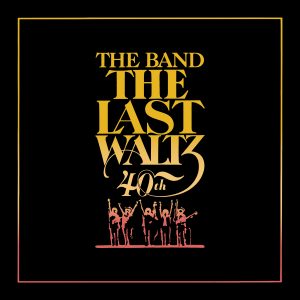 formats. A special Collector's Edition issued on December 9 features a leather-bound, 300-page book with a replication of Martin Scorsese's original shooting script from the film.
On Thanksgiving Day 1976, the Band took the stage for the very last time at the Winterland Theater in San Francisco, California. For the landmark show, Rick Danko, Levon Helm, Garth Hudson, Richard Manuel, and Robbie Robertson were joined by an all-star group of music pioneers and recording artist friends, including Paul Butterfield, Eric Clapton, Neil Diamond, Bob Dylan, Ronnie Hawkins, Dr. John, Joni Mitchell, Van Morrison, Muddy Waters, and Neil Young, among others.
I attended the event.
The evening was caught on film by director Martin Scorsese. Released theatrically in April 1978 to critical acclaim, The Last Waltz is still considered by many to be the greatest concert film ever made.
During pre-production, Scorsese was working on New York, New York.  At the same time I was on his M-G-M movie set in Culver City. I interviewed Robbie Robertson for a Crawdaddy! cover story in Malibu at Shangri-La Studios in 1976 and attended The Last Waltz with 5,000 other people and shown on screen, too. Continue reading →