stephen kalinich
HK: In very late March at the Coffee Gallery venue in Pasadena, California, there was an evening of rock 'n' roll and spoken word spotlighting your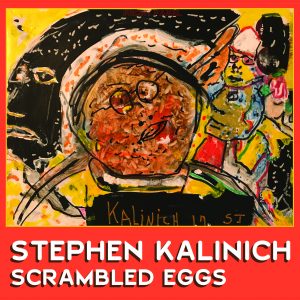 catalog. Rob Bonfiglio led a band with people singing and playing songs you penned for the Beach Boys, including the Honeys, Carnie Wilson of Wilson Philips, Bobby Figueroa, Paul Zollo, and Neil Rosengarden. Tell me about the concept of the show and your reflections on the evening.
SJK: It was one of the greatest evenings of my life.
The concept was to do an evening of some of my song sand poems. Mostly singing. That included Beach Boys Jon Tiven, Rob Bonfiglio Dave Humphries, Jez Graham and some of my other music partners Carnie Wilson and her husband Rob with theit two daughters Lola and Loci did a very moving version of 'Little Bird' so sweet so touching.
The Honeys Marilyn Wilson and Ginger along with Carnie sang a unique and sitting version of 'California Feelin'.' It was incredible. Everyone was great. Rob opened the set with 6 of his own songs. He was my music director a wonderful performer so talented. Also on the bill were Chad Watson, Nick Guzman, and Neil Rosengarten. I cannot put into words how glorious this evening was. Terry Roland the host put it together.  Owen Goldman on drums. Continue reading →
George Martin 
a grand soul.
He will be missed.
He knew how 
to make the music come alive 
and touch the soul 
he gave breath 
and depth 
to notes and words.
He helped create 
musical masterworks.
He made a huge impact
on so many lives.
I met him a few times 
and he was humble 
and kind 
and we talked touch 
about putting music to words 
or words to music.
He was an inspiration 
and will continue 
to inspire.
The Sufi Poets say 
All is music 
and found music 
is found 
in all things 
and George brought that to this planet 
in our time 
perhaps as much 
as anyone ever did.
Stephen John Kalinich
Continue reading →