soul kitchen connection
RCA/Legacy Recordings Set to Release Elvis Presley: The Searcher (The Original Soundtrack) on Friday, April 6 Musical Companion to Upcoming Two-Part Documentary Available in Multiple Configurations including 3 CD Deluxe Box Set Deluxe Edition includes Selections from Pearl Jam's Mike McCready's Original Score Plus the Songs that Influenced Elvis Elvis Presley: The Searcher (The Original Soundtrack)
By Harvey Kubernik c 2018
This remarkable three-hour, two-film presentation focuses on Elvis Presley the musical artist, taking the audience on a comprehensive creative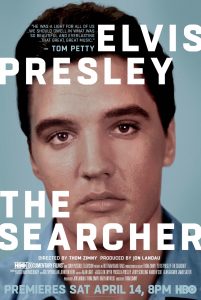 journey from his childhood through the final 1976 Jungle Room recording sessions.
The documentary includes stunning atmospheric shots taken inside Graceland, Elvis' iconic home, and feature more than 20 new, primary source interviews with session players, producers, engineers, directors and other artists who knew him or who were profoundly influenced by him. Scotty Moore, Red West, Priscilla Presley, Bruce Springsteen, Tom Petty, Emmylou Harris, and Robbie Robertson are among the voices who comment about the artistic and personal struggles that preceded Presley's death in 1977.
The two-part documentary movie, which will premiere in the United States on HBO on April 14, 2018, uses rare footage lensed throughout Elvis' life and career as a means of exploring Elvis' singular musical vision in all its complexity. It also features never-before-seen photos and footage from private collections worldwide, and includes an original musical score composed by Pearl Jam lead guitarist Mike McCready.
Elvis Presley: The Searcher is an HBO Documentary Films Presentation in association with Sony Pictures Television; executive producers, Glen Zipper, Priscilla Presley, Jerry Schilling, Andrew Solt, Alan Gasmer and Jamie Salter (chairman and CEO, Authentic Brands Group); producers, Jon Landau and Kary Antholis; directed and produced by Thom Zimny.
The musical companion to the two-part documentary directed by Emmy® and Grammy® award winner Thom Zimny, Elvis Presley: The Searcher (The Original Soundtrack)  will be available in digital and physical configurations including an 18-track definitive soundtrack, a 2LP gatefold 12″ vinyl edition and a 3CD collectible deluxe box set. Continue reading →
on DVD+CD, Blu-ray+CD and Digital Video on February 23, 2018.
C 2018 Harvey Kubernik
The historic last concert ever filmed of the Doors will now be available for the first time in late February 2018 when Eagle Rock Entertainment proudly presents The Doors: Live At The Isle Of Wight 1970 on DVD+CD, Blu-ray+CD and Digital Video.
The last known unseen performance of the Doors in existence, The Doors: Live At The Isle Of Wight 1970 has been completely recut and remixed, from the original film footage. Fully approved by The Doors, this previously unreleased concert was meticulously restored via the latest 21st century technology, color correcting and visually upgrading the original footage.
The entire concert, which is now presented in 5.1 Dolby Digital sound, was mixed from the original multi-track audio by longtime Doors engineer / mixer / co-producer Bruce Botnick. Fans may have caught a glimpse of this performance in the 1997 Isle of Wight film Message To Love, however this DVD presents The Doors' set with the full-length songs in maximum visual and sound quality.
The scene is August 1970… Front man Jim Morrison's ongoing obscenity trial, from an incident a year prior in Miami, weighs heavily on the band. "The Last Great Festival" is taking place in England, which boasted a venerable who's who of 1970's top acts: Jimi Hendrix, The Who, Miles Davis, Joni Mitchell, Joan Baez, and more…. The band touches down on the Isle of Wight. The show must go on. Continue reading →
DOCUMENTING THE HISTORY OF BLUE THUMB RECORDS, REVIVED ON EVE OF LEGENDARY LABEL'S  50TH ANNIVERSARY IN 2018 HONORS MEMORY OF LATE LABEL FOUNDERS TOMMY LIPUMA AND BOB KRASNOW
2CD SET AVAILABLE WITH FIRST-EVER DIGITAL RELEASE NOW OUT
By Harvey Kubernik C 2017
From 1968 to 1978, Blue Thumb Records was one of music's most adventurous and imaginative record labels, with a far-ranging roster of cutting-edge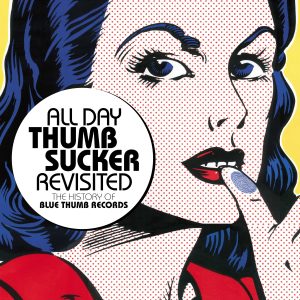 acts and an unconventional visual sensibility. Nurturing an eclectic assortment of artists from a wide variety of genres, Blue Thumb embodied the restless creative spirit of the era in which it was born, reflecting the emerging attitude that albums were worthy of being taken seriously as artistic statements.
Blue Thumb's expansive musical vision was anthologized on the 1995 label retrospective All Day Thumbsucker Revisited. Verve Records/UMe has just released the long-out-of-print collection, originally compiled by Gary Katz, known for his work with Steely Dan, in an updated two-CD edition on the eve of next year's 50th anniversary of Blue Thumb's founding.
The first in a projected series of releases to celebrate the revered label, the CD set offers 32 vintage tracks spread across two discs, while the digital edition, due marks the first time this collection will be available as a digital download and for streaming.
In showcasing Blue Thumb's influential artist roster, the album also honors the iconoclastic musical vision of late label founders Bob Krasnow, who died on December 11, 2016, and Tommy LiPuma, who passed away on March 13, 2017.  Continue reading →
ABOUT THE CURRENT RELEASE OF HIS 20TH ANNIVERSARY PLATINUM EDITION OF GRUMPUSS ON DVD.
HK:  You recorded your live performance of Grumpuss on PAL Digibeta.  Was that a benefit or impediment to preparing the 20th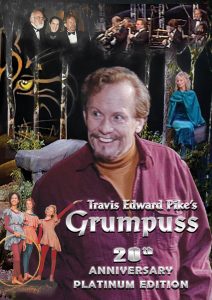 Anniversary Platinum Edition DVD?
TP:  Given my restricted budget, a film shoot, with equipment rentals, raw stock, and processing was prohibitively expensive, and did not allow the instant feedback available in the digital media, especially important when you must capture the entire show in a single afternoon, before a live audience, with no possibility of reshooting any elements not captured that day.  Furthermore, the show was created for a television and home video release, and digital equipment requires less physical space and is less cumbersome where space is limited, as ours was.  By then, many major motion pictures were being edited on AVID workstations, so had it been shot and processed on film, it would still have had to be digitized for editing. So, for this Grumpuss 20th Anniversary Platinum Edition, it was enormously beneficial to have had it recorded and mastered on Digibeta, especially when it came to having it reformatted by Deluxe Entertainment Services. They were able to convert it to NTSC at the same time they formatted it for DVD. The conversion from PAL to NTSC was necessary because NTSC DVD's play on PAL, but not the other way around.  The finished file looked great, but then it had to be authored for the DVD release. Continue reading →
By Harvey Kubernik c 2017
Poet/lyricist/songwriter and performer Stephen J. Kalinich, no stranger to Cave Hollywood viewers, a few years ago portal owner David Kessel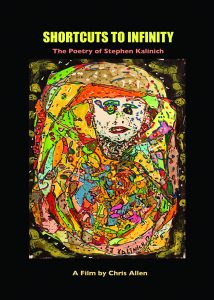 interviewed Kalinich when he released his two California Feeling albums on the MsMusic record label.
In late 2017, director Chris Allen and Chris Allen Films released a feature length 81 minute documentary Shortcuts to Infinity-The Poetry of Stephen Kalinich.
Executive producers are Don Fertman, Chris Allen and Carol Schofield.
The movie incorporates interviews with Beach Boys' Brian Wilson, Al Jardine, and David Marks as well as PF Sloan, Jon Tiven, Alan Boyd, Paul Steel, Carl B Wilson, Dan Knutson, and Ralph Stevens. Also appearing in the film are Carnie and Wendy Wilson, Carol Schofield, Marla Maples, Bill Duke, Marilyn Wilson, Richard Lawson, and many others.
Stevie's painting and stand-up act are explored, as well as a look at the play based on his book
From The Heart of Love. The DVD can be ordered at www.chrisallenfilms.com. Continue reading →