rubber soul
By Harvey Kubernik c 2015
RUBBER SOUL – the album that changed the musical world we lived in then to the one we still live in today. —Andrew Loog Oldham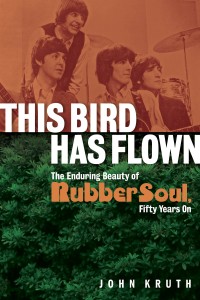 Rubber Soul was the Beatles' first release not to feature their name on the album's cover, an uncommon strategy in late 1965.  The cover photo was by Robert Freeman, snapped in John Lennon's garden in Weybridge.
I bought a British import copy of Rubber Soul in California on Hollywood Blvd. around the corner from the Capitol Records tower building at the fabled Lewin Record Paradise.  I then purchased a stereo one at Thrifty's Drugs on Wilshire Blvd. in Los Angeles. I took it to a party in downtown L.A. and watched my brand new LP get tossed into traffic on La Brea Ave., by a couple of soul brother party-goers irate about "Beatles stealin' and took from us again." This is a few months after the summer 1965 Watts riots.
I stated my case to some angry Bubble Up drinkers that in a newspaper, at a U.S. press conference, Paul McCartney, a devoted music fan, lauded the "colored music" and the sounds of the Motown label.
Our record hop got racial and facial. Someone hurled a pack of Kool Menthol cigarettes at me. So I hitch-hiked home, from the corner of Vermont and Jefferson at 11:30 at night. But, not after a quick spin the bottle sympathy session with a couple of girls who were in my junior high school homeroom. Then they didn't speak to me the rest of the semester.    Continue reading →