rough church
Greg Franco Interview by Harvey Kubernik C 2013
Rough Church have just released a double LP vinyl called Aloha Mijos and will be headlining a December 20th show at Taix in Echo Park and returning to the same venue on January 24th.
Please visit www.roughchurch.com
Q: Where were you born and raised? What got you started on this journey with music? 
A: Born in Hollywood, but I'm a Van Nuys Valley dude too, I'm also from Burbank and went to high school there. Radio in LA was good in the 1970's and 1980's. It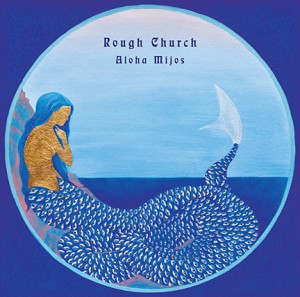 started at KHJ then went to KROQ and Rodney , etc. Also, thank goodness there were great record stores in nearby Pasadena like Pooh Bah's. Growing up in LA in the early 80's, was great! I had a 1964 Mercury Monterey convertible, and access to everything. We could go see X and Wall of Voodoo. In the early 80's I had a girlfriend when I was 17 and she was 16, we saw everything, and it was cheap. We saw Gary Numan, Lene Lovich, and Siouxsie. I also got exposed to the local music via KXLU-FM. And only a few years later, while at UCLA with my brother Daniel I started my first band Blasphemous Yellow.
We had a Minutemen/Violent Femmes kinda thing going on and a bit of King Crimson too! We started playing at The Anti-Club with Uh,(Ethan Port from Savage Republic) his side project. Also we played with Tex and the Horse heads, (they scared the crap out of us) Debt of Nature go us gigs, and that later became Medicine. We met Psi-Com, which was Perry Farrell's first project, later he formed Jane's Addiction. The Minutemen and The Dream Syndicate were also playing on the scene back then, and we worshipped both of them. That was 1983-1985. What a great scene! I would later say the same thing about the 90's Silverlake scene when I was in my band Ferdinand. LA always has good music, sometimes you just need to find it in odd places. Continue reading →