rolling stones
JEAN-LUC GODARD'S FILM CHRONICLES POLITICAL AND SOCIAL UPHEAVAL AS THE ROLLING STONES RECORD ONE Of THEIR SIGNATURE TRACKS IN THE STUDIO
By Harvey Kubernik c 2018
On October 5, ABKCO Films will release a 4K restoration of Sympathy for the Devil on DVD, Blu-ray and through digital services in celebration of its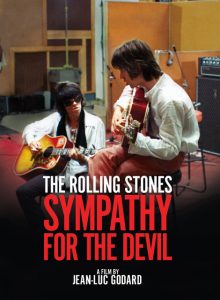 initial release 50 years ago. One of the landmark new wave films of the late '60s, directed by the celebrated Jean-Luc Godard, Sympathy for the Devil alternates between reflections on contemporary politics and social issues of the late 1960s as well as giving the audience an unprecedented view of The Rolling Stones creative process in the recording studio working on what would become one of the band's defining tracks.
The Rolling Stones original line up of Mick Jagger, Keith Richards, Brian Jones, Charlie Watts and Bill Wyman were joined by Nicky Hopkins, Rocky Dzidzornu, Marianne Faithfull, Anita Pallenberg and James Fox in the landmark session that took place at Olympic Sound Studios in London in June 1968.
The new edition of Godard's Sympathy For The Devil is a 4K restoration of the film from the original 35mm camera negative that was initially released in 1969. The color grading has been supervised by the original cinematographer, Tony Richmond BSC, ASC. Richmond holds dozens of credits as cinematographer including Let it Be, and Nicolas Roeg's Don't Look Now for which he won BAFTA's Best Cinematography award in 1973.
The expanded rerelease of the film includes numerous extras including the entirety of One Plus One (Godard's director's cut) as well as Voices, a 1968 documentary on the making of Sympathy For The Devil, along with a 2018 documentary featuring interviews with Tony Richmond and Mim Scala, one of the film's producers. Continue reading →
By Harvey Kubernik c 2017
On December 1st the Polydor Records/UMe label released The Rolling Stones-On Air, a collection of rarely heard radio recordings from their formative years.
The songs, including eight the band have never recorded or released commercially, were originally broadcast on bygone U.K. BBC shows such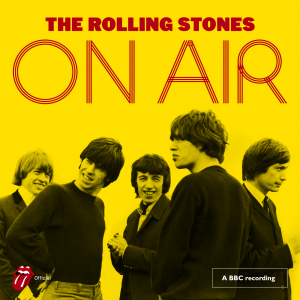 as Saturday Club, Top Gear, Rhythm and Blues and The Joe Loss Pop Show between 1963 and 1965.
The CD, double CD deluxe edition, heavy-weight vinyl and special limited-edition colored vinyl offer an insight into the band during 1963-1965. Mick Jagger, Keith Richards, Charlie Watts, Brian Jones, and Bill Wyman are a vital and constantly surprising live unit.
Such was the frequency with which they visited BBC studios in the 60's, the group constantly set out to offer listeners something different. As well as songs that never appeared on singles or albums, there are seven tracks that were debuted over the airwaves before featuring on albums or EPs.
There's some Bo Diddley covers, "Cops and Robbers," and "Crackin' Up," plus the Diddley-inspired Mona as well as two band renditions from the Muddy Waters' repertoire: "I Can't Be Satisfied" and "I Just Want to Make Love To You."
The group's take on familiar R&B staples like "Roll Over Beethoven," "Memphis, Tennessee" and "Beautiful Delilah" (all originated by Chess recording artist Chuck Berry) illustrate the verve and energy the Stones regularly brought to their live shows. The BBC would urge them to perform their current singles, and while happy to do so they also relished the opportunity to showcase a fuller picture of their prowess as Britain's foremost blues outfit, packing clubs and ballrooms night after night. Continue reading →
© 2017 Harvey Kubernik
"Ronnie Schneider we'd known. He's Klein's nephew but he broke away from him. He's a smart cat. I dig Ronnie. He'd been on a lot of tours with us handling business and hung around with us. He was the only cat we knew in '69 who could handle the Stones tour that everybody knew, that we could leave to get on with it till we got there."
—Keith Richards to Robert Greenfield Rolling Stone magazine August 19, 1971
On November 8, 1969 I saw two Rolling Stones' concerts at the Inglewood Forum in Southern California. Also on the bill were Terry Reid, B.B. King, and Ike & Tina Turner. There had been interminable delays in covering the Forum's hockey rink, home of the Los Angeles Kings, in preparing the stage. The Stones' first show started around 11:45 p.m. The second one ended at 5:15 a.m. Continue reading →
Harvey Kubernik 2002 interview with bassist of the Rolling Stones
C 2017 Harvey Kubernik
The Quiet One, an authorized documentary about former Rolling Stones' bassist Bill Wyman, has been acquired by Sundance Selects for the movie's North American rights.
Oliver Murray is the director. The film in production is a collaboration with the Rolling Stones' founding member, who was with the band
from 1962-1993. In 1997 he formed Bill Wyman's Rhythm Kings.
"My life has been an extraordinary adventure," Wyman said, via Deadline. "The time feels right to delve into the archive and tell my story before I croak."
Bill Wyman, now 80, kept a daily diary, took thousands of pictures and shot hours of film footage and collected vast amounts of memorabilia. He is the author of seven books.
In 2002 I conducted a 45 minute interview with Bill at the Hotel Oceana in Santa Monica, Ca. while he was in Southern California promoting a coffee table book written with Richard Havers, Rolling With The Stones from D.K. Publishing.
Rolling With The Stones, is a definitive real deal inside story of the Rolling Stones presented and explained by one man who was in the inside looking out at us, Bill Wyman. Continue reading →
By Harvey Kubernik  c  2016
Fans of classic rock and soul rejoiced when the legendary concert Steve Binder-directed film T.A.M.I. Show made its DVD debut on Shout! Factory in 2009.
Now that landmark film made its Blu-ray debut, along with its long-lost—and much requested—follow-up, The Big
TNT Show, directed by Larry Peerce, on December 2, 2016, as part of the 2-disc Blu-ray set T.A.M.I. Show / The Big T.N.T. Show Collector's Edition, from Shout! Factory. The Big T.N.T. Show was also released as a standalone DVD on the same day.
The package contains all the bonus features from the T.A.M.I. Show DVD, plus new interviews with The Big T.N.T. Show performers Petula Clark, Henry Diltz and John Sebastian. The product is mastered from a High-Definition transfer.
The Big T.N.T. Show was filmed in Hollywood on Sunset Blvd. on November 29, 1965 and stars some of the biggest acts of the day, including the Byrds, in their original line-up of Gene Clark, David Crosby, Chris Hillman, Michael Clarke, and Roger McGuinn, perform two # 1 hits, "Mr. Tambourine Man" and "Turn! Turn! Turn! (To Everything There Is A Season.")
One of the most acclaimed rock events ever captured on film, the 1964 concert known as T.A.M.I. Show [Teenage Awards Music International] presented a lineup like no other, the Rolling Stones, James Brown, the Beach Boys, Marvin Gaye, the Miracles, the Supremes, Chuck Berry, Lesley Gore and other acts took the stage one after another rehearsed and recorded over two days and nights on October 29 and 30th on Pico Blvd. at the Santa Monica Civic Auditorium. Marshall Berle, Howard Wolf, John Landis and David Cassidy were in the audience.    Continue reading →