rolling stones
CONCERT FILM TO BE RELEASED JUNE 21ST 2019
RESTORED, REMIXED AND REMASTERED SHOW LIVE FROM GERMANY
PREVIOUSLY UNRELEASED CONCERT PLUS FOUR BONUS TRACKS FROM CHICAGO; 
KEITH RICHARDS 1999 INTERVIEW       
By HARVEY KUBERNIK © 2019
As the Rolling Stones' No Filter US tour dates are currently being re-scheduled  Bridges To Bremen was announced today by the Rolling
Stones for release on June 21st.
Presented by Eagle Vision, the previously unreleased concert film has been completely restored, remixed and remastered and will be available on digital, DVD + 2CD, Blu-ray + 2CD, triple vinyl and digital audio formats.
Bridges to Bremen captures a complete September 2, 1998 show at Germany's Weserstadion venue from the final leg of the Rolling Stones' year-long trek that supported their Bridges to Babylon album, which achieved Platinum and Gold status in multiple markets upon the album's original release in 1997.
The Bridges To Babylon tour was the first time the band went on the road with a permanent, and now infamous, B-stage, and also the first time that fans could vote on the band's website for a track they wanted to hear at the show – "Memory Motel" in the case of the Bremen fans, making each show on the tour unique. Continue reading →
REISSUED ON VINYL AHEAD OF 60TH ANNIVERSARY
 By Harvey Kubernik ©  2018
Chester Arthur Burnett, (June 10, 1910-January 10, 1976) better known to blues fans as Howlin' Wolf, remains one of the essential
exponents of the electric blues. With a raw, booming voice and explosive guitar and harmonica styles to match, the Mississippi-bred Wolf made music that was unmatched in its primal ferocity.
In the process, he, Muddy Waters, Bo Diddley, Chuck Berry, Buddy Guy, Fontella Bass, Billy Stewart, Etta James and others helped to put the Leonard and Phil Chess owned Chess Records on the map as America's preeminent blues label.
Now, just in time for the 60th anniversary of Moanin' In The Moonlight's original high-fidelity release, Geffen/UMe has made available a special vinyl edition of the mono album. 
Remastered from the original flat master tape, this new edition features a high quality 150-gram black vinyl pressing housed in a printed sleeve with scans of the analog tape box and comes in a distinctive tip-on jacket reproducing the album's distinctive original cover artwork by
Don S. Bronstein. The LP displays the 1959 liner notes from Billboard editor Paul Ackerman.    Continue reading →
AVAILABLE ON SUPER AUDIO CD DECEMBER 7 FROM ABKCO RECORDS;
ROLLING STONES ANNOUNCE SPRING 2019 US TOUR
By Harvey Kubernik © 2018
On December 7, ABKCO Records will release The Rolling Stones Beggars Banquet (50th Anniversary Edition) on limited edition hybrid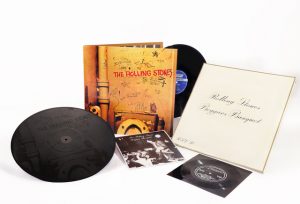 Super Audio CD. In comes on the heels of the November 16 domestic release of Beggars Banquet (50th Anniversary Edition) on limited-edition vinyl, CD and digital formats.
The SACD package itself is designed to look like a miniaturized replica of the 12" gatefold double-vinyl edition, sized to be a convenient 7" gatefold, and contain 2 hybrid SACDs, a flexi disc and expanded packaging elements exclusive to this edition. This bespoke packaging is manufactured in Japan and is of the highest quality to match the SACD audio.
Special elements of the package include: replica packshots of two Japanese 7" single picture sleeves ("Jumpin' Jack Flash" and "Street Fighting Man") and both versions of the Beggars Banquet sleeve art are included. This SACD set is a Japanese release, which will be imported into North America in a limited quantity.  Continue reading →
JEAN-LUC GODARD'S FILM CHRONICLES POLITICAL AND SOCIAL UPHEAVAL AS THE ROLLING STONES RECORD ONE Of THEIR SIGNATURE TRACKS IN THE STUDIO
By Harvey Kubernik c 2018
On October 5, ABKCO Films will release a 4K restoration of Sympathy for the Devil on DVD, Blu-ray and through digital services in celebration of its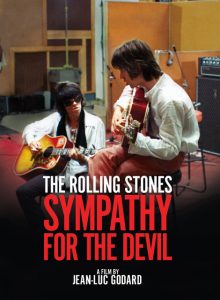 initial release 50 years ago. One of the landmark new wave films of the late '60s, directed by the celebrated Jean-Luc Godard, Sympathy for the Devil alternates between reflections on contemporary politics and social issues of the late 1960s as well as giving the audience an unprecedented view of The Rolling Stones creative process in the recording studio working on what would become one of the band's defining tracks.
The Rolling Stones original line up of Mick Jagger, Keith Richards, Brian Jones, Charlie Watts and Bill Wyman were joined by Nicky Hopkins, Rocky Dzidzornu, Marianne Faithfull, Anita Pallenberg and James Fox in the landmark session that took place at Olympic Sound Studios in London in June 1968.
The new edition of Godard's Sympathy For The Devil is a 4K restoration of the film from the original 35mm camera negative that was initially released in 1969. The color grading has been supervised by the original cinematographer, Tony Richmond BSC, ASC. Richmond holds dozens of credits as cinematographer including Let it Be, and Nicolas Roeg's Don't Look Now for which he won BAFTA's Best Cinematography award in 1973.
The expanded rerelease of the film includes numerous extras including the entirety of One Plus One (Godard's director's cut) as well as Voices, a 1968 documentary on the making of Sympathy For The Devil, along with a 2018 documentary featuring interviews with Tony Richmond and Mim Scala, one of the film's producers. Continue reading →
By Harvey Kubernik c 2017
On December 1st the Polydor Records/UMe label released The Rolling Stones-On Air, a collection of rarely heard radio recordings from their formative years.
The songs, including eight the band have never recorded or released commercially, were originally broadcast on bygone U.K. BBC shows such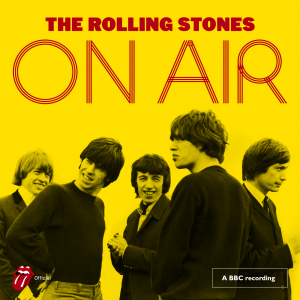 as Saturday Club, Top Gear, Rhythm and Blues and The Joe Loss Pop Show between 1963 and 1965.
The CD, double CD deluxe edition, heavy-weight vinyl and special limited-edition colored vinyl offer an insight into the band during 1963-1965. Mick Jagger, Keith Richards, Charlie Watts, Brian Jones, and Bill Wyman are a vital and constantly surprising live unit.
Such was the frequency with which they visited BBC studios in the 60's, the group constantly set out to offer listeners something different. As well as songs that never appeared on singles or albums, there are seven tracks that were debuted over the airwaves before featuring on albums or EPs.
There's some Bo Diddley covers, "Cops and Robbers," and "Crackin' Up," plus the Diddley-inspired Mona as well as two band renditions from the Muddy Waters' repertoire: "I Can't Be Satisfied" and "I Just Want to Make Love To You."
The group's take on familiar R&B staples like "Roll Over Beethoven," "Memphis, Tennessee" and "Beautiful Delilah" (all originated by Chess recording artist Chuck Berry) illustrate the verve and energy the Stones regularly brought to their live shows. The BBC would urge them to perform their current singles, and while happy to do so they also relished the opportunity to showcase a fuller picture of their prowess as Britain's foremost blues outfit, packing clubs and ballrooms night after night. Continue reading →