By Harvey Kubernik c 2019
On February 20, 1969, singer/songwriter David Bowie recorded an early studio version of "Space Oddity" for his 1969 promotional film, Love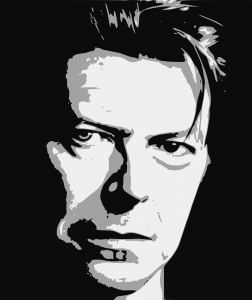 You Till Tuesday.
After departing Deram Records, Bowie then signed to Mercury/Phillips Records in London in the late spring of 1969 by manager Kenneth Pitt to record producer and label executive Lou Reizner.
The Mercury/Phillips studio recording of "Space Oddity" was then cut on June 20, 1969 at Trident Studios in the UK produced by Gus Dudgeon and arranged by Bowie and Paul Buckmaster.
"I met Gus Dudgeon while preparing some arrangements for a female vocalist," explained the late arranger, conductor and composer Paul Buckmaster in a 2014 lecture at the UCLA Herb Alpert School of Music Songwriters On Songwriting: Killer Hooks, Essential Songs & Songwriters of the Rock Era class taught by Professor David Leaf.  
"It wasn't an audition for her so much as for me.  Tony Visconti hired me to work on [David Bowie's] 'Space Oddity.' 
"I was obsessed with Kubrick's 2001. I saw it at least a dozen times and really tried to bring that quality from the movie's score, which featured Richard Strauss and in particular, Gyorgi Ligeti.  Unfortunately, that cheesy mellotron swamped my strings and you can't really hear my work."  
Ken Scott engineered the Trident session. Continue reading →