robin trower
2017 Central and Western U.S. tour dates in June
By Harvey Kubernik c2017
British blues rock guitar statesman Robin Trower first achieved commercial and critical success with Procol Harum during the late 1960s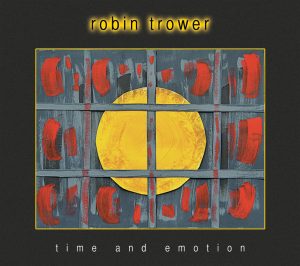 before emerging as the bandleader of his own trio in 1974.
Singer and songwriter Trower has just released an 11 song collection time and emotion on his own V12 label coinciding with a tour of the United States during May and June.
The album features Trower (vocals, guitar, bass); Livingstone Brown (bass, keyboards); Chris Taggart (drums)
"The great joy of having my own label [owned with manager Derek Sutton] is that you haven't got to make music to please some guy behind a desk," Trower told me in an interview on the eve of his U.S. trek. "You can please yourself and make the music you want. It's the best way to make music. On my own schedule.
"I play guitar every day. Quite often ideas come out. I'll spend 2-3 days on a lyric. Eventually 10 or 11 songs are ready for an album. Sequencing was very important and 'the land of plenty' had to be the opener and 'time and emotion' the last track. I did the artwork for the cover of time and emotion. I wanted as much of myself involved with the album as possible."     Continue reading →