ringo starr
CELEBRATED WITH REMIXED AND EXPANDED 50TH ANNIVERSARY EDITION RELEASES ON AUGUST 31st
BY HARVEY KUBERNIK C 2018
On July 1, 1968, The Band's landmark debut album, Music from Big Pink, seemed to spring from nowhere and everywhere. Drawing from the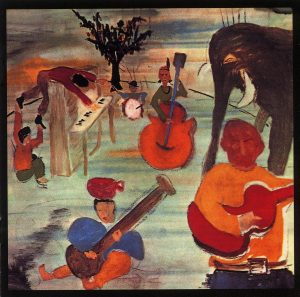 American roots music panoply of country, blues, R&B, gospel, soul, rockabilly, the honking tenor sax tradition, hymns, funeral dirges, brass band music, folk, and rock 'n' roll, The Band forged a timeless new style that forever changed the course of popular music.
Fifty years later, the mythology surrounding Music from Big Pink lives on through the evocative storytelling of its songs including "The Weight," "This Wheel's On Fire," "Tears of Rage," and "To Kingdom Come," its enigmatic cover art painted by Bob Dylan, the salmon-colored upstate New York house – 'Big Pink' – where The Band wrote the songs, and in myriad descendant legends carried forth since the album's stunning arrival.
On August 31, Capitol/UMe will issue Music From Big Pink in newly remixed and expanded 50th Anniversary Edition packages, including a Super Deluxe CD/Blu-ray/2LP/7-inch vinyl box set with a hardbound book; 1CD, digital, 180-gram 2LP black vinyl, and limited edition 180-gram 2LP pink vinyl packages. Continue reading →
On September 9, 2009 the Beatles entire original recorded catalogue digitally remastered by Apple Corps Ltd. and EMI Music Marketing was released worldwide coinciding with the "The Beatles: Rock Band" video game. www.thebeatles.com
In addition, there is a boxed set of "The Beatles in Mono" that have been remastered by Paul Hicks, Sean Magee with Guy Massey and Steve Rooke.
This set has been created with the collector and record geek in mind. "The Beatles in Mono" puts together, in one place, all of the Beatles recordings that were mixed for a mono release. It contains 10 of the albums with their original mono mixes, plus two further discs of mono masters. Similar ground to the stereo tracks on "Past Masters."
As an added bonus, the mono "Help!" and "Rubber Soul" discs also incorporates the original 1965 stereo mixes, which have not been previously released on CD. These albums will be packaged in mini-vinyl CD replicas of the original sleeves with all the original inserts and label designs retained. Continue reading →