nwa
By Harvey Kubernik c 2016
Visionary booking agent and artist manager, Jerry Heller, who served as N.W.A.'s manager, who in the mid-
1980's at Macola Records in Los Angeles, where he first met Eazy-E (Eric Wright) and helped launch Ruthless records in 1987, N.W.A.'s Straight Outta Compton was released in 1988, has died at age 75 from a heart attack in Thousand Oaks, California.
Heller's half a century show business legacy will be primarily defined by obituaries, mixed tributes and uninformed eulogies, along with the circulated myths by the music media about his retail influence on rap music, plus his seminal stint and combative split managing N.W.A. and subsequent depiction in the 2015 Straight Outta Compton biopic.
I've interviewed Ice Cube three times in 20 years and know all about his song "No Vaseline," directed at Heller, and Dr. Dre's video "Dre Day, taunting Heller and Eazy-E. I've been in a room at Studio One with Dr. Dre and Snoop Dogg but don't look to me to chronicle ancient rap wars. Continue reading →
By Harvey Kubernik
(C)) 2004 and (C) 2015
Growing up in Los Angeles, Ice Cube (O'Shea Jackson) treasured the music of Parliament/ Funkadelic, Rick James and James Brown.  In 1983, at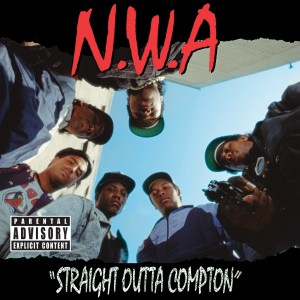 fourteen, he was writing his own raps, and later, after catching an Ice-T show for the first time, he turned pro and became Ice Cube.
Then came N.W.A. (Niggaz Wit Attitudes).   Ice Cube's unit with Eazy-E, Dr. Dre, MC Ren and DJ Yella.  Controversial, probing and commercial voices from Compton, California, the outfit was ushered into the retail world by visionary booking agent turned- manager and Ruthless Records label co-owner, Jerry Heller. N.W.A. would sell tens of millions of records, as well as influencing multiple generations the world over.
On December 17, 2015, N.W.A, along with Deep Purple, Chicago, Cheap Trick, and the Steve Miller Band, were chosen for the Rock and Roll Hall of Fame. The 31st induction ceremony will be on April 8 at the Barclays Center in Brooklyn. HBO will again film the event for broadcast later in the spring, most likely in May.
Over the decades, Ice Cube has established himself as both a wordsmith and one of the lightning rods at the epicenter of a generation. Continue reading →