Mike Stoller
RCA/Legacy Recordings Set to Release Elvis Presley: The Searcher (The Original Soundtrack) on Friday, April 6 Musical Companion to Upcoming Two-Part Documentary Available in Multiple Configurations including 3 CD Deluxe Box Set Deluxe Edition includes Selections from Pearl Jam's Mike McCready's Original Score Plus the Songs that Influenced Elvis Elvis Presley: The Searcher (The Original Soundtrack)
By Harvey Kubernik c 2018
This remarkable three-hour, two-film presentation focuses on Elvis Presley the musical artist, taking the audience on a comprehensive creative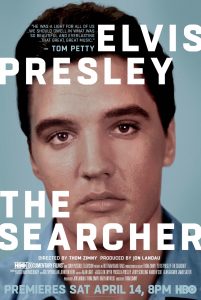 journey from his childhood through the final 1976 Jungle Room recording sessions.
The documentary includes stunning atmospheric shots taken inside Graceland, Elvis' iconic home, and feature more than 20 new, primary source interviews with session players, producers, engineers, directors and other artists who knew him or who were profoundly influenced by him. Scotty Moore, Red West, Priscilla Presley, Bruce Springsteen, Tom Petty, Emmylou Harris, and Robbie Robertson are among the voices who comment about the artistic and personal struggles that preceded Presley's death in 1977.
The two-part documentary movie, which will premiere in the United States on HBO on April 14, 2018, uses rare footage lensed throughout Elvis' life and career as a means of exploring Elvis' singular musical vision in all its complexity. It also features never-before-seen photos and footage from private collections worldwide, and includes an original musical score composed by Pearl Jam lead guitarist Mike McCready.
Elvis Presley: The Searcher is an HBO Documentary Films Presentation in association with Sony Pictures Television; executive producers, Glen Zipper, Priscilla Presley, Jerry Schilling, Andrew Solt, Alan Gasmer and Jamie Salter (chairman and CEO, Authentic Brands Group); producers, Jon Landau and Kary Antholis; directed and produced by Thom Zimny.
The musical companion to the two-part documentary directed by Emmy® and Grammy® award winner Thom Zimny, Elvis Presley: The Searcher (The Original Soundtrack)  will be available in digital and physical configurations including an 18-track definitive soundtrack, a 2LP gatefold 12″ vinyl edition and a 3CD collectible deluxe box set. Continue reading →