Mick Jagger
AVAILABLE ON SUPER AUDIO CD DECEMBER 7 FROM ABKCO RECORDS;
ROLLING STONES ANNOUNCE SPRING 2019 US TOUR
By Harvey Kubernik © 2018
On December 7, ABKCO Records will release The Rolling Stones Beggars Banquet (50th Anniversary Edition) on limited edition hybrid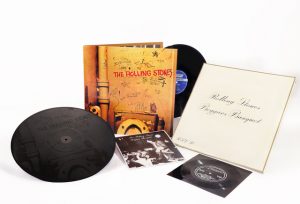 Super Audio CD. In comes on the heels of the November 16 domestic release of Beggars Banquet (50th Anniversary Edition) on limited-edition vinyl, CD and digital formats.
The SACD package itself is designed to look like a miniaturized replica of the 12" gatefold double-vinyl edition, sized to be a convenient 7" gatefold, and contain 2 hybrid SACDs, a flexi disc and expanded packaging elements exclusive to this edition. This bespoke packaging is manufactured in Japan and is of the highest quality to match the SACD audio.
Special elements of the package include: replica packshots of two Japanese 7" single picture sleeves ("Jumpin' Jack Flash" and "Street Fighting Man") and both versions of the Beggars Banquet sleeve art are included. This SACD set is a Japanese release, which will be imported into North America in a limited quantity.  Continue reading →
By Harvey Kubernik  c  2016
Fans of classic rock and soul rejoiced when the legendary concert Steve Binder-directed film T.A.M.I. Show made its DVD debut on Shout! Factory in 2009.
Now that landmark film made its Blu-ray debut, along with its long-lost—and much requested—follow-up, The Big
TNT Show, directed by Larry Peerce, on December 2, 2016, as part of the 2-disc Blu-ray set T.A.M.I. Show / The Big T.N.T. Show Collector's Edition, from Shout! Factory. The Big T.N.T. Show was also released as a standalone DVD on the same day.
The package contains all the bonus features from the T.A.M.I. Show DVD, plus new interviews with The Big T.N.T. Show performers Petula Clark, Henry Diltz and John Sebastian. The product is mastered from a High-Definition transfer.
The Big T.N.T. Show was filmed in Hollywood on Sunset Blvd. on November 29, 1965 and stars some of the biggest acts of the day, including the Byrds, in their original line-up of Gene Clark, David Crosby, Chris Hillman, Michael Clarke, and Roger McGuinn, perform two # 1 hits, "Mr. Tambourine Man" and "Turn! Turn! Turn! (To Everything There Is A Season.")
One of the most acclaimed rock events ever captured on film, the 1964 concert known as T.A.M.I. Show [Teenage Awards Music International] presented a lineup like no other, the Rolling Stones, James Brown, the Beach Boys, Marvin Gaye, the Miracles, the Supremes, Chuck Berry, Lesley Gore and other acts took the stage one after another rehearsed and recorded over two days and nights on October 29 and 30th on Pico Blvd. at the Santa Monica Civic Auditorium. Marshall Berle, Howard Wolf, John Landis and David Cassidy were in the audience.    Continue reading →