larry levine
Editors Note: The Phil Spector Christmas album "A Christmas Gift For You" is being reissued through the following merger:
SONY MUSIC ENTERTAINMENT AND EMI MUSIC PUBLISHING STRIKE HISTORIC NEW LICENSING DEAL TO RELEASE PHILLES RECORDS MONUMENTAL "WALL OF SOUND" CATALOG THROUGH LEGACY RECORDINGS
Legacy Recordings Launches Major Reissue Campaign 
with New Physical & Digital Release of Out-of-Print Yuletide Classic
"A Christmas Gift For You"
Available Tuesday, October 27
Steve Escobar interviews the late Larry Levine, engineer at Gold Star Studios, about the Christmas Album.
LARRY LEVINE INTERVIEW by Steve Escobar
A TALK WITH LEGENDARY STUDIO ENGINEER AND PHIL SPECTOR'S RIGHT HAND MAN 
Copyright December 2000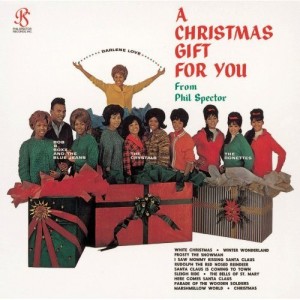 This holiday season while standing in long lines in department stores, fighting off colds and flu, or sitting in traffic jams …just when you think that it couldn't get any worse, you try to calm your nerves by switching on your car radio and are bitten by those damn Singing Dogs! Or pestered by Chipmunks and annoyed by the details of some redneck's grandmother being run over by a reindeer! While quickly changing the station you luckily find one with some mercy, and a real grasp on what the holidays should sound like. They're playing one of many wonderful tracks from the Phil Spector Christmas album. A calming deterrent to road rage. A big, lush, and cheerful production paints a picture full of spruce trees, garland, lights, and ornaments as far as the mind's eye can see! Whatever corny elements there are to these Christmas standards, Spector molds and shapes them back into something very hip and listenable. To help Spector construct his vision of what Christmas should sound like are people like the Ronettes, Darlene Love, Bob B. Soxx & The Blue Jeans, the Crystals, Hal Blaine and the Wrecking Crew, and last but not least, sitting at the controls is legendary sound engineer Larry Levine.
Mr. Levine spoke with me about making the Phil Spector Christmas album and also about many of the hundreds of hit records that he worked his engineering magic on with legendary producer Phil Spector.
SE: Were the sessions for this album done like so many other Christmas albums smack dab in the middle of Summer?
LL: No, it was later than that I recall, I can't tell you precisely when but I know it was later because we were pushing it through. We were probably working fourteen, or fifteen hours a day on it. And of course Phil made everything be a single you know. I mean, it was never an album concept other than that he was going to do a dozen songs. Continue reading →
Phil Spector has been away from his Alhambra, California-home and the recording studio since spring of 2009, when a California jury convicted him of second-degree murder in the 2003 death of actress and comedian Lana Clarkson.

At the moment Spector is serving 19 years to life for the fatal shooting of Clarkson. Spector is actively preparing his appeal from Corcoran State Prison in Central California.
There is saying in the game of American football. "Everyday is like 4th and 1."
The legacy of Phil Spector's recordings and songwriting achievements as well as the ongoing impact and omnipresent influence of the Gold Star recording studio in Hollywood, Ca. where he executed his historic productions should never be forgotten, tarnished or even tainted by the results of this legal decision.
Spector's catalogue is now controlled by EMI who administrates both his music publishing and masters tapes.
Summer and fall 2009 is expected to bring licensing deals for his potent sound copyrights and word has it, some unreleased work and reissues of his classic endeavors, specifically "A Christmas Gift For You."
Gold Star was an atmosphere and schmuck-free sound laboratory that gave us the most-programmed record in history, Spector's "You've Lost that Lovin' Feelin'" by The Righteous Brothers, (arranged by Gene Page) and over 100 Billboard Top 40 hit records. Continue reading →