justin hayward
By Harvey Kubernik C 2017
The Moody Blues' Days Of Future Passed is celebrated with an expanded 50th Anniversary Deluxe Edition just released on November 17 by UMe.
The deluxe 2CD/DVD and digital audio edition features the album's newly restored original 1967 stereo mix, which makes its CD debut here. Due to a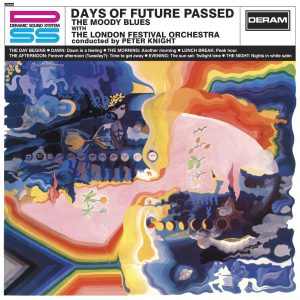 damaged master tape of the original mix, the album was remixed in stereo in 1972; this later mix has been used for the album's subsequent CD reissues. Today's technology has allowed for the original stereo master to be repaired, and the new 50th Anniversary Deluxe Edition pairs that original album mix with the 1972 stereo mix.
The commemorative set also features nine BBC Radio session performances, as well as a DVD with a new 5.1 surround sound mix derived from the album's original 1972 Quad mix, plus previously unreleased video footage of the band performing three key Days Of Future Passed tracks at MIDEM on January 24, 1968, eight weeks after the album's release. The set also includes a poster designed by Ray Thomas. On the same date, the album's restored 1967 stereo mix will also be released on 180-gram vinyl.
Days Of Future Passed was the Moody Blues' landmark second album and formally marked the beginning of the band's psychedelic era. Featuring the London Festival Orchestra, this richly orchestrated album followed in the wake of the Beatles' Sgt. Pepper's Lonely Hearts Club Band and Magical Mystery Tour but was in itself a unique and highly original piece of work. The album includes the hits "Tuesday Afternoon" and the ever-enduring "Nights In White Satin," which established the Moody Blues as true pioneers in the development of progressive rock. Continue reading →
Justin Hayward was born in Swindon, Wiltshire, England on October 14, 1946. He is a singer, songwriter and guitarist in the Moody Blues. In 1966 he replaced the departing guitarist Denny Laine after the group had achieved a hit record with "Go Now," a cover of a Bessie Banks record.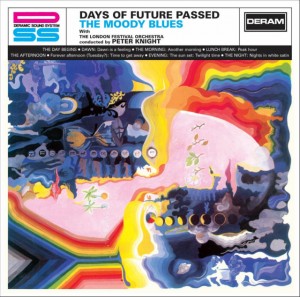 Hayward was initially contacted by Mike Pinder the Moody Blues' keyboardist, who had received Justin's letter and demos discs from Eric Burdon of the Animals where Hayward answered an ad in the "Melody Maker." At the same time bassist/vocalist John Lodge replaced another founding member, Clint Warwick, joining another co-founder, drummer Graeme Edge. Ray Thomas, a vocalist and flute player was then enlisted for their unique sonic mixture.
Hayward penned "Fly Me High," a Moody Blues' Decca single in 1967, and then "Leave This Man Alone," and collaborated with Pinder on his "Love And Beauty," the first Moodies record to incorporate the mellotron. This instrument is early version of sampling keyboards.
"The mellotron arrives in '67 with 'Strawberry Fields,' 'We Love You,' and then the Moodies taking it on the road to reproduce their orchestral sound," states Kenneth Kubernik." Along with King Crimson, they were the bands that featured this 'progressive' sound.'"
In late 1966, the Moody Blues performed new material at enthusiastic concerts in Belgium and Paris.
In '67 the band recorded the "Days of Future Passed" with the London Festival Orchestra conducted by Peter Knight.
The Moody Blues agreed to this Decca label initiated assignment in exchange for the removal of existing monies the group had not recouped with the company at the time.
It was Decca Records executive, A&R man, and record producer Hugh Mendl who had first championed their joint sound endeavor that was initially intended to showcase his new Deram progressive music record label, a Decca subsidiary. The pairing would showcase label's new "Deramic Sound System," expanded channel separation, for a combined rock version of Dvorak's 9th Symphony.
Mendl served as executive producer of the project and later penned the liner notes to the first pressing and reprinted for all subsequent editions.
The group agreed to participate but with no interference or session visits from the Decca executives, plus the guarantee of producer Tony Clarke and engineer Derek Varnals on their creative audio team. Continue reading →