jimi hendrix
Hendrix Final Album,
Band of Gypsys
, Celebrated with Remastered 50
th
Anniversary Vinyl Editions due March 27
th
By Harvey Kubernik © 2020 
Experience Hendrix L.L.C. and Legacy Recordings, a division of Sony Music Entertainment, released Songs For Groovy Children: The
Fillmore East Concerts by Jimi Hendrix, on CD and digital this past November, with a vinyl configuration that was issued December 13th. 
This collection assembles all four historic debut concerts by the legendary guitarist in their original performance sequence. The 5 CD or 8 vinyl set boasts over two dozen tracks that have either never before been released commercially or have been newly pressed and newly remixed. 
Over the course of four extraordinary years, Jimi Hendrix placed his indelible stamp upon popular music with breathtaking velocity.  Measured alongside his triumphs at Monterey Pop and Woodstock, Hendrix's legendary Fillmore East concerts illustrated a critical turning point in a radiant career filled with indefinite possibilities.
The revolutionary impact Jimi Hendrix, Billy Cox and Buddy Miles had upon the boundaries and definitions of rock, R&B, and funk can be traced to four concerts over the course of two captivating evenings.  
These performances were first celebrated by Band of Gypsys, which featured six songs from the two January 1, 1970 concerts, including "Machine Gun," the album's dramatic centerpiece. Issued in April 1970, Band of Gypsys challenged and surprised the wide following of Jimi Hendrix with its extended arrangements and vibrant mix of rock and soul. 
In June of 1969, at the height of their fame, The Jimi Hendrix Experience closed a musical chapter.  Before the shockwaves could settle, Hendrix assembled a new, expanded ensemble to perform at Woodstock in August. A new chapter was opened as Hendrix introduced Gypsy Sun and Rainbows.  The large ensemble included Jimi's longtime friend Billy Cox, on bass, whom he had befriended when both were serving with the 101st Airborne Division in Ft. Campbell, Kentucky in 1962.   Continue reading →
Blues From Laurel Canyon: John Mayall: My Life as a Bluesman Just Published  
BY HARVEY KUBERNIK © 2019 
John Mayall OBE has been indefatigable in his commitment to the blues: virtually every musician who went through his "Bluesbreakers" academy went beyond their wildest imaging. Eric Clapton, Peter Green, and Mick Taylor all began their careers under Mayall's rigorous training.   
On November 14th, Mayall's autobiography, Blues From Laurel Canyon: John Mayall: My Life as a Bluesman, written with Joel McIver will be published by Omnibus Press.      Continue reading →
50th ANNIVERSARY BOX SET FOR NOVEMBER 9th RELEASE
By Harvey Kubernik
c 2018  
In celebration of the 50th anniversary of the release of the Jimi Hendrix Experience masterpiece Electric Ladyland, Experience Hendrix, L.L.C. and Legacy Recordings, the catalog division of Sony Music Entertainment, will issue a Deluxe Edition box set on November 9.
  Available as a 3CD/1 Blu-ray set or a 6LP/1 Blu-ray set, both packages include the original double album, now newly remastered by Bernie Grundman from the original analog tapes. For the LP set, Grundman prepared an all analog direct to disc vinyl transfer of the album, preserving the authenticity. 
    Also included is Electric Ladyland: The Early Takes, which presents demos and studio outtakes from this period in Hendrix's career, plus a new 5.1 surround sound mix of the entire original album by Hendrix's original engineer Eddie Kramer.
   This marks the first and only time this has been done with a Hendrix studio album, and gives listeners the original stereo mixes in uncompressed 24 bit/96 kz high resolution audio.
  The Blu-ray also includes the acclaimed, feature length documentary At Last… The Beginning: The Making of Electric Ladyland. Continue reading →
Celebrates 50th Anniversary with new CD Collection and Criterion Collection Expanded Edition DVD of Monterey Pop;
Jimi Hendrix's Birthday November 27;
and The Passing of Otis Redding on December 10, 1967
By Harvey Kubernik c 20017
Record producer, and Ode Records label owner Lou Adler, and songwriter John Phillips of the Mamas and the Papas produced The Monterey International Pop Festival, June 16-17-18, 1967, held in Monterey, California.
Thirty-two acts from the U.S. and England representing contemporary pop, rock, soul, psychedelia, folk, blues, and world beat were booked.
Stage performers and recording artists who appeared were The Association, Johnny Rivers, Simon & Garfinkel, the Blues Project, Buffalo Springfield, Big Brother and the Holding Company with Janis Joplin, Jefferson Airplane, Laura Nyro, Ravi Shankar, Grateful Dead, Mike Bloomfield's Electric Flag, Moby Grape, Lou Rawls, Booker T. and the MG's with the Bar-Kays, the Who, Eric Burdon and the Animals, Paul Butterfield Blues Band, Beverly, the Group With No Name, the Byrds, Otis Redding, Al Kooper, Canned Heat, Country Joe and the Fish, Quicksilver Messenger Service, the Jimi Hendrix Experience, the Mamas and The Papas, Hugh Masekela, Steve Miller Band, and Scott McKenzie.
The ramifications and influence of the sonic world of Monterey extended far beyond the actual gathering. The event altered world culture and your record and video collection.
The ongoing musical influence of Monterey on subsequent outdoor rock music gatherings is being acknowledged again with a myriad of fall and winter 2017 50 year anniversary products. Continue reading →
12/31/69 RELEASED ON CD, 2 LP 180 GRAM VINYL, HIGH RESOLUTION SACD AND DIGITAL FORMATS
By Harvey Kubernik c 2016
Experience Hendrix L.L.C. and Legacy Recordings, the catalog division of Sony Music Entertainment, have just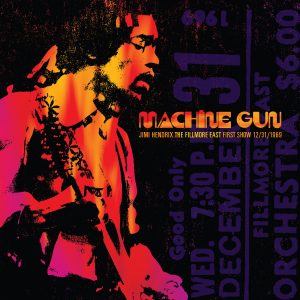 released Machine Gun: The Fillmore East First Show 12/31/69, fully documenting the debut performance of Jimi Hendrix's short-lived but eternally influential Band of Gypsys on September 30.
Hendrix's trio played four historic concerts at the Fillmore East in New York City – two on New Year's Eve 1969, and two on New Year's Day 1970.
Never before has the first of these sets been available in its entirety. The vast majority of the performances have never seen the light of day in any configuration.
"I was 14 going on 15 when I caught Jimi and The Band Of Gypsys at the early show at the Fillmore East on January 1st, 1970," recalls writer Michael Simmons. "A kids' choir called The Voices Of East Harlem opened.  Their soaring voices were the perfect way to greet the new decade and I thought it was cool that Jimi embraced the notion of community here in New York — one of his hometowns along with Seattle and London.  He emphasized his guitar playing that night and disregarded stage shtick.  We — the audience — were witnesses to Jimi's evolution as an artist and it was thrilling.  Personally, I was glad — picking with his teeth or with his axe draped behind his back was getting old.   Continue reading →