izzy chait
Vocalist Izzy Chait was born in Germany, moving to America and California with his family when he was age three. He grew up in the Los Angeles area, and was always attracted to 1950s standards, Pop, and the Rhythm & Blues and Doo Wop he heard on radio station KGFJ.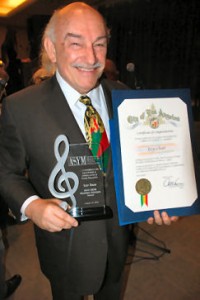 "I sang in temple as part of the choir in synagogue for many years and also with the glee club in school. But the first major singing that I did in public was after I joined the Marine Corps in 1966. I sang with a little band in Viet Nam where we exchanged songs for beers," he volunteers.
At the time, Izzy was primarily singing rock & roll and doo wop but he was also inspired by Billy Eckstine, Johnny Hartman and Oscar Brown Jr, and learned a countless number of standards.
After Chait was discharged from the Marines, he studied anthropology and ethnomusicology at UCLA.
"During the late 1960s while going to school, I sang at many clubs around Los Angeles including quite a few piano bars. I did that for about three or four years and made pretty good money for those days, performing standards," remembers Izzy.
It was at this period when Chait developed a fascination and preoccupation for Asian antiques (along with Eastern philosophy and religion). While in the Marines, Izzy started buying and selling antiques as a hobby, realizing after college that he could make a living with his expertise.
At that point, he was at an early cross roads and had a career decision to make.
"I decided to quit singing music because the lifestyle of playing clubs until 2 a.m. and having customers buying me drinks all night long conflicted with my building up a business. So for 25 years, I didn't sing in public," Chiat offers. Continue reading →