isle of wight
Sound Remixed and Remastered by Bruce Botnick
(Interviews with Ray Manzarek, American Bandstand  host/producer, Dick Clark, Doors' Engineer/Producer Bruce Botnick, 1970 Isle of Wight Filmmaker Murray Lerner, Doors' photographer Guy Webster)
On December 3rd, Eagle Rock Entertainment will release R-Evolution from the Doors on DVD, Blu-ray and Digital Formats.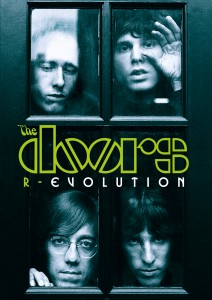 Combining early TV appearances with the Doors' own music films, R-Evolution illustrates how the band evolved from the constraints of mid-sixties television to a point where they had the creative input and power to shape how they were portrayed on screen. R-Evolution shows the growth of the Doors from being forced to accept the formulaic television approach to taking control of the medium.
R-Evolution brings together a wealth of previously unreleased footage of The Doors. This compilation contains "Light My Fire," "People Are Strange," "Hello, I Love You," "Crawling King Snake," "L.A. Woman," "Moonlight Drive," "Break On Through (To The Other Side)," and many more.
Housed in the collection is a performance of "Break On Through (To The Other Side)" from the Isle Of Wight Festival 1970 by director Murray Lerner, a 45-minute documentary entitled "The Doors – Breaking Through The Lens," "Love Thy Customer," a never-before-seen 1966 Ford training film with music by the Doors, their television appearances on Dick Clark's American Bandstand and one from the Clark-produced TV show, Shebang, Finally, the DVD has a section of outtakes from the band's appearance on the US TV show Malibu U in 1967.
In 1978, the famed DJ Murray The K was a guest on my television show 50/50, broadcast on Z Channel, Public Access and Manhattan Cable. I had unearthed from Murray's own archives a copy of the Doors doing "People Are Strange" from his Murray The K in New York 1967 TV series and screened it. Continue reading →