ice cube
By Harvey Kubernik
(C)) 2004 and (C) 2015
Growing up in Los Angeles, Ice Cube (O'Shea Jackson) treasured the music of Parliament/ Funkadelic, Rick James and James Brown.  In 1983, at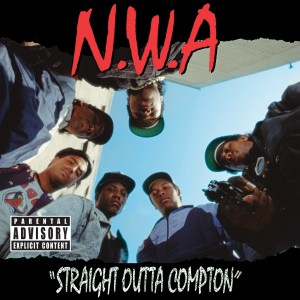 fourteen, he was writing his own raps, and later, after catching an Ice-T show for the first time, he turned pro and became Ice Cube.
Then came N.W.A. (Niggaz Wit Attitudes).   Ice Cube's unit with Eazy-E, Dr. Dre, MC Ren and DJ Yella.  Controversial, probing and commercial voices from Compton, California, the outfit was ushered into the retail world by visionary booking agent turned- manager and Ruthless Records label co-owner, Jerry Heller. N.W.A. would sell tens of millions of records, as well as influencing multiple generations the world over.
On December 17, 2015, N.W.A, along with Deep Purple, Chicago, Cheap Trick, and the Steve Miller Band, were chosen for the Rock and Roll Hall of Fame. The 31st induction ceremony will be on April 8 at the Barclays Center in Brooklyn. HBO will again film the event for broadcast later in the spring, most likely in May.
Over the decades, Ice Cube has established himself as both a wordsmith and one of the lightning rods at the epicenter of a generation. Continue reading →