World Premiere in San Diego California August 2019;
Gold Star/Stan Ross Documentary In Production
By Harvey Kubernik © 2019
33 1/3 – House of Dreams tells the story of the legendary and landmark Gold Star Recording Studios in Hollywood and its co-founder, lead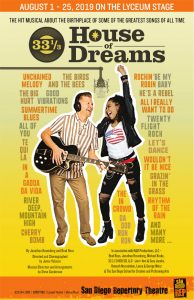 engineer and hit maker Stan Ross. Gold Star was the birthplace of some of the greatest pop and rock hits of all time over a 33 1/3 year period.
Gold Star garnered more Recording Industry Association of America (RIAA) Songs of The Century and Grammy Hall of Fame winners than any other independent studio in America. The Gold Star Recording studio was built in 1950 and lasted until 1984 at 6252 Santa Monica Blvd until a fire destroyed the property in March 1984.
Johnny Mercer, Bobby Troup, Sammy Fain, Eddie Cochran, Jack Nitzsche, Herb Alpert & the Tijuana Brass, Buffalo Springfield, Neil Young, Phil Spector, Brian Wilson with The Beach Boys, Marty Balin, Leonard Cohen, The Who, Ike & Tina Turner, Jackie DeShannon, The Band, Hugh Masekela, Iron Butterfly, Sonny & Cher, Bob Dylan, Allen Ginsberg, Arthur Lee, Jimi Hendrix, The Association and The Ramones along with many other recording artists utilized the famed location.
In June 2019, the San Diego Repertory Theatre (San Diego REP) announced that they will be partnering with the San Diego School of Creative and Performing Arts (SDSCPA) and R & R Productions, LLC for the world premiere musical 33 1/3 – House of Dreams. Written by local San Diegans Jonathan Rosenberg and Brad Ross, with additional contributions by Steve Gunderson and Javier Velasco, the debut production chronicles the success of Gold Star Recording Studios through the history of rock 'n' roll. Continue reading →