harvey kubernik
New Autobiography and Bowie Celebration Tour in 2018 and 2019
By Harvey Kubernik c 2018
"It is pointless to talk about his ability as a pianist. He is exceptional. However, there are very, very few musicians, let alone pianists, who naturally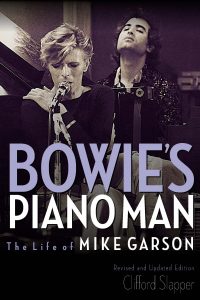 understand the movement and free thinking necessary to hurl themselves into experimental or traditional areas of music, sometimes, ironically, at the same time. Mike does this with such enthusiasm that it makes my heart glad just to be in the same room with him." — David Bowie on Mike Garson
Pianist Mike Garson was David Bowie's most frequent musician, on record and onstage, throughout Bowie's life. They played over a thousand shows together between 1972 and 2004, and Garson is featured on over 20 of Bowie's albums. In November 2006, Garson accompanied Bowie and Alicia keys for a rendition of "Changes" in New York City at an AIDS benefit which was Bowie's final public performance in the U.S.
Around his teaching, performance and recording work, Garson is serving as the pianist, bandleader and stage emcee who anchors the well-received A Bowie Celebration spotlighting a flexible touring lineup.
The current touring ensemble is Garson, who was Bowie's musical director with Luther Vandross and David Sanborn on the Young Americans 1974 tour, longtime Bowie veteran Earl Slick guitar, Gerry Leonard guitar, Mark Plati guitar, Carmine Rojas bass, drummer Lee John Madeloni, who is Slick's son, and vocalists Bernard Fowler, Cory Glover, Joe Sumner and Gaby Moreno. Continue reading →
New Collection Showcases Redding's Songwriting Evolution in '67
"(Sittin' On) The Dock Of The Bay" Celebrates 50th Anniversary
By Harvey Kubernik c 2018
Otis Redding was on top of the world in 1967, highlighted by a career-defining performance at the Monterey Pop Festival. Returning to Memphis that
fall, Redding began to explore different musical influences when he entered the studio to record his next album. Tragically, those sessions were cut short after only a few weeks when the singer died in a plane crash on December 10, 1967, with four members of his backing band the Bar-Kays when Redding's private airplane crashed in a Madison, Wisconsin lake. Singers Johnnie Taylor and Joe Simon were among the pallbearers at Redding's funeral in Macon City, Georgia. Booker T. Jones played organ to the grieving congregation and Jerry Wexler provided the eulogy.
It was a day that dramatically and constantly reminds us about Redding's frozen legacy that at least now can be heard again on these recordings. While there will never be a definitive idea of what Redding's next album would have been this new Dock of the Bay Sessions is the first to show what could have been.
On February 23, 1968 the world was graced with the first posthumously-released Otis Redding Volt-Atlantic album, Dock of the Bay, one which was destined to be the most successful of his posthumous releases as a result of its title track.
And now, a half a century later, on May 18, 2018, the Rhino label issued Dock of the Bay Sessions as part of the ongoing 50th anniversary celebration of "(Sittin' On) The Dock of the Bay." March 16th marked the actual 50th anniversary of the single topping both the pop and R&B charts in 1968 and becoming Redding's first #1 hit. Continue reading →
By Harvey Kubernik
C 2018
Russ Regan, a titan in the record business and a visionary A&R man, died in Palm Springs, California on Sunday, May 27th of cancer, at the age of 89.
His daughter Rachael Grace announced his passing with a Facebook post, "he fought a good fight and had an extraordinary life."
Regan is survived by his wife of 30 years, Sheryl, children Marc, Rachael and Daniel, sister Margaret and son-in-law Eric. Regan's family requested that in lieu of flowers, acknowledgement be given in Russ's name to his favorite charity, the Recording Academy's MusiCares.
Over a 60 year career Regan worked with some of the biggest names in the music business, including the Beach Boys, Hugh Masekela, Neil Diamond, Elton John, Barry White, Olivia Newton-John, and the Alan Parsons Project.
Cave Hollywood asked our resident wordsmith and author Harvey Kubernik to provide a tribute to Russ Regan, a friend of his the last half century. Harvey sent us an archive oral history he had conducted with Russ the last few decades. We're displaying it in full.
Courtesy of Harvey Kubernik Archives
During the last 25 years I conducted a series of interviews with Russ Regan, portions appeared in three of my books: Turn Up The Radio, Pop, Rock and Roll in Los Angeles 1956-1972, 1967 A Complete Rock Music History of the Summer of Love, and Inside Cave Hollywood: The Harvey Kubernik Music InnerViews and InterViews Collection, Vol. 1. Continue reading →
Officially Available For First Time in New Box Set in Latest Volume in Award-Winning Miles Davis Bootleg Series
By Harvey Kubernik c 2018
In March, Columbia/Legacy Recordings, a division of Sony Music Entertainment, released Miles Davis & John Coltrane-The Final Tour: The Bootleg Series, Vol. 6
Available in 4CD boxset and digital configurations, Miles Davis & John Coltrane-The Final Tour: The Bootleg Series, Vol. 6 brings together, for the first time in an authorized edition with state-of-the-art production, five mythic concert performances as heard by lucky audiences during the epochal Spring 1960 Jazz At The Philharmonic European Tour presented by impresario Norman Granz.
Showcasing the musical chemistry shared by Miles and Trane,   Miles Davis & John Coltrane-The Final Tour: The Bootleg Series, Vol. 6 offers five of the best recorded shows from that pivotal 1960 tour (Coltrane's last as sideman): two shows from Paris's L'Olympia Theater on Monday, March 21; two shows from the next night at Stockholm's Konserthuset; and one from Copenhagen's Tivolis Koncertsal three days later, on March 24.
The box set was produced by the multi-Grammy winning team of producers Steve Berkowitz, Michael Cuscuna and Richard Seidel. And mastered by multi-Grammy winning Sony Music engineer Mark Wilder. The set is authorized for official release by the Miles Davis Estate, the John Coltrane Estate, and Columbia Records/Legacy Recordings. Erin Davis, Cheryl Davis and Vince Wilburn, Jr. are Executive Producers.   Continue reading →
HK: In very late March at the Coffee Gallery venue in Pasadena, California, there was an evening of rock 'n' roll and spoken word spotlighting your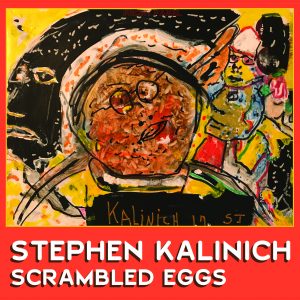 catalog. Rob Bonfiglio led a band with people singing and playing songs you penned for the Beach Boys, including the Honeys, Carnie Wilson of Wilson Philips, Bobby Figueroa, Paul Zollo, and Neil Rosengarden. Tell me about the concept of the show and your reflections on the evening.
SJK: It was one of the greatest evenings of my life.
The concept was to do an evening of some of my song sand poems. Mostly singing. That included Beach Boys Jon Tiven, Rob Bonfiglio Dave Humphries, Jez Graham and some of my other music partners Carnie Wilson and her husband Rob with theit two daughters Lola and Loci did a very moving version of 'Little Bird' so sweet so touching.
The Honeys Marilyn Wilson and Ginger along with Carnie sang a unique and sitting version of 'California Feelin'.' It was incredible. Everyone was great. Rob opened the set with 6 of his own songs. He was my music director a wonderful performer so talented. Also on the bill were Chad Watson, Nick Guzman, and Neil Rosengarten. I cannot put into words how glorious this evening was. Terry Roland the host put it together.  Owen Goldman on drums. Continue reading →