drifting sand
By Harvey Kubernik
Drifting Sand, the San Francisco area-based vocal and instrumental band that brought us "Shark! Shark!" and "Surfin' With Britney" return with their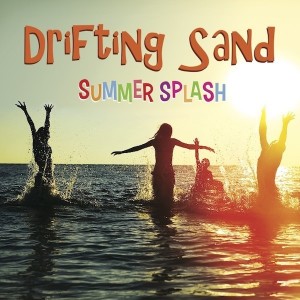 third full-length CD, Summer Splash, an album that takes us on a surfin' safari from a fun and innocent beach party to an epic and emotional endless sea.  Co-produced by Rick Escobar (ex-The Woodies) with the band's own lead vocalist/keyboardist Surfer Spud, Summer Splash, like their previous self-titled album, drifts all over the musical map in its attempt to cover all things beach, surf and summer.  All the group members surf and bandleader Spud is a surf music enthusiast who also has a fondness for classic sixties surf and beach movies.
With opening tracks like "Beach Tour USA" and "Every Day Is Summer," you're at a Frankie & Annette beach party and having fun, fun, fun like a Beach Boy would.  Then the surf instrumentals "Santa Cruz'n" and "Surf, Surf, Surf" kick in and you're riding a big reverb-drenched wave with Dick Dale and The Challengers. And then after the last wave crashes, you're transported to a calm and peaceful place where blue water soothes the soul and everything will be alright as you fade into the "Endless Sea."  That, in a seashell, is what Summer Splash is all about.  And with multi-layered vocals and rich harmonies, classic surf guitar and even a ukulele thrown in for that spiritual aloha vibe, Summer Splash is a delight to listen to and Drifting Sand deliver their closest thing to a Beach Boys/Dick Dale meets Moody Blues/Pink Floyd world that very few would even attempt to create.
Also, if you get the actual CD, which is well worth it for the Endless Summer-inspired cover and the beach ball in swimming pool water disc, you get the bonus track "Sand."  Originally recorded by Nancy Sinatra and Lee Hazlewood in 1966, Drifting Sand's cover is an Ennio Morricone-inspired spaghetti western surf version complete with harmonica man, desert wind and even a vibraslap, if you know what that is.  All in all, Summer Splash is a very enjoyable and pleasurable listening experience and without a doubt, should be your soundtrack to the summer…all year long.  Surf's up!
HK
For more fun, catch a wave at www.driftingsand.com