david kessel
World Premiere in San Diego California August 2019;
Gold Star/Stan Ross Documentary In Production
By Harvey Kubernik © 2019
33 1/3 – House of Dreams tells the story of the legendary and landmark Gold Star Recording Studios in Hollywood and its co-founder, lead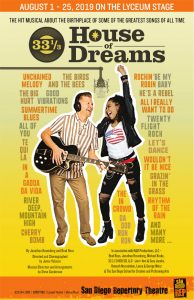 engineer and hit maker Stan Ross. Gold Star was the birthplace of some of the greatest pop and rock hits of all time over a 33 1/3 year period.
Gold Star garnered more Recording Industry Association of America (RIAA) Songs of The Century and Grammy Hall of Fame winners than any other independent studio in America. The Gold Star Recording studio was built in 1950 and lasted until 1984 at 6252 Santa Monica Blvd until a fire destroyed the property in March 1984.
Johnny Mercer, Bobby Troup, Sammy Fain, Eddie Cochran, Jack Nitzsche, Herb Alpert & the Tijuana Brass, Buffalo Springfield, Neil Young, Phil Spector, Brian Wilson with The Beach Boys, Marty Balin, Leonard Cohen, The Who, Ike & Tina Turner, Jackie DeShannon, The Band, Hugh Masekela, Iron Butterfly, Sonny & Cher, Bob Dylan, Allen Ginsberg, Arthur Lee, Jimi Hendrix, The Association and The Ramones along with many other recording artists utilized the famed location.
In June 2019, the San Diego Repertory Theatre (San Diego REP) announced that they will be partnering with the San Diego School of Creative and Performing Arts (SDSCPA) and R & R Productions, LLC for the world premiere musical 33 1/3 – House of Dreams. Written by local San Diegans Jonathan Rosenberg and Brad Ross, with additional contributions by Steve Gunderson and Javier Velasco, the debut production chronicles the success of Gold Star Recording Studios through the history of rock 'n' roll. Continue reading →
FIRST ALBUM OF NEW MATERIAL SUMMER OF SORCERY IN 20 YEARS VIA WICKED COOL/UME Label;  
BY HARVEY KUBERNIK © 2019 
Little Steven and the Disciples of Soul's  Summer Of Sorcery was just released during May on CD, digitally and on vinyl as double LP on 180-
gram black vinyl via Wicked Cool/UMe label.  
A wide-ranging world tour began May 16 at Liverpool, UK's 02 Academy and then made  stops across the United Kingdom, Germany, Denmark, Sweden, Norway, Belgium, the Netherlands, Switzerland, Italy and Spain.
The first leg of the North American tour started July 2 at the London Music Hall in Ontario, Canada and take Van Zandt and band all across Canada and the Eastern U.S., culminating at Outlaw Jam in Annapolis, Md. 
They will return to Europe in August for more shows and return to the US in September for the second leg of the tour that will culminate at New York City's Beacon Theatre on November 6th. 
Each show on the American tour will benefit Van Zandt's TeachRock education initiative and offer an introduction to the Teachrock.org curriculum. Before the show, the TeachRock staff will host free professional development workshops designed to engage educators with techniques and content through which they can comfortably use music to inspire students, even if they've never touched an instrument. 
The free, multimedia K-12 interdisciplinary curriculum meets prevailing standards in English Language Arts, Social Studies/History, the Fine and Performing Arts, and also includes STEAM and advisory material suitable for K-12 teachers of all disciplines, interdisciplinary best practices and group activities.
Summer Of Sorcery – which arrives just two years after Little Steven's acclaimed 2017's solo return, Soulfire, and its 2018 live follow-up, Soulfire Live! – was written, arranged, and produced by Van Zandt at his own Renegade Studios in New York City; the album was co-produced and recorded by Geoff Sanoff and co-produced by Disciples of Soul musical director and guitarist Marc Ribler. 
Summer Of Sorcery was mixed and mastered respectively by Van Zandt's career-long collaborators and friends Bob Clearmountain and Bob Ludwig (. The album – which features an exclusive introduction written by Van Zandt – is adorned with Frank Frazetta-inspired cover art by Steven's longtime art director, Louis Arzonico.
"I know it sounds a bit silly but I do believe Rock 'n' Roll can change the world," Van Zandt volunteered. "It's about bands, and that for me suggests brotherhood, family, friendship, and community" 
In addition to his ongoing role as a touring and recording member of The E Street Band, the past two decades have seen the Rock and Roll Hall of Famer expand his personal parameters to include legendary work as an actor on The Sopranos and Lilyhammer as well as host-creator of Sirius XM's one-and-only Little Steven's Underground Garage creator of Sirius XM's long-running Outlaw Country format).  Continue reading →
FEATURING 180-GRAM VINYL REISSUES OF THE ICONIC LABELS' CLASSIC ALBUMS;    DAVID KESSEL ON VERVE RECORDS FOUNDER NORMAN GRANZ
By Harvey Kubernik © 2019
In 2019 Verve and Impulse! Records, together with UMe, launched their new series Vital Vinyl, a celebration of essential jazz LPs from the iconic labels' enduring catalogs.
Throughout the year, the labels are making some of their most beloved must-have albums from the '50s, '60s and '70s available once again as non-limited editions LPs, pressed on audiophile grade 180-gram black vinyl and showcased with their original cover artwork, track listings and liner notes.
The records will be released in three batches with the first available today followed by the second on May 3 and the final installment on June 7.  Continue reading →
I (David Kessel) had the pleasure of growing up in the recording studio along with my brother Dan. We worked with Hal Blaine on many,
many Phil Spector sessions, as 2nd generation Wrecking Crew musicians.  My Dad, Barney Kessel and Stepmother, B.J. Baker (one of the top background vocalists and vocal contractors in LA) were friends of Hal. Hal once said to me at a session  "The trick is, that if you make a mistake at the beginning of a take, you have to remember the mistake through the whole song." I asked our Cave Hollywood wordsmith Harvey Kubernik to remember Hal Blaine.
By Harvey Kubernik
Kubernik
© 2019   
I knew Hal Blaine for 50 years. I did a term paper on him during high school. He invited me to a 5th Dimension session, too.
Hal steered me to Pro Drum Shop on Vine Street. My life changed seeing the sparkle sets and equipment on the wall. I never knew there was a place for drummers and percussionists besides Wallichs Music City and Drum City.
For decades I called him Belsky, his real last name, and he would call me Harvala.  
In the seventies I interviewed him numerous times for domestic and international publications. He once gave me a lift on his motorcycle between a 3 session day and also picked me up hitch-hiking once on Sunset Blvd. when he saw me at a bus stop on Fairfax Avenue when my car was in the shop.  "Take me to Gold Star! I need to see this session." After it wrapped, Hal's parting comical advice was: "Harvala. Please don't get married in California!" Then every Wrecking Crew session veteran started laughing their heads off. I didn't quite comprehend the reality on display. Just about every cat started running down words I never heard like alimony and visitation… Continue reading →
APTLY-
TITLED ALL-STAR FOUR-
DISC BOX
SET
THE FOUNDER OUT ON DECEMBER 7
TH
VIA VERVE/UME  
BY HARVEY KUBERNIK c 2018
In jazz circles, few names command more respect than Norman Granz. Although he wasn't a musician, Granz (1918-2001) was as
responsible as any individual for popularizing jazz and promoting the careers of many of the genre's greatest artists.
Granz's incredible half-century career first took off with his creation of the groundbreaking Jazz at the Philharmonic concert series. But Granz was equally influential for the series of record labels that he launched in the 1940s and 1950s: Clef, Norgran and Verve. 
Those companies became home to many of jazz's most important and influential artists. And, unlike many of his contemporaries, Granz combined his love for the music with a passion for social justice, championing African-American musicians at a time when those musicians were often exploited and disrespected.
Now, in honor of the hundredth anniversary of Norman Granz's birth, Verve/UMe has assembled The Founder, a four-CD/digital box set celebrating his remarkable life and career. The historic package features a massive chronological assortment of music spanning Granz's remarkable career and featuring music by most of the great musicians he recorded. Continue reading →