david bowie
New Biography and Bowie Celebration Tour in 2018 and 2019
By Harvey Kubernik c 2018
"It is pointless to talk about his ability as a pianist. He is exceptional. However, there are very, very few musicians, let alone pianists, who naturally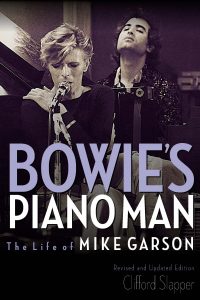 understand the movement and free thinking necessary to hurl themselves into experimental or traditional areas of music, sometimes, ironically, at the same time. Mike does this with such enthusiasm that it makes my heart glad just to be in the same room with him." — David Bowie on Mike Garson
Pianist Mike Garson was David Bowie's most frequent musician, on record and onstage, throughout Bowie's life. They played over a thousand shows together between 1972 and 2004, and Garson is featured on over 20 of Bowie's albums. In November 2006, Garson accompanied Bowie and Alicia keys for a rendition of "Changes" in New York City at an AIDS benefit which was Bowie's final public performance in the U.S.
Around his teaching, performance and recording work, Garson is serving as the pianist, bandleader and stage emcee who anchors the well-received A Bowie Celebration spotlighting a flexible touring lineup.
The current touring ensemble is Garson, who was Bowie's musical director with Luther Vandross and David Sanborn on the Young Americans 1974 tour, longtime Bowie veteran Earl Slick guitar, Gerry Leonard guitar, Mark Plati guitar, Carmine Rojas bass, drummer Lee John Madeloni, who is Slick's son, and vocalists Bernard Fowler, Cory Glover, Joe Sumner and Gaby Moreno. Continue reading →
With the passing of David Bowie, Cave Hollywood thought it was appropriate to display a 2003 interview Harvey Kubernik conducted with Oscar-winning filmmaker and documentarian, D.A. Pennebaker, who directed 1973's Ziggy Stardust and the Spiders From Mars.
The documentary has been out on DVD for many years.
Pennebaker's riveting celluloid portraits captures Bowie's last performance as Ziggy while introducing musical aspects of Bowie's ongoing 1973 journey that resulted in his "Aladdin Sane" album.
D.A. (Donn Alan) Pennebaker was born July 15, 1925 in Evanston, Ill. Continue reading →