chris allen
By Harvey Kubernik c 2017
Poet/lyricist/songwriter and performer Stephen J. Kalinich, no stranger to Cave Hollywood viewers, a few years ago portal owner David Kessel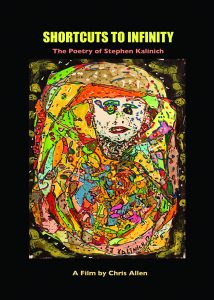 interviewed Kalinich when he released his two California Feeling albums on the MsMusic record label.
In late 2017, director Chris Allen and Chris Allen Films released a feature length 81 minute documentary Shortcuts to Infinity-The Poetry of Stephen Kalinich.
Executive producers are Don Fertman, Chris Allen and Carol Schofield.
The movie incorporates interviews with Beach Boys' Brian Wilson, Al Jardine, and David Marks as well as PF Sloan, Jon Tiven, Alan Boyd, Paul Steel, Carl B Wilson, Dan Knutson, and Ralph Stevens. Also appearing in the film are Carnie and Wendy Wilson, Carol Schofield, Marla Maples, Bill Duke, Marilyn Wilson, Richard Lawson, and many others.
Stevie's painting and stand-up act are explored, as well as a look at the play based on his book
From The Heart of Love. The DVD can be ordered at www.chrisallenfilms.com. Continue reading →