bob marley
By Harvey Kubernik c 2018
On August 24, The Marley Family, Island Records, and UMe celebrated 40 years of Kaya, Bob Marley & The Wailers' historic March 1978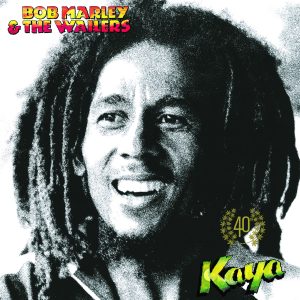 release.
This anniversary edition features Stephen "Ragga" Marley's exciting and vibrant new "Kaya 40" mixes of all ten tracks from the original album alongside its original mixes in 2CD and 180-gram 2LP configurations. (The digital version will be a standalone release of Stephen's mixes only.)
The album is also available as a limited edition 180-gram 2LP green vinyl version exclusively at BobMarley.com
Recorded in London concurrently with the material that ultimately comprised 1977's Exodus — a record proclaimed by Time Magazine in 1999 to be the Best Album of the 20th Century — Kaya is the sonic-sibling bookend that attempts to share all the joy, spirit, and literal DNA of some of Marley's most groundbreaking material.
The album isn't one of my most played Bob Marley discs on planet Kubernik, but Kaya does contain a few of the most enduring songs in the entire Marley catalog, particularly "Is This Love," "Easy Skanking," and "Sun Is Shining." Continue reading →
FEATURING BOTH NIGHTS OF HISTORIC 1975 CONCERT AT LYCEUM THEATRE LONDON, DECEMBER 16, 2016
By Harvey Kubernik c 2016
Bob Marley & the Wailers were at the peak of their artistic powers when they arrived at the Lyceum London for two shows on July 17 and 18, 1975,
having just released Natty Dread the year before and about to unleash Rastaman Vibration on the world. The Rolling Stones mobile studio was on hand to record both shows, with seven songs from the second released as Live!, in December of that same year. The recording was subsequently broadcast as part of the syndicated radio program King Biscuit Flower Hour in 1976. The live sound mixing was done by Dave Harper, the recording engineer was Steve Smith, and the record was produced by Steve Smith and Chris Blackwell.
The Marley Family will now release for the first time the complete sets from both shows, Bob Marley & the Wailers-Live!, as a three-LP set in 180-gram black vinyl and as a digital package on December 16 in a tri-gatefold package that also includes a reproduction of the tour program from the band's historic '75 U.K. tour.  In addition, on the same day, a seven-inch live vinyl disc will also be made available as an exclusive at UDiscover at and the Bob Marley Museum in Kingston, JA.
Marley and the Wailers' classic line-up included bassist Aston "Family Man" Barrett, drummer Carlton "Carly" Barrett, guitarist Al Anderson, keyboardist Tyrone Downie, percussionist Alvin "Seeco" Patterson and the I-Three — backing vocalists Rita Marley, Judy Mowatt and Marcia Griffiths.  The group was  fresh off its legendary five-night stint at the Roxy Theatre in Los Angles from July 9 through July 13, when they stepped on the stage at London's Lyceum Theatre for an abbreviated U.K. tour which would also include dates at The Odeon in Birmingham on July 19 and The Hard Rock in Manchester on July 20. Marley was in top form during the two Lyceum shows, animatedly interacting with the crowd, who sang along to what most consider the definitive version of "No Woman, No Cry." Continue reading →