bob dylan
By Harvey Kubernik c 2017
Robbie Robertson's contributions to popular music have made him one of the most renowned songwriters and guitarists of his time. In
Canada he was made an Officer of the Order of Canada.
In the 1960s, Robertson achieved worldwide fame and acclaim as a co-founder of the Band, laying a strong foundation for his broad range of five solo albums since the Band's disbandment in 1976. In 2017 Robbie is working on a new album for projected 2018 retail release.
In his captivating memoir, Testimony, published by Crown Archetype in November, 2016, written over five years of reflection, Robbie Robertson employs his unique storyteller's voice to explore the trajectory that led him to some of the most pivotal moments in music history.
Robertson was born in Toronto, Ontario, in 1943. His book recounts the adventures of his half-Jewish, half-Mohawk upbringing on the Six Nations Indian Reserve and on the gritty streets of Toronto; his odyssey at 16 to the Mississippi Delta, the fountainhead of American music; the wild early years on the road with rockabilly legend Ronnie Hawkins and The Hawks; his unexpected ties to the Cosa Nostra underworld; the gripping trial-by-fire "going electric" with Bob Dylan on his 1966 world tour, and their ensuing celebrated collaborations; the formation of the Band and the forging of their unique sound, culminating with history's most famous farewell concert, brought to life for all time in director Martin Scorsese's acclaimed documentary and the Band's timeless concert album, The Last Waltz, filmed and recorded in 1976.  Continue reading →
A Monumental 36 CD Box featuring Every Known Recording from the Artist's Mythic and Controversial 1966 Tour of the US, UK, Europe and Australia
By Harvey Kubernik c 2016
Bob Dylan: The 1966 Live Recordings- a highly-collectible 36CD box set containing every known recording from the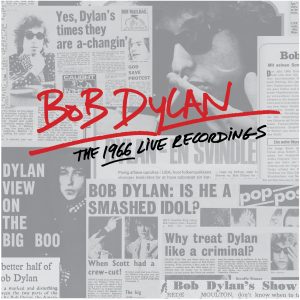 artist's groundbreaking 1966 concert tours of the US, UK, Europe and Australia–will be issued on Friday, November 11 by Columbia Records and Legacy Recordings, the catalog division of Sony Music Entertainment.
The collection commemorates, in stunning sonic vérité, the 50th anniversary of the electrifying live performances that would forever change the sound and direction of rock and pop music around the world.
"While doing the archival research for The Cutting Edge 1965-1966: The Bootleg Series Vol. 12, last year's box set of Dylan's mid-60s studio sessions, we were continually struck by how great his 1966 live recordings really are," said Adam Block, President, Legacy Recordings in a press statement from the Columbia/Legacy label. Continue reading →
By Harvey Kubernik c 2016
"An audio visual Walt Whitman of our musical heritage."– -Andrew Loog Oldham
The Morrison Hotel Gallery at the Sunset Marquis Hotel in West Hollywood opened an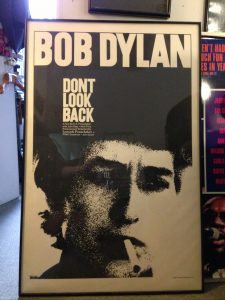 exhibition on June 11 th celebrating the 50th anniversary of the Bob Dylan film "Don't Look Back," directed by D.A. Pennebaker. It hangs through the summer. The exhibition, with the cooperation of Pennebaker and Dylan, who share rights of the documentary, are working with the New York events company Arthouse 18, who have created a limited number of photographic prints that will be for sale. New photos have been generated directly from the movie's negative.
Pennebaker is also the subject of a new book, "D.A. Pennebaker: Interviews," edited by Keith Beattie and Trent Griffiths, recently published by University Press of Mississippi. Continue reading →
By Harvey Kubernik c 2015
The latest chapter in Columbia/Legacy's highly acclaimed Bob Dylan Bootleg Series focuses on the legendary studio sessions that produced Bringing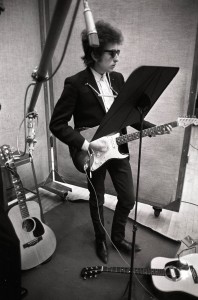 It All Back Home, Highway 61 Revisited and Blonde On Blonde, the trilogy of album masterpieces which secured Dylan's reputation as a songwriter and performer of unprecedented depth, power and originality while significantly impacting the course of popular music and culture. All recordings included in The Cutting Edge 1965-1966: The Bootleg Series Vol. 12 are pristine transfers and mixed from the original studio tracking tapes.
Released this past November, this 2015 Dylan product provides a rare exploration into his creative process in the studio, allowing hardcore fans and consumers to truly experience another side of Bob Dylan through the evolution of his songs from this groundbreaking period.
This latest retail collection brings together for the first time many of the most sought-after recordings of the entire Dylan canon. Here, across 6 CDs, are previously unheard Dylan songs, studio outtakes, rehearsal tracks, alternate working versions of familiar hits–including the complete "Like A Rolling Stone" session–and more.
The Cutting Edge 1965-1966: The Bootleg Series Vol. 12 is available in a 2CD or 3 12″ vinyl LP set and brings together some of the musical high points of the deluxe and super-deluxe units.  Continue reading →
By Harvey Kubernik c 2014
In 1965, Levon Helm and the Hawks ((Robbie Robertson, Rick Danko, Richard Manuel, and Garth Hudson) had met up with Bob Dylan, who hired them as his back-up for what was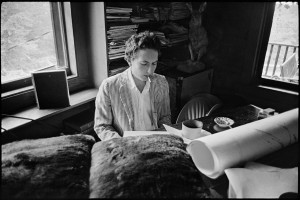 to be many months of savage, sinew-building road trips. Levon did not go along, however, embarrassed that his band was backing another. Mickey Jones was the drummer on Dylan's 1966 European tour.
On July 29, 1966, just a month or so after Blonde On Blonde was in record store bins, Bob Dylan was reportedly involved in a motorcycle smash up and then spent nine months in alleged seclusion.
In 1967, Levon swallowed his pride and rejoined the Hawks in Woodstock. The others had earlier accompanied Dylan into the woods of upstate New York in search of an idyll, and there resolved to bow out of Dylan's secondary spotlight.
During 1967,  Dylan ensconced himself with  Robertson,  Danko, Manuel, Hudson and, later, Helm, in the basement of Dylan's home in Woodstock and at a small house the Band had rented in West Saugerties, known as Big Pink.
They subsequently recorded over one hundred songs, most of them originals, with Dylan on lead vocals. Later to be known as the Complete Basement Tapes.
In November 2013, Bob Dylan's The Basement Tapes Complete: The Bootleg Series Vol. 11 was finally released, along with The Basement Tapes Raw: The Bootleg series Vol. 11, a two-disc product from the deluxe edition as well as a 3 LP set pressed on 180-gram vinyl. Continue reading →