blood sweat and tears
By Harvey Kubernik c 2018  
The epochal and musical genre-breaking Al Kooper-led Blood, Sweat & Tears 1968 debut album Child Is the Father to the Man was released on February 21, 1968.
When KPPC-FM in Pasadena, California first spun the disc I quickly bicycled over to Wallichs Music City in Hollywood to get a copy.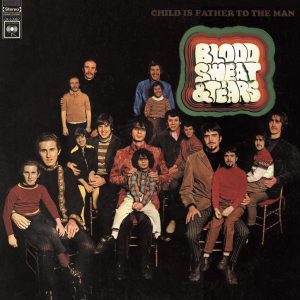 In September of 1967 I witnessed trumpeter Hugh Masekela cutting his live Hugh Masekela is Alive and Well at the Whisky album.
In May 1968 KHJ radio introduced Hugh Masekela's "Grazing in the Grass," recorded at Gold Star studios, and immediately a smash hit on the UNI Records label helmed by visionary A&R man, Russ Regan.
All through the sixties decade, Herb Alpert and the Tijuana Brass were regularly in rotation on the AM radio dial and selling albums and doing concert tours.
Horn players Miles Davis, John Coltrane, Pharoah Sanders, Maynard Ferguson, Don Ellis, Buddy Collette, Charles Lloyd, and Eric Dolphy in 1967 were garnering airplay and exposure on jazz and nascent FM rock underground radio stations.
The groundwork for horn rock or jazz rock, as it was now being heralded, had been forged by the Chess, Motown and Stax record labels and hit singles from the Buckinghams on Columbia Records. Continue reading →