bill wyman
AVAILABLE ON SUPER AUDIO CD DECEMBER 7 FROM ABKCO RECORDS;
ROLLING STONES ANNOUNCE SPRING 2019 US TOUR
By Harvey Kubernik © 2018
On December 7, ABKCO Records will release The Rolling Stones Beggars Banquet (50th Anniversary Edition) on limited edition hybrid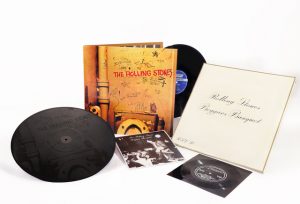 Super Audio CD. In comes on the heels of the November 16 domestic release of Beggars Banquet (50th Anniversary Edition) on limited-edition vinyl, CD and digital formats.
The SACD package itself is designed to look like a miniaturized replica of the 12" gatefold double-vinyl edition, sized to be a convenient 7" gatefold, and contain 2 hybrid SACDs, a flexi disc and expanded packaging elements exclusive to this edition. This bespoke packaging is manufactured in Japan and is of the highest quality to match the SACD audio.
Special elements of the package include: replica packshots of two Japanese 7" single picture sleeves ("Jumpin' Jack Flash" and "Street Fighting Man") and both versions of the Beggars Banquet sleeve art are included. This SACD set is a Japanese release, which will be imported into North America in a limited quantity.  Continue reading →
Harvey Kubernik 2002 interview with bassist of the Rolling Stones
C 2017 Harvey Kubernik
The Quiet One, an authorized documentary about former Rolling Stones' bassist Bill Wyman, has been acquired by Sundance Selects for the movie's North American rights.
Oliver Murray is the director. The film in production is a collaboration with the Rolling Stones' founding member, who was with the band
from 1962-1993. In 1997 he formed Bill Wyman's Rhythm Kings.
"My life has been an extraordinary adventure," Wyman said, via Deadline. "The time feels right to delve into the archive and tell my story before I croak."
Bill Wyman, now 80, kept a daily diary, took thousands of pictures and shot hours of film footage and collected vast amounts of memorabilia. He is the author of seven books.
In 2002 I conducted a 45 minute interview with Bill at the Hotel Oceana in Santa Monica, Ca. while he was in Southern California promoting a coffee table book written with Richard Havers, Rolling With The Stones from D.K. Publishing.
Rolling With The Stones, is a definitive real deal inside story of the Rolling Stones presented and explained by one man who was in the inside looking out at us, Bill Wyman. Continue reading →