andrew loog oldham
By Harvey Kubernik c 2017
On December 1st the Polydor Records/UMe label released The Rolling Stones-On Air, a collection of rarely heard radio recordings from their formative years.
The songs, including eight the band have never recorded or released commercially, were originally broadcast on bygone U.K. BBC shows such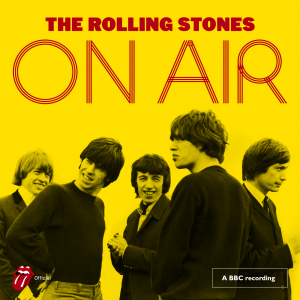 as Saturday Club, Top Gear, Rhythm and Blues and The Joe Loss Pop Show between 1963 and 1965.
The CD, double CD deluxe edition, heavy-weight vinyl and special limited-edition colored vinyl offer an insight into the band during 1963-1965. Mick Jagger, Keith Richards, Charlie Watts, Brian Jones, and Bill Wyman are a vital and constantly surprising live unit.
Such was the frequency with which they visited BBC studios in the 60's, the group constantly set out to offer listeners something different. As well as songs that never appeared on singles or albums, there are seven tracks that were debuted over the airwaves before featuring on albums or EPs.
There's some Bo Diddley covers, "Cops and Robbers," and "Crackin' Up," plus the Diddley-inspired Mona as well as two band renditions from the Muddy Waters' repertoire: "I Can't Be Satisfied" and "I Just Want to Make Love To You."
The group's take on familiar R&B staples like "Roll Over Beethoven," "Memphis, Tennessee" and "Beautiful Delilah" (all originated by Chess recording artist Chuck Berry) illustrate the verve and energy the Stones regularly brought to their live shows. The BBC would urge them to perform their current singles, and while happy to do so they also relished the opportunity to showcase a fuller picture of their prowess as Britain's foremost blues outfit, packing clubs and ballrooms night after night. Continue reading →