andre previn
Composer. Arranger. Orchestrator. Conductor. Lecturer. Jazz pianist. We've lost the greatest American musical polymath since Leonard Bernstein. 
JazzTimes.com
 eulogizes Previn's career as jazz pianist:
"Remembering Andre Previn (1929-2019)" by Kirk Silsbee
Upon his passing on February 28 at his home in Manhattan, 89-year-old Andre Previn was praised as many things: a well-respected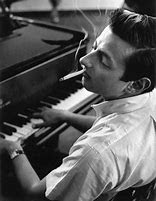 composer, arranger, orchestrator, conductor and a concert pianist. His musical gifts were such that he was often compared to Leonard Bernstein, 20th Century America's most famous musical polymath. Previn won four Academy Awards for film scores, eleven Grammys, composed the well-received "Streetcar Named Desire" opera, and worked with many of the finest symphonies in the world. 
Yet another important and pervasive element of Previn's musical profile was his love of jazz piano—and his skill at playing it. He worked prodigiously in the worlds of film, concert music, and Broadway, but Previn pivoted to club dates and recording studios in the jazz trio format, at seemingly every chance. 
Born Andreas Ludwig Priwin in Berlin, Previn's family came to America in 1939, and he became a naturalized American citizen in 1943. His family moved to Los Angeles and he was working on the MGM lot as an arranger and composer while a teenager. In May of '45, Previn performed on the Jubilee broadcast for service personnel. Host Ernie 'Bubbles' Whitman asked him how it was that a classical pianist loved jazz so much. Previn responded: "I heard Art Tatum play 'Sweet Lorraine' and that did it." He was 16. 
Schooled in the classical piano literature by his music teacher father, Previn had an affinity for the ten-fingered paterfamilias of jazz piano. Though his early recorded efforts were in the Tatum mold, as the years passed, more elements entered Previn's playing, and he broke free and developed his own identity. 
From the mid-1950s, the pianist worked with drummer Shelly Manne, whose appetite for dynamic trio interaction and musical spontaneity matched his own. In 1957, Previn pinpointed the reason for his maturity as a jazz pianist. He told Downbeat's John Tynan in 1957: "Not only is Shelly my best friend, but he's the best jazz musician I know…he taught me how to swing." As Manne became the first-call jazz drummer in L.A. and a busy studio player, he always seemed to make time–and relish–his recorded and live collaborations with Previn, who routinely worked with the best players: Manne, bassists Red Mitchell and Ray Brown, and guitarists Barney Kessel, Joe Pass and Herb Ellis. 
Under the name Shelly Manne & His Friends, Previn and bassist Leroy Vinnegar recorded a clutch of albums for Contemporary. My Fair Lady ('56) was the first jazz album to utilize tunes from a single Broadway show. It became a runaway hit, but the musicians and the label feared a lawsuit. Previn's liner notes offered this prophylactic: "There has been no willful distortion of the tunes simply to be different, or to have a gimmick, or to provoke the saying, 'Where's the melody?' We are all genuinely fond of every tune and have the greatest respect for the wonderful score in its original form, but we are paying our own sincere compliments to the show by playing the score in our own métier." The album set off a wave of jazz treatments of musical scores; Contemporary would shorthand the vogue through the title of Marty Paich's The Broadway Bit ('59).
The gospel-rooted bebop of pianist Hampton Hawes was a pervasive influence on L.A. jazz pianists, and Previn's loose right hand and bluesy swing on "Get Me to The Church on Time" reflected a good grasp of the Hawes grit. He could also slyly spike the melodic line of "I Could Have Danced All Night" with dissonant chords. 
Novel arrangements, playfulness, well-chosen grace notes and swing were big parts of Previn's playing. Even during his busiest movie years (by age 27, he had worked on 26 pictures), he returned to jazz whenever he could. Swing and rhythmic daring was as big a draw for him as harmonic sophistication. A regular lecturer to SoCal university music classes in the late '50s, Previn spent a lot of classroom time on jazz. He loved the thrill of sitting in with the Dizzy Gillespie Big Band at Hollywood's Peacock Lane club, and made time to catch the first L.A. appearance of the Bill Evans Trio.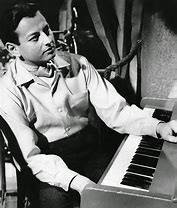 Though he stepped lightly from one musical scene to another, jazz musicians knew that Previn's jazz piano activity wasn't the work of a slumming highbrow. David Kessel, son of guitar legend Barney Kessel—on whose Carmen album (Contemporary '59) Previn played–puts it this way: "My dad had the utmost respect and regard for Andre. Barney realized that he was a great classical artist and he was also very fine jazz musician." 
Previn won his first Oscar for the score to Gigi ('58) and a series of albums for Columbia in the early '60s (Like Love, Like Young, Like Blue) saw him composing orchestral accompaniment to his jazz trio playing. 
In 1974, Previn hosted the BBC's Omnibus show, with pianist Oscar Peterson. Previn was reverent and deferential toward his guest, offering intelligent questions in the interview segments. Yet on a two-piano duet at a fast tempo, where Peterson played all-out, Previn more than held his own. It must've been a high point of his musical life, as was the '89 After Hours (Telarc) album with Pass and Brown.
Though not a trend-setting stylist, Previn's jazz piano was a canny synthesis that could draw from innumerable sources. He always loved jazz, and always respected it by giving his best when he played it.
Jazztimes.com, March 4, 2019