all things must pass
By Harvey Kubernik c 2015
"the dreams of youth moving past tower records / the library / of the youth"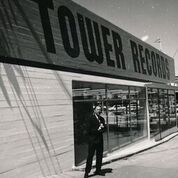 From the poem, "cafes & screenings & academies & descent & personal style & violent dancers"
(Published in Enough the Great Running Chapel, by Harry E. Northup (Momentum Press, 1982)
"Tower Records always had the most complete collection of music available to anyone at any time. Their inventory of every kind of music was just great. They were the best."
Brian Wilson
"Tower Records on the Sunset Strip was like Disneyland for music fans. It wasn't just a store, it was a destination. You could find everything and the place was always buzzing. Every visit was like going to a great party."
Jackie DeShannon
Established in 1960, Tower Records was once a retail powerhouse with two hundred stores, in thirty countries, on five continents. From humble beginnings in a small-town drugstore in Sacramento, Tower Records in 1999 generated $1 billion. In 2006, the company filed for bankruptcy.
What went wrong? Everyone thinks they know what killed Tower Records: The Internet. But that's not the story. All Things Must Pass is a feature documentary film directed by Colin Hanks examining this ground-breaking company's explosive trajectory, the tragic demise, and legacy forged by its rebellious founder and visionary, Russ Solomon.
The movie is booked for theatrical screenings during November in California, Connecticut, Colorado, Florida, Massachusetts, Maryland, New York, North Carolina, Ohio, Texas, Washington DC, Wisconsin, Nashville and Virginia,
Russ Solomon, former Tower employees along with Bruce Springsteen, Elton John and Dave Grohl are on-screen interviews.
I went to the 1970 opening of Tower Records in Los Angeles on Sunset Blvd. The first LP I purchased there was the debut album of Leon Russell.
I knew the location already as I used to frequent the same space, formerly occupied by electronics wizard and entrepreneur Earl "Madman" Muntz. Earl sold gadgets, installed stereo units and 8-track cartridge players in automobiles. The musical genius and arranger Jack Nitzsche was the first person in town I remember who had a stereo installed in his vehicle by Muntz.    Continue reading →