al kooper
By Harvey Kubernik c 2018  
The epochal and musical genre-breaking Al Kooper-led Blood, Sweat & Tears 1968 debut album Child Is the Father to the Man was released on February 21, 1968.
When KPPC-FM in Pasadena, California first spun the disc I quickly bicycled over to Wallichs Music City in Hollywood to get a copy.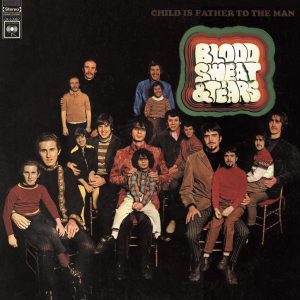 In September of 1967 I witnessed trumpeter Hugh Masekela cutting his live Hugh Masekela is Alive and Well at the Whisky album.
In May 1968 KHJ radio introduced Hugh Masekela's "Grazing in the Grass," recorded at Gold Star studios, and immediately a smash hit on the UNI Records label helmed by visionary A&R man, Russ Regan.
All through the sixties decade, Herb Alpert and the Tijuana Brass were regularly in rotation on the AM radio dial and selling albums and doing concert tours.
Horn players Miles Davis, John Coltrane, Pharoah Sanders, Maynard Ferguson, Don Ellis, Buddy Collette, Charles Lloyd, and Eric Dolphy in 1967 were garnering airplay and exposure on jazz and nascent FM rock underground radio stations.
The groundwork for horn rock or jazz rock, as it was now being heralded, had been forged by the Chess, Motown and Stax record labels and hit singles from the Buckinghams on Columbia Records. Continue reading →
(Photos courtesy of Sony Music)
On March 9th, Al Kooper and Jimmy Vivino with Mike Merritt and James Wormworth will perform in the Los Angeles area at Molly Malone's (575 S. Fairfax Ave) in a tribute to guitarist Michael Bloomfield. www.mollymalonesla.com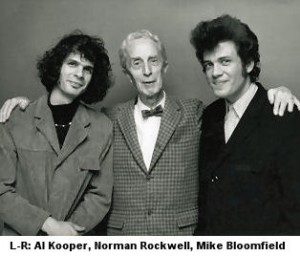 Earlier this century in 2002, nearly four decades after its creation, Columbia/Legacy, a division of the Sony Music label re-released an expanded CD of May 1968's original "Super Session," featuring Al Kooper, Michael Bloomfield and Stephen Stills.
"Super Session" revealed the collective musical talents of Al Kooper, post Blood, Sweat & Tears, Michael Bloomfield, after his Electric Flag endeavor, and Stephen Stills, immediately after Buffalo Springfield played its final gig that same May. Adding to the seductive power of the disc was an all-star rhythm section of pianist Barry Goldberg, bassist Harvey Brooks and "Fast" Eddie Hoh on drums.
"Super Session" marked the first time in rock 'n' roll that a self-acknowledged, let alone, self-imposed jam session devised by Kooper earned its wings as a fully-relaized-and perennially best-selling-album project. Before this reissued, the album had sold 450,000 copies from a $13,000.00 recording budget that then Columbia staff record producer Kooper spent for his cosmic and commercial audio collaboration.
"Super Session" reached number 11 in "Billboard," and I know a lot of musicians learned plenty from that album. Continue reading →