Stephen J. Kalinich and Harvey Kubernik April 2018 Interview
HK: In very late March at the Coffee Gallery venue in Pasadena, California, there was an evening of rock 'n' roll and spoken word spotlighting your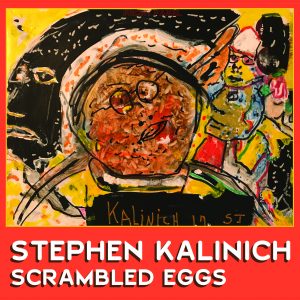 catalog. Rob Bonfiglio led a band with people singing and playing songs you penned for the Beach Boys, including the Honeys, Carnie Wilson of Wilson Philips, Bobby Figueroa, Paul Zollo, and Neil Rosengarden. Tell me about the concept of the show and your reflections on the evening.
SJK: It was one of the greatest evenings of my life.
The concept was to do an evening of some of my song sand poems. Mostly singing. That included Beach Boys Jon Tiven, Rob Bonfiglio Dave Humphries, Jez Graham and some of my other music partners Carnie Wilson and her husband Rob with theit two daughters Lola and Loci did a very moving version of 'Little Bird' so sweet so touching.
The Honeys Marilyn Wilson and Ginger along with Carnie sang a unique and sitting version of 'California Feelin'.' It was incredible. Everyone was great. Rob opened the set with 6 of his own songs. He was my music director a wonderful performer so talented. Also on the bill were Chad Watson, Nick Guzman, and Neil Rosengarten. I cannot put into words how glorious this evening was. Terry Roland the host put it together.  Owen Goldman on drums.
Q: I know the Beach Boys a couple of years ago around their 50th anniversary tour included "Little Bird" a song you co-wrote with Dennis Wilson, and Brian Wilson performed in later at some of his solo concerts. I also remember a tune you co-wrote with Brian, "Child of Winter," which on occasion gets radio airplay during Christmas season. Tell me about the song and how it was written and recorded.
A: Brian and I wrote it in seventies early .It was a fun song. Carnie and Wendy were about age 6 and 4 something like that. I think they played the bells. They were on it and I played the Kazoo. It's a wonderful joyous song. Years later Rachel and The Reindeers recorded it. Alan Boyd made a video that is great that is still displayed. Brian and I just wanted to do a fun Christmas song. I think it sway underrated. It's a lot of fun.
Q: Over the last few years you spent some time in Nashville recording with producer Jon Tiven. I know you read and sang at a show. And now you've just released a new album which Tiven produced, Scrambled Eggs on the Plowboy label. You read and sang on the disc. How did this happen?
A:  Jon asked me if I wanted to do a singing record and I said yes. My first one ever .I am so excited .It's coming out on Vinyl on Plowboy Records in Nashville. Jon and I became friends with Shannon Pollard the owner. Jon is largely responsible for encouraging me to do this and I love this project coming out this month on Record Store Day. Many great duets among them Frank Black. I never had a better time.
Q: Let's discuss working with Jon Tiven. You've done earlier recordings with him for Carol Schofield's MsMusic Productions. But this is a whole new trip.
A: I worked with Jon on the PF Sloan album Sail Over.  A rich rewarding experience. The three of us went to India together. We started writing songs and did a few albums together. My friend Chip Rosenbloom has been extremely helpful and encouraging and my friends Mary Hendrix and Don Fertman, Jon Tiven plus you Harvey  Eventually he got me singing Something Brian Wilson has been trying to do since the sixties .
One day he said do you want to do your own album? I said yes. He took it to Shannon Pollard at Plowboy, a very sweet guy who I met through Bebe Buell. We started recording Scrambled Eggs and the rest is history. We have done songs together with Keith Reid, Brian May, Steve Cropper, Sid Herring of the Gants and many more. Jon is unique and brings out the best in me as performer. He is hard worker. A great guy and a good friend. I also became close with his wife Sally who is our bass player.
Q: You did a track with Black Francis of the Pixies.
A: Jon introduced us and we hit it off. I love Charles aka Frank a huge talent. I love the Pixies. We are both painters. Anyway we did a duet together. He came to Nashville when I was there and we did '15th Level.' I love the guy.
Q: And one with Bekka Bramlett,
A: Jon introduced me to her. She is an incredible singer. I love the song 'Who Changed Your Meds.'
Q: Who is Tara Holloway featured on another selection?
A: She is a friend of Jon and we did a few songs together. I love her voice and she is a wonderful singer and artist.
Q: And you collaborated again with Ellis Hooks.
A: We did an album before with Ellis Hooks .He is great singer a lot of fun to work with .He sang with Glen Matlock of the Sex Pistols in a show at Dingwalls in London. 'Here With You' is a terrific song and I enjoyed singing it with Ellis. I want people listening to get their own feeling about the song.
Q: And Dylan LeBlanc is on your album.
A: Dylan is another great young artist I love working with him. 'Wishes Do Not Get Me There' is an emotional song that says you have to do more than wish for good to happen in your experience .You have to work be dedicated. Never give up when you go after something.
Q: Can you give me a general statement about the tunes recorded.
A: The songs are self-explanatory. 'Drop Some Kindness' encourages people every day to try to be kind to others and nourish into reactions .We need more of this on the planet. In life there are things beyond your control and you have to sometimes wait for a solution and not act without thought. Sometime life works it out much better than your urgency hence there Are Things You Cannot Control. There is Crazy Rock N Roll here to this music that stirs you and gets you dancing that is fun and energetic. You wish to get moments back but you cannot so you from a wheel you are. The songs are dealing with these kinds of ideas and still sings you can sing and dance to.
Q: Why is the album called Scrambled Eggs?
A: It is a take on 'Yesterday' by Paul McCartney. It was this original title for 'Yesterday.' I hope he likes it. I love his writing.
Q: You've worked with many people over decades.
A:   I am grateful for all my partners Dave Humphries, David Marks, Chip Rosenbloom, Ralph Stevens, Andy Marks, Andreas Werner, Ellis Hooks, Steve Cropper, Brian May, Keith Reid, Rob Bonfiglio, David Courtney, Jez Graham, Carli Munoz, Feline Kondula and all my UK friends
Q: I know in 2018 you've been doing some poetry readings. What is the main difference, or difference in approach, when writing a poem as opposed to writing a song?
A: For me the approach is always different but sometimes I try things and they do not work sometimes they do. In a song I go for rhyme sometimes and sometimes no rhyme. I want it singable. I want the syllables to be flowing so you can sing them. In a poem it does not have to rhyme it's about sound and beat rhythm the music of spoken voice.
Also in the poems I can more easily tackle complicated issues: war, death, marriage, uncertainty,  hatred, greed, meaninglessness meaning. The poem is often a plea for me or an urgency. My ideal is to live some of the goodness or truth in my poems and my life. Also a poem is a release a cleansing of the soul and body the best poem seeks no fame or money or accolades it is meant to be on its own and one hopes the by-product is inspiring touching relevant and a call people to action to be better beings.This is what I would like in my best poems. These are the poems that I like Rilke, TS Eliot so many that makes sense out of the insanity in this world. The war,  the cheating, the lies, the lack of justice. The unfairness.
Q: What is the difference reading a poem and singing a lyric? I know it's all vocal recording but does it require two different mindsets in production?
A: For me each one is unique. In a poem I go for communicating talking to one person or each soul on an individual basis. This is for you and you and you. For singing I want it to sound good not be flat or off key. I want it to convey emotions that stop you and make you feel joy or something.
Q: Your new album's cover artwork, a painting you did. Is there a title of the work and how does the visual graphic collide or collaborate with the audio?
A: The painting is called Scrambled Eggs. It's also the name of the album. The visual both collides and collaborates. For life is scrambled eggs up and down sad happy awful fun sadness joy always scrambled never the same. I want to convey this in my paintings and my songs in some cases as the Stones do or the Who or a modern rapper.
Q: When did you start painting? When did this first happen, and can you even explain why you have to do this? Another outlet for your creativity?
A: I seriously stared painting three years ago. I was 73. My friend and Mentor John Robertson a well-known painter saw my drawings in a note book. He said 'you have something there.
You should draw and paint.' I started doing it. Soon I loved it so much it took me over. It became urgent like breathing. It saved my life in many ways. I am stubborn guy so people tried to help me and I found out I needed to do it with my own vision and not be under anyone's thumb. I hoped for someone to help me the way I needed it but the way they saw it. That is tough. It's mostly my fault. I have learned I have to do things immediately. I cannot wait for anyone or anything that hampers or slows down my approach if that makes sense.
I had many great people encourage me. One is Sarah Kramer, an incredible trumpet player I love her songs. She really had a feel for my art and wanted to help me. My friend Chip Rosenbloom has been extremely helpful and encouraging and my friends Mary Hendrix, Don Fertman, and  you Harvey.
Ultimately I am just winging it with no plan. I realize I am the difficult one and not the other people. Their intent is good .I am not a great collaborator. I have a few good partners in song writing which I enjoy but with the new way I paint I only need materials and myself I love the freedom of that. Painting is my liberation. My way to hopefully touch your soul and contribute to the world.
Q: Is painting a whole other discipline than writing?
A: Yes. It is a dedication totally different than writing a song. It's more joy, more play more levels of emotion. I engage my body and the physical and the emotional. It is a current running though my veins body mind .Art is the door for me to expressing love and healing the planet. Art is not just being an artist but the way you live.
I meet many artists who never draw or paint every day who live a poetry and art in the daily walk. My postman, the people at my bakery, my friend Alex Levon so may inspirations .I find art everywhere in the slums in the dark regions. Art is a way to live.
Q: I know you have sold some paintings.
A: Yes I have sold a few paintings an extra benefit. I want people to have them if they can only afford so much I will usually make sure they can get it. I have paid bills with my art.
Q: The recent documentary on your journey, Shortcuts to Infinity, directed by Chris Allen about your work has been out on DVD and now circulating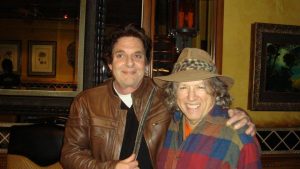 on the internet. What kind of comments have you been receiving?
A: My documentary by Chris Allen was powerful undertaking. He is to be thanked and commended. Many people have loved it very much. I would like to get a screening and have more people become aware of it. Brian Wilson is in it and Al Jardine, David Marks, Carnie and Wendy Wilson, Marilyn Wilson and Daniel Rutherford and many other people.
Harvey Kubernik is the author of 14 books. Inside Cave Hollywood: The Harvey Kubernik Music InnerViews and InterViews Collection, Vol. 1 was published in late December 2017, by Cave Hollywood. In March 2018, Other World Cottage Industries published Kubernik's The Doors Summer's Gone).