ROLLING STONES BEGGARS BANQUET 50TH ANNIVERSARY EDITION
AVAILABLE ON SUPER AUDIO CD DECEMBER 7 FROM ABKCO RECORDS;
ROLLING STONES ANNOUNCE SPRING 2019 US TOUR
By Harvey Kubernik © 2018
On December 7, ABKCO Records will release The Rolling Stones Beggars Banquet (50th Anniversary Edition) on limited edition hybrid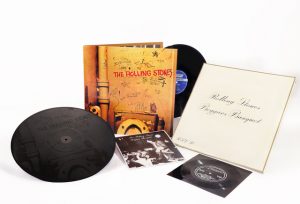 Super Audio CD. In comes on the heels of the November 16 domestic release of Beggars Banquet (50th Anniversary Edition) on limited-edition vinyl, CD and digital formats.
The SACD package itself is designed to look like a miniaturized replica of the 12" gatefold double-vinyl edition, sized to be a convenient 7" gatefold, and contain 2 hybrid SACDs, a flexi disc and expanded packaging elements exclusive to this edition. This bespoke packaging is manufactured in Japan and is of the highest quality to match the SACD audio.
Special elements of the package include: replica packshots of two Japanese 7" single picture sleeves ("Jumpin' Jack Flash" and "Street Fighting Man") and both versions of the Beggars Banquet sleeve art are included. This SACD set is a Japanese release, which will be imported into North America in a limited quantity. 
Recorded between March and July of 1968 at Olympic Sound Studios in London, mixed at Sunset Sound in Hollywood, Beggars Banquet was the first Stones album produced by Jimmy Miller, and marks the start of what is considered their most prolific album era. Beggars Banquet has a special place in the history of the band, as it is the final album completed with the original lineup of Mick Jagger, Keith Richards, Brian Jones, Bill Wyman and Charlie Watts.
In the August 10, 1968 issue of Rolling Stone, magazine founder and editor Jann Wenner previewed the album for his readers.
"The Rolling Stones have returned, and they are bringing back rock and roll with them. They have finished their next album-titled Beggar's Banquet-and it is the best record they have yet done. In all aspects it is a great album: great Rolling Stones' material and performance; a great rock and roll album, without pretense, an achievement of significance in both lyrics and music."  
Each of these hybrid layered discs includes the entire musical content in both Super Audio CD (SACD) as well as standard CD, providing for complete backward and forward hardware compatibility. The discs will play flawlessly on any SACD compatible or standard CD player. In an SACD player, the laser pick-up automatically reads the SACD layer in Direct Stream Digital (DSD) format, while a standard CD player's laser pick-up will automatically read through the SACD layer to the CD layer in Pulse Code Modulation (PCM) format.
Recently remastered by eleven-time Grammy winner Bob Ludwig at Gateway Mastering Studios, the SACD audio is the exact product of his work, with no loss of fidelity whatsoever. 
The flexi disc captures a telephone interview between Mick Jagger and a representative of King Records in Tokyo, the distributor of London Records in Japan. The rare artifact's title translated to Hello, This Is Mick Jagger! LONDON to TOKYO April 17, 1968 has been restored and reissued on flexi disc with a picture sleeve lovingly restored to look just like the original.
The flexi is included in the 50th Anniversary Limited Edition SACD package (as well as vinyl package) worldwide, making it available for the first time outside Japan. A mirthful moment in the exchange captured over the telephone, halfway around the world, while the band was busy recording the yet-unnamed album Beggars Banquet in Olympic Studios, Jagger was asked "What do you think is the future direction of your music?" And with no hesitation, he responded "Sideways." 
The original intended album cover art for Beggars Banquet was initially rejected both by London Records, the band's U.S. label as well as Decca, their UK label. The Michael Vosse photograph of a vandalized restroom wall (Jagger and Richards provided the graffiti, the restroom was inside a Porsche dealership) was deemed offensive, possibly because the top of an open toilet is captured in the shot.
    The replacement cover was simply the band name and album title written in the style of a wedding invitation, and remained that way for several years before the intended bathroom photo art finally gained its rightful place on the cover. Beggars Banquet (50th Anniversary Edition) pays tribute to both, as the package will be housed with the Vosse image, with an overwrap of the "inoffensive" wedding RSVP invitation art.
Beggars Banquet (50th Anniversary Edition) Super Audio CD tracklist
SACD Disc 1 (original album, stereo mix)
1)    Sympathy For the Devil
2)    No Expectations
3)    Dear Doctor
4)    Parachute Woman
5)    Jigsaw Puzzle
6)    Street Fighting Man 
7)    Prodigal Son
8)    Stray Cat Blues
9)    Factory Girl
10)  Salt of the Earth
SACD Disc 2
1)    Sympathy For the Devil (mono mix)
2)    Hello, This is Mick Jagger! LONDON to TOKYO April 17, 1968 (interview)
Flexi Disc
1)    Hello, This is Mick Jagger! LONDON to TOKYO April 17, 1968 (interview)
Engineer Gene Shiveley was based at Sunset Sound in Hollywood during 1968 and was very involved in the mixing, overdubbing and initial mastering of Beggar's Banquet. He collaborated  closely with producer Jimmy Miller and Mick Jagger on tracks recorded earlier in England at Olympic studio with chief engineers Glyn Johns and Eddie Kramer, assisted by tape operator, Phill Brown.    
Shiveley worked with producer Richard Perry on God Bless Tiny Tim and Strictly Personal by Captain Beefheart & the Magic Band. He also engineered and produced the Touch album on London Records. Jimi Hendrix, Grace Slick, and Mick Jagger all attended Touch recording sessions.           
This century Shiveley has been a Malibu-based studio owner for years and very involved in sound design.    
Hailing from Cincinnati, Ohio, Shiveley was an assistant engineer and main engineer for the legendary King Records label owned by Syd Nathan during 1963-1966. The company released the epic recordings of James Brown & His Famous Flames.
"There was a main audio engineer named Dave Harrison for Syd and doing all the James Brown stuff," recalled Shiveley to me in a 2017 interview we conducted in Sherman Oaks, California.
"I was doing jingles in another room and really interested in what was going on in the main control room. Dave would let me come and watch. Every day after high school I am watching producer Ralph Bass and James in the studio with the Fabulous Flames. Then one day Dave had an appendix attack. They had to call the squad and I took over the session.   
"Let me tell you what that place was like. It was in the funkiest part of town in Cincinnati. It was an old pickle factory. And it got converted into a studio and a record pressing plant. It's only black people working there and they are part of the feel. I'm 15 years old. It stinks in the summer time and it is 116 degrees on the Ohio River. The vinyl is melting. The black women are sweating and working in their bras. This is soul.
"At that time you didn't have multi-track recording. We started with three tracks. Stereo had not come in yet. You did everything live on two tracks and overdubbed the vocals on the third track.
"The most amazing thing about James Brown that I remember was his lungs. The guy was so loud and powerful. It was very hard to deal with and record. In those days, microphone placement stayed. The kick drum mike was cemented into the board and everything was locked down. You cut the horns live so they would cut across the room and you tried to not have them bleed into the bass and the drums. It was an education," Shiveley happily confessed.  
Gene Shiveley first came to Hollywood in 1965 and '66.
"I would read the sleeve credits on LP's and noticed a lot of hit records were done in Hollywood at a place called Sunset Sound. I came to California even before I graduated high school. Between my junior and senior year I ran away from home. I come to Hollywood and go to Sunset Sound. In 1965, '66. I knock on the door and I asked to fill out a job application for an interview. The traffic manager Gypsy was very nice to me. I waited six months to hear from them. I finally got an interview with the owner Tutti Camaratta. He told me to go back to Ohio, finish high school, and when I returned he would train me," Shiveley reminisced.  
"Why Sunset Sound was so important at the time was because of the Musicians Union. If you were on the Columbia Records label you had to use their studio and have union breaks. If you were on RCA, you recorded at RCA. You could not do independent recording. And the union enforced everything. Tutti had Buena Vista Records and he produced Annette Funicello and the Mouseketeers from the Mickey Mouse Club.
"The magic of Sunset Sound was that they had the best equipment. I got there and it went to four-track recording from three-track. It was all tubes. Everybody wanted to try things out at Sunset. All the manufacturers. Because Tutti created this rebellious studio against the union. Tutti would go to England all the time and bring back tester equipment from there.
"Tutti had created this thing called torque phase and had developed what we now know as the pan pot thing with this guy who discovered that there is a particular dip to get your positioning between what is left and right stereo to get that centered. That particular phasing thing is. He also worked on dealing with tubes and how hot they were in the amplifiers which were under the floor. And the control room just had to be freezing," Shiveley disclosed.
"Without Tutti Camaratta studio technology would never be where it is now. Sunset Sound had the best collection of microphones and no one else had that stuff. Other than the big labels RCA, Columbia and Capitol had 'em
"Sunset Sound had custom speakers that Tutti had built. As state of the art as you could get.
"Tutti was also a well-respected musician. A big band guy. Tutti was so fed up with the union. Rock 'n' roll people started using his room. I recorded Brian Hyland to get my feet wet. I then started working with Richard Perry. The studio was back-to-back with clients, so Tutti decided to build another studio. We were still in analog days. There is an expansion of tracks. First comes Ampex Tapes and the 8-track around 1967. Then Scully made a 12-track that they tried to get on us. 16-track came when we got to Solid State.    
"Their echo chamber was just one of the most wonderful things in the world. Bill Robinson built the original one in Capitol Records. Tutti hired Bill to come over and duplicate that. He did and he did it better at Sunset."  
Shiveley was toiling at Sunset Sound while engineer Bruce Botnick was behind the console with Buffalo Springfield and The Doors. Gene learned techniques watching Herb Alpert record in studio 2 that were applied to his Beggar's Banquet undertaking.  
"Jimmy Miller and the Stones had done some rough mixes in England at Olympic when the Brian Jones thing was coming down. He had gotten busted and could not come into the United States. Jimmy wanted to mix it here to get a fresh sound. Because Beggar's Banquet would be a turn for the Stones, it was really a rhythm & blues album," volunteered Shiveley.
"I met and knew Sir Edward Lewis of Decca Records [CEO of UK division of Decca] in London who came to Sunset Sound all the time. He would come to the US and knew Tutti Camaratta very well. The Stones were on Decca label in the UK and London in the US Mick came into Sunset Sound and Tutti introduced me to Mick. And he and Mick decided we should immediately work together.
"Mick then heard an album I produced by Touch done at Sunset Sound and wanted me to work together with him.
"Many tapes and tracking sessions from Olympic studio in London of the Beggar's Banquet sessions had just arrived to Sunset Sound. Jimmy Miller had sent the tapes over. Keith could not get into the country because of a drug thing.
"They sent everything to Sunset. Jimmy and I probably spent two weeks going over the batch of tapes that were on all kinds of formats. "Some of the things weren't finished. So we started to organize all the various pieces. There were some things recorded on cassette! Tape speed differences. Before we really got going we put everything on four-track. Then, Sunset Sound got an eight-track machine. 'Mick and Jimmy, would you like to try this 8-track machine out?' Mick was like 'wow!' His eyes lit up.
"When we were transferring and bouncing from one track to another, we would take the highs and boost them wide open and going over so they were printed with an extreme amount of high end. And then when you played it back you rolled it off and there wasn't any tape noise.
'"Street Fighting Man' came off a cassette. Jimmy had already transferred it and built a lot of it. But we overdubbed a lot of percussion on the entire thing at Sunset and Jimmy did most of it. Would you like to know how we did that in those days? Back then we didn't have a lot of EQ's. And there not such things as noise reduction. They did not exist. So what we would do when we were transferring over you would kind of pre-mix things in your mind.
"The thing about mixing then, unlike today, you had to know what the final product was going to sound like. So when we pre-mixed, we would usually take one track and we would mix the kick drum and snare drum and the bass together. Then you had to plan on down the line where the guitar overdubs would be and your vocal was gonna be along with the backgrounds. You had to plan ahead. So there was communication going on between the producer, the artist and the engineer.
"There were really eight knobs on the console. We were in total concentration on the sections of these things. We were moving and on top of each other. Pulling and moving. It's either four or six arms going the whole time, especially when Jimmy was there. A mix could take two or three days. We would get he mixes and review.
"We never really looked at anything finished until the whole thing was done. Mick was very involved in sequencing. Fades were a big deal. I mean, we would spend hours on how to do a fade and counting between the songs and how many beats felt right before the next song began. We were truly making a complete body of work. Not songs thrown together," Shiveley underscored.
'"Sympathy for the Devil' was cut at Olympic Studios in London and at Sunset Sound. And it made an impression on me. (laughs). But you know where it really makes an impression on me? Everywhere I hear it. At a theater when you're sitting there. Or at an airport. And how it transposes to everywhere. And has the same impact. No matter if you are in a complete Dolby Sound theater and when it is playing in a restaurant."   
One of the most striking aspects of Beggar's Banquet was the high end sound Shiveley, Miller and Jagger achieved.       
"There was a guy named Mike Durough. They now make Durough VU meters. Mike worked at KHJ on Melrose Ave. in Hollywood. It was the leading AM rock and pop radio station in Los Angeles. Mike built the transmitter for the tower to make the station louder than anything. He was totally in control.
"My little thing I did with mixing on Beggar's Banquet was that I had Mike build me a little transmitter that would transmit to my car and we'd set it up on top of the console, plug it in and I mixed like I would hear it on a car radio.
"I would then send and broadcast them into my car and we would listen. Mick and I would go to the Volkswagen. Our goal was to get more punch and more definition than anything out there.    
"I would go to my little Volkswagen car and listen and make the adjustments. So that's why a lot of the things sound a little maybe out of proportion but they sounded right on AM radio at that time. And it was done at the time when albums were not being made in mono anymore. It was all about stereo mixes. No mono copy. And people like Tutti had the first true stereo that came out. Beggar's Banquet was one of the very first true stereo albums.
"I learned Keith liked it. I didn't get to know him awfully well. Other than he was very polite and things that he really liked. He had a few questions about what I did with certain things. He probably had more questions than anybody else. Charlie Watts thought I was the drummer's engineer. (laughs). I had the drums up in the mix and I get along with drummers.
"Jimmy was the right producer for the Rolling Stones because he understood the ear for making a hit record. He understood feel. He understood what it takes to get the kick drum at the right place. He understood all of those things and how to build a record," enthused Shiveley.    
"The minute Jimmy and I actually started working Mick was there. We had a lot of things to do before we even started mixing. 'Salt of the Earth' wasn't even written yet. I remember that session very vividly.    
"Jimmy Miller then had to leave. 'Salt of the Earth' took a long time. The song got finished and we knocked it out. Jimmy left after everything was organized and put everything together, and then it was just Mick and I started the super mixing and tweaking. We were camped at the studio. We didn't have time to go to any clubs. We were there to work. Not any partying going on.
"As far as the song 'Salt of the Earth,' Mick was having trouble. He had writer's block. So I sent him to Joshua Tree. And that's where he actually got the whole lyrics to the whole concept. He went out there by himself. I almost went with him. The basic track was already cut."
During our discussion, Shiveley touted keyboardist Nicky Hopkins on "Salt of the Earth."      
"The piano part by Nicky Hopkins was on it but different. Nicky came in and did the new part at Sunset Sound. They had a gorgeous Steinway.
"Nicky's magic was talent and feel. My first impression with Nicky and hearing him play he could have sat in with the Fabulous Flames in Cincinnati at King Records and just done great. He would have blown Syd Nathan away. Nicky and I became buddies for years. Phenomenal piano player.
"'Salt of the Earth' got completely re-structured at Sunset Sound. Keith sings the intro and we also kept his guitars as well as the drums and the bass. Don't hold me to this but I think Jimmy did drum overdubs with fills and castanets.
"I got the background vocalists together. I also worked at a place with some real good black musicians. There was a guy, Jerry Peters, the musical director at the Watts Street Church. His dad was the pastor. He started pulling in pieces from the choir.  I knew Jerry from another studio Jimmy Messina and I kind of moonlighted at.
"At the time of this session, they had just started to build the second chamber at Sunset Sound. So we did one set of vocals in that echo chamber. They were inside the echo chamber. And then we took them into the other echo chamber and overdubbed them again. And that's how we got that cool and really awesome sound.           
"Beggar's Banquet was mastered at Sunset Sound. It really was the equipment and you could get things louder and it was just the state of the art.
"I know the person I worked with, Mick Jagger, was a true professional and a student of the game. But you know he wasn't a different guy on stage. He was the same person and very real. It's him delivering his art. Period. It's not really a show. It's just Mick playing him, you know.
"I only talked with Mick one time afterwards. On the telephone. I did see him about 20 years ago at Ocean Way Studio just in passing. He was very nice."   
However, as the legend goes, there was long delay in Beggar's Banquet being shipped to retail outlets owing to Decca Records concerns over the original album cover art work presented.   
"Yes. So there was a time delay and they needed a single that they wanted to come out. I got the master tape of 'Jumpin' Jack Flash' sent to me from England. Jimmy to Tutti. My first impression was that it was a horrible mix. I thought it was muddy. And it was a challenge to pull it out and make it the kind of thing that it was. I took it to a place locally called DCT (Disc Cassette Tape) Recorders. They asked me if I would take it and deal with it and DCT had this new process at DCT owned by Hank Waring. He was at the corner of Cahuenga and Sunset in Hollywood.  
"Hank was like this mad scientist. It was a process which made the sound jump out at you. It was sparkling. He had developed EQ's and all of these things. A brainy guy. It was never told to me that there was any problem when I heard it. Hank had developed mid-range EQ's and things that we could use. And the result was a whole other thing."       
On the first pressing Beggar's Banquet package, Gene Shiveley and Sunset Sound were never listed, only Olympic in England, and the album credits engineers, "Glyn Johns, Eddie and Gene."     
And you thought you knew everything about the bio-regional creation and making of Beggar's Banquet.
Bill Wyman once stressed to me in a 2002 interview about the Rolling Stones relationship to Southern California "Los Angeles and Hollywood. Very important…"
In a 2018 interview, I also asked background singer and vocal contractor, Ginger Blake, to reflect on the recording session for "Salt of The Earth."   
"Around 1965, '66, I met Shirley Matthews [of Shirley and Lee "Let the Good Times Roll"]. She was a social worker and also did vocal sessions, too. We started becoming friends and she wanted to know if I wanted to do some background singing. 'Sure.' I started working a lot. There wasn't technology then. 4-track sessions and overdubbing. 8-track came in late 1968.
"I had known Steve Barri since I was 13 years old and Steve had me do demos with my cousins [The Honeys] and he got a job at ABC Records where I would say I did 90 per cent of his vocal contracts. I used Shirley Matthews, Clydie King, Vanetta Fields, and Shelly Clark all the time. We did background sessions in those days.
"I think it was Shirley or probably Oma Drake who called.  They were on the Stones' recording session. There was another Shirley as well.
"I came to the 'Salt of the Earth' session in my blue '64 Thunderbird and I remember getting so excited, and parking in the lot, leaned over, because it didn't have electric windows, and leaned over to roll up the window, fell over the console, and I cracked a rib. I had to sing with a cracked rib!
"I walked into Sunset Sound. I saw the carpet on the floor, like a Persian rug and it looked as though there had been a little party going on there. There were 5 of us.
"We did the Stones' session. Mick Jagger and Jimmy Miller weren't there, just Gene the engineer. Absolutely the most fun. So exciting to hear Mick's isolated vocal over the big speakers. And then our voices
"Typically, as you know, artists do a little click track or a track so that the producers can add a little sweetening.  Because generally we're the last thing to do. That was always the issue to be in sync and sing along in rhythm. That's always really important to do that. And when you have a group of professional singers like we had to do that there, sing, we all sing in harmony and it's on the beat. We know what to do," underlined Blake.
"I also remember there was a little part on another track and asked if we could do it. I have such a good memory when it comes to background singing. When I hear something on the air I always know when it's me or who I'm singing with.
"Because I generally write the parts when I do background or vocal contracting. I just can't remember the other track. We heard a playback of some other songs. I know there were some backgrounds on 'Sympathy for the Devil' but not us.    
"I later met Bill Wyman and he invited us to an amazing party. Nice guy. To meet some of the band on top of it. Bill and Charlie Watts. We've been listed as the Watts Street Gospel Choir on the internet but not on the album.
"When Beggar's Banquet came out I was knocked out by it."          
Engineer and producer Andy Johns worked with The Rolling Stones under Jimmy Miller. First on Sticky Fingers and then as principal engineer on Exile On Main Street, a double LP. John did the basic tracks with the lads in France, followed by overdubbing, mixing and mastering at Sunset Sound.
In a 2012 interview, I asked Johns about Sunset Sound, Jimmy Miller and the key role of  Nicky Hopkins on Beggar's Banquet.       
"Sunset Sound had this bloody great Ampex 8-track machine that had very high tension on it.
"Jimmy was an extremely talented man. His main gift I think was his ability to get grooves. Which for a band like the Stones is very important. Look at the difference between Beggar's Banquet and Satanic Majesties. He put them right back on the rail. So he was quite influential then and came up with all sorts of lovely ideas for them.
"Nicky is on everything. Satanic, Beggar's Banquet, Exile On Main Street.
"He was the best and the greatest. God bless Nicky Hopkins. He added so much to that band. Sometimes you wouldn't really notice it. But if you take the piano out then the house of cards collapses a bit. He was always coming up with gorgeous little melodies. Earlier, 'She's A Rainbow.' That's Nicky. Of course he was doing a lot of things like that. Plus he was extremely rhythmic. People don't remember him for being rhythmic. But he was.
"When people think of Nicky Hopkins they think of his right hand. But he would make the groove happen sometimes. If he took him out, 'Oh, what happened here.' Which is normal. If they are listening to him they are gonna play around him. Or with him. And if you take one of those elements out. 'What happened here?' It's music. See. That's how it works."  

And, if you want to see The Rolling Stones on stage in 2019, the band just announced that they will bring their hugely successful NO FILTER tour to stadiums in 13 cities across America in 2019. 
The tour follows NO FILTER dates this past year that have taken Mick Jagger, Keith Richards, Charlie Watts and Ronnie Wood back out on the road amassing rave reviews as they played to sold out stadiums throughout the UK and Europe. 
For the first time in over a decade, the U.S. tour will have The Stones returning to Houston, Phoenix, Seattle, Denver, and Miami where the tour will kick off at the Hard Rock Stadium on April 20, 2019.  Also after nearly 30 years, the iconic band will be back in Jacksonville at TIAA Bank Field on April 24, 2019. 
The NO FILTER tour will also make stops in Los Angeles, the Bay Area, Washington, D.C., Philadelphia, Boston, and New York before wrapping at Chicago's Soldier Field on June 21, 2019.
"It's a thrill when we play stadiums in the States – the energy is always amazing!" – Mick Jagger. "I've always loved playing the states.  It's a great crowd." – Keith Richards.                                               
The Rolling Stones NO FILTER set list has the legendary band treating generations of fans to classic Stones hits such as "Sympathy For The Devil," "Paint It Black," "Brown Sugar,"  "Miss You," as well as special gems from their celebrated catalog.
Tickets for these dates will go on sale Friday, November 30 at 10AM.  For ticketing information please visit rollingstones.com.
AEG Presents' Concerts West is the promoter of The Rolling Stones NO FILTER US tour.
THE ROLLING STONES – NO FILTER US TOUR
April 20, 2019                    Miami Gardens, FL           Hard Rock Stadium
April 24, 2019                     Jacksonville, FL                  TIAA Bank Field
April 28, 2019                     Houston, TX                       NRG Stadium
May 7, 2019                        Glendale, AZ                      State Farm Stadium
May 11, 2019                      Pasadena, CA                     The Rose Bowl
May 18, 2019                      Santa Clara, CA                  Levi's® Stadium
May 22, 2019                      Seattle, WA                        CenturyLink Field
May 26, 2019                      Denver, CO                         Broncos Stadium at Mile High
May 31, 2019                      Washington, D.C.               Fed Ex Field
June 4, 2019                        Philadelphia, PA                Lincoln Financial Field
June 8, 2019                        Foxborough, MA              Gillette Stadium
June 13, 2019                     East Rutherford, NJ         MetLife Stadium
June 21, 2019                     Chicago, IL                           Soldier Field
http://www.youtube.com/user/therollingstones
https://www.facebook.com/therollingstones
https://twitter.com/rollingstones
@RollingStones
#StonesNoFilter
(Harvey Kubernik is the author of 15 books, including heralded titles on Leonard Cohen and Neil Young. His 2017 volume, the acclaimed 1967 A Complete Rock History of the Summer of Love was published by Sterling/Barnes and Noble.  His Inside Cave Hollywood: The Harvey Kubernik Music InnerViews and InterViews Collection, Vol. 1 was published in December 2017, by Cave Hollywood.  Kubernik's The Doors Summer's Gone was published by Other Cottage Industries in March 2018.
In November 2018, Sterling/Barnes and Noble published Harvey's book, The Story of The Band From Pig Pink to The Last Waltz, written with brother Kenneth Kubernik.  
Over his 45 year music and pop culture journalism endeavors, Harvey has been published domestically and internationally in The Hollywood Press, The Los Angeles Free Press, Melody Maker, Crawdaddy, Variety, The Hollywood Reporter, MOJO, Shindig!, HITS, The Los Angeles Times, Ugly Things, Record Collector News and www.cavehollywood.com  
In November 2006, Harvey Kubernik was a featured speaker discussing audiotape preservation and archiving at special hearings called by The Library of Congress and held in Hollywood, California).