Revisiting The Beatles aka The White Album
By Harvey Kubernik c 2018
The last quarter of 2018 will bring the Apple Corps. Universal Music 50th anniversary expanded and revised configuration of The Beatles aka The White Album.
I remember hearing about the winter 1968 LP release. I read in one of the English music weeklies in May '68 the Beatles had met at George Harrison's bungalow home in Esher, Surrey and the lads recorded demonstration tapes of 27 tunes written during their trip to India. George owned an Ampex four-track reel-to reel machine.
During late November '68 I saw the double pocket White Album LP initially stocked in a slew of record stores all over the Southern California basin: The Frigate, The Music Revolution, Phil Harris Records, Rancho Music, and Canterbury, and head shops named The Psychedelic Supermarket and The Third Eye.   I purchased my first mono copy that November at Wallichs Music City on Sunset and Vine. I bought an English import at Lewin Record Paradise on Hollywood Blvd.
In 2014 I wrote the book, It Was Fifty Years Ago Today The Beatles Invade America and Hollywood. It examines the Beatles' musical relationship and songwriting legacy to Los Angeles and the rarely chronicled-at-length historical influence of Southern California and Hollywood on them.
I met all four Beatles, their record producer, Sir George Martin, Abbey Road engineers Geoff Emerick, Ken Scott and Mal Evans over the last five decades and published print and online interviews with Ringo, Paul and George.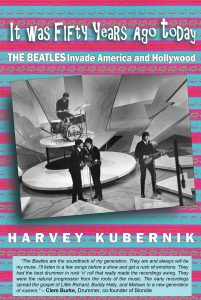 "That was the environment in the band-everybody was very open to bringing in new ideas," Harrison stressed to me in a 1997 HITS magazine interview. "We were listening to all sorts of things, Stockhausen, avant-garde music, whatever, and most of it made its way onto our records."
The recording sessions for the White Album, recorded mostly at Abbey Road Studios and additional sessions at Trident, began on May 30, 1968 with the song "Revolution" and concluded during October 13, 1968 with "Julia." The mix down was completed on October 18, 1968. George Martin served as producer. Geoff Emerick was the initial engineer but left in mid-July, replaced by Ken Scott.
Engineer Scott, first started working with the Beatles at Abbey Road as a button pusher on June 1, 1964, during sessions for A Hard Day's Night. The songs not utilized in the film like "I'll Cry Instead" and "I'll Be Back" as well as "Matchbox" and "Slow Down."
Eventually Ken worked on Help! and Rubber Soul, before joining midway on Magical Mystery Tour, and halfway through the White Album recording.
Abbey Road had just acquired their first eight-track machine during the White Album endeavor, enhancing the monumental musical and sonic results achieved on their expedition.
"In working with the Beatles I got to experiment a lot and go through microphones and find out which mikes I liked for different things," Scott explained in a 2010 interview I taped with him for Record Collector News. "So that moved on from there. Also, the learning experience with the Beatles is anything goes. It doesn't matter if it's a really bad sound as long as it fits.
"Ringo was a great drummer. Still so many people fail to realize that he was an incredible rock drummer. For me, it's from his lack of technical knowledge. It was all feel for him. I'm of the opinion that he would go into a fill not knowing how he was ever going to get out of it. And halfway through he suddenly realized he has to get out of it, so come up with some unique way to get out of that fill
"It's much like all of the Beatles. They all grew so much as musicians and as technicians. During the short life of the Beatles. Ringo did as well. He was an incredible drummer and great to work with all of them."
I asked Ken about the reported tension and studio confrontations during the endeavor.
"Not as many as people believe. There really weren't. Yes there were some blowups but the majority of the time it was fine."
"During the White Album period they were laying down the tracks and playing together, sorting out the arrangements together. It was all good. Obviously whoever wrote the song had more sort of sway over ideas than the others did. It was very much a group effort. Generally speaking the others would filter out whilst whoever's song it was worked on the finished thing. And it was like that for all of them. You knew that it would go a lot quicker with John than it would with Paul or George. Vocals would take the longest with Ringo. [Laughs.] Especially 'Good Night.'
"It was pretty much the same for all of them. I think very much the difference, writing-wise, for George, was that he was on his own. Even during the White Album there were times when Paul and John would interact on how a song should be. But George didn't have any of that. It was all him. And he didn't initially have the confidence in his songs. Even at the White Album stage. Yes, he was coming up with incredible stuff. He didn't know it yet.
"If you think about it, he gave 'My Sweet Lord' away to Billy Preston. There was something he wanted to give away to Jackie Lomax. He didn't have the confidence within himself to do those songs. Like 'Not Guilty,' even then, we never completed it. We never really got it to the point where it was even sort of even considered going on that album."
One innovative audio experience evident on the White Album and further apparent on Scott's engineering and co-production of David Bowie's Ziggy Stardust album, was the way he limited the traditional silences between song sequencing. Selections at times bleed into each other.
"One of the things for me that had been started and I wanted to fight against, was the whole thing at Abbey Road where it used to be five seconds between every track," Ken underlined in our interview.
"It had to be exactly five seconds. And there were times when having that five second delay between first song and second song, whatever, it felt right. There are other times when you wanted something to come in faster. And so I was very much, when we had the running order, and the running order was decided before mixing.
"I hadn't thought of that until you just brought this up. 'Cause when I was mixing if I did one track and the one that was going to follow it I would immediately put it in then how it felt right. Generally it would be on the beat, sometimes a bit late and sometimes right on top. But I always tried to get it in time so your foot would be tapping and then you hit the first downbeat of the next track and carry on that way. But that was me fighting the establishment of Abbey Road."
On June 21, 1968, Paul McCartney flew to Los Angeles with childhood friend Ivan Vaughan and Apple Records employee Tony Bramwell to promote the Beatles' Apple label to Stateside Capitol Records brass as well as spending time with his new girlfriend Linda Eastman. Paul bunked at the Beverly Hills Hotel.
McCartney appeared at a lunchtime gathering with founding president of Apple Records, Ron Kass, visited the Beverly Hills home of Capitol Records president Alan Livingston and his actress wife, Nancy Olson, and the residence of Capitol executive Ken Fritz.
On his promotional trip, Paul and Linda sailed to Santa Catalina Island on a yacht owned by John Calley of Warner Bros. The couple was spotted in West Hollywood at The Factory nightclub, the Whisky a Go Go on Sunset Blvd, and at Romanoff's Restaurant in Beverly Hills. After enjoying some shopping, swimming, and fun in the sun, Paul split back to England on June 25th.
George Harrison had been in California earlier on June 7, 1968 when he arrived with his wife Pattie, Ringo Starr, Maureen Starkey and Mal Evans. The purpose of the trek was to film scenes for the Ravi Shankar film Raga. Harrison and Shankar did sitar-themed sequences June 8th at a Big Sur country retreat overlooking the Pacific Ocean. The party left California on June 18th.
George came back to Los Angeles California for nearly a month and a half during October and November 1968. He was producing the Jackie Lomax Apple Records debut Is This What You Want? at Armin Steiner's Sound Records studio in Hollywood. Johnny Rivers was also producing Al Wilson's "The Snake" at the same time inside Steiner's room.
I'd  like to suggest that myself and other listeners in the Southern California radio market first heard The White Album before anybody in the United States on November 4, 1968. The product was shipped to distributors and rack jobbers on November 22, 1968.
During his stay in L.A., George drove to radio station KPPC-FM in Pasadena on November 4th and was interviewed over the airwaves discussing Apple Records, Magical Mystery Tour, the film was screening in Pasadena, the Maharishi Mahesh Yogi, Pirate Radio in the UK, and the Royal Family, while previewing selections from the Beatles' White album.
While visiting Capitol Records, a label executive handed Harrison an advance lacquer pressing planned for the North American company of the White Album. George was a bit miffed at the sound of the reference disc he heard, and definitely not pleased by subtle changes in EQ and compression the mastering engineers at the U.S. division had applied to the Abbey Road source tape.
So it was arranged for George over a two-day period to personally supervise a remastering process of a two-track stereo tape on the Capitol premises.
On November 15, 1968, Harrison went to AM radio station KRLA in Pasadena debuting selections live on the air with deejay Dave Hull from his now slightly tweaked acetate copy of the upcoming double disc.
That evening, Harrison, clad in a yellow shirt, green-striped pants and a leather jacket, also stopped by The Smothers Brothers Comedy Hour CBS-TV show in Television City to tape a surprise walk-on as Tom and Dick introduced Dion, Jennifer Warnes, the Committee and Beatles pal Donovan for the episode which broadcast November 17th. The Smothers duly passed along to George their praise for the "Hey Jude" and "Revolution" clips, which the Comedy Hour had exclusively premiered for North American audiences the previous month.
Also in November 1968, Bill Halverson engineered the Felix Pappalardi–produced Cream's recording session for the George Harrison and Eric Clapton written "Badge" at Heider's Studio 3, tracking Harrison's rhythm guitar and Clapton's lead part. At the session, attended by Jeannie Franklyn, a/k/a "Genie the Tailor," and Rodney Bingenheimer of GO! magazine, guitarists Harrison and Clapton were first introduced to a prototype Leslie foot pedal, courtesy of SIR (Studio Instrumental Rental). Harrison would soon employ the Leslie on the Beatles' Let It Be.
Harrison wrote and recorded the sitar-informed instrumental track "The Inner Light" in Bombay, India at the EMI studios in January 1968, during his sessions for the Wonderwall Music soundtrack album. The 45 RPM appeared as the B-side to the "Lady Madonna" non-album single in March 1968. The coming attraction teaser trailer previewing the winter '68 retail birth of The White Album.
"The Inner Light" continued the embrace of Transcendental Meditation the Beatles were studying under Maharishi Mahesh Yogi.
On November 2, 1974, while reporting for Melody Maker, I attended the George Harrison press conference in Beverly Hills at the Beverly Wilshire Hotel where he announced his 1974 U.S. and Canadian tour. He cited the influence of the Maharishi Mahesh Yogi.
"I have a lot of respect for him. He gave me help and plugged me in to a method of being able to contact that reservoir of energy which is within us all. He showed me how to reach that. Everything else is just words. Beyond the intellect is an experience you have to have in order to know."
During Harrison's journey around Los Angeles in November 1968, Doors' drummer John Densmore told me he had met George at Elektra Studios.
"George Harrison came to one of our recording sessions for Soft Parade. He said all the extra musicians on our session, 'looked like one for Sergeant Pepper's,'" recalled Densmore in a 2008 interview we conducted for MOJO magazine.
"[In 1967] Robby [Krieger] and I go see Ravi [Shankar] play at the Hollywood Bowl, and George is on stage. We had been students at his Kinnara School of Music. Ravi didn't teach at the school, but he'd drop in and give a little lecture on Sublimating Your Sexual Drive Into Your Instrument.
"For some damn reason in 1965 Robby and I went to the Maharishi Mahesh Yogi's Transcendental Meditation Center in Los Angeles on 3rd Street because LSD was legal and we were quite interested in our nervous systems, and knew we had to do this TM thing slowly.
"We go over there and I meet this little guy, Maharishi, and the 'Love Vibe' is very palpable. TM is the reason the Doors are together. TM glued together myself, Ray [Manzarek], Robby and Jim [Morrison].
"So maybe, 1966, 1967, I was noticing in the traditional Indian ragas you gotta wait for your climax. It's not a quickie, you know, Sound wise, 'The End' was a raga tune. So that was the influence.
"Then, a year or two later, I read that the Beatles are onto TM and our little secret is being spread worldwide. Harrison was doing it in England. Great. The whole Eastern Indian thing, Ravi Shankar, via George Harrison and the Beatles, saturated everything.  You hear the Indian thing in techno stuff now. That came in and it was deep and it's still around. We need the East."
In the mid-Seventies when I was a weekly Los Angeles columnist for Melody Maker, George personally arranged for me to attend a Ravi Shankar
sound check and performance at the Roxy Theater in West Hollywood proudly showcasing his special Dark Horse /A&M Records label artist.
It was in 1966 that Shankar first met George Harrison.  Harrison had first heard the sitar on the set of the Beatles' movie Help! In September of '66, Harrison went to Bombay to study sitar with Shankar.
"His music was the reason I wanted to meet him," George volunteered in the 1997 HITS magazine interview we did. "I liked it immediately, it intrigued me.  I don't know why I was so into it — I heard it, I liked it, and I had a gut feeling that I would meet him.  Eventually a man from the Asian Music Circle in London arranged a meeting between Ravi and myself. Our meeting has made all the difference in my life."
Harrison further elaborated on his own sitar playing.  "I'm not a very good one, I'm afraid. The sitar is an instrument I've loved for a long time.  For three or four years I practiced on it every day. But it's a very difficult instrument, and one that takes a toll on you physically.  It even takes a year to just learn how to properly hold it. But I enjoyed playing it, even the punishing side of it, because it disciplined me so much, which was something I hadn't really experienced to a great extent before."
George went on to describe his earliest attempt at playing the sitar with the Beatles, "Very rudimentary.  I didn't know how to tune it properly, and it was a very cheap sitar to begin with. So 'Norwegian Wood' was very much an early experiment.  By the time we recorded 'Love You To' I had made some strides."
"He's a very rare person," Ravi disclosed to me in the 1997 HITS interview at his home in Encinitas, California. "It is something so special. There are many other people who could do what George does, but they don't have that depth. He's so unusual. What has clicked between him and me, what he gets from me, and what I get from him, that love and that respect and understanding from music and everything, is really the most important thing. It's not the money, or he helping me to record; that's not the main thing. But it's the very special bond between both of us."
In 2006 I met Sir George Martin CBE and his record producer son Giles at the landmark Capitol Records building inside their renowned Studio B. It was a media gathering playback unveiling for the Beatles' LOVE album that day.
Martin and I talked a bit about a Frank Sinatra recording session he had attended in this very same room on his first visit to Hollywood, in 1958. The EMI label sent him over the pond after Martin was invited by Capitol executive Voyle Gilmore to visit the American division.
George described that moment when Sinatra was backed by Billy May's orchestra while actress Lauren Bacall was in attendance. The songs cut were placed on Sinatra's Come Fly With Me LP.
Martin smiled when snippets from his Beatles' White Album productions, "Back In The U.S.S.R." and "While My Guitar Gently Weeps" were broadcast.
Try hearing the music of the Beatles in Studio B. over those TAD monitors.
George then autographed a solo album, put his arm around me and enthused, "Pretty good stuff don't you think?"
One day in 2018 I spun "Martha My Dear" during a radio program interview. And then 30 minutes later I strolled by Paul McCartney enjoying a vegetarian meal on the patio of a restaurant in Beverly Hills. There are no accidents. We nodded at each other. I let him nosh and walked on by.
In the summer of 2018 I asked some friends: writers, authors, deejays, filmmakers, musicians and poets for their memories of the 1968 White Album LP, a vinyl pressing individually stamped with serial numbers.
Jan Alan Henderson:   It was the best of times or the worst of times and The Beatles was the end of times. Now known as the White Album, this long player was a sonic Goth novel which was the start of the demise of the Fab Four.
"After hearing George Harrison's preview of the White Album broadcast, I purchased my copy at the Groove Company on Sunset Boulevard. Disc Two of the American release skipped on both sides at the opening tracks. After three replacements (with the skipping in different places), a friend told me about Aron's Records on Melrose Avenue. I bought the British release, which played like a top.
"A diverse collection of songs, this album was the soundtrack of our times. Fifty years later, listening to this again reminds us nothing changes, just the wrapper and the method of delivery.   The White Album is the first record the Beatles wrote about the unreal real world we live in 50 years later."
Dr. James Cushing: The White Album is a 30-course musical feast which begins with two appetizers, "Lady Madonna / The Inner Light," recorded in very early 1968 just before their India trip, and 'Hey Jude / Revolution,' recorded at Trident studio in August.
"In four songs, we're offered a bewildering variety: Paul's Trad-jazz piano shuffle lifted from 'Bed Penny Blues,' George singing a Chaung Tzu poem over an Indian ensemble, Paul's gospel-derived piano ballad with a long tail, and a hunk of John's hard rock. Are we sure this is all from the same group? The diversity of the White Album is already here. But between these two singles, LBJ resigned, Martin Luther King and Bobby Kennedy were murdered, cities burned, tanks rolled, the Vietnam war raged, and Nixon was on his way to the White House. The 2LP set came out 11/22/68, the fifth anniversary of JFK's murder in Dallas.
"For a clear sense of how different 1968 was from 1967, listen to either side of Sgt. Pepper and follow it with any side of the White Album. A splendid time is guaranteed only when I feel my finger on your trigger. The social contract, broken like the blackbird's wings, has left us alone on the helter-skelter of history. Acid and meditation gave the Beatles global insight, but the philosopher's ancient problem remains: how can one give form to the overwhelming bliss of enlightenment so that it may be communicated? Look at this album — the smartest band in the world were so blinded by the pure white light of the acid truth that they couldn't come up with a cover or a title!
"On the mono/stereo question, I'm convinced that the White Album is richer in stereo. While I'm glad we have access to both now, the stereo mix is more detailed, very natural sounding, and band-sourced, unlike the George Martin stereo mixes of Pepper and Tour. The mono White Album is totally worth listening to, particularly the 'most different' sides, two and three — I'm listening to the mono side three as I write, and 'Birthday' really kicks  — but 'Revolution 9' needs to be appreciated in stereo.
"The White Album is the last fully satisfying recorded statement the Beatles made. Even though it's not "unified or coherent," neither are Pepper or Tour, yet as far as we can tell, all three have attained the level of art. Half a century later, these albums remain modern. They also conclude the Beatles' 'hat trick,' the release of five consecutive masterpieces — Rubber Soul, Revolver, Pepper, Tour, White — that established the standard by which greatness in rock is measured."
Roger Steffens:  It's a hundred three degrees in downtown Saigon and a precious package has just been handed to me in the mailroom of the 4thPsychological Operations Group. Inside is a tape, less than 36 hours old, made in Berkeley by a dear friend, the poet Jerry Burns. On it is a broadcast featuring the staff of the pioneering underground radio station in the U.S., San Francisco's KSAN.  They have all gathered together in the main control room to share with the entire Bay Area at once, the first listen to the Beatles astonishing White Album.
"At the end of each side, they discuss the various songs, then flip to the next side, filled with sounds straight out of a pop psych-lopedia. Imagine a roomful of GIs, stoned to the gills on Park Lane joints, fighting for good 'ol Uncle Sam against those godless commies, suddenly hearing the beloved Beatles espousing their love of the USSR , (you don't know how lucky you are!). We of course knew it was at once a tribute to their friendly rivals, the Beach Boys, but also a poke in the eye to right-wing assholes in the US who saw the song as proof that Beatles were part and parcel of a Russki plot to wipeout America.  Southern preachers used it as a pretext to urge their youthful charges to burn their Beatles records; not to mention John saying they were 'bigger than Jesus.'  So they fell into the Beatles trap with no awareness whatsoever of the song's ultimate irony.
"The great joy of the record, as we began to absorb its huge range of influences, was the way it was like looking at a scrapbook. Not every picture was chronological, not all perfectly in focus, many were from foreign lands or very old times, but you really got a sense of the Beatles family, together and apart, and the high points were as high as the Beatles got: 'While My Guitar Gently Weeps'; 'Julia'; 'Helter Skelter'; 'Happiness is a Warm Gun' and 'Yer Blues' in particular.  As a Jamaican music fan, I was happy to hear the ska-revealer 'Ob-La-Di, Ob-La-Da,' a phase introduced to Paul by an African friend.
"Don't you wish you could hear what they'd be doing today, if George and John were still among us?"
Rodney Bingenheimer:  I got the English version of the White Album in Hollywood at Lewin Records. I loved it. It's is one of my favorite Beatles LP's. What a concept to have a front and back cover. I loved the individual photos that we all framed. I love 'While My Guitar Gently Weeps,' 'Back In The U.S.S. R.' and 'Rocky Raccoon.'
"In August 1967 I spent a long day with George and photographer Ed Caraeff driving around Hollywood with Derek Taylor's assistant. This was right after we talked at a Ravi Shankar press conference George did at the Kinnara School of Music on Robertson Blvd. We went to Fred Segal's for some clothes in West Hollywood and Head Quarters in Westwood, a head shop. Where he got sunglasses that he wore in Haight Asbury when he and Pattie went to San Francisco.
"I next saw George Harrison in 1968 in Hollywood at Wallichs Music City one afternoon around the time when he was in town advance promoting the Beatles' White Album on KPPC-FM. A long hair came up to George in the store offering him a pill of some sorts. In the parking lot I told George not to take it."
Daniel Weizmann: Truth is I don't remember how we got the White Album, it was always just there in the family crate, offering all kinds of heart-tugging ambivalence. I seem to have memorized the four sides lyric for lyric, lick for lick, before the age of 10. My whole generation did. Maybe we were compelled to try to give the record a new context, outside history.
"The White Album wasn't really all white after all–it came with an insert poster collage by McCartney and pop artist Richard Hamilton as well as four austere framable portraits by John Kelly. Both are great clues to the spiritual energy of the record. Like Dylan on John Wesley Harding released just the year before, The Beatles pared down and pulled back the curtain to reveal their mortal selves for the first time in many seasons. They'd been a fake act (Sgt. Pepper's) and a foursome of romping stuffed animals (Magical Mystery Tour). They'd been cartoons and dolls and toys. But with the White Album, it's like they were saying, 'Enough with the masks and the poses–let's get to who we actually are.'
"The collage is especially home-made, haphazard, a little homely and earth-bound: You see the guys stripped of iconography, naked on the phone or bathing in soap or slow-dancing with wives or waiting in what looks like an airport lounge. Pics of the Lads meditating, rehearsing, brooding. No mugging–they look a little wistful, a little tired, bewildered. But most of all, in every film strip, every shot, they're presented as people in reality, alongside friends and family. Sly Stone would employ a similar collage reveal for There's a Riot Going On a few years later.
"Maybe most poignant in the big collage is a tiny snap of manager Brian Epstein smiling sweetly, caught on some random photo strip in the lower left corner. He'd committed suicide just a year before.
"The Kelly photos double down on this move toward everyday life. When the world first saw the Beatles, they were practically identical four mop tops in matching suits. But like all teenage gangs, they individuated with maturity, and the photos are notable for the energy of deep separation they create, first because the band is not pictured together, second because they look so different from each other now. Time has drawn lines, defined them.
"The writing was on the wall."
David Kessel: With Magical Mystery Tour the Beatles had taken the psychedelic thing about as far as they could or wanted to. Some of the press and reviews were very negative about that effort and even suggested the Beatles had hit the wall and were on the way out. So, they go to India to get their vibe back together and out of nowhere they release a record that had renewed power and focus with 'Hey Jude,' which was actually a 'come back' record of the highest order.
"The Beatles White Album really started to reveal more of their individual growth as artists. The band seemed to be more like sidemen on each other's songs. The fact that they chose to make a double LP, shows they each had something to say musically that needed getting off their chest. It was also a thing that some groups were doing at the time, putting out double LP's. This album struck a chord, as the Beatles became their more adult selves.
"I had the pleasure of playing guitar on John Lennon's Rock 'n' Roll album along with my brother and you could see John getting back to his roots and enjoying reliving his musical heritage."
Celeste Goyer: It's worth noting that Yoko Ono makes her first and only appearance on a Beatles album on the White Album, contributing vocals on 'Bungalow Bill,' 'Birthday' and spoken phrases in 'Revolution #9,' including everyone's favorite: 'you become naked.' Her presence in the studio is still seen by many as a causative wedge between the band members, but even a casual listen to the disparity of the tracks (and the separate photos on individual mini-posters) reveals the widening gap, leaving plenty of room for a creative couple on their way to very interesting places.
"The hot resentment Yoko's name arouses in some fans strikes me as possibly diagnostic—do you prefer your art comforting or surprising?  Or are you comforted by artistic surprise?  And it's impossible in the current climate to ignore the racism and sexism lurking behind the anti-Yoko contingent. It was okay for Billy Preston, a black American male, to join the boys on the roof for the Let It Be live stunt. After all, he could still go to the pub or to a football game with the lads, but a woman, a Japanese woman? Intolerable!
"At different ages the songs spoke to me in various ways, but it's safe to say at one time or another I loved them all. If some of the simpler, happier tunes haven't held my interest, that's no despite to them. And the more one learns of their stories, the more moving some of the tracks become. The beautifully tender 'Julia' is at the top of that list.
"I had friends who lifted the needle and skipped 'Revolution #9,' but it was a favorite for my late night headphone sessions in the living room after everyone else had gone to bed, and perhaps contributed to my youthful but persistent metaphorical belief that the human head is not solid layers of bone and meat but rather a kind of cathedral or train station, almost infinitely spacious."
Lonn Friend: Passover service, Uncle Harold and Aunt Esther's in Downey.  My cousin Marc is talking about the Yankees, cousin Bruce unzips his giant plastic bag of marbles, the tiny glass balls spill out onto the shag living room carpet. Cousin Jill, the youngest, helps set the table. Zadie Willie, my Minsk born grandfather, prepares his reading materials for the evening.
So where am I?  In the den slicing open my brand new Beatles album, the one with the blank white cover, two platters and a whole bunch of other stuff. 'Lonn, dinner starts in 20 minutes!' shouts my mom.  I don't respond, too mesmerized by the contents of the Pandora's box in my small, 11 year old hands. Startled by the radical change in their whiskered faces, the four 8 x 10 color portraits stared back at me like a quartet of bad uncles. Reckless rebels, weirdos, rockers. And what about the poster?
"How in the world could I possibly take it all in before Elijah arrives?  I'm supposed to be preparing for prayers of Hebrew suffrage, the plight of my ancient ancestors, but all I could think about was getting home and spinning the latest musical incarnation from the Biblical seekers from Liverpool.  Three hours later, I invited my little brother, Rick, to join me and my $50 Motorola record player for the baptismal listening. Barbara Friend's chicken soup was next to none featuring yummy noodles, sliced carrots and celery, completed by matzah balls crafted by loving palms, soft and savory. But even the exquisite taste of this bonafide broth could not compare with the divinely delicious melodies swaddling my ears and heart.
"From the opening jet stream strains of 'Back in the U.S.S.R.' through the hypnotizing 'Dear Prudence' and on and on and on until all four perfect, eclectic discs finished their virgin run through my Beatle loving being. I studied the poster for months while, in the parlance of the time, wearing out every groove. Decades later, I still click the Apple Music White link, digitally resurrecting those prepubescent days when I first  peered into the Glass Onion, heard the Blackbird sing, took a good look around me and asked the question, 'Why DON'T we do it in the road?'
Gary Pig Gold:  Twice yearly throughout the entire second half of those Swinging Sixties, once on my birthday, and again at Christmas, I'd be gifted with the very latest Beatles long-player. But this superb system hit somewhat of a snag come December '68 when, confusing press reports regarding John & Yoko's full frontal Two Virgins with the mysteriously blank cover over JPG&R's new one – and suspecting something naughty indeed was afoot – Mom warned me that 'um, Gary, I'm afraid we won't be able to get you what you want this year. Maybe there's a new Monkees record you'd like instead?'
"Once assured that White Album was supposed to look that way, and that nothing whatsoever within it contained anything as controversial as even that grand new Head soundtrack one rack over, Mom went ahead and duly placed Apple SWBO-101 under the tree by December 25. And Hark! What a joyful Yule treat it turned out to be! Two chock-full records, thirty (!) whole songs – well, more or less, four Fab pin-up pictures and a multiple-fold-out poster almost as big as the inside of my bedroom door …and just as our previous Christmas' Magical Mystery package had started to finally come unglued at its spine. Herb and his Tijuana Brass be damned, much to the chagrin of dear Dad I immediately hijacked the family hi-fi well into New Year 1969 and even blew off my local Young Canadian Tobogganing Championship to sing along with Bungalow Bill at the top of my wee young lungs several times a day. I mean, after all, the lyrics came included, didn't they??
"Now today, fifty full years, and several incarnations, digital and otherwise later, it honestly should come as no surprise that the White one's abundant bounty of sights, sounds, and absolutely songs continue to delight, often confound, yet always amaze with their utter and profound across-the-board-and-then-some diversity. Proving once again The Beatles always were, and certainly remain so much more than the sum of their equal partitions, and I don't just mean musically, their 1968 work sets them at the very tip top of their powers:  e.g. 'Happiness Is a Warm Gun,' 'Long, Long, Long,' any of those three (counting Jude's B-side) 'Revolutions' …and that's just the ones I've listened to again this afternoon!
"Sure, there's still those – for some reason from their esteemed producer on down – who, missing the thematic point completely, complain the White should have been toned down to a mere forty or so minutes. Though, of course, a whole half-century later nobody seems to ever agree upon exactly which songs should be expelled. To which the band's bassist expertly replied 'What do you mean? It was great, it sold, it's the bloody Beatles, shut up!'
"To which I may only add I'd be hard-pressed to think up any other 93:35, mono or stereo, de- or re-mixed or remastered or whatever, that we'll still be pouring and debating over – and dancing to! – another five decades from now. No, perhaps not even the soundtrack to that above-mentioned Monkees movie, dare I say."
David N. Pepperell:  First Observation: despite this album being entitled The Beatles – although it is usually referred to as The White Album – there is no picture of the group on the front cover. This is the only Beatle album where this happens.
"Second Observation: There is very little group activity vocal-wise on this album – it is mostly Paul, George and John singing solo with a backing band. The wonderful Beatle harmonies seem absent… and everyone sings lead on their own songs.
"Third Observation: if John's indulgence 'Revolution No. 9' and Paul's indulgence 'Why Don't We Do It In The Road' were omitted, the whole work would fit on a single CD?
"Fourth Observation: the double LP set comes with four individual colour photos of John, Paul, George & Ringo yet nowhere on the cover and in the hefty inserts is there a photo of them together as a group. Surely this is a statement that the Beatles are not just a group anymore but individual solo artists working in the context of the group.
"However, and of course, this is a magnificent album, a cornucopia of pop delights and a confirmation of the distance between the Beatles and everybody else in the music world of 1968.
"From the stunning, pyrotechnic opening of 'Back In The U.S.S.R.' with some of Paul's cleverest, funniest lyrics like 'The Ukraine girls really knock me out, they leave the West behind and Moscow Girls make me sing and shout that Georgia's always on my mind.' Totally delightful and matched by the whimsy of 'Blackbird.' 'I Will' and 'Mother Nature's Son.' John's ballads 'Julia,' 'I'm So Tired' and 'Dear Prudence' make you remember how he can tear at your heart and then rock your socks off with 'Yer Blues' – which carries a strong message about his state of mind at the time – and 'Everybody's got something to hide.'
"The contributions of George don't seem that strong to me on The Beatles – 'While My Guitar' is a gorgeous tune but the lyrics are a bit silly and surely it's a copout getting Eric Clapton to play the extraordinary guitar solo.
"'Piggies.' 'Savoy Truffle' and 'Long Long Long' don't seem to add much to the album really although they do insert George's different sensibility into the mix.
"Don't Pass me By' is a bit of a mess but hey, it's Ringo!
"Pauls' rock credentials are certainly enhanced by the killers 'Birthday' and 'Helter Skelter' which also highlights his lead guitar skills. It often seems to me that George's value to the band lessened greatly when they stopped playing live as Paul was the superior lead guitarist and was able to double on bass and guitar in the studio. This was demonstrated in his superb solo on 'Taxman' on the Revolver LP. Possibly this lead to George's demoralization in the group which was shown so clearly in the Let It Be film.
"My personal favourite track on The Beatles is John's vicious satire on the Maharishi: 'Sexy Sadie' – it sounds so sweet in the singing but the dripping of vitriol can be heard behind every line.
"People have said since The Beatles came out that it would have made a good single LP but I don't agree – I would not have wanted to lose a single song on this wonderful set and that includes 'Revolution No. 9' and 'Why Don't We Do It In The Road.'
"Every track is imbued with the Beatles' wit and energy and it never flags even after the thousandth listen. I can attest to that.
"So it was 50 years ago, which seems an impossibly long time for a record that could have been released yesterday. That is the genius of the Beatles that they are forever contemporary and forever young.
"If you (amazingly) haven't heard The Beatles then for goodness sake do so right now – you are in for a treat – if you haven't heard it for a while listen to it again now – you will be so amazed that it sounds as good as it did then and as it has for fifty years."
Bill Mumy: After gifting the world with the astonishing brilliance of songs and game changing productions such as 'Strawberry Fields Forever,' 'I Am the Walrus,' and the entire Sgt Peppers album, what would the Beatles do next?  We all were saddened and concerned for the lads after hearing the tragic news of Beatles manager Brian Epstein's untimely death. History has shown that that was a blow the group never fully recovered from.
"The loss of Epstein's guidance, followed by the black and white BBC television airing of the hastily created Magical Mystery Tour film did indeed put a dent in the indestructible armor of the Fab. But it wasn't a MUSICAL dent.
"The Beatles returned to the EMI Abbey Road recording studio and what followed was a double dose of something completely different, bold and fresh.
"When the White Album arrived in its strikingly sparse package, all my friends and I (like most everyone else on the planet) eagerly absorbed it.  Unfolding and perusing the poster, checking out the new individual "head shots"… there wasn't a united group shot… The Beatles presented themselves as four maturing individuals on the White Album; individuals who just happened to comprise the best band in the history of the world.
"For the most part, Producer George Martin and the group purposely chose to avoid overblown orchestral, psychedelic arrangements on this double album, preferring instead to showcase the power within the four members of the band that for the past few years had basically stopped being a band. The Beatles hadn't toured or performed in public for a long time and yet the cohesiveness, strength, wisdom, restraint and undeniable magical chemistry they show on the     White Album is astonishing.
"From blistering rockers such as 'Yer Blues.' 'Helter Skelter,' 'While My Guitar Gently Weeps,' and 'Revolution' to beautiful stripped down ballads such as 'I Will,' 'Julia,' 'Mother Nature's Son,' 'I'm So Tired' and others, the group demonstrates constraint and a sense of complimenting only what the songs need without adding further embellishments and sweetening.  Really, the album's tender closer, Lennon's 'Goodnight,' is one of only a few exceptions, 'Piggies' and 'Honey Pie' being others, that were treated to full orchestral arrangements George Martin was aptly capable of providing, and alongside Ringo's vulnerable and soulful lead vocal, it's a touch of tenderness that succeeds.
"The White Album is not my favorite Beatles album. But it is certainly proof that the greatest band in the history of mankind never stopped growing and never stopped taking risks and always played together with an almost supernatural power that still sounds fresh and amazing half a century on."
Steve Lukather: All I can say is the Beatles are THE most important and enduring band of all time. Their music is OUR classical music and the standard by which all other musicians, producers and songwriters and engineers look to for inspiration-excellence and originality. They were the ON switch to my life and their music never gets old. EVER!
"The White Album once again blazes new trails and also showed the individuality of John, Paul, George and Ringo. Its timeless music that always sounds amazing no matter where you are or what you are doing… and to this day I hear NEW 'easter eggs' I missed sonically. Subtle parts…  I hear the new remasters are remarkable. Can't wait… Like everyone else!"
David Leaf: Like almost everybody in my immediate orbit, I went Beatlemaniacal in January 1964 and was blown away by their first (and every)​ appearance on The Ed Sullivan Show and then The Smothers Brothers premieres of the amazing promo films (like 'Hey Jude'). Anticipation and excitement. Not easy to come by in our instant and endlessly repeatable digital age. Each TV appearance back then was its own moment, here and gone.
"Buying a new Beatles album was like that too—so important that I remember exactly where I was when it happened​.  Meet The Beatles at E.J. Korvettes on Central Avenue in Eastchester, N.Y.  My mother bought me Help and Rubber Soul at Alexander's in White Plains, and I remember buying Magical Mystery Tour at Klein's in Yonkers (when the bizarre covers meant I momentarily took Satanic Majesties to the counter instead by accident.)
"For me, seeing Help (in color!) on the big screen was when the Beatles became, not only the center of my musical universe but almost the whole universe. Rubber Soul was and is my Old Testament. I didn't have a lot of conversation with friends about it; I was a sports geek.  But I don't think there was anything atypical about my devotion to the Fabs.
"Senior year in high school, for The White Album, my friend (Kenny Goldrich I think) and I went to E.J. Korvette's in Port Chester. Earlier in the year, 'Hey Jude' and 'Revolution' had come out as the first single on Apple, and one would be hard-pressed to find a label that ever made a stronger debut.
"And, as 'Hey Jude' almost instantly became and remains my absolute favorite Beatles record of all-time, and 'Revolution' spoke to the horrors and insanity of 1968, I was really excited to get the new album.
We weren't disappointed. Sure, there were some cuts we could have lived without (we all had our throwaways-mine included 'Wild Honey Pie'-but the sheer quantity of quality songs was overwhelming.
"As a 15-year old who hadn't yet discovered the rock press, I didn't know anything about songwriting or what inspired a song—didn't know that 'Back In The U.S.S.R.' was partly a Beach Boys tribute or that 'Dear Prudence' was a song to Prudence Farrow, who may have been 'me too'd' by the Maharishi.  Or that 'Sexy Sadie' was also an indirect shot at that same Maharishi.
"We didn't know that a 'Helter Skelter' was a playground installation nor that it would soon become infamous through brutal killings in L.A.  We wouldn't know for years that John reportedly hated working on 'Ob-La-Di, Ob-La-Da' and it was disgust and anger that gave the song it's manic tempo or that Ringo walked out during the White Album sessions.  I didn't realize that Eric Clapton played on 'While My Guitar Gently Weeps' (at least, thanks to my older brother, I knew he was in Cream) or that 'Happiness Is A Warm Gun' was supposedly George and Paul's favorite John song on the album.
"I did not know anything about the songs that I most loved​: 'Martha My Dear' (about Paul's dog), and 'Blackbird' (about Diana Ross?).  I wasn't sophisticated enough to know that 'Piggies'  was a clever snort of a song aimed at materialism or 'Rocky Raccoon'  was a ​very entertaining Dylan homage on which John played harmonica and harmonium. I didn't even know what a harmonium was back then.
"For me, as a devotee of McCartney's balladry, his acoustic songs on The White Album are, 50 years later, still standouts for me. I loved 'I Will' as a pure love song, an 'And I Love Her' type ​ballad of pure brilliance. The aforementioned 'Blackbird,' the remarkable 'Mother Nature's Son' a ballad of unearthly beauty, 'Martha My Dear' and the ridiculously catchy 'Obla Di Bla Da.' I almost n​ever tire of any of them. Paul's rockers from that album still rock today too—'Birthday,' which is the rock and roll celebration song, 'Back In The USSR' and 'Helter Skelter.'  All classic rock staples.
"From John, his heartbreaking note to his mother that was 'Julia' and the alternate take of 'Revolution' is a standout ('out/'in'), although after a bit, I began picking up the needle to skip 'Revolution #9.' I liked to sing. Perhaps the album should have come with some LSD.
"From most retrospective reports, this album was the Beatles supporting each other's songs (collaboration as songwriters between John and Paul seems to have almost vanished by 1968) and while there were tense moments, and while it may have sometimes seemed that the Beatles were the backing band for each other's songs (including Ringo's debut as a writer), they were really rocking on this record.
"And with the hindsight of now knowing what was less than two years away, if the Beatles had broken up before the release of The White Album, the solo albums that would have emerged would have been absolutely amazing introductions to the individual artistry of John and Paul. Even though he had been writing at least one great song per album (e.g. 'If I Needed Someone') prior to The White Album, I think George's 'Big Bang' of Beatles era songwriting would really be on Abbey Road.
"We knew nothing of that…or at least fans like me didn't. I was clueless about context or backstory. I just loved the record. I didn't really compare it to the one before or the one before that. I just took it as the latest musical letter from Beatles land. I wasn't looking for underlying meaning, just songs that made me want to listen over and over again and inject them into the Beatles part of my brain.
"And while some people say that ​the album is bloated, I prefer to think of it as delightfully overstuffed.  Cut it down to a single album and you would be leaving off at least a few all-time favorites.  Perhaps it could have been three perfect sides, but even the ones we can easily skip on CD aren't bad. Proof of that is that ​we each have our own list of songs from the white album ​that ​we would have left off. With age, I've even come to like 'Why Don't We Do It In The Road?'  We now know that this album was the beginning of the end, but at the time, it was just the latest Beatles album. Their greatest?  Not for me. But as with everything they gave us, it was a bounty of musical magic."
(Among his documentaries, David Leaf 's Beatles work includes writing and producing, You Can't Do That: The Making of A Hard Day's Night, co-writing/producing/directing The U.S. Vs. John Lennon as well as writing the Beatles chapter for Capitol Records 50th Anniversary book.)
Copyright David Leaf Productions Inc. 2018. All Rights Reserved.
At that November 2, 1974, George Harrison press conference in Beverly Hills I reported on, Harrison admitted, "the biggest break in my career was getting into the Beatles. In retrospect, biggest break since then was getting out of them."
When questioned was he ever amazed how much the Beatles still mean to people, George replied, "Not really. I mean it's nice. I realize the Beatles did fill a space in the sixties. All the people the Beatles meant something too have grown up. It's like anything you grow up with you get attached to things.
"I understand the Beatles in many ways did nice things and it's appreciated the people still like them. They want to hold on to something. People are afraid of change. You can't live in the past."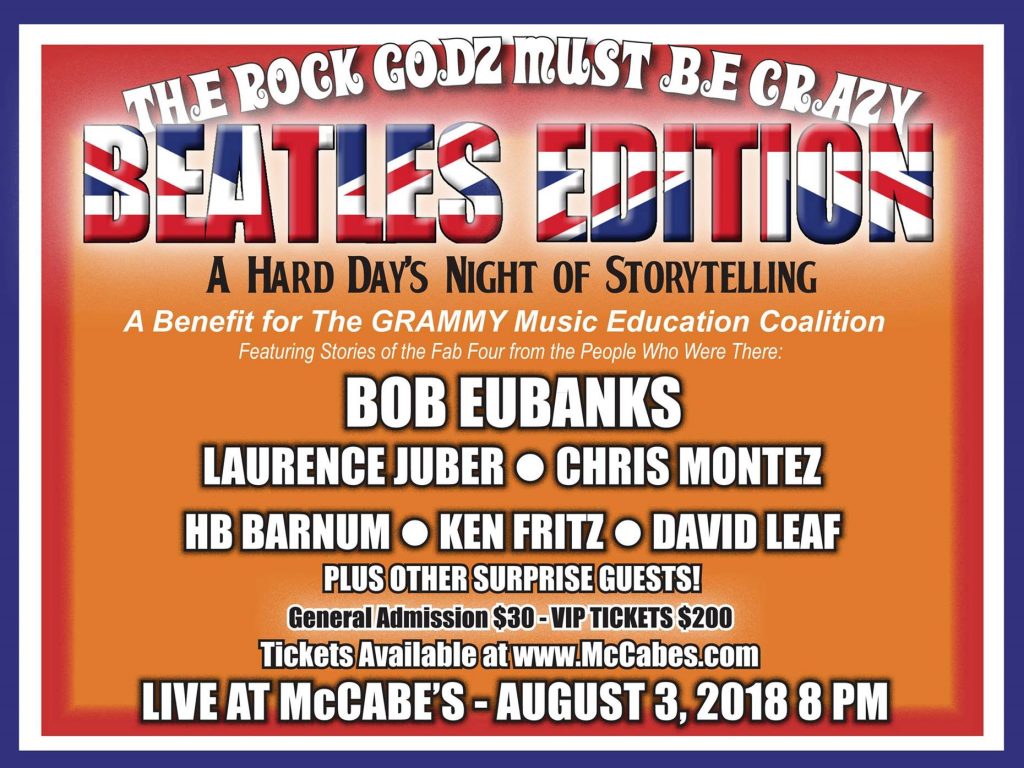 On Friday, August 3rd, a Beatles Edition of The Rock Godz Must Be Crazy, a benefit for the Grammy Music Education Coalition will take place in Santa Monica, California at McCabe's Guitar Shop. A Hard Day's Night Of Storytelling featuring stories of the Fab Four from those who were there: Bob Eubanks, Laurence Juber, H.B. Barnum, Chris Montez, Ken Fritz, plus other surprise guests. The event is hosted by David Leaf.
General Admission is $30.00. A $200.00 VIP package and preferred seating includes meet and greet and wine tasting before the show at an upper Westside restaurant, and gift bag courtesy of Shout! Factory and Rockbeat Records.
(Harvey Kubernik is the author of 14 books, including heralded titles on Leonard Cohen and Neil Young. His 2017 volume, the acclaimed 1967 A Complete Rock History of the Summer of Love was published by Sterling/Barnes and Noble.  His Inside Cave Hollywood: The Harvey Kubernik Music InnerViews and InterViews Collection, Vol. 1 was published in December 2017, by Cave Hollywood.  Kubernik's book The Doors Summer's Gone was published by Other Cottage  Industries in March 2018.
   On November 6, 2018, Sterling/Barnes and Noble will publish Harvey's book, The Story of The Band From Pig Pink to The Last Waltz, a collaboration with brother Kenneth Kubernik.  
   In November 2006, Harvey was a featured speaker discussing audiotape preservation and archiving at special hearings called by The Library of Congress, held in Hollywood, California.
  Over his 45 year music and pop culture journalism endeavors, Harvey has been published domestically and internationally in The Hollywood Press, The Los Angeles Free Press, Melody Maker, Crawdaddy, Variety, The Hollywood Reporter, MOJO, Shindig!, HITS, The Los Angeles Times, Ugly Things, Record Collector News and www.cavehollywood.com).