Previously Unreleased and Restored Footage of The Doors Unveiled
Sound Remixed and Remastered by Bruce Botnick
(Interviews with Ray Manzarek, American Bandstand  host/producer, Dick Clark, Doors' Engineer/Producer Bruce Botnick, 1970 Isle of Wight Filmmaker Murray Lerner, Doors' photographer Guy Webster)
On December 3rd, Eagle Rock Entertainment will release R-Evolution from the Doors on DVD, Blu-ray and Digital Formats.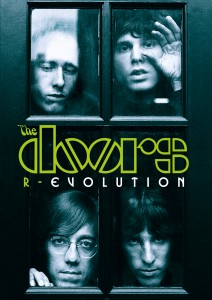 Combining early TV appearances with the Doors' own music films, R-Evolution illustrates how the band evolved from the constraints of mid-sixties television to a point where they had the creative input and power to shape how they were portrayed on screen. R-Evolution shows the growth of the Doors from being forced to accept the formulaic television approach to taking control of the medium.
R-Evolution brings together a wealth of previously unreleased footage of The Doors. This compilation contains "Light My Fire," "People Are Strange," "Hello, I Love You," "Crawling King Snake," "L.A. Woman," "Moonlight Drive," "Break On Through (To The Other Side)," and many more.
Housed in the collection is a performance of "Break On Through (To The Other Side)" from the Isle Of Wight Festival 1970 by director Murray Lerner, a 45-minute documentary entitled "The Doors – Breaking Through The Lens," "Love Thy Customer," a never-before-seen 1966 Ford training film with music by the Doors, their television appearances on Dick Clark's American Bandstand and one from the Clark-produced TV show, Shebang, Finally, the DVD has a section of outtakes from the band's appearance on the US TV show Malibu U in 1967.
In 1978, the famed DJ Murray The K was a guest on my television show 50/50, broadcast on Z Channel, Public Access and Manhattan Cable. I had unearthed from Murray's own archives a copy of the Doors doing "People Are Strange" from his Murray The K in New York 1967 TV series and screened it.
We now view this clip again in R-Evolution.
R-Evolution boasts a wealth of excellent bonus features, including a commentary by Doors members John Densmore, Robby Krieger and the physically departed Ray Manzarek along with Bruce Botnick and Elektra Records Founder Jac Holzman. In addition to the DVD and Blu-ray, a Deluxe Edition is available on each physical format, packaged in a 40-page DVD sized hardback book with a "scrapbook" style presentation on each track including lyrics, background info, trivia and photos. All footage has been carefully restored to the highest standards and the sound has been remixed and mastered for 5.1 by Bruce Botnick [MSRP $39.98 Deluxe DVD and $49.98 Deluxe Blu-ray].
R-Evolution / Track Listing
Break On Through (To The Other Side) Music Film – January 1967
 Break On Through (To The Other Side) From Shebang – March 5, 1967
 The Crystal Ship From American Bandstand – July 22, 1967
Light My Fire From American Bandstand – July 22, 1967
Light My Fire From Malibu U – August 25, 1967
People Are Strange From Murray The K In New York – September 22, 1967
Moonlight Drive From The Jonathan Winters Show – December 27, 1967
The Unknown Soldier Music Film – February 1968
Hello, I Love You From Musik Für Junge Leute: 4-3-2-1 Hot And Sweet – September 13, 1968
Touch Me From The Smothers Brothers Comedy Hour – December 15, 1968
Wild Child Music Film – July 1969
Roadhouse Blues Music Film – February 1970
Crawling King Snake From GTK (Get To Know) – December 1970
The Changeling Music Film – April 1971
Gloria Music Film – October 1983
People Are Strange Music Film – 198o's
 Strange Days Music Film – 1984
L.A. Woman Music Film – 1985
Ghost Song Music Film – 1995
Bonus Features:
Love Thy Customer (music by The Doors)
Ford Training Film – 1966
Outtakes:
Malibu U – 1967
Break On Through (To The Other Side) – Isle Of Wight, August 1970
Breaking Through The Lens documentary
The influential television icon Dick Clark and his weekly American Bandstand national television platform first booked the Doors around the release of their debut LP.
In a 1999 interview I conducted with Clark, I asked him about licensing his viable archive to film, TV and DVD products. "I wasn't bright enough to know they had historical or money value. But I've always been a collector. I started when I was a child. I saved the returned kinescopes. Now I realize the historical importance of all of this.
"People think that's the file, but it's Chuck Berry, Little Richard, The Crows…It's Jefferson Airplane, the Doors. That's what's so phenomenal about it. I knew it would have entertainment value. I didn't know it would have historical value as well.
"There were not a lot of sources for the early stuff. As time went on, and videos were made and other tape recordings were made of concert appearances, people saved them. So there's more material available. History gets shorter. You can get stuff from the '80's and '90's. '70's is fairly available. '50's and '60's is scarce," Clark admitted.
"In the old days, our interviews with the artists were short. Two to three minutes max. The way I patterned them – I've done 10,000 of them. 10,000 individual interviews. I had what I hoped was a beginning, middle and end. I tried to get something out of it other than 'Where do you go next?' I always tried to get something you could hang on to. Sometimes totally frivolous. Sometimes very stupid. Sometimes not memorable. Maybe just show the humanity. Give them the courtesy of allowing them to get their plug in for a record and then get what you want out of it. It's a very symbiotic relationship. We are using one another," he underscored.
I also asked Dick about the now ancient practice of performers lip syncing their current hits on American Bandstand. As evidenced by the Doors clips now incorporated in R-Evolution.
Clark endorsed the policy and revealed at times recording artists lip syncing their songs on live TV could be problematic.
"Oh yeah. I've never relegated the lip synch to a lower form of entertainment. Lip syncing is an art unto itself. A lot of people can't do it. Jazz singers, improvisational singers just can't pull it off."
Born in Philadelphia, PA, a graduate from Harvard University, Murray Lerner is the celluloid visionary and Oscar-winning director who has just produced and directed The Other Side Of The Mirror Bob Dylan Live At The Newport Folk Festival 1963-1965 DVD released by Columbia Records and Legacy Recordings in 2007.
Lerner licensed his footage of "Break On Through" from the last ever live Doors appearance taken from the 1970 Isle of Wight festival for R-Evolution.
"I've tried to put out the Doors' full set," Lerner said in a 2013 interview with me. "It was dark but that was the mood. And the darkness is interesting, I think. (Jim) Morrison said to me, 'You can film but you're not gonna get an image. But we're not gonna change our lighting.' 'I'll get an image.' I did.
"I met and knew Morrison earlier at the Atlanta Film Festival. I was showing Festival. It won an award and they had a film (Feast of Friends) they had made played. We talked at the party afterwards. We had both won awards but they were bullshit awards. Mine was for the best music. What does that mean? At the party and I really gave it to the organizer out loud a hard time, told him what I felt about him, and they came up to me and said, 'We agree with you.' I got friendly and tried to help them distribute their film.
"I shot color for the Doors, Leonard Cohen and the Isle of Wight performers. It was high-speed Ectochrome reversal. And I'm glad I did it because the color lasts a lot better in reversal. The camera people I had were with their own cameras for the most part but they used Arriflexes, and Auricon. The main camera man used was an Aaton, a kind of avant garde camera at the time.
"I always use very very long lenses as an adjunct to my photography. I believe in the long shot because I would like the thing to feel musical and not jumpy. I think film is visual music. And it should be, and I believe in editing that way."
Lerner further elaborated on techniques employed in his work displayed in the first-ever viewing of the Doors' "Break On Through" from the Isle of Wight.
"I personally have a technique where I practice the choreography of the camera. Everyday for about an hour before I shot, having an assistant stand by and I would focus, zoom and figure out how big the moves had to be to get the result I wanted so I could do it myself. And I practiced all of that. And I kind of instilled that sense that of the choreography of the camera being part of the concert.
"For the most part, in the planning stages, I picked positions to shoot. And I told people, 'You concentrate on the close up and you concentrate on something else.'"
Doors engineer/producer Bruce Botnick mixed the sound heard on the remastered R-Evolution.
I asked Botnick in a 2010 interview what astounds him 43-45 years after he recorded the Doors in the recording studio with producer Paul A. Rothchild.
"The thing that still works for me is, first and foremost, the music. The musicianship. The performance. And all of those when these guys connected as a unit and became unconscious is good or better than anything I've ever heard. That's one of the things I have to hand to my friend producer Paul Rothchild. That we went for performance and tried to stay out of it not to become too technically in the front of the albums that were manufactured.
"In the case of the Doors, Paul was the man who drove the train and kept it on the tracks. But the reality is that there were six of us in the studio making these records together. And it wasn't a matter of one person 'being the person.' Paul never took that point.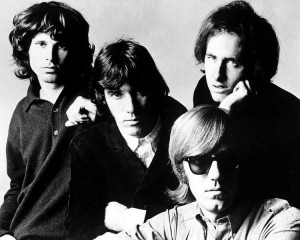 "At some point during the relationship and especially when Jim got busted in Miami, where Paul had to step up and take more control. Because somebody had too or otherwise it would have never got done. But generally his approach was to get the performance. And we weren't afraid of editing between takes. You get an amazing first verse and second verse and a chorus and verse into the bridge and it would sort of fall apart and we would grab another take that had it and edited it all together. And it was about the performance. It wasn't about overdubbing. Because in the majority of what the Doors played on their records was played live," Botnick stressed.
Photographer Guy Webster is someone who literally was at the opening of the Doors into the retail and filmic marketplace. A photo he shot graces the cover of their epochal first LP.
"Jac Holzman, who owned Elektra Records, called me on the telephone and said, 'I have a group I want you to photograph.' 'OK.' 'Well, they are out at the Whisky a Go Go.' 'Alright. I'll listen to them,' recalled Webster. "I didn't know who they were. I saw them and I liked them, but I was listening to a lot of stuff back in those days. So we had them scheduled to come into my studio, which at that time was located at my parent's Beverly Hills house, in the back. Because even though I was shooting all outdoors stuff at the time, when I wanted to shoot studio, I had a small studio there. And I wanted to do them in the studio so I could get some very intimate pictures of them.
"And in walked Jim Morrison. And he said, 'Guy.' 'How do you know me?' 'Guy, we went to school together.' 'Oh my God. Jim!' We were at UCLA together in the philosophy department and we used to read Nietzsche together. And I went, 'Shit. I didn't know you were a singer or a poet.' I was shocked.
"And the other guys, and this is a terrible thing, and I know they were angry at me, because I put Jim's face forward and I designed the cover and put the other three guys as his eyes and part of his brain. But I made Jim the star on purpose 'cause I knew it could sell the album. Jac liked it and put that on the cover. He always let me do what I wanted for the cover," stated Webster
"Here's the deal on Jim taking his shirt off for the photo session," he continued. "Once we realized that we were in school together and that I was already famous with my album covers, I said, 'Look Jim. You're wearing this shirt and it's embarrassing because it has ribbons on it. I know it's a hippie shirt but you can buy it in Venice Beach and you can buy it anywhere.' And it would have dated him. 'I'm gonna take your shirt off. You'll be alright. Trust me. And I'm gonna make you look like Jesus Christ.' And that's what it was. And they went with it.
"I loved the band live. Oh my God. I later knew that Jim was singing and he had been in class with me. But I was listening to Ray Manzarek's organ. That was brilliant and that's what impressed me more than anything. Man, this guy could smoke that keyboard and he was a white guy with little glasses. So I was really impressed.
"What I wanted was, let's get down to it. Here are these guys, they are singing about love, peace, and sex, and I wanted something to make them look sexy and I didn't want them in a studio. I wanted them outdoors in nature, part of our life in the sixties, Love-Ins, things like that. All natural. And I started putting the musicians and artists outdoors.
"Morrison had a sense of fashion. He understood. He was super educated, even though he educated himself, going to UCLA at that time in the early '60s and he came from a junior college."
Webster also had an encounter with Jim in 1971. "I hadn't seen him in a year before that," Guy discloses. "I was taking pictures of Natalie Wood. She was like a friend of ours, because my first wife and I were very close to Natalie and her husband, Richard Gregson. And I was friends with her. And she said, 'Will you do some pictures for me.' 'Absolutely.'
"So we went up to Malibu, to Serra Retreat, and we were shooting there. Not too many cars and she wouldn't be bothered. And this limousine pulled up and the window came down. And this burly 250 pound man with a full beard and hair said, 'Guy.' 'Who is it?' 'Jim.' 'Jim Morrison?' I didn't recognize him. He asked, 'What are you doing?' 'Well, I'm just finishing up some work and then I'm moving to Spain and I'll be there for quite a while.' And he said he was moving to France in the next week.' And I replied, 'Well, shit, we gotta get in touch.' And that was the last time I saw him…I moved to Spain and he moved to France and he died a couple of months later.
Sidebar
"Ray Manzarek is the 'forgotten man' in the history of jazz-rock fusion," suggests Dr. James Cushing, Professor of English and Literature at Cal Poly San Luis Obispo, and longtime DJ on KCPR-FM. "Months before Miles Davis began experimenting with electric keyboards, and years before the Tony Williams Lifetime, the Doors' organ-guitar-drums trio sound opened secret passageways between rock and jazz. The great traditions of Jimmy Smith, Richard Groove Holmes and Big John Patton may have been under the radar of rock 'n roll radio, but Ray Manzarek knew that music well."
End of Sidebar
Ray Manzarek penned the introduction to my 2009 book, Canyon of Dreams: The Magic and the Music of Laurel Canyon.
My next book, due out in early spring 2014, Turn Up The Radio! Rock, Pop and Roll in Los Angeles 1956-1972, is dedicated to Ray.
I first saw the Doors perform in concert at the Forum in Inglewood, California in 1968, and first met Ray Manzarek in 1974 at Mercury Records on Hollywood Boulevard. I must have interviewed him a dozen times over the last third of a century.
In 2010 we discussed the Doors relationship to film and television. In an interview Ray revealed the impact a film class had on him while attending the UCLA School of Film with director Josef Von Sternberg (The Blue Angel, Morocco, Shanghai Express). Von Sternberg eventually applauded Manzarek's student film Evergreen.
The director's influence informed the way Manzarek and Morrison would eventually wed cinema and music in their work.
"He's the guy who really kind of gave a real sense of darkness to the Doors, not that we wouldn't have been there anyway," Ray explained. "But having Von Sternberg and seeing the deep psychology of his movies, and the pace at which he paced his films, really influenced Doors' songs and Doors' music. The film school is always there. Our song structure was based on the cinema. Loud. Soft. Gentle. Violent. A Doors' song is again, aural, and aural cinema. We always tried to make pictures in your mind. Your mind ear. You hear pictures with the music itself.
"Film school guys founded the Doors. When he made the music, each song had to have a dramatic structure. Each song, whether it was two and a half minutes or an epic like 'The End' or 'When The Music's Over,' you had to have dramatic peaks and valleys. And that's the sense of drama within the Doors' songs which comes right from the theatre. The point of art is to blow minds."
A video of the Doors' "Hello, I Love You" is in the R-Evolution package.
"It was a song Jim wrote on the beach when we used to live down in Venice," offered Ray. "Dorothy (Fujikawa, his future wife) would go off to work and Jim and I would go off to the beach around the rings on the sand at Muscle Beach and work out around the bars, rings and swings and get ourselves into physical shape. He was gorgeous. Man, he was perfect. He was a guy who had opened the doors of perception and made a blend of the American Indian and the American Cowboy. He was the white Anglo Saxon Protestant.
"The WASP who had taken on the mantle of the American Indian. He now was no longer a fighter of Indians. He was a lover of American Indians."
During this conversation, Manzarek responded to a question about environmental and ecological themes within the music of the Doors.
"Ecology was very, very big. We were all trying to save the planet. The sun was the energy. The supreme energy. The establishment, as we called it, the squares, they were called in the fifties, the establishment as they were called in the sixties, were trying to stop drug use, the smoking of marijuana and were trying to stop any kind of organic fertilizer. The word organic to them meant hippie, radical pot heads and people who wanted to leave behind the organized religions and start some new tribal religion based on American Indian folklore. That's indeed what we were. We called ourselves the new tribe. We were working in the future space. The Doors on their third album were in the future. And many things have come to pass that Jim Morrison wrote about."
Record producer and songwriter Kim Fowley first witnessed the Doors on stage before they were on TV or had a record deal. He would later announce them on stage at 1967 and 1969 music festivals.
"I first saw the Doors when they were an opening act and unsigned band at Ciro's on Sunset," volunteered Kim. "There was a heckler in the audience who ridiculed the three musician Doors as they loaded their own instruments on stage and amps, and wanted to pick a fight with them. And he was doing a theatrical heckler improv, and then jumped up to show them that he as an audience member could be a better singer than their missing singer who was probably hiding in the dressing room or outside in the street out of fear. And then Jim Morrison did 'Break on Through.' That was the first song. The place went wild. Because no one had ever seen them before."
Fowley also reinforced Ray Manzarek's contributions to the Doors.
"Ray Manzarek was a rock 'n' roll scholar. Ray Manzarek was Goodbye Mr. Chips as a young man and he never grew old. Ray Manzarek was from Chicago. So he understood Studs Lonigan and he understood Chess Records and he probably understood Riley Hampton. Google him folks. Ray Manzarek understood Vee-Jay Records. He must have understood Calvin Carter. He knew who Jerry Butler was. Just as important, Ray Manzarek knew where Europe was, he knew where Asia was and he knew where he fitted into the solar system. Ray Manzarek from the very beginning to the very end was an immaculate attired gentleman. He had his own sound, his own worldview and his own perception of what was surreal, real and unreal. We always got along well. We never recorded together. But we would speak sometimes in the shadows about the sunlight that we weren't missing.
"Ray's organ was a music box to a volcano. John Densmore was a jazz drummer. You also had a jazz keyboardist and a jazz guitarist all playing the blues with a great poet and actor fronting it.
"It was tremendous. It was theater. Jim could sing in pitch, he had the image and the poetry. He understood theater. Manzarek supplied a pulse, and Robby the guitarist is never given credit what he brought to the table in 1967.
"The Doors were not a rock 'n' roll band but gave you a rock 'n' roll feeling," concluded Fowley. "And the only band that did that was the original King Crimson. 'Cause they weren't a rock 'n' roll band, either. But when you heard 'Court of the Crimson King,' and Pink Floyd '67, they were the only bands who had some Wagner with a rock 'n' roll attitude."