By Harvey Kubernik c 2017
Poet/lyricist/songwriter and performer Stephen J. Kalinich, no stranger to Cave Hollywood viewers, a few years ago portal owner David Kessel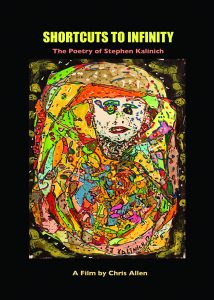 interviewed Kalinich when he released his two California Feeling albums on the MsMusic record label.
In late 2017, director Chris Allen and Chris Allen Films released a feature length 81 minute documentary Shortcuts to Infinity-The Poetry of Stephen Kalinich.
Executive producers are Don Fertman, Chris Allen and Carol Schofield.
The movie incorporates interviews with Beach Boys' Brian Wilson, Al Jardine, and David Marks as well as PF Sloan, Jon Tiven, Alan Boyd, Paul Steel, Carl B Wilson, Dan Knutson, and Ralph Stevens. Also appearing in the film are Carnie and Wendy Wilson, Carol Schofield, Marla Maples, Bill Duke, Marilyn Wilson, Richard Lawson, and many others.
Stevie's painting and stand-up act are explored, as well as a look at the play based on his book
From The Heart of Love. The DVD can be ordered at www.chrisallenfilms.com. Continue reading →
By Harvey Kubernik C 2017
The Moody Blues' Days Of Future Passed is celebrated with an expanded 50th Anniversary Deluxe Edition just released on November 17 by UMe.
The deluxe 2CD/DVD and digital audio edition features the album's newly restored original 1967 stereo mix, which makes its CD debut here. Due to a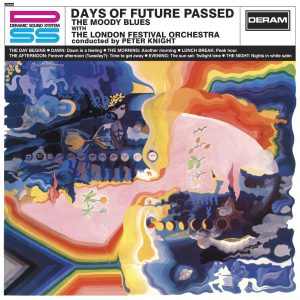 damaged master tape of the original mix, the album was remixed in stereo in 1972; this later mix has been used for the album's subsequent CD reissues. Today's technology has allowed for the original stereo master to be repaired, and the new 50th Anniversary Deluxe Edition pairs that original album mix with the 1972 stereo mix.
The commemorative set also features nine BBC Radio session performances, as well as a DVD with a new 5.1 surround sound mix derived from the album's original 1972 Quad mix, plus previously unreleased video footage of the band performing three key Days Of Future Passed tracks at MIDEM on January 24, 1968, eight weeks after the album's release. The set also includes a poster designed by Ray Thomas. On the same date, the album's restored 1967 stereo mix will also be released on 180-gram vinyl.
Days Of Future Passed was the Moody Blues' landmark second album and formally marked the beginning of the band's psychedelic era. Featuring the London Festival Orchestra, this richly orchestrated album followed in the wake of the Beatles' Sgt. Pepper's Lonely Hearts Club Band and Magical Mystery Tour but was in itself a unique and highly original piece of work. The album includes the hits "Tuesday Afternoon" and the ever-enduring "Nights In White Satin," which established the Moody Blues as true pioneers in the development of progressive rock. Continue reading →
Celebrates 50th Anniversary with new CD Collection and Criterion Collection Expanded Edition DVD of Monterey Pop;
Jimi Hendrix's Birthday November 27;
and The Passing of Otis Redding on December 10, 1967
By Harvey Kubernik c 20017
Record producer, and Ode Records label owner Lou Adler, and songwriter John Phillips of the Mamas and the Papas produced The Monterey International Pop Festival, June 16-17-18, 1967, held in Monterey, California.
Thirty-two acts from the U.S. and England representing contemporary pop, rock, soul, psychedelia, folk, blues, and world beat were booked.
Stage performers and recording artists who appeared were The Association, Johnny Rivers, Simon & Garfinkel, the Blues Project, Buffalo Springfield, Big Brother and the Holding Company with Janis Joplin, Jefferson Airplane, Laura Nyro, Ravi Shankar, Grateful Dead, Mike Bloomfield's Electric Flag, Moby Grape, Lou Rawls, Booker T. and the MG's with the Bar-Kays, the Who, Eric Burdon and the Animals, Paul Butterfield Blues Band, Beverly, the Group With No Name, the Byrds, Otis Redding, Al Kooper, Canned Heat, Country Joe and the Fish, Quicksilver Messenger Service, the Jimi Hendrix Experience, the Mamas and The Papas, Hugh Masekela, Steve Miller Band, and Scott McKenzie.
The ramifications and influence of the sonic world of Monterey extended far beyond the actual gathering. The event altered world culture and your record and video collection.
The ongoing musical influence of Monterey on subsequent outdoor rock music gatherings is being acknowledged again with a myriad of fall and winter 2017 50 year anniversary products. Continue reading →
By Harvey Kubernik © 2017
Leonard Cohen, the Canadian songwriter/ poet/novelist and performer waived a physical goodbye at age 82 on November 7, 2016, just after the release of his 14th album, the uncompromising and urgent You Want It Darker.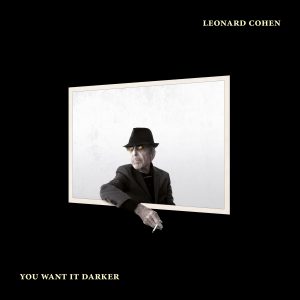 In December 2016 I was invited to guest deejay on Los Angeles radio station The Sound 100.3 FM Classic Rock KWSD My Turn program. KWSD is Southern California's classic rock station with over 1.3 million listeners.
The broadcast aired in January 2017. The studio overlooked the street in the mid-Wilshire district area where Leonard lived in a duplex. I dedicated "Hallelujah" to him.
It was my audio service of sitting shiva for Leonard.
November 7, 2017 will be the one year yahrzeit of his death.
My 2014 critically acclaimed book on Leonard Cohen, Everybody Knows, is now published in America, England, Russia, France, Germany, China and two different editions in Canada. It's now out in paperback in the UK from Omnibus Press. Continue reading →
Harvey Kubernik interview with BANG! co- director and editor Bob Sarles
© 2017 Harvey Kubernik
"BANG! The Bert Berns Story is the best music doc that I have seen. There is enough stuff for the geeks and for the newcomers to Bert Berns' music.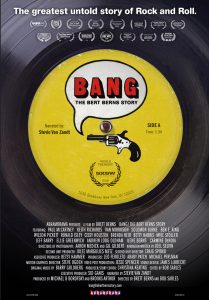 Seen it 4 times, could dig to see it a 100 more times." —Paul Body
"Must see" – Billboard Magazine
"The new high-water mark for music documentaries" – Glide Magazine
"A remarkable story of hustle and heartache." – Best Classic Bands
Abramorama and filmmakers Brett and Cassandra Berns recently announced that BANG! The Bert Berns Story is coming exclusively to Apple Music. Following BANG!'s successful film festival run and North American theatrical release, a fall 2017 global release is planned on Apple Music followed by a global offering via iTunes Movies.
Abramorama originally released the film theatrically in April, and it played to enthusiastic crowds in theaters across the country.
Music meets the Mob in this biographical documentary about the life and career of Bert Berns featuring Van Morrison, Paul McCartney, Andrew Loog Oldham, Keith Richards, Ronald Isley, Doug Morris, Brooks Arthur, Jeff Barry, Richard Gottehrer, Bob Feldman & Jerry Goldstein, Carmine "Wassel" DeNoia,  Ben E. King, Mike Stoller, Wilson Pickett, Cissy Houston, Betty Harris, Garry Sherman, Jerry Ragovoy, Solomon Burke, Charlie Thomas, Ellie Greenwich, Don Drowty, Brenda Reid, Joel Dorn, Ilene Berns and many more.  Continue reading →