By Harvey Kubernik c 2018
The last quarter of 2018 will bring the Apple Corps. Universal Music 50th anniversary expanded and revised configuration of The Beatles aka The White Album.
I remember hearing about the winter 1968 LP release. I read in one of the English music weeklies in May '68 the Beatles had met at George Harrison's bungalow home in Esher, Surrey and the lads recorded demonstration tapes of 27 tunes written during their trip to India. George owned an Ampex four-track reel-to reel machine.
During late November '68 I saw the double pocket White Album LP initially stocked in a slew of record stores all over the Southern California basin: The Frigate, The Music Revolution, Phil Harris Records, Rancho Music, and Canterbury, and head shops named The Psychedelic Supermarket and The Third Eye.   I purchased my first mono copy that November at Wallichs Music City on Sunset and Vine. I bought an English import at Lewin Record Paradise on Hollywood Blvd.
In 2014 I wrote the book, It Was Fifty Years Ago Today The Beatles Invade America and Hollywood. It examines the Beatles' musical relationship and songwriting legacy to Los Angeles and the rarely chronicled-at-length historical influence of Southern California and Hollywood on them. Continue reading →
New Biography and Bowie Celebration Tour in 2018 and 2019
By Harvey Kubernik c 2018
"It is pointless to talk about his ability as a pianist. He is exceptional. However, there are very, very few musicians, let alone pianists, who naturally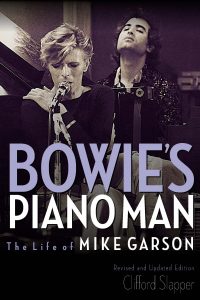 understand the movement and free thinking necessary to hurl themselves into experimental or traditional areas of music, sometimes, ironically, at the same time. Mike does this with such enthusiasm that it makes my heart glad just to be in the same room with him." — David Bowie on Mike Garson
Pianist Mike Garson was David Bowie's most frequent musician, on record and onstage, throughout Bowie's life. They played over a thousand shows together between 1972 and 2004, and Garson is featured on over 20 of Bowie's albums. In November 2006, Garson accompanied Bowie and Alicia keys for a rendition of "Changes" in New York City at an AIDS benefit which was Bowie's final public performance in the U.S.
Around his teaching, performance and recording work, Garson is serving as the pianist, bandleader and stage emcee who anchors the well-received A Bowie Celebration spotlighting a flexible touring lineup.
The current touring ensemble is Garson, who was Bowie's musical director with Luther Vandross and David Sanborn on the Young Americans 1974 tour, longtime Bowie veteran Earl Slick guitar, Gerry Leonard guitar, Mark Plati guitar, Carmine Rojas bass, drummer Lee John Madeloni, who is Slick's son, and vocalists Bernard Fowler, Cory Glover, Joe Sumner and Gaby Moreno. Continue reading →
New Collection Showcases Redding's Songwriting Evolution in '67
"(Sittin' On) The Dock Of The Bay" Celebrates 50th Anniversary
By Harvey Kubernik c 2018
Otis Redding was on top of the world in 1967, highlighted by a career-defining performance at the Monterey Pop Festival. Returning to Memphis that
fall, Redding began to explore different musical influences when he entered the studio to record his next album. Tragically, those sessions were cut short after only a few weeks when the singer died in a plane crash on December 10, 1967, with four members of his backing band the Bar-Kays when Redding's private airplane crashed in a Madison, Wisconsin lake. Singers Johnnie Taylor and Joe Simon were among the pallbearers at Redding's funeral in Macon City, Georgia. Booker T. Jones played organ to the grieving congregation and Jerry Wexler provided the eulogy.
It was a day that dramatically and constantly reminds us about Redding's frozen legacy that at least now can be heard again on these recordings. While there will never be a definitive idea of what Redding's next album would have been this new Dock of the Bay Sessions is the first to show what could have been.
On February 23, 1968 the world was graced with the first posthumously-released Otis Redding Volt-Atlantic album, Dock of the Bay, one which was destined to be the most successful of his posthumous releases as a result of its title track.
And now, a half a century later, on May 18, 2018, the Rhino label issued Dock of the Bay Sessions as part of the ongoing 50th anniversary celebration of "(Sittin' On) The Dock of the Bay." March 16th marked the actual 50th anniversary of the single topping both the pop and R&B charts in 1968 and becoming Redding's first #1 hit. Continue reading →
By HARVEY KUBERNIK  C 2018
Before playing its final show on May 5, 1968 at the Long Beach Sports Arena in Southern California, Buffalo Springfield released three studio albums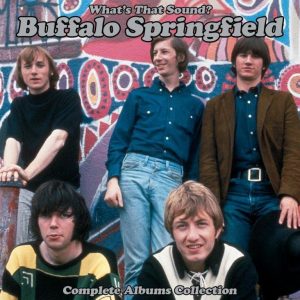 on ATCO during an intense, two-year creative burst.
Those albums – Buffalo Springfield, Buffalo Springfield Again, and Last Time Around – have been newly remastered from the original analog tapes under the auspices of Neil Young for the new boxed set: WHAT'S THAT SOUND? THE COMPLETE ALBUMS COLLECTION shipping from Rhino Records on June 29th
The box set includes stereo mixes of the group's three studio albums plus mono mixes for Buffalo Springfield and Buffalo Springfield Again. There are also CD and limited-edition vinyl sets.
So to acknowledge the 50th anniversary of Buffalo Springfield's last appearance, and Rhino's target retail launch date of this package, earlier this decade I had asked some friends who attended that memorable event.  Chris Darrow: (Musician): By 1968, they had a number of hits with Still's 'Bluebird' and 'Rock and Roll Woman' and Neil Young's 'Mr. Soul,' as well as 'Expecting to Fly' and 'Broken Arrow.'  The band had some tension among the members, both personally and musically, and began to go in opposite directions.  I went to their final concert on May 5, 1968 at the Sports Arena in Long Beach. The set was long and intense and ended with a long 20 plus minute version of 'Bluebird.'  Country Joe and the Fish and Canned Heat were also on the bill." Continue reading →
By Harvey Kubernik
C 2018
Russ Regan, a titan in the record business and a visionary A&R man, died in Palm Springs, California on Sunday, May 27th of cancer, at the age of 89.
His daughter Rachael Grace announced his passing with a Facebook post, "he fought a good fight and had an extraordinary life."
Regan is survived by his wife of 30 years, Sheryl, children Marc, Rachael and Daniel, sister Margaret and son-in-law Eric. Regan's family requested that in lieu of flowers, acknowledgement be given in Russ's name to his favorite charity, the Recording Academy's MusiCares.
Over a 60 year career Regan worked with some of the biggest names in the music business, including the Beach Boys, Hugh Masekela, Neil Diamond, Elton John, Barry White, Olivia Newton-John, and the Alan Parsons Project.
Cave Hollywood asked our resident wordsmith and author Harvey Kubernik to provide a tribute to Russ Regan, a friend of his the last half century. Harvey sent us an archive oral history he had conducted with Russ the last few decades. We're displaying it in full.
Courtesy of Harvey Kubernik Archives
During the last 25 years I conducted a series of interviews with Russ Regan, portions appeared in three of my books: Turn Up The Radio, Pop, Rock and Roll in Los Angeles 1956-1972, 1967 A Complete Rock Music History of the Summer of Love, and Inside Cave Hollywood: The Harvey Kubernik Music InnerViews and InterViews Collection, Vol. 1. Continue reading →