I (David Kessel) had the pleasure of growing up in the recording studio along with my brother Dan. We worked with Hal Blaine on many,
many Phil Spector sessions, as 2nd generation Wrecking Crew musicians.  My Dad, Barney Kessel and Stepmother, B.J. Baker (one of the top background vocalists and vocal contractors in LA) were friends of Hal. Hal once said to me at a session  "The trick is, that if you make a mistake at the beginning of a take, you have to remember the mistake through the whole song." I asked our Cave Hollywood wordsmith Harvey Kubernik to remember Hal Blaine.
By Harvey Kubernik
Kubernik
© 2019   
I knew Hal Blaine for 50 years. I did a term paper on him during high school. He invited me to a 5th Dimension session, too.
Hal steered me to Pro Drum Shop on Vine Street. My life changed seeing the sparkle sets and equipment on the wall. I never knew there was a place for drummers and percussionists besides Wallichs Music City and Drum City.
For decades I called him Belsky, his real last name, and he would call me Harvala.  
In the seventies I interviewed him numerous times for domestic and international publications. He once gave me a lift on his motorcycle between a 3 session day and also picked me up hitch-hiking once on Sunset Blvd. when he saw me at a bus stop on Fairfax Avenue when my car was in the shop.  "Take me to Gold Star! I need to see this session." After it wrapped, Hal's parting comical advice was: "Harvala. Please don't get married in California!" Then every Wrecking Crew session veteran started laughing their heads off. I didn't quite comprehend the reality on display. Just about every cat started running down words I never heard like alimony and visitation… Continue reading →
Composer. Arranger. Orchestrator. Conductor. Lecturer. Jazz pianist. We've lost the greatest American musical polymath since Leonard Bernstein. 
JazzTimes.com
 eulogizes Previn's career as jazz pianist:
"Remembering Andre Previn (1929-2019)" by Kirk Silsbee
Upon his passing on February 28 at his home in Manhattan, 89-year-old Andre Previn was praised as many things: a well-respected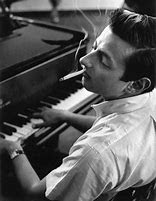 composer, arranger, orchestrator, conductor and a concert pianist. His musical gifts were such that he was often compared to Leonard Bernstein, 20th Century America's most famous musical polymath. Previn won four Academy Awards for film scores, eleven Grammys, composed the well-received "Streetcar Named Desire" opera, and worked with many of the finest symphonies in the world. 
Yet another important and pervasive element of Previn's musical profile was his love of jazz piano—and his skill at playing it. He worked prodigiously in the worlds of film, concert music, and Broadway, but Previn pivoted to club dates and recording studios in the jazz trio format, at seemingly every chance. 
Born Andreas Ludwig Priwin in Berlin, Previn's family came to America in 1939, and he became a naturalized American citizen in 1943. His family moved to Los Angeles and he was working on the MGM lot as an arranger and composer while a teenager. In May of '45, Previn performed on the Jubilee broadcast for service personnel. Host Ernie 'Bubbles' Whitman asked him how it was that a classical pianist loved jazz so much. Previn responded: "I heard Art Tatum play 'Sweet Lorraine' and that did it." He was 16. 
Schooled in the classical piano literature by his music teacher father, Previn had an affinity for the ten-fingered paterfamilias of jazz piano. Though his early recorded efforts were in the Tatum mold, as the years passed, more elements entered Previn's playing, and he broke free and developed his own identity. 
From the mid-1950s, the pianist worked with drummer Shelly Manne, whose appetite for dynamic trio interaction and musical spontaneity matched his own. In 1957, Previn pinpointed the reason for his maturity as a jazz pianist. He told Downbeat's John Tynan in 1957: "Not only is Shelly my best friend, but he's the best jazz musician I know…he taught me how to swing." As Manne became the first-call jazz drummer in L.A. and a busy studio player, he always seemed to make time–and relish–his recorded and live collaborations with Previn, who routinely worked with the best players: Manne, bassists Red Mitchell and Ray Brown, and guitarists Barney Kessel, Joe Pass and Herb Ellis. 
Under the name Shelly Manne & His Friends, Previn and bassist Leroy Vinnegar recorded a clutch of albums for Contemporary. My Fair Lady ('56) was the first jazz album to utilize tunes from a single Broadway show. It became a runaway hit, but the musicians and the label feared a lawsuit. Previn's liner notes offered this prophylactic: "There has been no willful distortion of the tunes simply to be different, or to have a gimmick, or to provoke the saying, 'Where's the melody?' We are all genuinely fond of every tune and have the greatest respect for the wonderful score in its original form, but we are paying our own sincere compliments to the show by playing the score in our own métier." The album set off a wave of jazz treatments of musical scores; Contemporary would shorthand the vogue through the title of Marty Paich's The Broadway Bit ('59).
The gospel-rooted bebop of pianist Hampton Hawes was a pervasive influence on L.A. jazz pianists, and Previn's loose right hand and bluesy swing on "Get Me to The Church on Time" reflected a good grasp of the Hawes grit. He could also slyly spike the melodic line of "I Could Have Danced All Night" with dissonant chords. 
Novel arrangements, playfulness, well-chosen grace notes and swing were big parts of Previn's playing. Even during his busiest movie years (by age 27, he had worked on 26 pictures), he returned to jazz whenever he could. Swing and rhythmic daring was as big a draw for him as harmonic sophistication. A regular lecturer to SoCal university music classes in the late '50s, Previn spent a lot of classroom time on jazz. He loved the thrill of sitting in with the Dizzy Gillespie Big Band at Hollywood's Peacock Lane club, and made time to catch the first L.A. appearance of the Bill Evans Trio.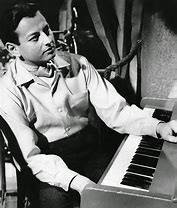 Though he stepped lightly from one musical scene to another, jazz musicians knew that Previn's jazz piano activity wasn't the work of a slumming highbrow. David Kessel, son of guitar legend Barney Kessel—on whose Carmen album (Contemporary '59) Previn played–puts it this way: "My dad had the utmost respect and regard for Andre. Barney realized that he was a great classical artist and he was also very fine jazz musician." 
Previn won his first Oscar for the score to Gigi ('58) and a series of albums for Columbia in the early '60s (Like Love, Like Young, Like Blue) saw him composing orchestral accompaniment to his jazz trio playing. 
In 1974, Previn hosted the BBC's Omnibus show, with pianist Oscar Peterson. Previn was reverent and deferential toward his guest, offering intelligent questions in the interview segments. Yet on a two-piano duet at a fast tempo, where Peterson played all-out, Previn more than held his own. It must've been a high point of his musical life, as was the '89 After Hours (Telarc) album with Pass and Brown.
Though not a trend-setting stylist, Previn's jazz piano was a canny synthesis that could draw from innumerable sources. He always loved jazz, and always respected it by giving his best when he played it.
Jazztimes.com, March 4, 2019
By Harvey Kubernik © 2019
In January of 1969 Neil Young began recording his second solo album Everybody Knows This is Nowhere with Danny Whitten on guitar;
Billy Talbot, bass; and Ralph Molina, drums at Wally Heider's recording studio on Cahuenga Boulevard in Hollywood.
Young's new trio had toiled as Danny and the Memories and then shape-shifted into the Rockets, who had done an LP on the White Whale label, pure grunge, a loud, sloppy guitar-driven outfit sounding like an open wound, whose backbeat listed like sailors on leave at Subic Bay.
Young saw the Rockets one night in Hollywood on Sunset Boulevard at the Whisky a Go-Go, appropriated some group members and rechristened them as Crazy Horse. They became the blank canvas upon which Neil painted his visceral, unmediated masterworks.  
It was a band only Neil Young could find common cause with, and he went to hell and back with them.
"Danny Whitten, from the day I met Crazy Horse and Neil Young at the Cellar Door in 1969, it was common knowledge, and Neil would be the first to tell you, that Danny was one of his early mentors and influences," Nils Lofgren stressed to me in a 2014 interview. "Danny had that great deep 'Bee Gees' vibrato, with that California soul and lament."   Continue reading →
By Harvey Kubernik
©
 2019
April 7, 2019 marks the 50th anniversary of Leonard Cohen's second Columbia Records album, Songs From A Room in 1969. It reached No.
63 on the US Billboard Top LPs and No. 2 on the UK charts. 
"Initially, Songs From A Room felt like a trespass," suggested writer Marina Muhlfriedel. "How dare Leonard Cohen dilute the sacred incursion his first album, forged into my being? For some reason, I never considered the possibility of a follow-up. Songs of Leonard Cohen was so personal, so monolithic, I assumed it to be a singular event.
"It took a friend planting me on a couch, cranking up the speakers and demanding I listen. Before 'Bird On the Wire' was over, tears flowed. It was so damn beautiful — a hymn, a confession, a deep bow of humility striking a nearly unbearable nerve. Leonard seemed a bit older, wearier, less embellished, but once again that trickster sunk right into my soul."
"Leonard wrote songs because he had to, and because he wanted to get laid," observed author, record producer and deejay Andrew Loog Oldham in a 2014 interview we conducted. "Later he wrote songs because he wanted to get paid. That's when I decided he had something to say."
I was on the UCLA campus in Westwood, California when Cohen debuted in 1970 at Royce Hall. Michelle Phillips of the Mamas & the Papas was one of Leonard's singers that evening. Mama Cass Elliot had already covered "You Know Who I Am" from Cohen's Songs From A Room on her 1968 album Dream a Little Dream.        Continue reading →
AIRING SUNDAY, FEB. 17 ON NBC; Elvis Presley '68 NBC-TV Comeback Special Celebrated with Definitive 50th Anniversary Box Set Release Deluxe 5CD, 2 Blu-ray Disc Set
By Harvey Kubernik © 2019
Elvis Presley's landmark '68 Comeback Special, initially aired on NBC-TV in December 1968, was recently celebrated with the retail release
of a deluxe box set by RCA/Legacy Recordings, a division of Sony Music Entertainment, on Friday, November 30.
Elvis Presley-'69 Comeback Special (50th Anniversary Edition) is the definitive chronicle of one of the greatest rock 'n' roll performances ever televised: Elvis Presley at the peak of his powers. For the first time ever, all previously-released audio and newly-restored video from the taping of the special will be available in one package – including unused performances and studio outtakes that spotlight the real Elvis.   The package contains an entire disc showcasing the legendary sessions for the special recorded with Elvis and the west coast members of the Wrecking Crew.
This 5CD, 2 Blu-ray disc deluxe package also includes an 80-page book featuring rare photographs and ephemera and a new oral history on the special, crafted from interviews conducted for Thom Zimny's 2018 documentary, Elvis Presley: The Searcher.
The anniversary of this electrifying moment in rock n' roll history further continues into 2019 when NBC-TV and Ken Ehrlich Productions team up for a 2-hour primetime television tribute to the original special which airs Sunday, February 17th from 9-11 p.m. (ET/PT)  on NBC-TV. Continue reading →