CONCERT FILM TO BE RELEASED JUNE 21ST 2019
RESTORED, REMIXED AND REMASTERED SHOW LIVE FROM GERMANY
PREVIOUSLY UNRELEASED CONCERT PLUS FOUR BONUS TRACKS FROM CHICAGO; 
KEITH RICHARDS 1999 INTERVIEW       
By HARVEY KUBERNIK © 2019
As the Rolling Stones' No Filter US tour dates are currently being re-scheduled  Bridges To Bremen was announced today by the Rolling
Stones for release on June 21st.
Presented by Eagle Vision, the previously unreleased concert film has been completely restored, remixed and remastered and will be available on digital, DVD + 2CD, Blu-ray + 2CD, triple vinyl and digital audio formats.
Bridges to Bremen captures a complete September 2, 1998 show at Germany's Weserstadion venue from the final leg of the Rolling Stones' year-long trek that supported their Bridges to Babylon album, which achieved Platinum and Gold status in multiple markets upon the album's original release in 1997.
The Bridges To Babylon tour was the first time the band went on the road with a permanent, and now infamous, B-stage, and also the first time that fans could vote on the band's website for a track they wanted to hear at the show – "Memory Motel" in the case of the Bremen fans, making each show on the tour unique. Continue reading →
Harvey Kubernik Interviews Gene Aguilera
Q:  You hail from East Los Angeles and the landmark Boyle Heights area. Tell me about the region.   
A:  East L.A. is a colorful barrio, proud of its cultural contributions to the world.  I'm from the Boyle Heights neighborhood, almost 100%
Latino population, that has managed to stay united despite being carved up (possibly deliberately) by the arteries of an overloaded freeway system.   Little as it's known, such diverse characters as Lou Adler, Antonio Villaraigosa, Donald Sterling, Oscar Zeta Acosta, Mickey Cohen, and Anthony Quinn are from Boyle Heights.
I feel fortunate to have lived and breathed  the "Golden Age of East L.A. Music" (1960s-1970s); to have witnessed the impact such Eastside groups as Thee Midniters, Cannibal & the Headhunters, the Premiers, the Blendells, and Tierra made on the Billboard Top 100 charts.  
I remember crossing the bridge from East L.A. to reach the Olympic Auditorium.  I grew up collecting the gorgeous floating-head boxing posters from the Olympic which was only four miles away from Boyle Heights.  I used to cut out almost every Mexican American boxing story that came out in the Los Angeles Herald Examiner and the Los Angeles Times.  Boxing and the East L.A. community go hand-in-hand.  
Recently, I saw CNN celebrity chef Anthony Bourdain dedicate an entire episode of his show, "Parts Unknown", to the cuisine of East Los Angeles.  Watching Bourdain make it to Olvera Street to eat taquitos at Cielito Lindo (a favorite haunt of mine) made me proud to see East L.A. on the grand stage, yet sad to realize that Bourdain is now gone.        Continue reading →
FEATURING 180-GRAM VINYL REISSUES OF THE ICONIC LABELS' CLASSIC ALBUMS;    DAVID KESSEL ON VERVE RECORDS FOUNDER NORMAN GRANZ
By Harvey Kubernik © 2019
In 2019 Verve and Impulse! Records, together with UMe, launched their new series Vital Vinyl, a celebration of essential jazz LPs from the iconic labels' enduring catalogs.
Throughout the year, the labels are making some of their most beloved must-have albums from the '50s, '60s and '70s available once again as non-limited editions LPs, pressed on audiophile grade 180-gram black vinyl and showcased with their original cover artwork, track listings and liner notes.
The records will be released in three batches with the first available today followed by the second on May 3 and the final installment on June 7.  Continue reading →
UNITED STATES AND EUROPE TOUR TO WORLD PREMIERE NEW MUSIC WITH FORMER BANDMATES ON THE BIZARRE WORLD OF FRANK ZAPPA    
FRANK ZAPPA'S BELOVED LIVE DOUBLE ALBUM ZAPPA IN NEW YORK CELEBRATED WITH SUITE OF 40TH ANNIVERSARY RELEASES INCLUDING DELUXE BOX SET, EXPANDED 3LP AND DIGITAL
5-DISC COLLECTION FEATURES OVER THREE HOURS OF UNRELEASED PERFORMANCES FROM THE LEGENDARY 1976 FOUR-NIGHT STAND PLUSEXCLUSIVE MATERIAL FROM ZAPPA'S VAULT  AVAILABLE ON ZAPPA RECORDS/Ume;
By Harvey Kubernik
©
2019
In 1976, Frank Zappa played four historic sold-out concerts at The Palladium in New York City the week between Christmas and New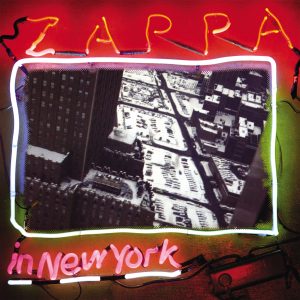 Year's. These thrilling shows – described by band member Ruth Underwood as "theatrical, outrageous and raucously funny, but also filled with startling and gorgeous music, dating from Frank's 1960s output to literally the moment the curtain went up"— served as the source material for the live double album Zappa In New York which was constructed from the best-played performances with overdubs later recorded in the studio. Originally slated for release in 1977, the album was delayed for a year due to record label censorship issues, mostly over the controversial song "Punky's Whips," and finally released in 1978.
One of Zappa's most beloved collections of songs, the now classic album included a live version of "Sofa" alongside nine new compositions, including the complex percussion-based piece "The Black Page," which has become infamous in the drum community as the ultimate challenge, the Devilish comedic sendup "Titties & Beer," and the notorious aforementioned "Punky's Whips" about Punky Meadows, the guitarist for the band Angel.  
In celebration of its eventual release in 1978, Zappa In New York was released on March 29 via Zappa Records/UMe as a suite of expanded anniversary editions to commemorate the album's recent 40th anniversary.
Overseen by the Zappa Family Trust and produced by Ahmet Zappa and Vaultmeister Joe Travers, the expanded versions are available as a 5CD box set, 3LP on 180-gram audiophile grade vinyl and digitally.
A March 2019 press release describes the product.
"The 5-disc collection is housed in a limited-edition metal tin shaped like a NYC street manhole cover and includes a replica ticket from one of the shows, consists of the main album in its original mix, newly remastered by Bob Ludwig in 2018 and available for the first time since its debut.
The four additional discs are loaded with Vault nuggets and more than three hours of unreleased live performances from the New York City Palladium concerts, representing every composition played during the concerts and the best alternate performances of every tune Zappa picked for the original album, all newly mixed in 2018.
The 3LP set, pressed at Pallas in Germany, features all-analog mastering of the original album mix, unavailable since first issued. Plus, an additional LP of select bonus content from The Vault. The digital release marks the debut of the original mix.
To achieve the highest-level sound quality, the Zappa audio team went back to the original two-inch 24-track multi-track master tapes and transferred every reel at 96kHz 24-bit wavs."  
 "We are excited to bring you this new Deluxe version of Zappa in New York: an opportunity to re-examine and celebrate the source material of a great album while exploring the events of Frank's life in late December 1976, Collections like these really show of the work ethic of a musical genius," suggests the Zappa Family Trust in the album notes. 
The collection showcases some of Zappa's most masterful guitar playing and electrifying arrangements as he leads an exceptional band featuring Ray White on vocals and guitar, Terry Bozzio on drums and vocals, Eddie Jobson on keyboard, Ruth Underwood on percussion and synthesizer, Patrick O'Hearn on bass and vocals and David Samuels on timpani and vibes. Don Pardo provided "sophisticated narration" and the brass section, featuring jazz duo the Brecker Brothers with Randy Brecker on trumpet and Michael Brecker on tenor saxophone, was rounded out by the SNL players: Lou Marini on alto sax, Ronnie Cuber on baritone sax and Tom Malone on trombone.
Zappa In New York includes expanded packaging which features previously unseen live photos by Gail Zappa alongside extensive liner notes by band members Ruth Underwood and Ray White (who were part of Zappa's band for these shows) as well as an insightful essay by Joe Travers with Australian writer Jen Jewel Brown.
Underwood also contributes a solo piano version of "The Black Page" that has been newly recorded for this special edition. "'The Black Page' has proven to be one of Frank Zappa's most intriguing and enduring compositions. It is performed in many kinds of venues all over the world. It is taught and studied in schools. Perhaps most exciting is that it is adaptable and lends itself to a variety of orchestrations and re-workings, as FZ himself demonstrated. I am proud that after forty years, mine is finally among them. It is my love letter to Frank and Gail," Underwood writes in the liners.
Zappa In New York capped off a terrific year for the ever-prolific and always-moving musician which included shows around the globe including his second Australian tour and one and only Japanese jaunt, the release of his album Zoot Allures and Grand Funk Railroad's record Good Singin' Good Playin, which he produced, a string of Halloween shows and a performance on Saturday Night Live which ended up having a profound impact on the Palladium shows.  
Following an on-air collaboration with SNL's announcer Don Pardo and the show's house band, Zappa invited them to be a part of the shows after three of the horn players so loved playing with Zappa that they asked if they could be involved.
As Travers and Brown write in the illuminating liner notes: "Out of nowhere, the concept of adapting horns to the scheduled concerts became a reality. Frank was immediately swept up in the pleasure and challenge of writing and arranging parts for the existing material."
Live music's premier hologram production company Eyellusion has announced that a who's who of Zappa fan favorite musicians will support The Bizarre World Of Frank Zappa hologram tour which will make its debut this April in the U.S.  The nine U.S. shows begin Friday, April 19, with seven European shows in May to follow. Additional dates will be announced in the coming months.       
Eyellusion holograms is represented by Steve Martin of APA, who books Eyellusion's hologram tours, including metal icon Ronnie James Dio and the upcoming Glenn Gould tour.    
In 1974, Frank Zappa, the wizard of Laurel Canyon, transformed his Los Angeles rehearsal space into a sound stage and cranked out some unbelievable performances seen and heard only by the camera operators in the room. The audio from these performances–locked away in the Zappa vaults for 44 years–will serve as the basis for what will be the world's most ambitious hologram tour to date.  The "can't miss" concert spectacle is being produced in close cooperation with the Zappa Family Trust.  
The Bizarre World of Frank Zappa hologram tour band is comprised of former ZAPPA bandmates for this monumental series of shows.  The touring unit boasts guitarists Ray White and Mike Keneally, bassist Scott Thunes, multi-instrumentalist Robert Martin, percussionist Ed Mann, and drummer and Zappa archivist Joe "Vaultmeister" Travers.
"As a futurist, and hologram enthusiast, Frank fearlessly broke through boundary after boundary as an artist and in honoring his indomitable spirit, we're about to do it again, 25 years after his passing," said Ahmet Zappa, EVP of business development for Eyellusion and co-trustee of the Zappa Family Trust in a press release.    
"We're excited to world premiere a handful of Frank Zappa compositions; these mind-melting concerts we're putting together celebrate the music, often surreal imagery and humour synonymous with Frank. We will be pushing the limits of what anyone has seen holographically on stage before in a live venue. Circumstances, objects, places and subject matter from Frank's songs and imagination will be brought to life for the first time on stage.  We are anthropomorphizing Frank's music utilizing various visual techniques, art styles, classic imagery from his album artwork and characters from his songs, culminating in one extremely bizarre, live music experience.
"My father and I actively discussed 3D and 'holography' and it was a concept he actively engaged in. He actually devoted half a chapter of his The Real Frank Zappa Book to this subject.
"This is a love letter and a journey celebrating the genius artistry of Frank Zappa. On a personal note, I feel like I am finishing something my father started years ago.  And let's not forget, Frank himself will be rocking his fans, alongside his bandmates like nobody's business."
The Bizarre World of Frank Zappa is unlike any other hologram-driven musical event you've ever read about or witnessed.     
In 2019 Ahmet gave me a preview viewing at the Zappa offices in Los Angeles.   
It's a blend of music, technology, video, film, eye-popping animation and sonic explorations.      This isn't a music and screen show tribute booking at a venue re-creating familiar Top 40 hits and parading catalog. The stage repertoire features plenty of un-released '70s footage and unheard Zappa music.      
The Bizarre World of Frank Zappa further demonstrates that Frank was at the forefront of employing studio digital technology and state-of-the art recording now exhibited in this new platform.  
Once again, Frank Zappa and veteran Zappa tour band members have re-defined sound and vision mixture in a theatrical presentation. The Bizarre World of Frank Zappa is a bold landmark multi-media adventure which ushers the hologram-driven experience past the goal posts.
"Machines don't get loaded, drunk or evicted," Frank wrote in his 1989 autobiography, The Real Frank Zappa Book.
As a teenager I caught Frank Zappa in The Mothers of Invention during May of 1968 in a dance concert at The Shrine Exposition Hall in Los Angeles, California. And today his work and image after a half a century continue to inform music collectors, fans and cultural creatives.       
Ben McLane's New Book  
By Harvey Kubernik
Attorney Ben McLane is the author of the just published Music Business in 10 Easy Lessons. It is available for purchase on Amazon at the following link. https://www.amazon.com/dp/B07B91ZZ48/ref=sr_1_1?ie=UTF8&qid=1520448664&sr=8-1&keywords=music+business+in+10+easy+lessons\
Ben McClane is interviewed by author Harvey Kubernik.  
Ben McLane is interviewed by author Harvey Kubernik.   
Q: Tell me a little about your background before you entered the lawyer world, after graduating from Pepperdine Law School. Were you a record collector or in a band growing up I believe in Kansas City.
A: I essentially grew up in Derby, KS (near Wichita) from kindergarten-high school, and then went to Kansas State University for an undergraduate degree in business.   I was always a music fan, weaned on 70s AM radio, and FM after. In those days there was still a lot of great 60s pop/rock music in regular rotation on the Top 40 stations (not yet relegated to oldies stations only), so I really found that I liked that sound in particular.   This led me to start collecting 45s from the past and reading all I could about the history of pop/rock/soul music (which is really from Elvis era on – to me anyway), but with a focus on 1965-early 70s. Continue reading →