© 2017 Harvey Kubernik
"Ronnie Schneider we'd known. He's Klein's nephew but he broke away from him. He's a smart cat. I dig Ronnie. He'd been on a lot of tours with us handling business and hung around with us. He was the only cat we knew in '69 who could handle the Stones tour that everybody knew, that we could leave to get on with it till we got there."
—Keith Richards to Robert Greenfield Rolling Stone magazine August 19, 1971
On November 8, 1969 I saw two Rolling Stones' concerts at the Inglewood Forum in Southern California. Also on the bill were Terry Reid, B.B. King, and Ike & Tina Turner. There had been interminable delays in covering the Forum's hockey rink, home of the Los Angeles Kings, in preparing the stage. The Stones' first show started around 11:45 p.m. The second one ended at 5:15 a.m. Continue reading →
© 2017 Harvey Kubernik
I'm blowing the shofar ram's horn for Rumble: The Indians Who Rocked the World. The dazzling feature documentary from Montreal, Canada-based Rezolution pictures about the role of Native Americans in popular music history.
In Rumble, director and Rezolution co-founder Catherine Bainbridge and co-director and director of photography Alfonso Maiorama examine the journey of Native Americans on record and stage. They expose a critical and profound missing chapter, revealing how indigenous musicians helped influence audio culture.
The on-screen participating contributors in Rumble are a list of music artists, historians, family members, and experts who acknowledge Native musicians that helped shape the soundtracks of their lives: Buffy Sainte-Marie, Robbie Robertson, Martin Scorsese, Tony Bennett, Steven Tyler, Iggy Pop, Buddy Guy, Taj Mahal, Cyril Neville, Ivan Neville, John Trudell, Steven Van Zandt, Corey Harris, Jesse Ed Davis, Alvin Youngblood Hart, David Fricke, Guy Davis, Monk Boudreaux,  Quincy Jones, Jackson Browne, Martha Redbone, James "Hutch" Hutchinson, Joy Harjo, as well as Pat Vegas (Redbone), Wayne Kramer (MC5), Slash (Guns 'N' Roses), Dan Auerbach (The Black Keys), Marky Ramone (The Ramones), Taylor Hawkins (Foo Fighters), Pura Fe Crescioni (Ulali), Rhiannon Giddens (Carolina Chocolate Drops), Mike Inez (Alice in Chains), George Clinton, Robert Trujillo (Metallica), and Taboo (Black Eyed Peas). Continue reading →
Expanded Version with Previously Unreleased Session Recordings, & Special Packaging;
Previously Unreleased 1992 Documentary Film, The Making of Sgt. Pepper,
Restored for Anniversary Edition's Super Deluxe Boxed Set
By Harvey Kubernik c 2017
"Sgt Pepper's was the perfect album to absorb while being Lost in Space."  —Bill Mumy
To salute the 50th anniversary of the Beatles' Sgt. Pepper's Lonely Hearts Club Band  which ushered in The Summer of Love, the Beatles just released a slew of lavishly presented Sgt. Pepper Anniversary Edition packages via Apple Corps Ltd./Capitol/UMe.
The album is newly mixed by Giles Martin and Sam Okell in stereo and 5.1 surround audio and expanded with early takes from the studio sessions, including no fewer than 34 previously unreleased recordings.
"It's crazy to think that 50 years later we are looking back on this project with such fondness and a little bit of amazement at how four guys, a great producer and his engineers could make such a lasting piece of art," says Paul McCartney in his newly-penned introduction for the Sgt. Pepper Anniversary Edition. Continue reading →
By Harvey Kubernik c 2017
Saxophonist John Coltrane died on July 17, 1967 in Huntington Hospital in Huntington, New York in Long Island after a brief bout with liver cancer.
"Mourned by as many rock musicians as those from the jazz world, he was a courtly, soft-spoken gentleman from North Carolina, who pursued the roiling, labyrinthine currents of improvisation, from the postwar abandonment of big-band swing in favor of the fractious sounds of bebop and beyond," observed keyboardist and author Kenneth Kubernik.
"In each step of his evolution, beginning with Dizzy Gillespie's orchestra, through his tenure with Miles Davis and his own stentorian 'classic quartet,' Coltrane revised and refined his 'voice,' a burnished, muscular tenor, liquidly velvet on ballads, coruscating on up-tempo numbers.
"Coltrane recognized that music's capacity for astonishment, for both the performer and the alert listener, was much more than diligent practice—his fearsome virtuosity would often lead him into thickets of stifling verbosity, as off-putting as an electric guitar's noxious feedback. The sounds he heard in his head—the quest for pure intent—compelled him to eschew the Great American Songbook, that litany of Broadway standards that were long the heart and soul of jazz, for an unforgiving ascent into cacophony." Continue reading →
2017 Central and Western U.S. tour dates in June
By Harvey Kubernik c2017
British blues rock guitar statesman Robin Trower first achieved commercial and critical success with Procol Harum during the late 1960s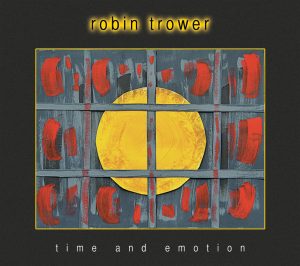 before emerging as the bandleader of his own trio in 1974.
Singer and songwriter Trower has just released an 11 song collection time and emotion on his own V12 label coinciding with a tour of the United States during May and June.
The album features Trower (vocals, guitar, bass); Livingstone Brown (bass, keyboards); Chris Taggart (drums)
"The great joy of having my own label [owned with manager Derek Sutton] is that you haven't got to make music to please some guy behind a desk," Trower told me in an interview on the eve of his U.S. trek. "You can please yourself and make the music you want. It's the best way to make music. On my own schedule.
"I play guitar every day. Quite often ideas come out. I'll spend 2-3 days on a lyric. Eventually 10 or 11 songs are ready for an album. Sequencing was very important and 'the land of plenty' had to be the opener and 'time and emotion' the last track. I did the artwork for the cover of time and emotion. I wanted as much of myself involved with the album as possible."     Continue reading →