Expanded Version with Previously Unreleased Session Recordings, & Special Packaging;
Previously Unreleased 1992 Documentary Film, The Making of Sgt. Pepper,
Restored for Anniversary Edition's Super Deluxe Boxed Set
By Harvey Kubernik c 2017
"Sgt Pepper's was the perfect album to absorb while being Lost in Space."  —Bill Mumy
To salute the 50th anniversary of the Beatles' Sgt. Pepper's Lonely Hearts Club Band  which ushered in The Summer of Love, the Beatles just released a slew of lavishly presented Sgt. Pepper Anniversary Edition packages via Apple Corps Ltd./Capitol/UMe.
The album is newly mixed by Giles Martin and Sam Okell in stereo and 5.1 surround audio and expanded with early takes from the studio sessions, including no fewer than 34 previously unreleased recordings.
"It's crazy to think that 50 years later we are looking back on this project with such fondness and a little bit of amazement at how four guys, a great producer and his engineers could make such a lasting piece of art," says Paul McCartney in his newly-penned introduction for the Sgt. Pepper Anniversary Edition. Continue reading →
By Harvey Kubernik c 2017
Saxophonist John Coltrane died on July 17, 1967 in Huntington Hospital in Huntington, New York in Long Island after a brief bout with liver cancer.
"Mourned by as many rock musicians as those from the jazz world, he was a courtly, soft-spoken gentleman from North Carolina, who pursued the roiling, labyrinthine currents of improvisation, from the postwar abandonment of big-band swing in favor of the fractious sounds of bebop and beyond," observed keyboardist and author Kenneth Kubernik.
"In each step of his evolution, beginning with Dizzy Gillespie's orchestra, through his tenure with Miles Davis and his own stentorian 'classic quartet,' Coltrane revised and refined his 'voice,' a burnished, muscular tenor, liquidly velvet on ballads, coruscating on up-tempo numbers.
"Coltrane recognized that music's capacity for astonishment, for both the performer and the alert listener, was much more than diligent practice—his fearsome virtuosity would often lead him into thickets of stifling verbosity, as off-putting as an electric guitar's noxious feedback. The sounds he heard in his head—the quest for pure intent—compelled him to eschew the Great American Songbook, that litany of Broadway standards that were long the heart and soul of jazz, for an unforgiving ascent into cacophony." Continue reading →
2017 Central and Western U.S. tour dates in June
By Harvey Kubernik c2017
British blues rock guitar statesman Robin Trower first achieved commercial and critical success with Procol Harum during the late 1960s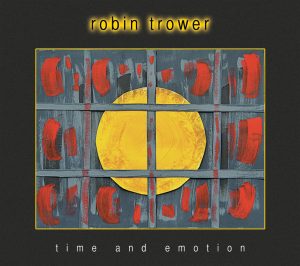 before emerging as the bandleader of his own trio in 1974.
Singer and songwriter Trower has just released an 11 song collection time and emotion on his own V12 label coinciding with a tour of the United States during May and June.
The album features Trower (vocals, guitar, bass); Livingstone Brown (bass, keyboards); Chris Taggart (drums)
"The great joy of having my own label [owned with manager Derek Sutton] is that you haven't got to make music to please some guy behind a desk," Trower told me in an interview on the eve of his U.S. trek. "You can please yourself and make the music you want. It's the best way to make music. On my own schedule.
"I play guitar every day. Quite often ideas come out. I'll spend 2-3 days on a lyric. Eventually 10 or 11 songs are ready for an album. Sequencing was very important and 'the land of plenty' had to be the opener and 'time and emotion' the last track. I did the artwork for the cover of time and emotion. I wanted as much of myself involved with the album as possible."     Continue reading →
CD & Digital Commemorative Edition Adds Two Bonus Tracks;
Remastered Album Also Available on 180-gram Vinyl LP & Exclusive, Limited Edition Blue Vinyl LP
By Harvey Robert Kubernik c 2017
Frank Sinatra's acclaimed 1967 album with Brazilian music legend Antonio Carlos Jobim, Francis Albert Sinatra and Antonio Carlos Jobim is now
expanded for its 50th Anniversary Edition. In April it was released on compact disc and digital formats via Universal Music Enterprises.
A remastered original album was issued as well on heavyweight 180-gram vinyl LP and in a limited blue vinyl edition, available exclusively from the Sinatra Shop and UDiscover Music.
Francis Albert Sinatra & Antonio Carlos Jobim brought together two maestros from divergent musical worlds in a serene sigh of sun-dappled bossa-nova.
In evening studio sessions at Hollywood's Western Recorders between January 30 and February 1, 1967, Sinatra breathed new life into the album's 10 songs, accompanied vocally on four by Jobim, who also played guitar on the album.
The album's tracks include seven Jobim originals and three American Songbook classics, delicately arranged and conducted by Claus Ogerman with a studio orchestra.
Ogerman's studio credits were Wes Montgomery, Kai Winding, and Cal Tjader as a staff arranger for the Verve label on many Creed Taylor productions 1963-1967. He also arranged and conducted the Bill Evans Trio with Symphony Orchestra in 1966. Continue reading →
HK: Do you think the big, Winter 2016/17 UGLY THINGS MAGAZINE publication of the career and retrospective multi-page spread on you and your music, and the clips from the 1966 movie, Feelin' Good, now viewed as a cult classic, were game-changers?   Here we are, doing another interview for Cave Hollywood, and the February 10, 2017 Forgotten Hits Newsletter contained our lengthy, in-depth interview on your perspective on the 1967 Summer of Love, which I understand is now posted on all your websites in your Online Interviews and Pictorials.
TP: Yes, especially with regard to my music. Between our Ugly Things interview, and the positive Mike Stax review of my book Odd Tales and Wonders 1964-1974 A Decade of Performance, and my CD catalog, I've been rediscovered by some of my old fans, and I'm attracting new ones here, in Canada, Australia, Europe and the U.K.  I never imagined that the Feelin' Good music sequences I posted on YouTube would become so popular.  In the UK, State Records is releasing "Watch Out Woman" and "The Way That I Need You," the two songs I sang on the esplanade on a vinyl 45 in early July, and UK DeeJay Rob Bailey has included "If I Didn't Love You Girl" in his latest compilation album, and will be releasing a vinyl 45 of it and "The Likes of You" later this summer. Continue reading →