ABOUT THE CURRENT RELEASE OF HIS 20TH ANNIVERSARY PLATINUM EDITION OF GRUMPUSS ON DVD.
HK:  You recorded your live performance of Grumpuss on PAL Digibeta.  Was that a benefit or impediment to preparing the 20th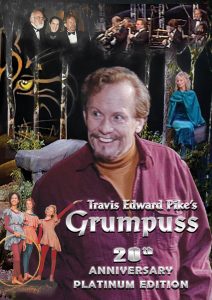 Anniversary Platinum Edition DVD?
TP:  Given my restricted budget, a film shoot, with equipment rentals, raw stock, and processing was prohibitively expensive, and did not allow the instant feedback available in the digital media, especially important when you must capture the entire show in a single afternoon, before a live audience, with no possibility of reshooting any elements not captured that day.  Furthermore, the show was created for a television and home video release, and digital equipment requires less physical space and is less cumbersome where space is limited, as ours was.  By then, many major motion pictures were being edited on AVID workstations, so had it been shot and processed on film, it would still have had to be digitized for editing. So, for this Grumpuss 20th Anniversary Platinum Edition, it was enormously beneficial to have had it recorded and mastered on Digibeta, especially when it came to having it reformatted by Deluxe Entertainment Services. They were able to convert it to NTSC at the same time they formatted it for DVD. The conversion from PAL to NTSC was necessary because NTSC DVD's play on PAL, but not the other way around.  The finished file looked great, but then it had to be authored for the DVD release. Continue reading →
By Harvey Kubernik c 2017
On December 1st the Polydor Records/UMe label released The Rolling Stones-On Air, a collection of rarely heard radio recordings from their formative years.
The songs, including eight the band have never recorded or released commercially, were originally broadcast on bygone U.K. BBC shows such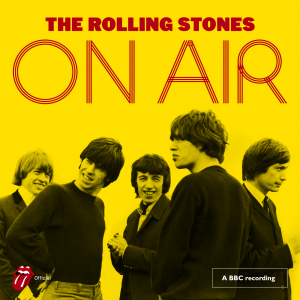 as Saturday Club, Top Gear, Rhythm and Blues and The Joe Loss Pop Show between 1963 and 1965.
The CD, double CD deluxe edition, heavy-weight vinyl and special limited-edition colored vinyl offer an insight into the band during 1963-1965. Mick Jagger, Keith Richards, Charlie Watts, Brian Jones, and Bill Wyman are a vital and constantly surprising live unit.
Such was the frequency with which they visited BBC studios in the 60's, the group constantly set out to offer listeners something different. As well as songs that never appeared on singles or albums, there are seven tracks that were debuted over the airwaves before featuring on albums or EPs.
There's some Bo Diddley covers, "Cops and Robbers," and "Crackin' Up," plus the Diddley-inspired Mona as well as two band renditions from the Muddy Waters' repertoire: "I Can't Be Satisfied" and "I Just Want to Make Love To You."
The group's take on familiar R&B staples like "Roll Over Beethoven," "Memphis, Tennessee" and "Beautiful Delilah" (all originated by Chess recording artist Chuck Berry) illustrate the verve and energy the Stones regularly brought to their live shows. The BBC would urge them to perform their current singles, and while happy to do so they also relished the opportunity to showcase a fuller picture of their prowess as Britain's foremost blues outfit, packing clubs and ballrooms night after night. Continue reading →
By Harvey Kubernik c 2017
Poet/lyricist/songwriter and performer Stephen J. Kalinich, no stranger to Cave Hollywood viewers, a few years ago portal owner David Kessel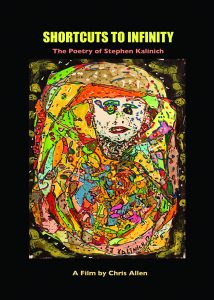 interviewed Kalinich when he released his two California Feeling albums on the MsMusic record label.
In late 2017, director Chris Allen and Chris Allen Films released a feature length 81 minute documentary Shortcuts to Infinity-The Poetry of Stephen Kalinich.
Executive producers are Don Fertman, Chris Allen and Carol Schofield.
The movie incorporates interviews with Beach Boys' Brian Wilson, Al Jardine, and David Marks as well as PF Sloan, Jon Tiven, Alan Boyd, Paul Steel, Carl B Wilson, Dan Knutson, and Ralph Stevens. Also appearing in the film are Carnie and Wendy Wilson, Carol Schofield, Marla Maples, Bill Duke, Marilyn Wilson, Richard Lawson, and many others.
Stevie's painting and stand-up act are explored, as well as a look at the play based on his book
From The Heart of Love. The DVD can be ordered at www.chrisallenfilms.com. Continue reading →
By Harvey Kubernik C 2017
The Moody Blues' Days Of Future Passed is celebrated with an expanded 50th Anniversary Deluxe Edition just released on November 17 by UMe.
The deluxe 2CD/DVD and digital audio edition features the album's newly restored original 1967 stereo mix, which makes its CD debut here. Due to a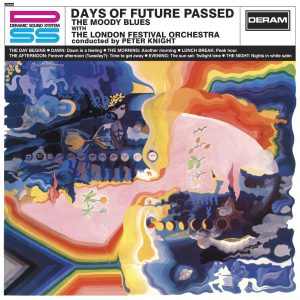 damaged master tape of the original mix, the album was remixed in stereo in 1972; this later mix has been used for the album's subsequent CD reissues. Today's technology has allowed for the original stereo master to be repaired, and the new 50th Anniversary Deluxe Edition pairs that original album mix with the 1972 stereo mix.
The commemorative set also features nine BBC Radio session performances, as well as a DVD with a new 5.1 surround sound mix derived from the album's original 1972 Quad mix, plus previously unreleased video footage of the band performing three key Days Of Future Passed tracks at MIDEM on January 24, 1968, eight weeks after the album's release. The set also includes a poster designed by Ray Thomas. On the same date, the album's restored 1967 stereo mix will also be released on 180-gram vinyl.
Days Of Future Passed was the Moody Blues' landmark second album and formally marked the beginning of the band's psychedelic era. Featuring the London Festival Orchestra, this richly orchestrated album followed in the wake of the Beatles' Sgt. Pepper's Lonely Hearts Club Band and Magical Mystery Tour but was in itself a unique and highly original piece of work. The album includes the hits "Tuesday Afternoon" and the ever-enduring "Nights In White Satin," which established the Moody Blues as true pioneers in the development of progressive rock. Continue reading →
Celebrates 50th Anniversary with new CD Collection and Criterion Collection Expanded Edition DVD of Monterey Pop;
Jimi Hendrix's Birthday November 27;
and The Passing of Otis Redding on December 10, 1967
By Harvey Kubernik c 20017
Record producer, and Ode Records label owner Lou Adler, and songwriter John Phillips of the Mamas and the Papas produced The Monterey International Pop Festival, June 16-17-18, 1967, held in Monterey, California.
Thirty-two acts from the U.S. and England representing contemporary pop, rock, soul, psychedelia, folk, blues, and world beat were booked.
Stage performers and recording artists who appeared were The Association, Johnny Rivers, Simon & Garfinkel, the Blues Project, Buffalo Springfield, Big Brother and the Holding Company with Janis Joplin, Jefferson Airplane, Laura Nyro, Ravi Shankar, Grateful Dead, Mike Bloomfield's Electric Flag, Moby Grape, Lou Rawls, Booker T. and the MG's with the Bar-Kays, the Who, Eric Burdon and the Animals, Paul Butterfield Blues Band, Beverly, the Group With No Name, the Byrds, Otis Redding, Al Kooper, Canned Heat, Country Joe and the Fish, Quicksilver Messenger Service, the Jimi Hendrix Experience, the Mamas and The Papas, Hugh Masekela, Steve Miller Band, and Scott McKenzie.
The ramifications and influence of the sonic world of Monterey extended far beyond the actual gathering. The event altered world culture and your record and video collection.
The ongoing musical influence of Monterey on subsequent outdoor rock music gatherings is being acknowledged again with a myriad of fall and winter 2017 50 year anniversary products. Continue reading →