MILES DAVIS AT NEWPORT 1955-1975: THE BOOTLEG SERIES VOL. 4 SCHEDULED FOR RELEASE JULY 17 THROUGH COLUMBIA/LEGACY RECORDINGS
By Harvey Kubernik
Miles Davis' 20-year association as an artist at impresario George Wein's renowned Newport Jazz Festival is a thriving tradition that will be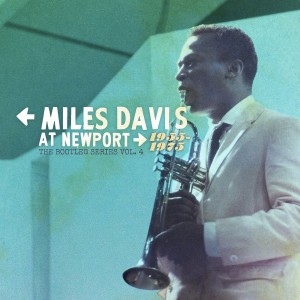 celebrated with the release of MILES DAVIS AT NEWPORT 1955-1975: THE BOOTLEG SERIES VOL. 4.
The four-CD box set, comprised of live performances by Miles' stellar band lineups in 1955, 1958, 1966, 1967, 1969, 1971, 1973, and 1975, in Newport, Rhode Island, New York City, Berlin, and Switzerland, will be the lynchpin for a 60th anniversary commemorative weekend of events at this summer's annual Newport Jazz Festival (July 31, August 1 & 2).
Ahead of this landmark event, MILES DAVIS AT NEWPORT 1955-1975 will be available everywhere on Friday, July 17 — 60 years to the date since Davis' breakthrough performance at Newport in 1955 — through Columbia/Legacy Recordings, a division of Sony Music Entertainment.  An interview with Newport Jazz Festival founder-impresario, George Wein, discussing his relationship with Miles Davis, can be viewed here: http://vevo.ly/GOueyx.
"This Miles box gives a history of the man's development, 1955-1975 — from just after Bird to just after Jimi — and it's important to have it all in one place," reflects Dr. James Cushing, host of the weekly KCPR-FM program, Miles Ahead.
"By chance, the 4CD recording of Sly & the Family Stone Live at the Fillmore comes out the same day, so we can enjoy the cross-referencing Miles makes to Sly in his later material. The 1955 Newport concert was one of his first important gigs as a leader, and the 1975 one was, I believe, one of his very last before his 7 year silence, so the release is a capsule of the man's development. I've heard most of this music on bootlegs (some of it has been released by Columbia), and everything I've heard is five stars: Miles' alertness never fails him, his pacing is always fascinating, his fully invested presence in the music is thrilling, and the bands he has — Coltrane, Evans; Shorter, Hancock; Cosey, Liebman — remain the standard for jazz improvisation."
The newest entry in Columbia/Legacy Recordings' critically-acclaimed Miles Davis Bootleg Series, NEWPORT 1955-1975 clocks in at 296 minutes, nearly four hours of which is previously unreleased.  From Miles' debut performance at NJF in 1955 (a hastily arranged jam session featuring Thelonious Monk and Gerry Mulligan, that immediately led to the trumpeter's Columbia signing), to his final public perform­ance of the '70s in 1975 (at Lincoln Center during NJF-NY, the singular "Mtume" named for Miles' favored percussion­ist of that decade), the box set traces the ascendance of Miles' music as the ne plus ultra of jazz.  The full-length concert performances alone of Miles' famed "Kind Of Blue" Sextet (with Cannonball Adderley, John Coltrane, Bill Evans, Paul Chambers, and Jimmy Cobb), and 'second great quintet in '66 and '67 (with Wayne Shorter, Herbie Hancock, Ron Carter, and Tony Williams) represent templates that reverberate in jazz and popular music to this day.
In this symbiosis, George Wein employed Miles to make Newport great, and Miles obliged by bringing some of the post-modern jazz era's paramount musicians to the festival stage in his bands.  The Newport Jazz Festival (and starting in 1959, Wein's Newport Folk Festival) enabled audiences of 10,000 to dig the music in a surprisingly intimate setting, where you really could hear a pin drop. "When Miles played his solo on 'Round Midnight'," Wein remembers of that breakout 1955 jam, "he put his horn right up to the microphone, which trumpet players didn't do.  Normally they like to get some air and play a little bit away from the mic but he put the bell of his horn right up against it, and it came through clear as a bell."  In that moment, with that simple move, Wein states, "That's when he became the star of the festival and later [Columbia Records A&R man] George Avakian went up and signed him."
With his "ecumenical" music mix in these five- and six-hour programs – from traditional to bop, hard bop, and re-bop, from cool, modern and post-modern to jazz-rock, rock-jazz, blues and R&B – the contemporary music festival was sired by George Wein.  As liner note essayist Ashley Kahn affirms, Wein "swayed generations of festival producers and impresarios – from groundbreaking one-offs like the Monterey International Pop Festival in 1967 and Woodstock in 1969, all the way up to today's genre-blending annuals like Coachella and Bonnaroo, [and in Europe] Glastonbury and Montreux."
"In 1967, Miles Davis was gearing up to make a major change in music.  His great Quintet of the 1960s (with saxophonist Wayne Shorter, pianist Herbie Hancock, bassist Ron Carter and drummer Tony Williams) had run its course," writer Kirk Silsbee offers.
"The compulsively restless Davis would throw away all of the artistic and commercial capital it had built up and risk it on an unknown sound.  It would not be a major change in jazz, as Davis had introduced in 1949 with the Birth of the Cool band, or 1958 with his Kind of Blue sextet.  This would meld jazz with black pop music–funk, in particular–in a way that made an underground hybrid of both forms.  The opening salvo in this new sonic revolution, would be his album In a Silent Way.  It showcased new elements for his music that he would cleave to for the rest of his career: electric keyboards, electric guitar, electric bass and churning drum work and a new Davis feature: tape edits that juxtaposed different moods and textures.  The revolution was about to begin and before it was over, the fusion genre would be born. The best bands in its ranks were all headed by Davis alumni: John McLaughlin, Chick Corea, Wayne Shorter and Joe Zawinul, Jack DeJohnette and Dave Liebman among them."
Intrinsically and inextricably linked at the hip were Miles Davis and George Wein, from the first conversation Wein recalls with the trumpeter in 1952, at a little club in New Haven, "when [Miles] was playing with a band that Symphony Sid had put together with Percy Heath and Milt Jackson," Wein clearly recalls.
Twenty years or so later, he memorably amped up the 1969 NJF program with Led Zeppelin, the Mothers of Invention, Jeff Beck, Sly and the Family Stone, Frank Zappa, Jethro Tull, Ten Years After, John Mayall, Johnny Winter and others.
Miles was just six weeks away from recording the principal sessions for his all-time game-changing Bitches Brew, and his live band had replaced Hancock, Carter and Williams with Chick Corea, Dave Holland, and Jack DeJohnette. With more electronic instrumentation, and broader drum patterns, Miles was quickly moving beyond the very jazz styles he had helped to create and popularize.
Into the '70s, rock and R&B-rooted musicians like guitarists Pete Cosey and Reggie Lucas, electric bassist Michael Henderson, Mtume on percussion, plus jazz drummer Al Foster and a rotating cast of saxophonists came aboard.  As Miles' scope expanded, Wein's festival became a week-long affair in Manhattan, then across Europe.
But to eyewitnesses, Newport Jazz Festival 1969 was ground zero, the big bang that informed Bitches Brew.  "I remember that Miles always came to Newport and left as fast as he could," Wein told Kahn.  "In '66, he came up in a boat and got to the stage in time to play, and was back on the boat and got the hell out of there.  In '69, he stayed from the first day to the last, standing right by my shoulder… He watched every group and watched the response of the audience, who got the most applause, what music they were playing.  He was studying.  And that affected all the last years of his career."
MILES DAVIS AT NEWPORT 1955-1975: THE BOOTLEG SERIES VOL. 4 was produced for release by Richard Seidel and Michael Cuscuna; with co-
producer Steve Berkowitz.  Executive producers for the Miles Davis Estate were Cheryl Davis, Erin Davis and Vince Wilburn, Jr.  The music was mastered by Mark Wilder and Maria Triana at Battery Studios in New York City.  All original concerts were produced by George Wein.
"Miles great gift was his ability to remain true to his voice regardless of the musical setting -his orphaned, plaintive cry, that vicious angular thrust – it resounded on '50s-era bebop sessions, the move to modal forms in the '60s and into the percussive deep space of his early '70s forays," author Kenneth Kubernik theorizes. "He was always the coolest cat in the room, the cynosure within the constellation of jazz's leading lights.
"Miles Davis at Newport 1955-75 speaks to this defining characteristic in his playing.  In 1955 Miles had only recently recovered from a crippling drug habit and was slowly redeeming himself in the eyes of his musical confederates.  A near after-thought booking at the second Newport festival, Miles wowed the crowd with his signature blend of attitude and artistry.  A year later he was recording genre-defining albums for both Prestige and Columbia Records. It was a time of rebirth for the man with the horn.
"The recordings in this box set document Davis leading some of his most-heralded groups; and though much of this material has long been commercially available (and the "previously unreleased" performances have been exhaustively bootlegged) it is nevertheless a valuable catalogue of an iconic artist bestriding the main stage decade after decade.  What's of greatest interest is the way that Miles's protean presence – part wave, part particle – continues to isolate and antagonize his devoted following.  One can almost hear the warring tribes squaring off around which iteration is "authentic" or "legitimate."  Like Picasso, Miles never stopped reshaping his materials.  And not just his sound but the way in which he presented himself to his audience: the buttoned-up Oxford shirts giving way to the diamond-cut sharkskin suits which morphed into funkadelic leathers accessorized with insect fear-film shades (his "cubist" phase).
"Miles was once cornered coming off the bandstand by an admirer who was troubled by the new direction he was taking the music – too 'out.'  Why couldn't he stay content and play, you know, ballads?  Miles shot back:  'Why should I wait for you.'  Genius never does."