LONG OUT-OF- PRINT COLLECTION ALL DAY THUMBSUCKER REVISITED
DOCUMENTING THE HISTORY OF BLUE THUMB RECORDS, REVIVED ON EVE OF LEGENDARY LABEL'S  50TH ANNIVERSARY IN 2018 HONORS MEMORY OF LATE LABEL FOUNDERS TOMMY LIPUMA AND BOB KRASNOW
2CD SET AVAILABLE WITH FIRST-EVER DIGITAL RELEASE NOW OUT
By Harvey Kubernik C 2017
From 1968 to 1978, Blue Thumb Records was one of music's most adventurous and imaginative record labels, with a far-ranging roster of cutting-edge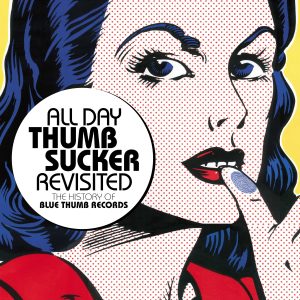 acts and an unconventional visual sensibility. Nurturing an eclectic assortment of artists from a wide variety of genres, Blue Thumb embodied the restless creative spirit of the era in which it was born, reflecting the emerging attitude that albums were worthy of being taken seriously as artistic statements.
Blue Thumb's expansive musical vision was anthologized on the 1995 label retrospective All Day Thumbsucker Revisited. Verve Records/UMe has just released the long-out-of-print collection, originally compiled by Gary Katz, known for his work with Steely Dan, in an updated two-CD edition on the eve of next year's 50th anniversary of Blue Thumb's founding.
The first in a projected series of releases to celebrate the revered label, the CD set offers 32 vintage tracks spread across two discs, while the digital edition, due marks the first time this collection will be available as a digital download and for streaming.
In showcasing Blue Thumb's influential artist roster, the album also honors the iconoclastic musical vision of late label founders Bob Krasnow, who died on December 11, 2016, and Tommy LiPuma, who passed away on March 13, 2017. 
Danny Bennett, President & CEO of Verve Label Group commented, "With the release of All Day Thumbsucker Revisited, we are so proud to honor Tommy LiPuma and Bob Krasnow by celebrating their Blue Thumb Records legacy and the incredible music they curated, all of which is well represented on this must-have collection."
Blue Thumb Records' diverse artist roster included avant-garde hero Captain Beefheart and His Magic Band (whose rejected band name provided Blue Thumb's handle), Marc Bolan's Tyrannosaurus Rex, soul icons Ike and Tina Turner, hit makers the Pointer Sisters, retro-swing hipsters Dan Hicks and His Hot Licks, venerable rockers Dave Mason, Leon Russell, via a distribution deal Shelter Records, psychedelic savants Love, boundary-pushing future star Sylvester, avant-jazz icon Sun Ra, rap progenitors the Last Poets, Gypsy jazz guitarist Gábor Szabó, spoken-word innovator Ken Nordine, British imports Mark-Almond and the Aynsley Dunbar Retaliation, jazz greats the Crusaders, Luis Gasca and Philip Upchurch, and blues legends Albert Collins, John Mayall, Buddy Guy, Junior Wells and Junior Mance—all of whom are featured on All Day Thumbsucker Revisited.
Along with 30 tracks from the original album, the 2017 edition of All Day Thumbsucker Revisited features two additional tracks by Buddy Guy and the Pointer Sisters.
In addition to the above-mentioned artists, the album also includes a track by veteran pianist-journalist Ben Sidran, who also provided the original album's liner notes, which are reproduced here in their entirety.
Bob Krasnow had already been president of the King and Buddah/Kama Sutra labels when he formed Blue Thumb Records in 1968. Recruiting like-minded A&M Records producer Tommy LiPuma and A&M marketing executive Don Graham, Krasnow set out to build a record label that would reflect his own freewheeling sensibility as well as the increasing influence of album-oriented radio.
As Joe Sample of the Crusaders observed, "LiPuma and Krasnow were young and vibrant men with a tremendous love of music. And they also had the expertise to back up that love. And they started signing all kinds of bands. It was the new image in music, and I think it was the best kind of image that we ever had in the music business.
"There was a sense in the air of a lot of adventure.  The music business was making big, major changes; the newfound FM airwaves meant there was suddenly a whole new branch of radio stations that played music that would never be played on an AM station. Blue Thumb was one of the first companies that realized this new set of airwaves was important for music."
Looking back on Blue Thumb's early days, Sidran recalled, "They were running it, literally, out of three rooms. And they were making records that were consciously counter to what was going on. And nobody had done that… Krasnow was going out of his way to do something different."
All Day Thumbsucker Revisited is different whose vintage grooves affirm the timeless impact  of Blue Thumb's enduring musical vision.
ALL DAY THUMBSUCKER REVISITED TRACK LISTING
Disc One
1.   Only You Know and I Know – Dave Mason
2.   The City – Mark-Almond
3.   Put It Where You Want It – The Crusaders
4.   A Song For You – Leon Russell
5.   Stimela (Coaltrain) – Hugh Masekela
6.   By The Light Of  Magical Moon – Tyrannosaurus Rex
7.   Yes We Can Can – The Pointer Sisters
8.   Darkness Darkness – Philip Upchurch
9.   Son Of Mirror Man – Mere Man – Captain Beefheart and His Magic Band
10. Sugar on the Line – The Aynsley Dunbar Retaliation
11. Little Mama – Luis Gasca
12. Canned Music – Dan Hicks and His Hot Licks
13. Riffin' (A.K.A. A Motif Is Just A Riff) – Buddy Guy, Junior Wells and Junior Mance
14. I've Been Loving You Too Long – Ike & Tina Turner
15. Fat Jam – Ben Sidran
16. Southern Man – Sylvester and the Hot Band
Disc Two
1.   Delta Lady – Leon Russell
2.   Shiver 'n Shake – Albert Collins
3.   Shouldn't Have Took More Than You Gave – Dave Mason
4.   Blackbird – Bossa Rio
5.   Ride A White Swan – Tyrannosaurus Rex
6.   I Scare Myself – Dan Hicks and His Hot Licks
7.   The Everlasting First – Love
8.   The Frog – Joao Donato
9.   Safe As Milk – Captain Beefheart and His Magic Band
10. Breezin' – Gábor Szabo
11. Sitting on the Outside – John Mayall
12. Images – Sun Ra
13. Bird's Word – The Last Poets
14. Roger – Ken Nordine
15. How Long (Betcha' Got A Chick On The Side) – The Pointer Sisters
16. So Far Away – The Crusaders
Pete Senoff a publicist at Blue Thumb in 1970 was the first record business person to add me to a mailing list. I once visited the Blue Thumb office and got a free copy of Dave Mason's Alone Together in the mail.
I was a student at San Diego State University in 1973 when Mark-Almond came to the campus for a live date at Montezuma Hall. There was Charles Mingus' drummer of over 20 years, Dannie Richmond, right in front of me.
As for Tommy LiPuma, a veteran of Liberty and A&M Records, I loved an early record he produced on Chris Montez, 'The More I See You.' Anytime I'd see Tommy around town the last 45 years it was usually in a recording studio hallway or at a mastering lab. That cat was always working.
I had two 1977 encounters with Bob Krasnow in West Hollywood noshing at Roy's, a restaurant record executive Roy Silver owned on Sunset Blvd. from 1976-1982. At the time I was West Coast Director of A&R for MCA Records. Krasnow in the early sixties had worked as a promo man for King Records and later in sales for Decca Records, which became MCA.
Krasnow knew his R&B music. He founded the Loma label, a subsidiary of Warner Bros./Reprise, who issued some awe-inspiring R&B singles 1964-1968: "Stay With Me" by Lorraine Ellison, "But It's Alright" from J.J. Jackson, and Ike & Tina Turner's "Finger Poppin'." Legendary talent scout Russ Regan replaced Krasnow in 1966 at Loma.
If you're curious, check out a new box set Loma: A Soul Music Love Affair, on the Future Days Recordings/Light in the Attic Records.
When I spoke with Krasnow in 1977, he was then Vice-President of Talent Acquisition for Warner Bros. One of the acts he signed was George Benson. I was invited to the Roxy Theater when Benson cut his live album in '77 at the venue produced by LiPuma.
During their mid-sixties stint with Loma Records, the Ike & Tina Revue were booked all over Southern California: The 5-4 Ballroom in downtown L.A., Dooto's in Watts, Inglewood's Tip Top, The Moulin Rouge in Hollywood and later at the Newport 1969 Pop Festival held in Northridge.
During 1969 "I've Been Loving You Too Long," a cover of the Otis Redding and Jerry Butler tune, by Ike & Tina Turner, the lead track on their Blue Thumb Outta Season album, garnered national radio and retail exposure, partially owing to Ike & Tina's opening slot on the November 1969 United States tour by the Rolling Stones.
Additional units were shipped after rack jobbers, distributors and fans saw Tina's sensual live vocal and body performance of the song from Madison Square Garden in New York during the acclaimed 1970 Gimme Shelter documentary.
In 1975 I had dinner with Tina Turner one evening at Chasen's Restaurant in Beverly Hills. Tina and I did an interview for Melody Maker. We discussed her 1969 trek with the Rolling Stones as well as her explosive stage show with husband and bandleader Ike.
"I never felt we've used sex as a gimmick in our program," Tina explained. "The sexual portion of our show isn't planned; it just happens. It works out well visually and it always seems to get the most audience response. Everybody needs an image. There's a million groups out today; flipping, smoke bombs, dancing – fortunately, everybody can't be sexy. We've discussed it a thousand times. The miniskirts, and see-through dresses.
"People's minds do wander. We may do a song like 'I've Been Loving You Too Long', and work with it. Every time we do it, the song changes. Sometimes I really have a lot of fun with that song because people expect something to happen," she smiled.
"For years we've gotten reviews that seem to dwell on the sexual aspect of the show. I've never felt people gaining sexuality after seeing our show. But I like them to remember what they have just seen. I've never really thought of our show as being aggressive. Even as wild as I am I know that I maintain my femininity. People have always told me that.
"Mick [Jagger] then came to the States in 1969 and asked us to tour America with him later in the year. That's when it happened. We played the Forum, Madison Square Garden, and all the big arenas. Like Vogue said it best: 'They came to see Mick Jagger but they saw Ike and Tina and they've been comin' ever since.' From there on we crossed over to the pop market and it's been that way ever since."
On this long overdue All Day Thumbsucker Revisited reissue is the instrumental "Breezin',' from the LP High Contrast by acclaimed electric and acoustic guitarist Gábor Szabo in partnership with electric rhythm guitarist Bobby Womack, who penned the composition.
It was a radio turntable hit on jazz and R&B radio stations in 1971 and in rotation on KBCA-FM in Los Angeles. Bassist Phil Upchurch, drummer Jim Keltner and Rene Hall's string arrangement are heard on the selection engineered by Bruce Botnick and produced by Tommy LiPuma at Capitol studios.
"You could be anywhere in Laurel Canyon and something would be goin' on. It was like a nightclub in a sense to me," my friend Bobby Womack told me in a 2009 interview. "You'd hear 'so and so is cuttin' over on Sunset or at Capitol you wanna go?'
"It's very hard to put the racial thing in the mix with musicians," Bobby volunteered. "It's deeper than that. It never phased them. See, everybody looked out for everybody. So that never came up but only to the outside people. And that's just the way it was. We would joke about it and talk openly about it.
"I bought a lot of equipment at Wallich's Music City in Hollywood. I would see a lot of guitar players, and met a lot of people. Like this guitar player, a white dude, a hell of a player. He cut 'Moonlight in Vermont.' Kenny Burrell! I would follow him around. 'Who is this guy?' Damn, that cat was so bad. This guy is a one man band and could sit on stage with a drummer and bass and kill them. I liked Barney Kessel but Kenny was my hero.
"There were always different musicians with a different lifestyle who worked in the business in some form or fashion. That gave you so much freedom, especially when it was positive. And still came out with great music.
"That's when the business was the business. It always had its faults," cautioned Womack. "Look, somebody was always getting ripped off or somebody was getting beat out of a song. It never was enough to stop that natural flow.
"See, the music of Laurel Canyon, and I'm really talking about the pop and rock stuff has longevity because it was the beginning of something and that something is a household word today. And these people who created it. It was a guiding post in a sense for other writers. 'I want to get that same atmosphere.' You dropped egos and worked together. You enjoyed the fact of creating something together. It was what was happening and we led the way," concluded Womack, a former Laurel Canyon resident.
The legacy of y he Blue Thumb label, their still influential catalog, as well as principals LiPuma and Krasnow made an impression on many musicians, writers, authors, producers, deejays, museum archivists, and record collectors I know.
I asked some to reflect on the landmark label and All Day Thumbsucker Revisited.
Jim Keltner: I met Tommy at a session with Gábor at Capitol in 1968.  Then in 1969 at Sunset Sound with Dave Mason on Alone Together that Tommy also produced.  I had met Dave earlier when we played with Delaney & Bonnie.
"Gábor was one of my favorite people to play and hang with. He was so sophisticated and so hip and he played guitar like nobody else. A true Gypsy. I liked the way Tommy produced him. Then, for then the album High Contrast, Bobby [Womack] brought in this very cool song 'Breezin'.' He and Gábor got on really well. I loved tracking the song.
"Bobby Womack and I became really great friends over the years. He was such an amazing cat.  Everybody loved Bobby. He was real close friends with Ronnie Wood and we all spent a lot of time together up in Mandeville Canyon at Ronnie's house. I have a tape of him singing lead with Ronnie and Keith [Richard] and a whole bunch of other people on backgrounds. Bobby had one of the great voices of our time.
"In 1970 I did Magical Connection with Gábor for Blue Thumb. That's where I met Bob Krasnow. He and Tommy were young and at the peak of their game. Krasnow was a real music guy. He was really supportive of me. And I just remember being thankful and grateful for that. He was a music man, like Denny Cordell. I have very fond memories of Krasnow and Tommy.
"I played with Ben Sidran on a record of his in 1976. Ben emailed me a year ago or so and told me that they had just re-discovered the record in France. He was over there playing a lot and people were buzzing about it."
Andrew Loog Oldham: Well to start with, Blue Thumb gave the world Dave Mason which a major label could have. Right, so that was a very special moment. They were a maverick label in Beverly Hills. I think of Bob Krasnow as one of the finest record men in the business. Almost a Spiv Street Sydney Falco version of John Hammond.
"It was Bob Krasnow in 1964 on a day when again I had nothing to record with the Rolling Stones that smelled like a single. And Bob drove me to the offices of Metric Music and introduced me to Tommy LiPuma.
"And after we had gone through the stuff that Randy Newman was writing that month, because he was severely affected by the invasion of Beatles, they played me a B-side of an Irma Thomas single, 'Time is on My Side.' Thank God they didn't play me the Kai Winding version. And I had vinyl legs for the Rolling Stones. And I knew Bob Krasnow over the next 40 years."
James Cushing: I remember being struck by how much of lasting value these guys signed to Blue Thumb.  Captain Beefheart is my favorite of them all, and Strictly Personal is brilliant in spite of the post-production phasing Krasnow put the Captain's vocals through to make it more psychedelic.
"I also fully endorse Out Here by the second incarnation of Love, that great acoustic blues LP called Buddy and The Juniors that Buddy Guy made with Junior Wells and Junior Mance, the Memphis Swamp Jam rural blues compilation, the jazz-funk fusion of Gábor Szabo and Phil Upchurch, good old Dave Mason of course, and 'The City' by Mark-Almond."
Kenneth Kubernik: I will always be indebted to Blue Thumb Records for releasing two of my all-time favorite albums:  Mark-Almond I and II. They arrived at a crucial time in time in my musical development: high-school senior looking to move beyond mainstream rock and into something more daring, provocative.
"Granted, in hindsight, Mark-Almond's music is often Sunday-morning mellow, a far cry from Ornette or Carl Orff. But they had this uncanny admixture of jazz, blues and folk with a tincture of English attitude that gave me a rush and pointed me towards a life-long embrace of jazz and the aesthetics of improvisation.
"It didn't take long to leap from their FM staple, 'The City,' to Miles, Weather Report and the burgeoning world of fusion (before the rot set in) and beyond.  Many wonderful nights seeing them at the Troubadour – Johnny Almond's ebullient tenor sax, Tommy Eyre's dulcet phrasing from a wah-wah Fender Rhodes – a cherished memory."
Michael Macdonald: My take on Blue Thumb Records was a label designed for the discerning music fan based on their roster of artists, many who were not for the masses. I seem to recall the label went under in the late 70s possibly as a side effect of Punk and Disco or maybe it had run its course?
"The two Blue Thumb LPs I really liked (and still do) are Sam Lay's Sam Lay In Bluesland and Finnigan & Woods Crazed Hipsters. Both albums are quite obscure and I notice are not represented on the soon-to-be-released Blue Thumb anthology.
"Lay, who was Howlin' Wolf's drummer and later poached by the Butterfield Blues Band, was/is one of the great shuffle drummers who could play guitar and sing in a kind of gruff Muddy Waters voice and his Blue Thumb solo LP, produced by Mike Bloomfield and Nick Gravenites, is a good Blues offering with a bit of a Rock vibe about it. Nice Chess Records take on Dylan's Maggie's Farm opens the album strongly.
"Crazed Hipsters is Mike Finnigan (now with Bonnie Raitt and had done time with Taj Mahal) and Jerry Woods as a wigged out Blue-Eyed Soul/White Blues duo and there's much to like about it. Finnigan has a great feel for R&B in his voice and the song selection is pretty cool- Pop Staples, Bob Dylan, Son House and Ray Charles. It remains an album with a certain charm and hasn't really dated that such.
"That said, both albums represent Blue Thumb's vision in some way – the label may not have been looking for smash hits but more about offering a home for artists who liked to skirt the mainstream. For that, Blue Thumb should admired and applauded."
David N. Pepperell: Blue Thumb always seemed to me to be either a 'vanity' label which didn't have to make any money because it was run by millionaires, or run by serious music freaks who wanted to get good music into the marketplace without commercial considerations.
"As the owners were Tommy Lipuma and Bob Krasnow I suspect it was the latter.
"The label released some wonderful music, much of it, like Aynsley Dunbar, Tyrannosaurus Rex and Mark Almond licensed from U.K. labels but many releases were initiated by the label, probably Captain Beefheart, Love and the Crusaders.
"However very little of the music on Blue Thumb had much commercial potential (as Frank Zappa would say) like, for example, my favourite Blue Thumb LP Venus in Cancer by the mysterious Californian raga-guitar player, Robbie Basho.
"If the music on that album didn't put retailers off, the (almost) nude woman on the cover would have made them extremely hesitant to add it to their shelves.
"So much good music though – Buddy Guy and Junior Wells recording as Buddy and The Juniors; Mark-Almonds' two best LP's before they decamped for the mighty Columbia; early Marc Bolan albums that gave a hint of Marc's huge success later on as T-Rex; Pointer Sisters R&B classics – which were commercial for a change; Dave Mason's multi-coloured vinyl 'pizza pie' album Alone Together which, sadly for him, was the only decent LP he ever made and contained the great song 'Only You And I Know' later popularized by Delaney & Bonnie & Friends and Eric Clapton; the classic, again commercial, albums by the once 'Jazz Crusaders' renamed as just simply the Crusaders – if you want to sell records always avoid the word 'Jazz' and of course the magical, totally fabulous Strictly Personal by the Captain and His Magic Band. It wasn't a bad effort and Tommy and Bob deserve to be congratulated but there just weren't enough hits to maintain a viable label.
"I loved Dan Hicks and His Hot Licks and Magical Connection by Gabor Szabo too but I don't think either of them sold a bean! Love's False Start was also a killer but even a guest appearance by Jimi Hendrix could not make it a hit.
"Blue Thumb Records represents so much the idealism of the 60's and 70's and that's how it should be remembered … and surely there's nothing wrong with that."
David Kessel: I first became aware of Dan Hicks and the Hot Licks with the release of the Where's The Money album. I was impressed that Blue Thumb Records would have the guts and foresight to record Dan Hicks, let alone live.
"I mean here is this musical hipster coming out of left field when during the same year of 1971 when the top albums of the year were likes of: T-Rex, Jethro Tull, Black Sabbath, the Doors, John Lennon, Rolling Stones, the Who, and Led Zeppelin.
"I then started to get into the other set of ears of Tommy LiPuma, who was on a whole different mission. The teaming with Bob Krasnow really brought it home. These guys bucked the system and conscious of the record business. The variety of artists and releases stands time. It wasn't the flavor of the moment. It was pure flavor."
A Remembrance of Tommy LiPuma
"The Rock & Roll Hall of Fame's Library & Archives shares a building with the Gill & Tommy LiPuma Center at Cuyahoga Community College here in Cleveland, Ohio. The building was named after Tommy back in 2012, and after that, he brought some extraordinary people to our campus, including Diana Krall, Leon Russell, and Bruce Botnick.
"At one point, I was fortunate to witness Tommy producing in the studio here in our building as he worked on a new record with Dominick Faranacci and other legendary musicians that he brought together for the project.
"In the last year of his life, Tommy and I became good friends. He donated a collection of his papers, photos, and recordings to our Library & Archives that cover his time as a musician here in Cleveland through his time as a record executive and producer. To help facilitate the donation, Tommy and his wife Gill generously welcomed me to stay in their home for a couple of days while Tommy and I sorted through his collection. During that time, Tommy and I talked endlessly about music, he shared amazing stories from his long career in the music business, and he made me the greatest plate of spaghetti I have ever eaten.
"Tommy was truly one of the greats of the music business, and he will be missed by many people. I feel lucky to have known him."
– Andy Leach, Senior Director of Library & Archives, Rock & Roll Hall of Fame, November 2017
Harvey Kubernik is the author of 12 books. His literary music anthology Inside Cave Hollywood: The Harvey Kubernik Music InnerViews and InterViews Collection, Vol. 1 was published in December 2017, by Cave Hollywood. Kubernik is also writing and assembling a multi-voice narrative book on The Doors Summer's Gone, scheduled for publication the first quarter of 2018.
Over his 44 year music and pop culture journalism endeavors, Kubernik has been published domestically and internationally in The Hollywood Press, The Los Angeles Free Press, Melody Maker, Crawdaddy, Variety, The Hollywood Reporter, MOJO, Shindig!, HITS, The Los Angeles Times, Ugly Things, and Record Collector News.   
During July, 2017, Harvey Kubernik was a guest speaker at The Rock & Roll Hall of Fame's Library & Archives Author Series in Cleveland, Ohio discussing his 2017 book 1967 A Complete Rock Music History of the Summer of Love.